November 21, 2023
Tottori shares ideas on revitalizing rural economies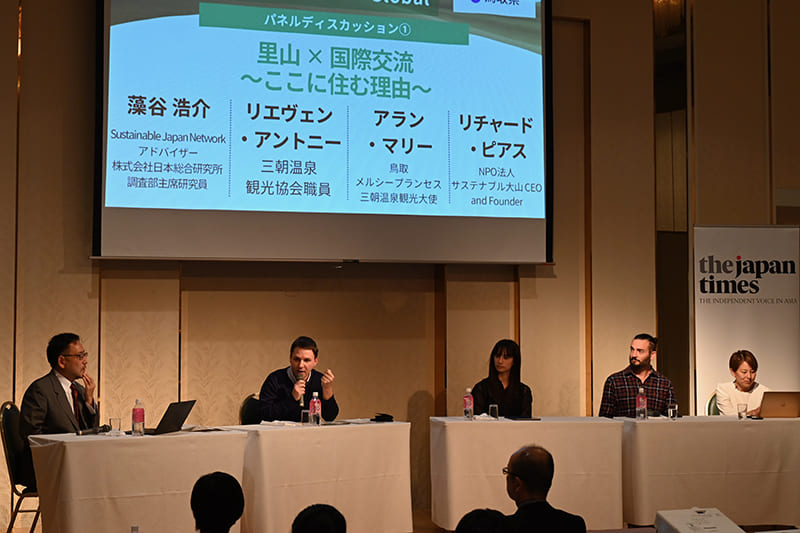 The fourth annual event to share experiences about revitalizing rural economies through effectively using existing resources was held at the Hotel New Otani Tottori on Oct. 28 and 29, co-hosted by The Japan Times' Sustainable Japan Network and Tottori Prefecture.
---
Three foreigners discuss efforts to promote resources and charms they found in Tottori
In the first panel session, three foreigners talked about their activities to preserve and promote the charms they have found in Tottori.
Anthony Lieven, a Frenchman who works for the Misasa Onsen Tourist Information Center, has lived in the hot spring town in central Tottori for 10 years. He originally came to Japan to study film arts. He then went to Misasa as a coordinator for international relations (CIR) under the JET (Japan Exchange and Teaching) Programme run by the government.
"During the five years I served as a CIR, I filmed two short movies in Misasa, thanks to the support from the town," he said. After he served his term, he left Misasa with a hope that he would come back someday. "The connection I had made with the people of Misasa helped me return here after I spent a few years away. I strongly feel that Misasa made me who I am today, which is why I want to give back to the community." He now engages in the town's promotional activities, which include creating videos using drones.
Marie Alin, also from France, served as a CIR in Misasa for six years after studying Japanese in France. Many opportunities in tourism and cultural exchange were lost due to the coronavirus pandemic, but she used the time to disseminate information about the town and Tottori in French, English and Japanese. For her contributions to the promotion of Tottori, the prefectural governor appointed her as a tourism ambassador, Tottori Merci Princesse.
She emphasized that Tottori's strength — its abundance of nature — should not be lost due to overtourism, which is becoming a critical issue in areas such as Tokyo and Kyoto. "I strongly suggest that we should not aim for a tourism boom in the promotion of the prefecture. We need to reach out to the right people by providing the right information," she said.
Richard Pearce, an Englishman based in Daisen in western Tottori, is a specialist on inbound tourism who places a particular focus on conservation. He takes his guests, mostly foreigners, to various places to experience rural Japanese nature and leads a nonprofit that engages in conservation, including the protection of the Japanese giant salamander, a living fossil that hasn't changed in 23 million years, and its habitat.
He warned that just designating the amphibian as a special natural treasure and an endangered species does not ensure its survival. He is trying to change its worsening environmental conditions through daily conservation activities and monitoring, and by introducing the animal and its situation to the world. To do this, he promotes ecotourism and helps reconnect people to sustainable old ways. "Tottori is not included in what is called the Golden Route that connects major tourism destinations in Japan, but I want to make a new route, perhaps the 'Green Route,' that connects Tottori and other rural prefectures," he said.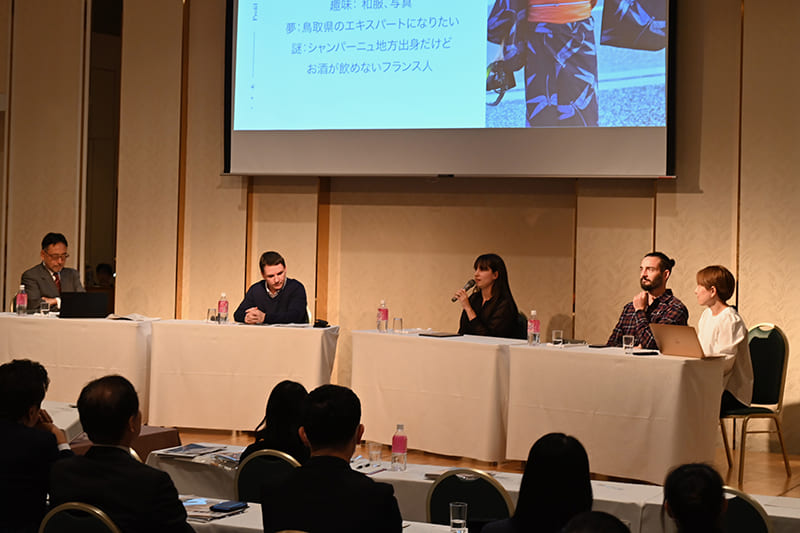 ---
Rural satoyama areas demonstrate potential for better methods of educating children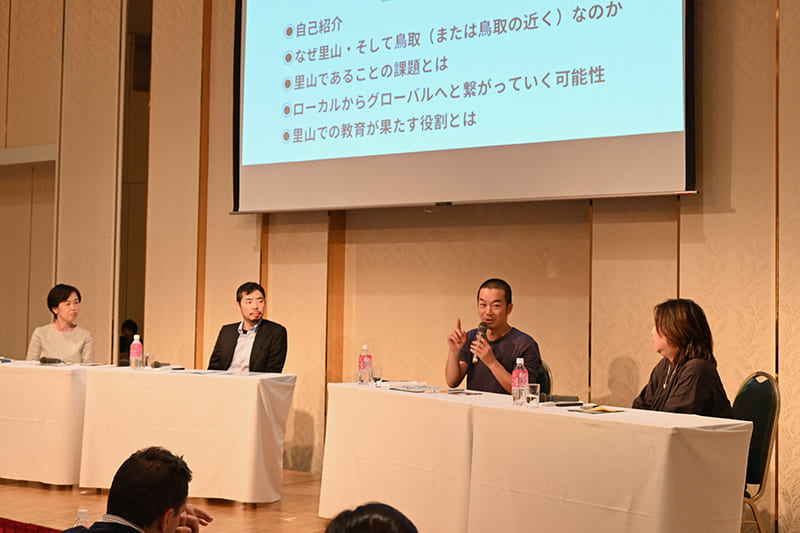 The second panel session focused on the potential of upland satoyama and other rural areas in education, moderated by Noriko Kato, editor-in-chief of ReseMom, a website that provides educational information.
Alexander Ginnan, a lecturer in the Faculty of Regional Sciences at Tottori University, shared his experience of engaging in a community-based activity at a high school in a mountainous area of Hyogo Prefecture that led to international exchange. "In the regional research fieldwork with the high school students, we found an old sculpture park that didn't even have a signboard," he said.
To revive the forgotten resource and reconnect people, they looked into old documents at the town office and found out who had made the sculptures: various artists around the world. The students wrote them letters in English. "A Korean artist and a daughter of a German artist came to Japan to see the park and their works," Ginnan said. The students' effort to find out about their own region opened the door to international exchange. Their findings were compiled into the Map of Yahatayama International Sculpture Park, written in both Japanese and English.
The Platform for Sustainable Education and Community's representative director, You Iwamoto, first visited the town of Ama on Nakanoshima in Shimane Prefecture's Oki Islands 16 years ago and spent nine years reviving the island's only public high school by introducing a new kind of education that involves students in finding unnoticed local resources and solving regional issues. This education began to attract students and their parents from outside the island, and people who had moved away started to come back.
He established a foundation seven years ago to expand this educational model nationwide, and the number of students who entered schools in rural areas from outside through the foundation's program almost quadrupled last year from the 218 students in 2019. "In one of our projects, students plan a tour of their community. It means a lot to local students to mingle with students from outside who have different eyes to find the area's charms," Iwamoto said.
Saeko Nishimura, chairperson of Chizuno Mori Kosodachisha, a nonprofit with a primary focus on early childhood education, said that children who grow up in forests will never become adults who destroy forests. "They learn sustainable ways of living from their daily lives," she said. The organization runs a kindergarten that nurtures children in a forest all day, a free school for older children and young adults that has a similar concept of learning from nature and the community and focuses on students' independence, and a shared house for people who want to move to the area from outside.
The organization's next endeavor is to start a maternity center in the area, which has no big hospitals or obstetrics clinic. "Unlike in big cities, where working long hours is the norm, you can enjoy and cherish life here. So, many couples start to think about having more babies, and we wanted to meet their needs," she said. She explained that the parents share the organization's sense that public education as currently practiced cannot nurture talented people who can solve increasingly complex social issues.