April 21, 2023
Time to raise renewable targets, create meaningful carbon pricing
Kae Takase Renewable Energy Institute
SPONSORED CONTENT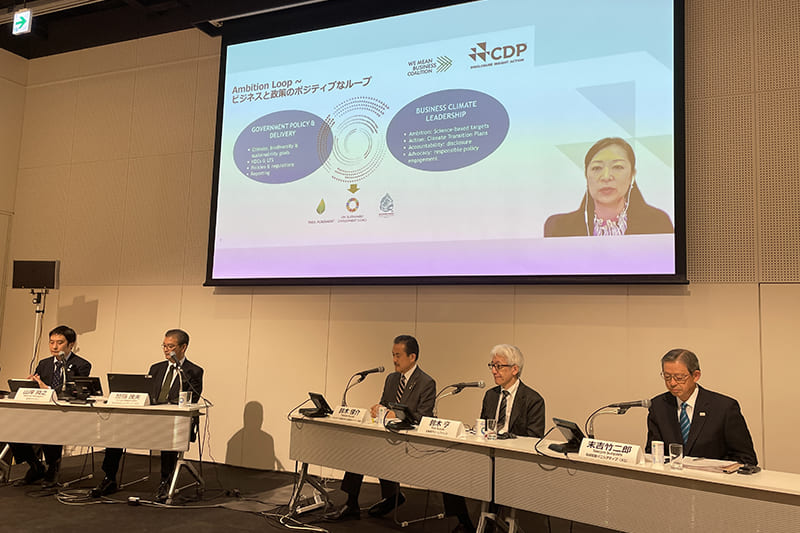 "We might have to move factories in Japan to where renewable electricity is available, if this situation of less renewables continues," a major Japanese company recently commented. Many major financial institutions have promised financing and investment toward realizing net-zero emissions of greenhouse gases by 2050. Companies need to be in line with global standards for achieving net-zero emissions from their entire value chain if they want to attract financing and investment. As of April 2023, the Net-Zero Banking Alliance, which includes Japan's three megabanks, represents 41% of World Bank assets. If companies do not aim for net-zero emissions, the day is coming when they will no longer be chosen for financing and investment.
Offsetting is not a solution for achieving net zero. A high-level U.N. expert group on net-zero commitments by nonstate actors has stated that "real" emissions reductions — that limit warming to 1.5 degrees Celsius, and have no or only minor overshoots — are essential. Companies must capture and store any residual emissions that cannot be reduced by following a rigorous pathway toward the 1.5-degree goal. The Science Based Targets initiative has stated that for many companies, following the pathway means reducing over 90% emissions by 2050.
Companies have no choice but to focus on energy efficiency and renewable energy. In terms of energy efficiency, Japan has world-renowned heat pump technology. However, reducing emissions by 90% through energy efficiency alone is difficult. It is clear that increasing renewable energy is necessary.
Japan has around 22% of its electricity generated from renewable sources. It is at the same level as the U.S. but far behind Germany, the U.K. and Italy, which together had a 42% ratio in 2021. Most G7 countries either have committed to decarbonizing electricity generation by 2035 or have ambitious targets for 2030 or 2035. Japan's 2030 target for renewable electricity remains at 36% to 38%. This needs to be increased to prevent factories from going out of Japan to seek affordable and abundant renewable energy.
Renewable electricity is a basis for producing "green" hydrogen and ammonia, which the Japanese government has placed an emphasis on in its Basic Plan for green transformation (GX). If we want to achieve a zero-carbon footprint, it is essential that low-cost renewable energy be widely available. Some may think that applying carbon capture and storage (CCS) to the process of producing ammonia or hydrogen is the answer, but the cost would be enormous. According to an estimate by BloombergNEF, CCS-equipped ammonia power generation will be twice as expensive as solar power generation that incorporates battery storage by 2030. We also need to remember that storage facilities need to monitor for a long time in order to ensure the effectiveness of CCS.
So, how much can Japan expand its current 20% renewable energy share by 2035? The latest estimate by the Renewable Energy Institute shows that it is possible to achieve 80% by then. However, this would require a threefold increase in renewable energy generation, and many other G7 countries are striving for even faster adoption rates. This has become a competition to see which country can supply renewable energy the least expensively and in the greatest quantity. It is time for Japan to take action and raise its renewable energy targets.
Carbon pricing is essential for faster decarbonization. When carbon emissions come at a cost, reducing them can generate economic benefits. With a sufficiently high carbon price, renewable energy becomes more economically viable and gains momentum. In Europe, some countries impose high levels of carbon tax in addition to emissions trading at prices exceeding €100 ($110) per ton. A high carbon price means that reducing emissions becomes economically viable, and the maturation of decarbonization technology accelerates.
In Japan, 477 companies have joined the Science Based Targets initiative, which is well known as offering the world's most credible criteria for assessing companies' climate targets, and 407 companies, including Toyota, Nissan, Kyushu Electric Power, Hitachi, Sony, Sumitomo Chemical and Fujitsu, have been approved as having targets that are aligned with the Paris Agreement.
On April 12, before the G7 ministers' meeting on energy and the environment in Sapporo, over 300 actors, including 225 companies, signed onto a message demanding the faster introduction of meaningful carbon pricing in Japan, and of course increases in Japan's renewable energy targets, facilitated by Japan Climate Initiative (JCI).
JCI is the largest alliance of non-state actors for climate action in Japan. As of April 6, 2023, 768 actors had participated in the JCI, which is jointly administered by the Renewable Energy Institute, WWF Japan and CDP Japan. The message gathered voices by JCI members prior to Japan's hosting of the G7 summit. Among the 303 actors endorsing it were Sony, Hitachi, Panasonic, Fujitsu, AGC, Nikon and Softbank.
Muneaki Tokunari, the chief financial officer of Nikon, commented that "In order to accelerate the introduction of renewable energy, it is essential not only for companies to make efforts, but also for the national government to support them through effective policies." Kazunori Maruyama, the president of DSM Japan, called on the Japanese government "to introduce a carbon pricing system that will see tangible outcomes earlier than currently planned."
Renewable energy is domestically produced, and resources are dispersed throughout the regions. Carbon pricing is the basis for a faster transition. Without carbon pricing, the speed of investments and R&D will slow, and Japan will no longer be chosen for operation sites. To maximize the introduction of renewable energy and societal transition, simultaneously addressing climate and energy crises and revitalizing local areas, we need to turn the wheel now. After discussions at the G7, we hope that Japan will demonstrate to the world its goal of achieving 80% or more renewable energy by 2035, attract investments and remain at the forefront of decarbonization competition.