June 17, 2018
Outreach programs highlight nature in city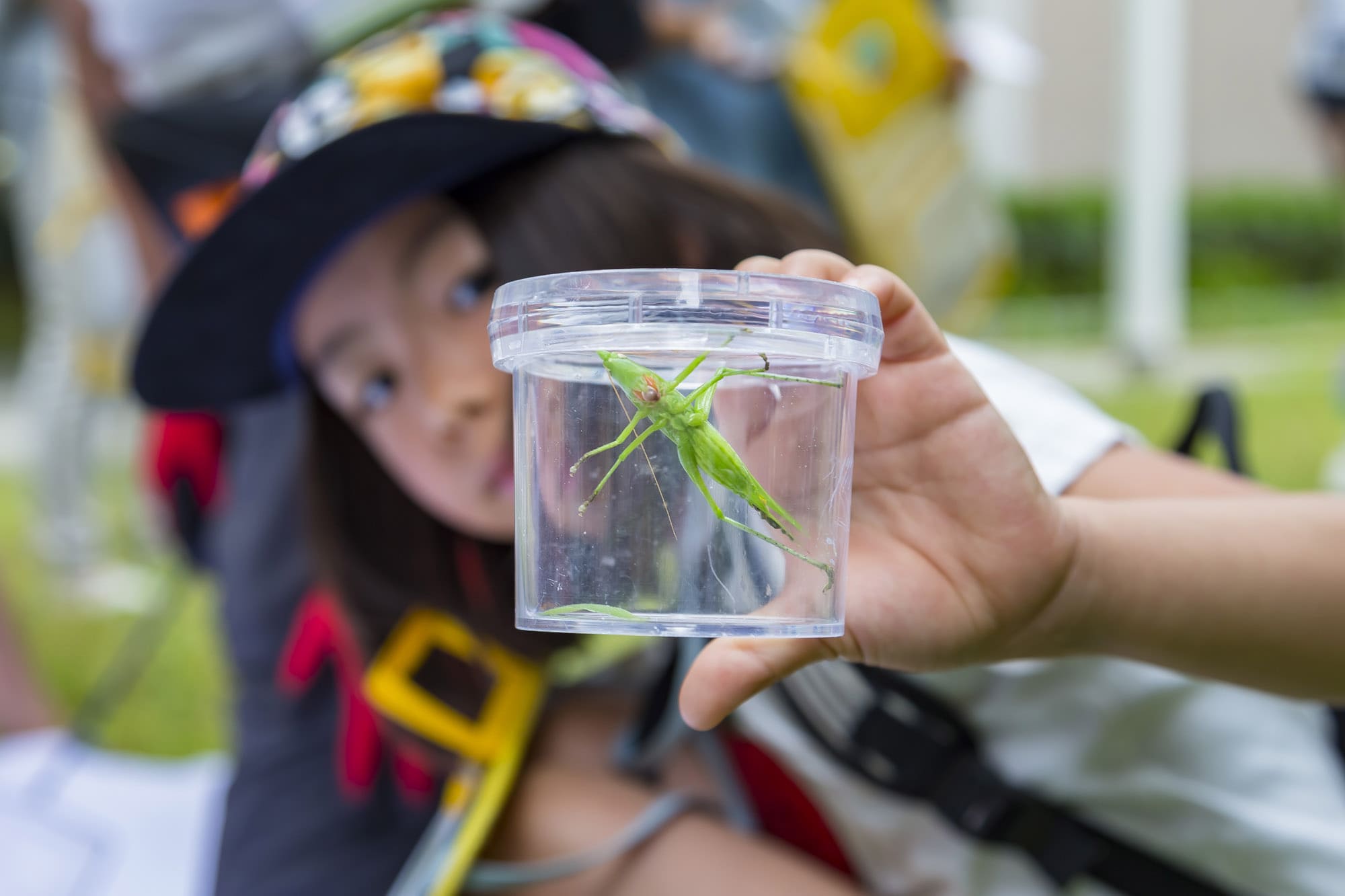 As part of its unique environmental efforts creating and nurturing green spaces in its properties in the middle of Tokyo, Mori Building Co. recently hosted a one-week event to give people hands-on experiences to enrich their understanding of biodiversity and the importance of nature.
Held from May 12 through 19 at outdoor facilities of the Ark Hills complex and other properties in Minato Ward developed by Mori Building, the annual event dubbed Hills Ikimono Days ("ikimono" means "living things") featured various programs to let neighbors and visitors enjoy green spaces the developer has nurtured over the years, said Mariko Natori of the company's Sustainability Office.
The developer started its large-scale greening efforts in 1986 when it completed the Ark Hills redevelopment project, according to Natori. The company has worked toward the coexistence of cities and nature as one of its environmental policies in its urban development. After some 30 years, the company has about 9.2 hectares of green area across its properties in Minato Ward.
"The existence of greenery makes people feel good, but they might be able to fully appreciate it if they understand what kind of creatures are there or the relations between plants and living things," she said.
Natori said that the company begun focusing on biodiversity to conserve and restore ecological systems since around 2010, when the concept garnered attention thanks to the 10th Conference of the Parties to the Convention on Biological Diversity, or COP10, in Nagoya.
"We have created green spaces with consideration to biodiversity so that various creatures can have a comfortable living environment," she noted.
The Hills Ikimono Days programs were designed to better educate the importance of onshore ecosystem and biodiversity, she explained.
During the Ikimono Stamp Rally offered on May 12 and 19, participants were to collect four stamps at certain locations while observing various plants, insects and birds in the gardens of Ark Hills. The first 80 people to complete the rally each day were presented with seasonal vegetables and organic rice.
"This program encourages people to learn about the concept of the Vertical Garden City, as well as the relationship between plants and insects drawn to them," Natori said.
She also added that awarding vegetables and rice as prizes was done to make the obscure idea of biodiversity easier to comprehend for participants by linking it to food.
"I think food is a gift produced out of biodiversity," Natori said. "We told participants that people can enjoy tasty food thanks to various living things."
Other notable programs in the event were the Bird Watching Adventure Tour on May 12 and the Discover Biodiversity in the City Tour on May 19, both targeted at elementary school students in third grade and above and their parents.
These two programs are part of the Hills Machi-Iku Project that launched in 2007 and has gained a total of 12,000 participants as of last year, featuring various programs that include presentations at schools.
The project seeks to provide children with opportunities to think about nature and the future cities we will live in, said Urara Tabe of the company's Public Relations Department.
In the biodiversity tour held at a garden of the Ark Hills Sengokuyama Mori Tower, children have found a wide variety of insects and creatures, including grasshoppers and frogs, Tabe explained.
"They put stickers on a sheet with an ecosystem pyramid based on creatures they found or caught during this tour," Tabe said.
At the bird-watching tour held at green spaces in Atago Green Hills and Toranomon Hills, children were able to learn the importance of nature and how birds are raised, she explained.
"Children were impressed to see wild birds in the middle of the city," Tabe recalled.
Meanwhile, in the Nature Craft Table program, participants worked on creating crafts with leaves and acorns from plants in the Ark Hills complex. The organizer exhibited several bird nests, which are testaments the area has nurtured a proper environment for such birds to breed, Natori said.
There was also a guided tour of hydrangeas, with around 50 types planted throughout the Ark Hills premises. Moreover, participants were given access to a Suntory Hall roof garden during the event, a space that is usually not open to the public due to plant and wild bird conservation efforts.
The one-week event proved to be successful, as more than 90 percent of participants indicated in a questionnaire that they were either satisfied or very satisfied with the programs, according to Tabe.
"I'm glad that many children said they came to grasp the relations between creatures and plants," Natori said. "They also mentioned they would like to continue observing green and living things in their daily lives."
In its future redevelopment projects, Mori Building is accelerating its efforts to further promote the concept of coexistence with cities and nature based on the idea that it can enrich greenery, rather than decrease it.