November 05, 2021
ESG winners discuss advancing efforts at home and abroad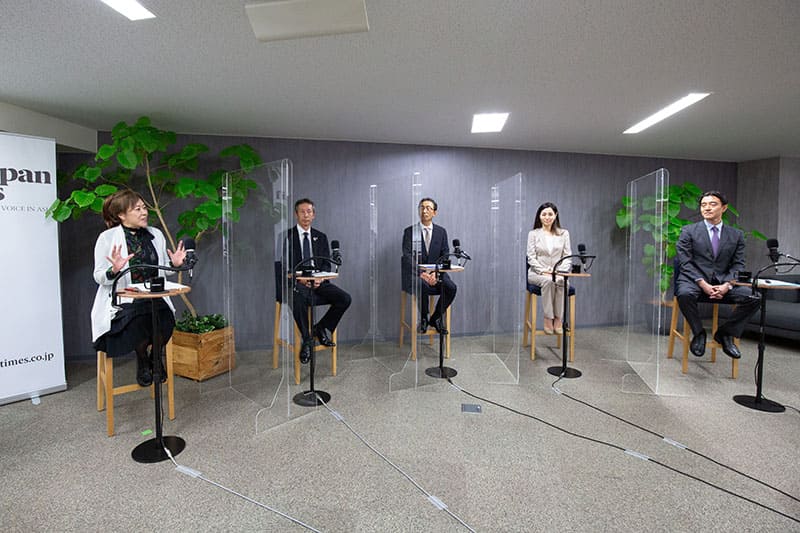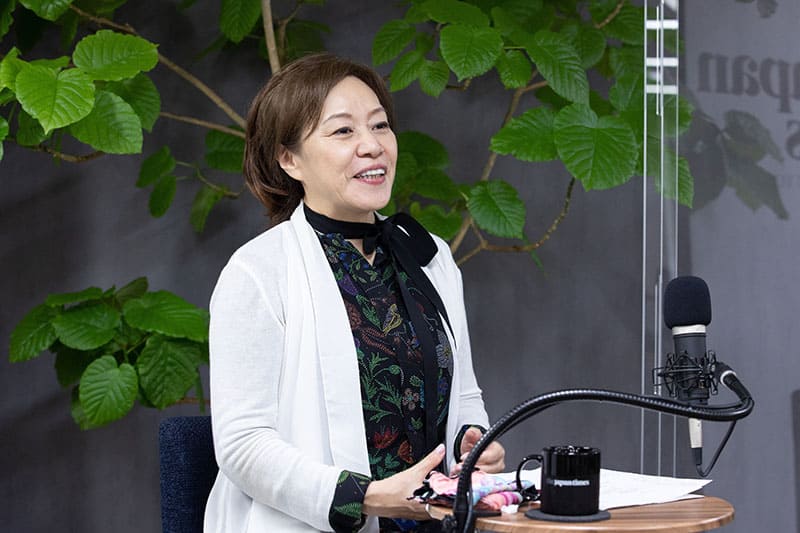 As part of the awards event of the Sustainable Japan Award 2021, a panel discussion was held involving speakers from the Dai-Ichi Life Insurance Co. Ltd. and Mitsui O.S.K. Lines Ltd., (MOL), which received the Excellence Award, and Food Loss Bank and Green Finance Network Japan, which received the Special Award in the ESG (environmental, social and governance) category.
The discussion, moderated by Michiyo Morisawa, Japan head of the Principles for Responsible Investment (PRI) and CDP (formerly the Carbon Disclosure Project), focused on the sustainability efforts of the companies, political involvement in promoting and supporting corporate efforts, and the importance of participating in international frameworks and public relations activities.
Kazuyuki Shigemoto, executive officer of Dai-Ichi Life, explained that the company is making sustainability efforts in line with its corporate vision of contributing to the well-being of all. "As an operating company providing life insurance and an institutional investor, we have set the targets for achieving carbon neutrality. As an operating company, we aim to halve GHG emissions from our life insurance business by 2025 and achieve carbon neutrality by 2040. As an institutional investor, we will reduce GHG emissions from our investment portfolio by 25% by 2025 and achieve carbon-neutrality by 2050." he said.
The company is also making progressive efforts in achieving diversity and inclusion within its organization. The current percentage of women in managers position is 13%, and the company set the target to increase it to 30% by 2024, and aim to increase the female ratio in executives to 30% by 2030.
As an institutional investor, the company aims to create positive impacts to the society through its investments. "We started ESG investments in 2014, and so far have invested ¥940 billion ($8.2 billion), of which ¥390 billion went to measures against climate change, including renewable energy," Shigemoto said.
Toshiaki Tanaka, director, senior managing executive officer, and the chief environment and sustainability officer of MOL explained how the oil spill involving the bulk carrier MV Wakashio that occurred off the coast of Mauritius last year led to greater awareness and actions to preserve the environment and provide regional support. The vessel was chartered by MOL but was owned and operated by Nagashiki Shipping Co. In the cases of incidents like this, the vessel owner usually bears the legal responsibility. Even though MOL was not legally responsible, it has been making great contributions to the affected areas to fulfill their social responsibility.
"It was heart-wrenching news for all of our employees," Tanaka said. "We really put our heads together and thought through what we can do, though we were not responsible legally. As a result, this incident triggered the company structure to face the [U.N.] sustainable development goals head-on and take action."
He went on to say that exposing themselves to the global community and explaining about the incident while making various social and environmental contributions was considered to be the best way to rectify some of the misleading news reports about the incident. Their support activities included protection of mangrove forests, coral reefs and birds, financial support for fishermen, food aid, donations to schools and other welfare activities.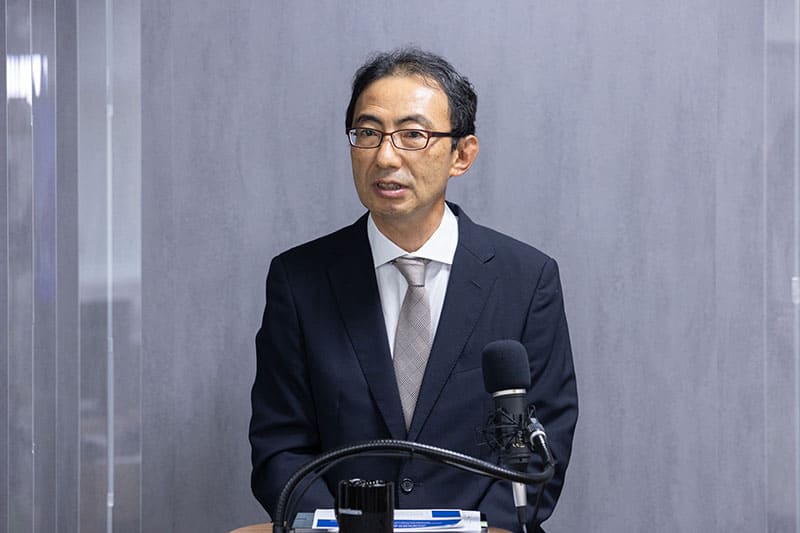 "We emit 15 million tons of carbon dioxide annually. Compared to the other mode of transportation, it is not much at all, considering the amount per shipment, but the scale of our business makes the total volume big. We have taken measures to address this, along with other environmental issues such as climate change, protection of biodiversity and marine environments, and prevention of air pollution," Tanaka said.
Food Loss Bank, headed by Sakiko Yamada, who is also the president of Academie Japonaise de la Gastronomie, engages in sustainable business activities including the manufacture and sale of products made from otherwise wasted food items and flowers, plus planning and running related events while helping other companies to be more sustainable in their own business practices.
"Japan's food loss amounts to 6 million tons per year, which is 1.5 times more than the amount of food aid provided to people suffering from hunger in the world annually," Yamada said. She explained about Ugly Love, one of the projects run by Food Loss Bank to promote the use of vegetables and fruits that have been discarded just because their shape is irregular.
In addition, the company worked with Armani/Ristorante in Tokyo to develop a "Loss Food Menu" making use of such irregular vegetables and fruits. It also collaborated with the Palace Hotel to make cakes for sale using ingredients that would have been wasted otherwise, and in similar ways with many other well-known brands and companies such as Snow Peak Inc., a Japanese outdoor brand, and the food company Mizkan Holdings Co. Ltd.
The Green Finance Network Japan (GFNJ) was the only nonprofit organization among the four award winners this year. Green finance — the practices of financing and investing in more environmentally sound and sustainable ways, which became a global trend after the Paris Agreement was signed in 2015 — is drawing more and more attention in Japan recently thanks partly to the efforts of GFNJ.
Hideki Takada, the secretary-general of the organization, was assigned by the Ministry of Finance as a senior policy analyst for green finance and investment at the Organisation for Economic Co-operation and Development (OECD) in Paris from 2015 to 2018. Although Japan was a slow starter in this field, he saw both ministries and companies starting to take on new challenges in line with the concept of green finance. "But the problem was that there were few horizontal relationships among them and insufficient information about who is doing what and where it had been shared," Takada said.
That is why Takada founded GFNJ almost as soon as he returned from Europe in 2018. The organization now consists of over 330 members. "The remarkable feature of GFNJ is that members are participating as individuals by their own will," Takada said. This way, closer personal relationships grow among the members, free and open discussions take place, and the network has the potential to expand even while members are assigned to different sections or positions in organizations or companies, or change jobs.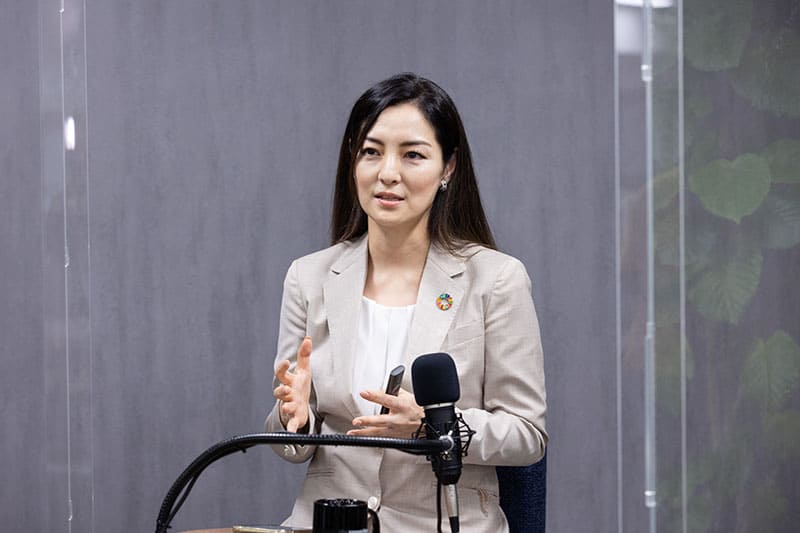 GFNJ also functions as a point of contact for foreign players of green finance in order for them to reach people in Japan. "Foreign investors are interested in the Japanese green finance market, but many are at a loss who to contact. GFNJ can help them reach out to appropriate players in Japan," Takada said. It also collaborates with international and domestic organizations, government entities and companies in organizing events and symposiums about green finance.
Collaborations with various stakeholders, including governments, investors and enterprises, are also necessary to accelerate sustainability efforts in the business sector. Yamada from Food Loss Bank said that when she asked companies for their support in using agricultural products that deviate from standard, some responded by saying that their brands would suffer damage. "So I went to talk to brands like Bvlgari and Armani, which I had connections with through Academie Japonaise de la Gastronomie. If these top brands that are very strict about brand management declare that irregular vegetable and fruits are as good as standard ones in terms of quality, many other companies and brands will follow suit, I thought," Yamada said. "It is also said that the world's richest 10% produce half of the world's carbon emissions."
She noted that renowned chefs at such companies were already aware of the high quality of Japanese agricultural products and had been thinking that something must be done to preserve its agriculture. "So they said they would gladly collaborate with us in an effort to reduce food loss. We try to come up with a sustainability project that is suitable for each company like this," Yamada said.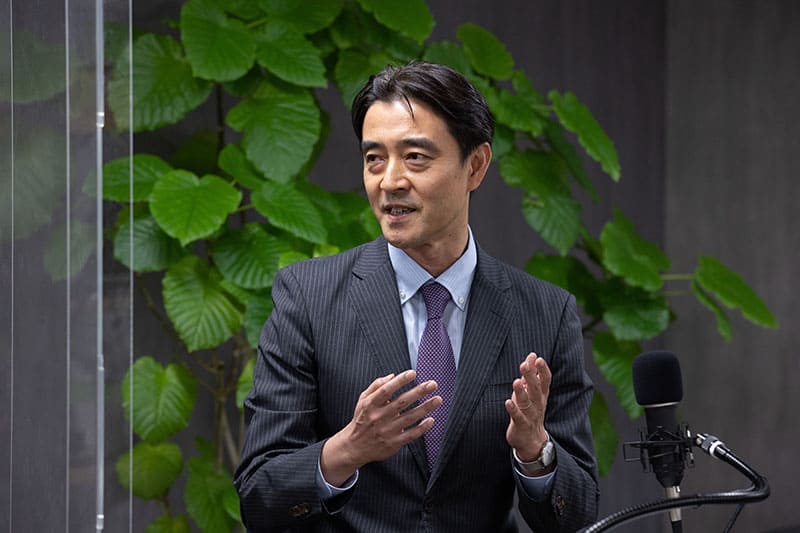 Takada from GFNJ agreed and said Japan has been catching up rapidly, especially in the last few years, and even making pioneering efforts in some areas. He noted that the expansion of green finance, backed by increasing awareness of climate change and other environmental issues, is remarkable. "The role of the financial sector is gaining importance. Conventionally, green finance had been dealt with only by parts of the Ministry of Environment and the Ministry of Economy, Trade and Industry, but it is now promoted by the entire Financial Services Agency, the Ministry of Finance and the Bank of Japan," he said.
Companies like MOL welcome this change. MOL announced this year its goal of achieving net-zero emissions in 2050. "But the hard part is that we are moving things like huge islands. Tens of thousands of horsepower is necessary every year to move such big vessels for tens of thousands of miles," Tanaka said. He explained that it is a huge challenge to replace the heavy fuel oil to new fuel in the future to move such large ships for such long distances, which needs enormous energy like nuclear power for example. "The use of hydrogen and ammonia power generation in this sector is still in the discussion stage," Tanaka said, adding that the use of liquefied natural gas can help reduce emissions by only 25%. "We are still at the transition stage of our efforts to achieve net-zero emissions, starting with establishing new technologies such as ammonia power generation," Tanaka said. He stressed that the cooperation of the public sector as well as the financial sector is a must.
Takada agreed, saying: "Green finance is spreading to various fields in the private sector. Just like in the case of MOL, the need for transition finance will increase. This is one of the fields in which Japan can take the initiative on the global stage."
Participating in various international frameworks is also a way to speed up the process of achieving higher levels of sustainability. "Since the 2030 target of a 46% cut in greenhouse gas emissions does not apply to international shipping industry, MOL complies with the measures set forth by the International Maritime Organization in terms of emission controls," Tanaka said. He further explained that one good thing about IMO's measures is that they are mandatory, "But there is also criticism that its guidelines are not strict enough, which is being rectified at the moment," Tanaka said.
Shigemoto from Dai-Ichi Life outlined some of the international frameworks that the company is involved in. One is the Net-Zero Asset Owner Alliance, an international initiative in which institutional investors aim to transition their portfolios to net-zero greenhouse gas emissions by 2050. "We were aware that we were far behind compared to institutional investors in Europe in this field," Shigemoto said. To catch up with its counterparts in Europe, Shigemoto said, it was much faster to join the alliance, which had already been working on the creation of standards, and use what they could learn from it in their asset management than to think about what to do on their own from scratch. "Becoming a member of the alliance comes with the responsibility to set a reduction target and commit it. We have set 25% emission reduction by 2025, which is a significant amount, but we are thinking about how to achieve it rather than whether we can achieve it or not. The important thing would be to think how effectively to engage with stakeholders and contribute to transition finance as well," he said.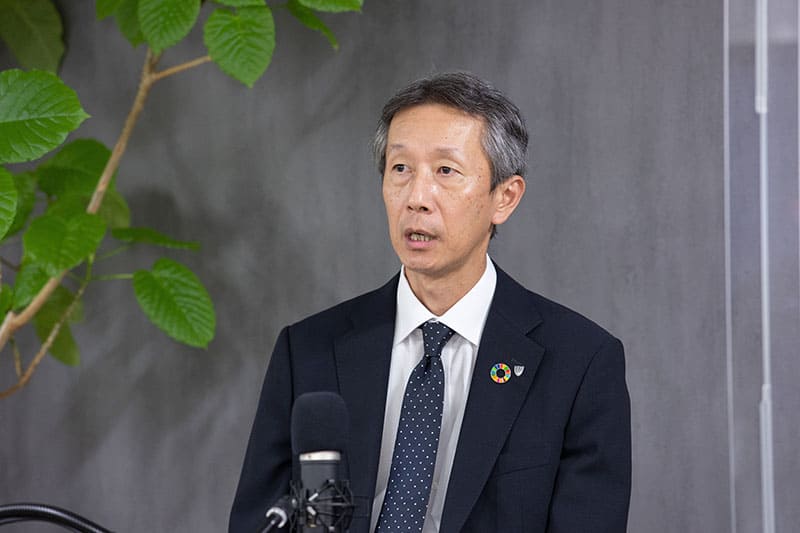 Diversity and inclusion, though not mentioned at length in this panel discussion, is becoming one of the major challenges not only for companies but also for society itself to ensure sustainable growth. Dai-Ichi Life belongs to the 30% Club, a global campaign to increase workplace gender diversity at the board and senior management levels. While a company can deal with gender diversity by itself, again the reason for joining such an international project is efficiency. "We can learn some advanced examples of other companies. We can get concrete answers to questions like what kinds of challenges need to be overcome in what ways to increase diversity," Shigemoto said.
It is one thing to make efforts and another to publicize those efforts and achievements to increase one's international presence. Dai-Ichi Life is also a member of the Glasgow Financial Alliance for Net Zero (GFANZ), an international coalition of more than 290 financial institutions committed to the decarbonization of the global economy. Dai-Ichi Life President and Representative Director Seiji Inagaki is one of the 18 people from around the world forming the CEO Principals Group. The group, which operates GFANZ, builds strategies to accelerate decarbonization and monitors their progress. It is led by Mark Carney, the U.N. special envoy for climate action and finance and U.K. Prime Minister Johnson's finance adviser for COP26, and Nigel Topping, the U.K.'s high-level climate action champion, appointed by the prime minister in January 2020. "Inagaki received the offer to be one of the principals because we were the first company to join the Net-Zero Asset Owner Alliance from the Asian region," Shigemoto explained, adding that Inagaki was able to accept the offer because he is capable of speaking about Japan's stance in English. "It is an international group, so of course all the discussions are conducted in English. It is not always easy for just one Japanese company to make an impact on international rule-making, but we want to do our best," Shigemoto said.
Yamada from Food Loss Bank is promoting its activities and Japan's efforts through "Masterclasses for a Better Food Future," a video series published by the World Food Forum, an international youth-led movement and network committed to transforming global food systems in sustainable ways. "We originally had the spirit of mottainai, meaning 'what a waste,' since long before the launch of the sustainable development goals," she said of Japan, pointing out that Japan is actually making various efforts for global sustainability. "But our efforts will go unnoticed if we do not present them on a global stage. It is important to disseminate Japan's achievements to the world, and we want to make contributions in this area too."
Morisawa, the moderator of the session, who is also the chairman of The Japan Times' Sustainable Japan Network, agreed and commented that Japan has been making environmental efforts not only for itself but also for the world. "We should send out more information about such efforts to the world, and I hope that The Japan Times will do exactly that," Morisawa said in conclusion.