March 18, 2018
Investing more in Japan's children and health
ROHTO Pharmaceutical Co., Ltd.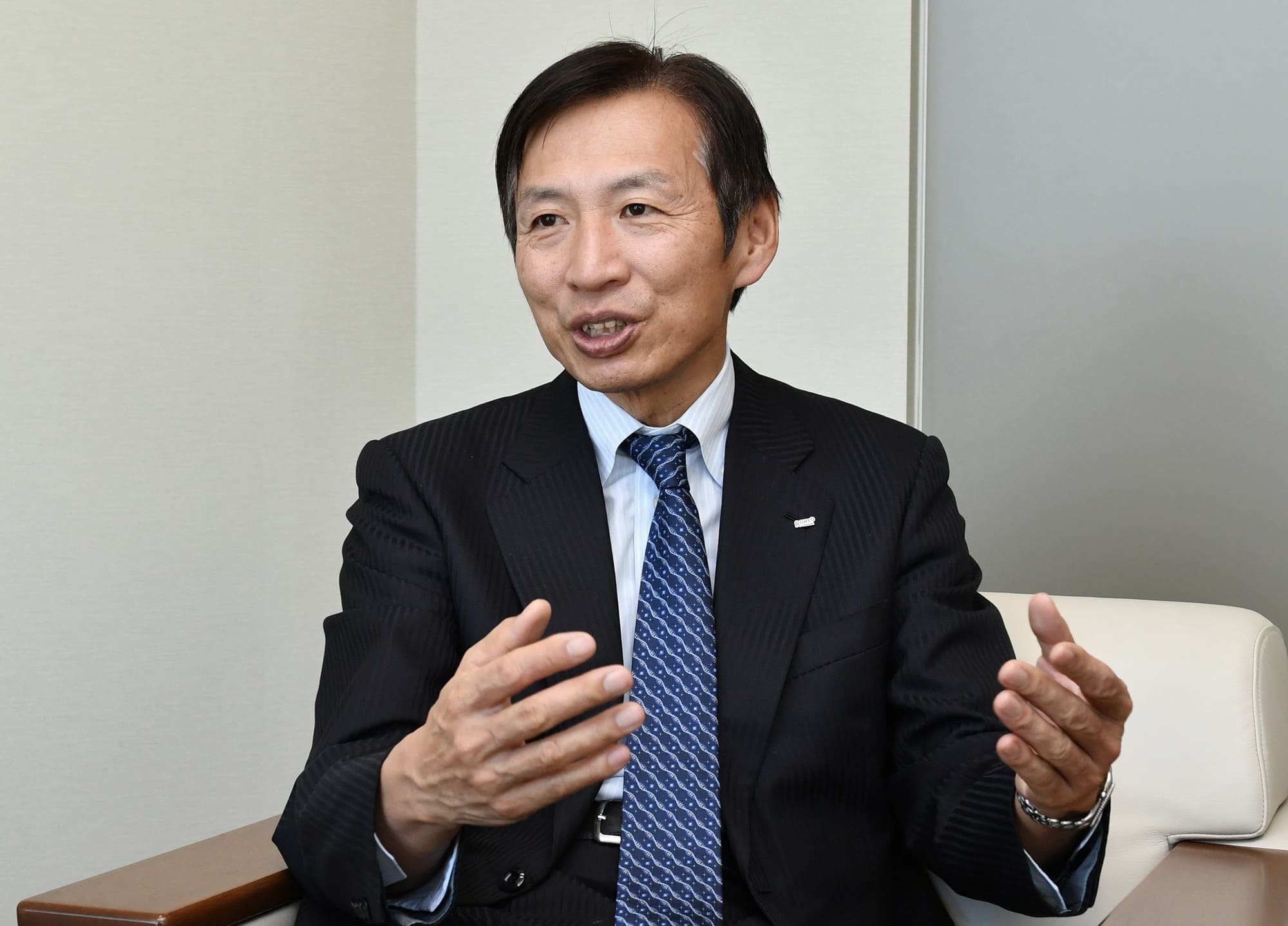 "Never say never," Rohto Pharmaceutical Co.'s new corporate slogan, created in 2016, embodies the firm's determination to "overcome challenges" to make the world a healthier place. What the drugmaker, led by Chairman and Chief Executive Officer Kunio Yamada, has worked on in the Tohoku region following the devastating 2011 Great East Japan Earthquake precisely represents this spirit.
"At any rate, we wanted to do something that directly offers support to the affected people," stressed Yamada, whose company jointly established the Michinoku Future Fund in October 2011 with Kagome Co. and Calbee, Inc. to provide post-high school educational aid for children who lost one or both of their parents in the earthquake. Ebara Foods Industry, Inc. also joined the initiative later.
The initiative provides scholarships of up to ¥3 million per year for such students who are seeking post-high school education. According to the fund, it is estimated that there were more than 1,800 such children and about ¥4.6 billion is needed in total for these scholarships that are expected to be in place for around 25 years, as the fund covers babies that were not born at the time of the quake until their graduation from higher education institutions.
There are several reasons behind the launch of this fund, Yamada explained in a recent interview with The Japan Times. The Osaka-based Rohto immediately sent several of its employees to the stricken Tohoku area to assess what needed to be done.
"We learned that post-high school support becomes scarce since high school graduates are apparently expected to live on their own," Yamada said. "We wanted to aid those who believed they had to work after giving up further study because of their situation."
Yamada personally felt he had been unable to support children after the 1995 Great Hanshin Earthquake, prompting him to respond in the wake of the 2011 disaster.
"I myself was caught up in the 1995 earthquake, swamped with taking care of surrounding affairs," the Osaka native recalled. "The damage had been relatively limited in the Hanshin quake, but the scale and damage of the Tohoku disaster were much bigger."
He mentioned that even though the affected areas saw buildings and roads restored after the 1995 disaster, they didn't see children who had moved to other places coming back.
"Reconstruction of towns and cities won't be truly realized unless we do something for the sake of children," Yamada is quoted as saying in a booklet published by the Michinoku Future Fund.
Yamada noted the program was a "challenge" that tested how far private companies can go to make a contribution on their own.
"As there was no formal list of affected students, staff members needed to visit high schools to ask whether they had such students and their prospects for post-high school education," he said.
Yamada described the initiative as "unique" in that the duration of support spans more than 20 years, given that general financial educational aid tends to be administered for shorter periods of time.
"Long-term support is where the private sector can play a major role," he said. "I guess this effort would serve as a model that represents a possibility of what private firms can address."
Now in its seventh year of operation, the fund has provided scholarships to a total of 638 students and received donations of about ¥3.3 billion from both corporations and individuals as of September last year. The four companies, including Rohto, have dispatched their employees to the fund's secretariat and contributed financially.
He pointed out the program has helped the growth of the employees who worked on its implementation in Tohoku.
"Being exposed to real life there, our workers have grown harder and their horizons have been expanded," Yamada said, adding many other employees have also worked as volunteers in Tohoku.
Furthermore, Yamada stressed engagement in this initiative has refreshed his mindset in operating the pharmaceutical company.
"Our pharmaceutical products target individual customers, but we tended to put all of them in one basket," he recalled. "We entered into various, separate communities through this program and then were reminded that the foundation of our business lies in each person's daily life."
He added: "Helping the reconstruction efforts after the disaster has let us rediscover why our business exists. Namely, it's for society and we progress together with it."
Looking back on Rohto's history as the company marks its 120th anniversary next year, Yamada said the 2011 disaster played a big role in further promoting the company's social engagement.
"We might have been slower to take action in terms of our efforts on the social front," he said. "Because of the disaster, we have apparently moved to a different phase as we were awakened to a social awareness."
Another notable project Rohto has worked on is the Onagawa Health Project, an effort to improve health and pursue healthier lives of the people in Onagawa in the disaster-hit Miyagi Prefecture. Yamada said people's health enhancement was what the company could contribute as a pharmaceutical firm in helping the recovery of municipalities.
"If people aren't healthy, that wouldn't lead to sustainable reconstruction," Yamada pointed out. "As a starter, we decided to launch this project in Onagawa where we had a connection."
The project, started in 2016, has seen implementation of several programs including seminars, a "free health checkup" at seven sites across the town and a "100-day project for health promotion" in 2017 that invited teams of various groups aiming to achieve targets set by themselves, such as "stop eating between meals" or "doing rajio taiso (radio exercise) calisthenics."
"Generally, the ratio of people who go to health checkups is not that high in rural areas. Also, people tend to have unbalanced diets, preferring salty food, for example," Yamada explained. "So, we wanted to raise Onagawa people's awareness of health."
Rohto said it has confirmed the good effect gradually among Onagawa's people, such as reduction of weight and improvement of body mass index.
What drives Yamada to encourage people to pursue healthier lives is a concern not limited to the Miyagi Prefecture town, but extends to the whole country.
"People need to take care of their health by themselves, making efforts not to visit hospitals so often," he said. "For better or worse, Japan has an adequate medical system in place, so people tend to think that they can casually go to the hospital once they fall ill. It has been getting more difficult to maintain the function of hospitals, especially in rural areas, due to the lack of human resources and other factors."
For rural areas to sustain themselves, Yamada stressed it's essential to create businesses and attract people to such areas that face rapid aging among the population.
"Japan will experience a dim future unless people's lives and health, as well as industries, are rejuvenated," he said.
To this end, Rohto has advanced its regional engagements in recent years across Japan.
In Hokkaido, the firm concluded an agreement with the village of Rusutsu in 2014 to promote health among its residents; the firm donated a table tennis table to a children's facility. In 2015, Rohto signed an accord with Nara Prefecture to promote its industries that include agriculture and Chinese medicine, and boost branding of its agricultural products in a bid to rejuvenate rural areas. The company also made agreements with Kagoshima and Osaka prefectures last year.
Yamada also pointed out what's important for a company and its employees to have is a connection with society.
"Of course, we'd like to continue sound development as a company," Yamada said. "It's not a matter of scale. We need to pay attention to whether our business would be beneficial, say, 30 or 50 years later. In this sense, our firm aims to nurture personnel who contribute not only to our operations, but also support society."
In the years to come, Rohto's goal to "make the world a healthier place" based on the newly established "Never say never" corporate slogan appears to be unwavering.
"We have to hand over what we have regarded as important over the years — in short, our spirit and philosophy," Yamada said.
This series highlights ESG (environmental, social and governance) activities of companies and other organizations. For more information, see www.japantimes.co.jp/consortium/esg .