March 25, 2019
Employee programs on long-term wellness
ROHTO Pharmaceutical Co., Ltd.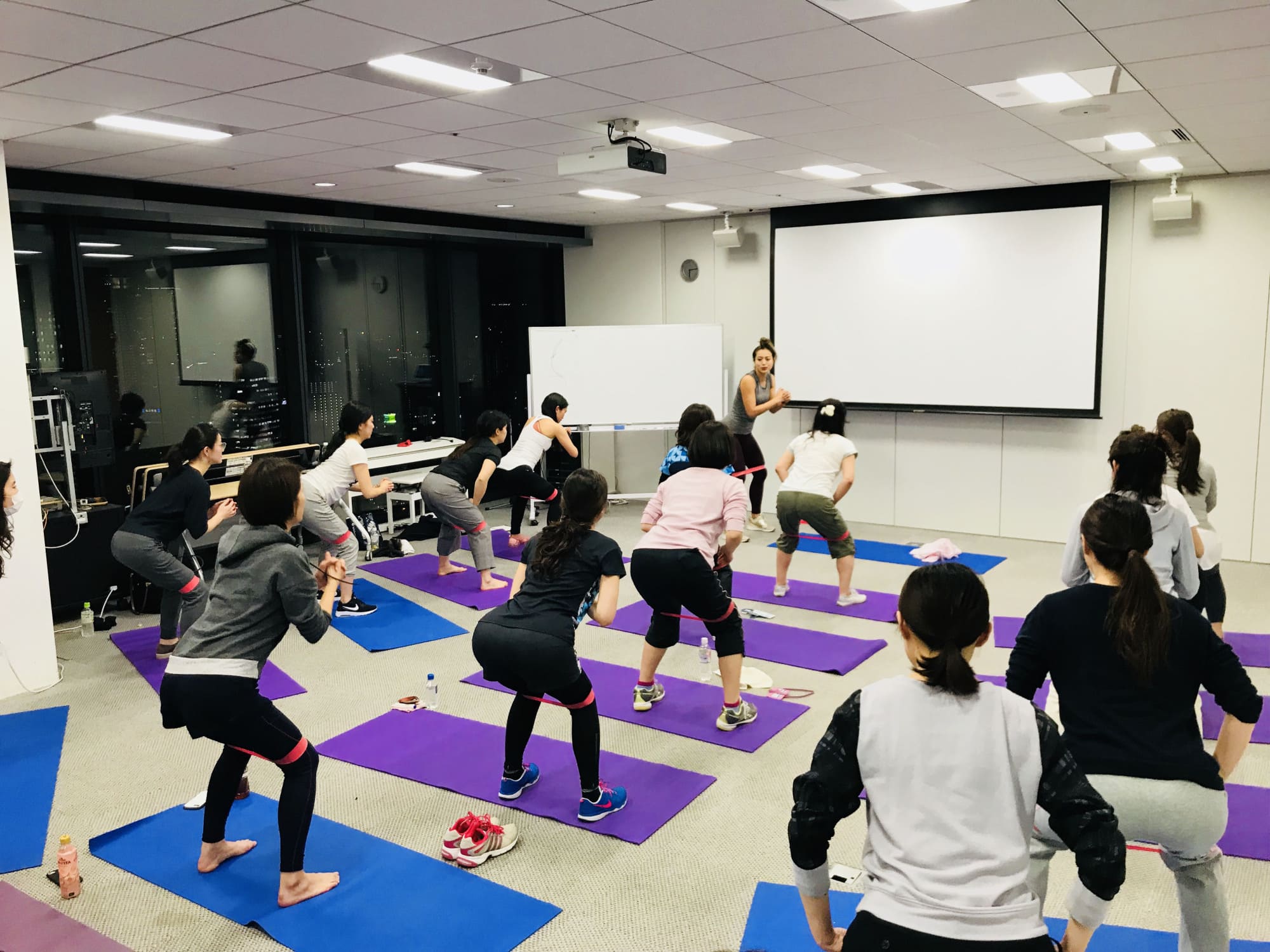 The concept of health and productivity management has become an important business approach for companies in recent years to keep growing, even within Japan's already mature business communities.
Each company possesses its own motivation for engaging in health and productivity management, be it improving employees' morale or enhancing the company's public image.
For Rohto Pharmaceutical Co., it is for "the creation of tomorrow's world," according to Public Relations and Creating Shared Value Division Deputy Manager Yoshio Yagura.
The shared belief among all employees of the pharmaceutical company is that taking good care of themselves is an investment for the future. "What we can do for the children of the next generation is the underlying concept of all our efforts to help our employees maintain their health," Yagura said.
For Rohto's female workers in their 20s and 30s, asakatsu (morning activity) events have been held on an irregular basis since 2016. These events feature a nutritious breakfast served in-office and exercise programs such as pilates. Participants also have the benefit of starting and finishing work earlier.
Female caloric intake requirements are estimated to be 1,950 kilocalories for those between 18 and 29 years old and 2,000 kcal for those aged 30 to 49. This is according to the Dietary Reference Intakes for Japanese (2015) issued by the Ministry of Health, Labor and Welfare.
However, 2017 survey results from the health ministry suggested that the average daily calories consumed among women in their 20s was 1,694 kcal and 1,685 kcal for those in their 30s.
Low consumption is linked with low body mass index (BMI); the ratio of women with a BMI below 18.5, which is considered underweight, was as high as 21.7 percent among 20-somethings and 13.4 percent among those in their 30s in 2016, according to a ministry report.
A low BMI may also indicate insufficient or imbalanced nutrition. Additionally, the report also suggests 23.6 percent of women in their 20s completely skip breakfast or only consume supplements, small snacks or drinks. "At Rohto, we found that 23.3 percent of female workers do not eat any or enough breakfast, which is why we started this asakatsu program," Yagura said.
Anemia is another critical issue among women. "About 30 to 40 percent of pregnant women in Japan suffer from anemia, which is extremely high compared to the average of other developed nations that are at 18 percent," he noted.
It is said that the ideal amount of daily iron intake for an adult woman is 10.5 miligrams, but in reality, women in their 20s and 30s only consumed 6.4 mg of iron in 2017, according to statistics from the health ministry.
Lack of iron not only results in poor physical conditions including fatigue, dizziness and insomnia, but also increases the risk of premature births; these factors add to the importance of preventing anemia prior to becoming pregnant.
Rohto is also tackling this problem. "Last year, we launched a 28-day program for a group of our employees to consume iron jelly, keep a health habit diary and follow basic health advice such as being exposed to the sun within four hours after getting up in the morning," Yagura said
Over 50 percent of participants noted they experienced improved health and 97 percent said their awareness has increased through the program. Rohto also began offering free checkups for serum ferritin levels — an indicator of iron deficiency — to all employees from last year.
There is no doubt that the efficiency of employees improves if they are healthier, but Yagura said that the company is not doing this just for the pursuit of productivity and profitability.
"DOHaD theory suggests that babies with low birth weights have a higher risk of suffering from adult diseases in the future. We feel that it is our responsibility to create a healthy environment for all our employees, especially those who plan to have babies," he said.
DOHaD is short for "Developmental Origins of Health and Disease," a theory that nutritional insufficiency or imbalance during gestation has a high possibility of influencing an infant's body structure, abilities and metabolism to be more prone to cardiac and metabolic disorders in their adult years.
To aid women beyond the company, Rohto collaborates with ABC Cooking Studio Co. on events promoting healthy pre-pregnancy lifestyles. At these events, ABC Cooking Studio holds cooking demonstrations supplemented by explanations on nutrition, and Rohto gives a lecture on preconception care.
Yagura said the understanding and actions of male coworkers are also important. Rohto helps its employees build awareness of their own health and their colleagues' through a flexible work style and health programs all can benefit from. This includes promoting working remotely, although Rohto has intentionally not systematized it.
"We leave it up to each workplace to set its own rules for remote working because the situation of each work place and position is different," Yagura said.
At the company's Tokyo branch, the entire office floor is open, with no walls or partitions dividing desks or departments. Yagura explained this is to reinforce the sense of workplace diversity.
Since last October, the company has also begun mass rubella vaccinations at some of its offices and fully covers the cost for those who receive it at medical institutions. Pregnant women who contract the disease in the first 20 weeks of pregnancy are highly likely to pass it on to unborn infants, causing serious damage to babies' physical and mental functions.
According to the National Epidemiological Surveillance of Vaccine-Preventable Diseases conducted by the National Institute of Infectious Diseases, as of 2017, the prevalence of antibodies is particularly low among adult males in their late 30s through early 50s.
Many municipalities offer financial assistance for antibody tests and vaccinations, but the problem is that many company employees either lack time or feel guilty about taking time off on a weekday to get vaccinated. This is why Rohto decided to take action.
The most recent health-related effort is Aruco, an in-house currency system launched in January. Aruco coins are provided to workers depending on their day-to-day efforts and achievements toward improving their health.
For example, an employee can earn 10 coins for walking more than 8,000 steps, plus a brisk 20-minute walk, a day. Thirty minutes of exercise, twice a week, is worth 50 coins per week. Nonsmokers earn 500 coins every month and a one-off prize of 10,000 coins are given to those who successfully quit smoking.
Every employee at every Rohto office keeps a pedometer in their pocket that sends data to the internal system where everyone's achievements can be viewed. The results of workers' physical fitness assessment are also converted into coins in the system.
Coins can be used for further health promotions purposes such as ordering healthy lunches at restaurants directly managed by the company, attending health-related seminars organized by Rohto, or taking extra days off.
"Everyone is included in the ranking, so we can check how everyone else is doing. We also conduct team competitions using Aruco's system where all departments of Rohto's offices nationwide compete with each other," Yagura said.
He explained that Aruco has sparked conversations among employees about their health and achievements, making it an example of an advanced initiative that transforms awareness into actions.
"Never say never" is Rohto's slogan. "This is the spirit of never giving up to overcome challenges," Yagura said.
For almost 120 years of the company's history, it has always strived to be the first in finding the essence of things and taking action without relying on precedent or waiting for laws to be enacted. With this strong philosophy, Yagura is hopeful moving forward. "We will continue to think about what we can do for the next 50 years," he said.