April 05, 2020
Skin care line explores greener packaging
ROHTO Pharmaceutical Co., Ltd.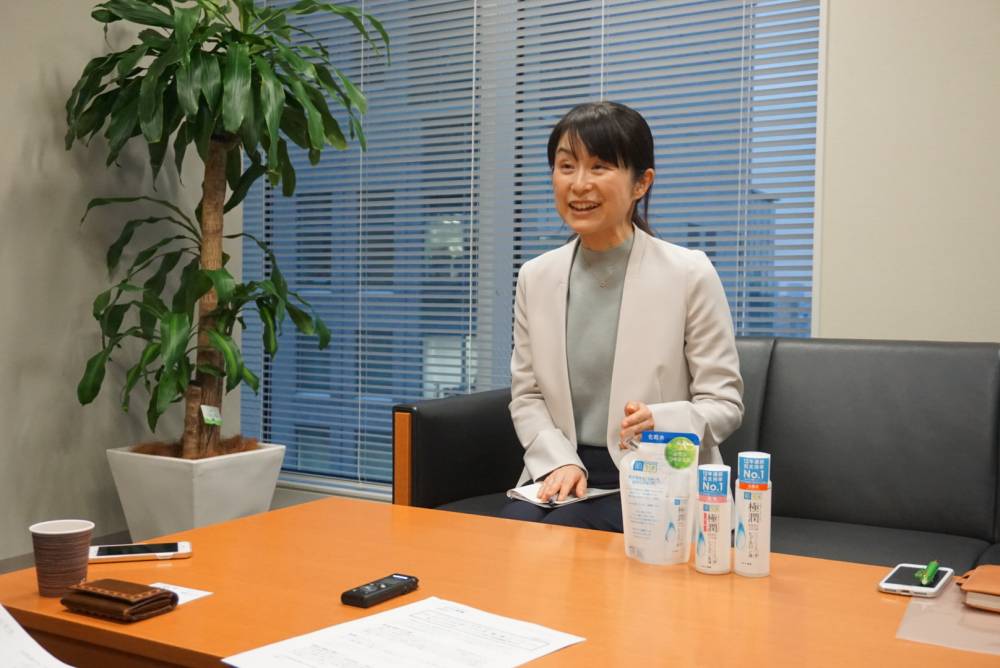 Although the company Rohto Pharmaceutical Co. is instantly associated with eye drops for most consumers in Japan, it has constantly been expanding its field of research, development and manufacturing to health and beauty care.
During about 120 years of history as a manufacturer of pharmaceutical products, the company has been devoting a great deal of time and resources researching pharmaceutical components to create and update their products. One such ingredient is hyaluronic acid, which can serve as a protection for cell membranes.
"Our interest in hyaluronic acid initially stemmed from our research on substances that have positive effects on human organs such as eyes," said Kuniko Okuno, group leader of the product marketing division.
"For eye care products, hyaluronic acid is used for the purpose of repairing damage and avoiding dryness. Then it occurred to us that it could provide the same effect to the skin," said Okuno. That was how the Hada Labo skin care series was born in 2004.
The long-established pharmaceutical company has focused on skin health, rather than beauty at the surface level — an attitude that is apparent on the packages of the Hada Labo skin care series. The main message on the label is that the product is made of hyaluronic acid and there is nothing fancy about the package design. "We heard many customers say that our Goku-jyun lotion bottles of this series look more like containers for chemical substances than skin lotion," Okuno said. "But the point was to eliminate waste and offer products beneficial to the skin at affordable prices."
The sixth-generation Goku-jyun Clear Lotion was launched in 2017. "It consists of three kinds of hyaluronic acids; we considered the characteristics of each one and thoroughly examined the prescription of the substances to make the texture better. It is our latest technological achievement," said Okuno.
Beyond design, Rohto Pharmaceutical has also taken an unconventional approach in its packaging. One year after the lotion was released, it began selling refills of certain Hada Labo products in plastic pouches. Okuno explained that refillable cosmetic products were still very rare at the time. However, there were other kinds of refillable products that were already popular in Japan's consumer product market such as detergent and shampoo. Customers were already aware that purchasing refillable products helps reduce waste and save money at the same time.
Thanks to this, the idea that skin care products could also be refilled in a more economical way and place less burden on the environment seemed to spread quickly throughout the market. "We managed to create a new market of refillable skin care products in Japan, but it has not been as easy as that in the rest of the world where our products are sold," said Okuno, mentioning that the Hada Labo series has been marketed globally since 2007.
"However, we have not given up addressing what is good, and we continue to explain why it is good. In some countries, even though the refills are not normally sold at storefronts, we sell them on a campaign basis in a bid to raise the awareness of consumers gradually," said Okuno, stressing that the company aims to produce what is good for the "health of spirit, body and the earth," not what sells.
Another difficulty in dealing with the global market is the difference of customs. "In fact, using facial hydrating lotions is not a common practice in some countries," said Okuno. In Japan, removing makeup, washing one's face and using a facial hydrating lotion to prep the skin before applying emulsion and cream is a typical skin care routine, while in some countries, "people tend to rely on creams to moisturize," said Okuno. Changing the habits of a different culture requires a great deal of effort. "We are trying to do this in a way that is not too pushy," said Okuno. Rather than pointing out that a skin care method is not good or insufficient, Rohto tries to promote the benefits of hyaluronic acid through advertisements and campaigns.
Starting from Hong Kong, the Hada Labo products have been sold in about 20 countries so far, including countries in Asia as well as Russia and Brazil.
Rohto's most recent improvement to the Hada Labo series was replacing some of the ingredients used to make containers and pouches with biomass-derived resources in 2019. The company's next challenge is to increase the percentage of environmentally friendly materials in their products' packaging without inconveniencing consumers. Okuno commented that the balance between usability and durability is important in achieving this goal.
"We would also like to continue enhancing this brand in the way that only a pharmaceutical company can, just as our research on eyes originally contributed to the idea of using hyaluronic acid for maintaining skin health," said Okuno.
This series highlights ESG (environmental, social and governance) activities of companies and other organizations. For more information, see www.japantimes.co.jp/esg-consortium/ .