November 05, 2021
Satoyama winners discuss new approaches to sustainable revitalization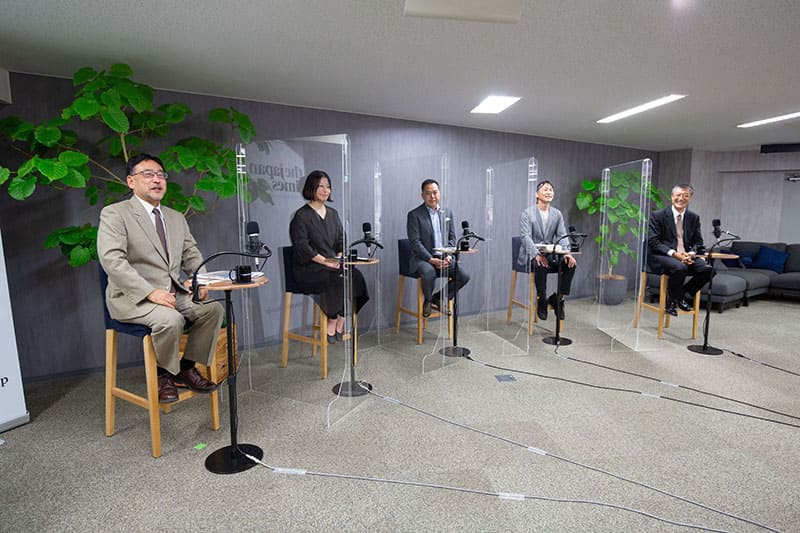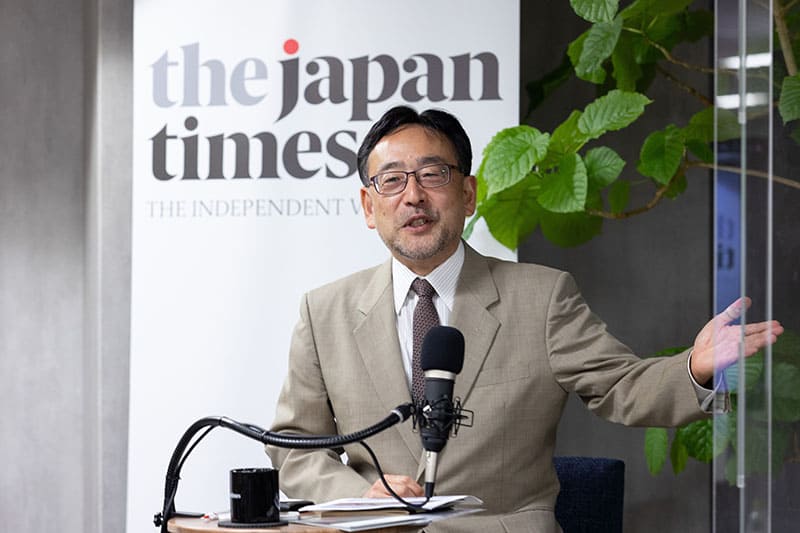 Local regions in Japan and around the world are in need of innovative approaches to developing sustainable economic models while adapting to social challenges such as depopulation and aging. Although we typically think of innovation as emerging from dynamic urban centers, some of the most important insights and new models for the future can be found far away from big cities, and in response to the specific challenges facing local communities.
At the Sustainable Japan Awards 2021, held by The Japan Times in Tokyo on Sept. 29, a talk session featuring four award recipients in the satoyama category offered ample evidence that innovation can flower in the most remote places, or within established companies that choose to re-imagine their business models.
The Japan Times Satoyama Consortium is named for the traditional rural mountain landscapes known as satoyama, whose residents nurture ecosystems and pursue the sustainable use of natural resources.
In 2019, the consortium established the Satoyama and ESG Awards to recognize exemplary initiatives in two fields: creating a sustainable circular economy through the use of existing regional resources — the satoyama category; and delivering innovative projects and technologies from the perspectives of the environment, society and corporate governance (ESG) and of the U.N.'s sustainable development goals — the ESG category.
"Our tiny village can seem like the end of the Earth, but being recognized in this way reflects the expectations for what has been started in this remote place," said Naoko Oshima, who represented the village of Nishiawakura in Okayama Prefecture.
Similarly, Hiroshi Abe, representative director of Kaze to Tuchi to Inc., described his tiny, isolated community of Ama in the Oki Islands of Shimane Prefecture as "a kind of miniature model of where Japanese society is headed." The economic and demographic challenges it faces are becoming apparent across the country, but Abe suggested that "if we can become a pioneer in developing solutions to these problems, it could be useful everywhere."
These two innovators on the rural frontier were joined by Tadamasa Saito, representative director of the Matsumoto-based hospitality company Tobira Group, and Osamu Nishimura of Meets Takegami, a brand of sustainable bamboo paper launched by Chuetsu Pulp & Paper Co. Ltd. Both discussed how their long-standing companies developed new business models built around sustainability principles.
Nishiawakura won the Sustainable Japan Excellence Award at this year's Satoyama and ESG Awards, while the Excellence Award in the satoyama category was shared by Tobira Group and Kaze to Tuchi to. Meets Takegami received the Sustainable Japan Satoyama Special Award.
Kosuke Motani, a chief senior economist at the Japan Research Institute Ltd. and an adviser to the consortium as well as one of the judges of the satoyama awards, moderated the talk session.
Isolation from Tokyo and other economic centers can be an obstacle to economic development and an accelerant of depopulation, but both Nishiawakura and Ama have succeeded in turning their remoteness to their advantage, becoming seedbeds of innovation. In both cases, the decision not to merge with larger municipalities in the mid-2000s set the stage for the communities to forge their own paths as they grappled with social, economic and environmental challenges.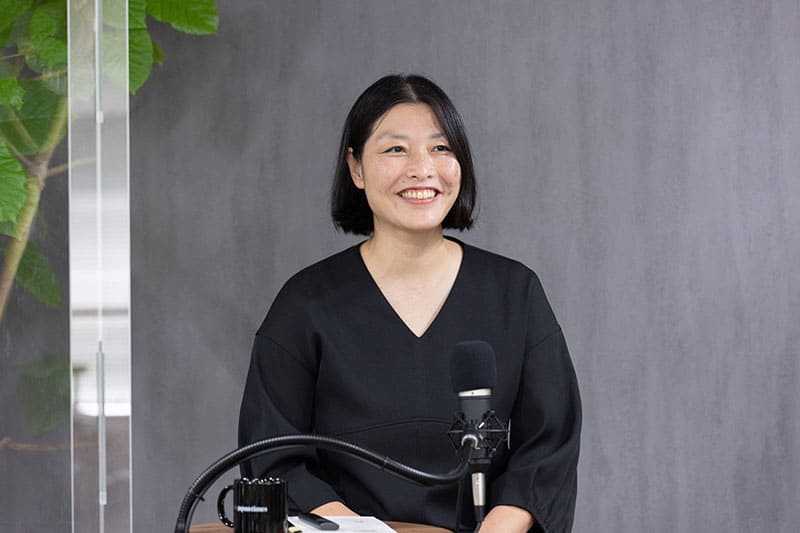 At the talk session, Nishiawakura was represented by Naoko Oshima, a migrant to the village who now runs a nonprofit organization engaged in community revitalization efforts. Nishiawakura, nestled in the mountains of northern Okayama Prefecture along the borders with Hyogo and Tottori, has a population of around 1,450 people and is more than 95% forest.
Despite its relative inconvenience, Nishiawakura has gained notice around Japan for attracting a large number of migrants, who now make up nearly 15% of the population. The number of households has increased so dramatically that new migrants struggle to find vacant houses, which once were abundant. "This could be seen as a problem, but some have turned it into an opportunity for new businesses," said Oshima.
Like many other new migrants, Oshima was attracted by Nishiawakura's "100-year vision of the forest," an initiative launched in 2008. Many artificial forests planted in Japan in the 20th century have been neglected for decades, leaving mountainous areas in a poor state of ecological health. The 100-year vision seeks to pioneer new approaches to restore greater biodiversity and a sustainable relationship between humans and the environment. As part of this initiative, a "forest school" was established to share knowledge about forestry and craftsmanship, and helped to attract a community of eco-minded migrants. Of more than 50 recently established businesses, many are related to forestry and the use of forest products, Oshima said.
In recent years, the village's forest management has attracted attention for its cutting-edge techniques such as using laser-equipped drones to create 3D models of mountains and individual trees, but Oshima recalled how the initiative started from humble origins, with public servants working to convince local landowners to support the initiative. He added, "Nowadays you could use a helicopter, but 15 years ago, a young woman the same age as me had to take a GPS receiver into the forest and measured all the property boundaries on foot."
Oshima credited many of the local people inside and outside of the village office with laying the groundwork. "It's atop those earlier efforts that migrants like myself have been able to establish ourselves and achieve success in current initiatives. I'm very proud of that," she said.
Moderator Motani pointed to the high number of migrants and new businesses, and the challenges of entrepreneurship, and suggested Nishiawakura is ahead of Tokyo in many ways. "Cutting-edge things that aren't happening in the heart of Tokyo are happening in a mountain village. This is what is astonishing about Japan's satoyama. It's not simply beautiful nature and leisure — the same sorts of things that happen in big cities are taking place in a more advanced form," he said.
Similar to Nishiawakura, Ama is a tiny community distant from major economic centers. "To get from Ama to Tokyo, it's a three-hour boat ride, and then a further six to eight hours with several transfers," said Hiroshi Abe, who had made the journey to Tokyo the previous day. As the representative director of Kaze to Tuchi to, Abe has worked closely with the local government and community on educational and revitalization initiatives in Ama. "We are all engaged in an all-out battle for the island's future," he said.
Abe explained how Ama has successfully used a combination of technology and social innovation to turn this isolation to its advantage. Advanced freezing technology known as CAS allows local seafood producers to export high-quality products to Tokyo and other distant consumer centers. Two restaurants in the capital and a third in Sapporo serve menus primarily composed of ingredients shipped from Ama.
Like Nishiawakura, Ama also introduced high-speed internet at a relatively early stage, and the local government and entrepreneurs have leveraged this technology to great effect. Abe's Kaze to Tuchi to recently launched a publishing business. "It's possible to start a publishing company on a remote island — not to publish information about the island, but books about updating society as a whole," he said.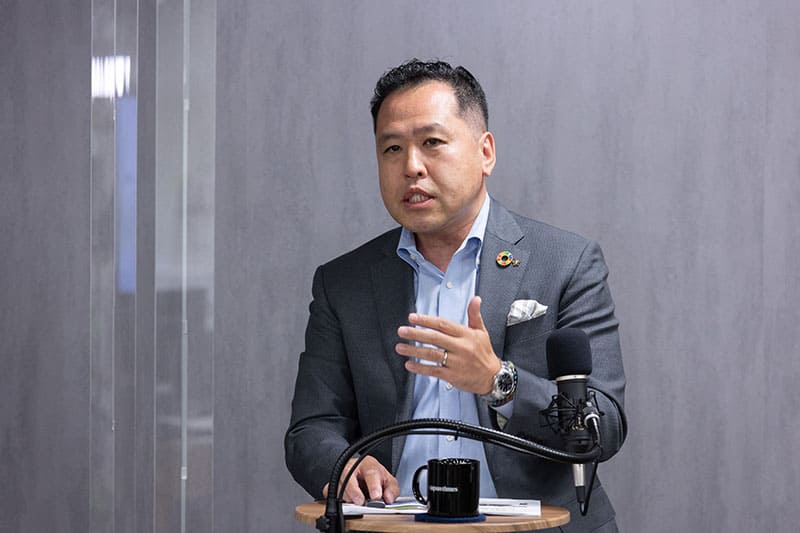 While changes in logistics and communication have transformed the ability of rural communities to connect with the outside world, technology alone is unable to solve the challenges posed by population decline, which is particularly severe for isolated islands such as Ama. The municipality's population declined from around 7,000 in 1950 to around 2,300 in 2015, during which time annual births fell from around 200 to just eight and the ratio of residents over the age of 65 reached 41%.
A decade ago, Ama was in danger or losing its only high school. "Children would have to go to the mainland, and in many cases the whole family might leave. Plus, there would be no chance of getting young families to move to the island without a school," said Abe. Faced with a crisis that could lead to Ama becoming uninhabited, the island reinvented its high school as a boarding school for children from outside the community. The concept of "island exchange" offers children a distinctive learning environment where "the whole island is a classroom and every islander is a teacher." Enrollment has rebounded from around 90 to 180 students.
The two other participants in the talk session showed that rural migration and startups are not the only recipe for spurring innovation that taps into Japan's satoyama heritage. Tobira Group and Meets Takegami both exemplify how venerable companies can reorient their business models around values that contribute to environmental sustainability and local revitalization.
Tobira Holdings is a hospitality company headquartered in Matsumoto, Nagano Prefecture. Its origins stretch back to the founding of the Tobira Onsen Myojinkan hot spring in 1931, and today the group operates eight different restaurants and accommodations, with over 170 employees. Over the past two decades under Saito's leadership, the company has focused its branding and business strategy on sustainability and well-being rooted in satoyama principles.
Starting in 2003, Tobira Group began integrating ecology and health into its hotel business, through steps including adopting sustainable building materials and composting food waste. In 2009, Tobira Onsen Myojinkan became the first hotel in Japan to be recognized by Green Key International, a Denmark-based eco-label awarded to accommodations and hospitality facilities around the world. Tobira Group has also focused on promoting the macrobiotic qualities of traditional Nagano foods used in its restaurants.
While sustainability and health have become deeply rooted in the company's culture, Saito said it recognized the need to be more deeply connected to the local communities where it operates, and in 2019 established a new division focused on restoring traditional houses.
Two projects have since been completed under the Satoyama Villa brand, including an accommodation facility that was rebuilt from a large 108-year-old house located in a compound once used by samurai lords traveling to and from Edo. The building's historical and academic value was recognized and was immediately registered as a tangible cultural property. In addition, the property has an organic farm and rice paddies, and next spring Tobira Group will open a new facility that will employ people with disabilities to cultivate strawberries and herbs.
Saito emphasized that the continued success of their business is intertwined with the vitality of the local area and agricultural industry. "Our business is based on the premise of taking local ingredients, preparing them and adding value. We have relationships with many farmers, but if a decade from now the number of farmers falls to a tenth of what it is today, we won't have any suppliers at all. So we want to start by doing what we can," he said.
Also participating in the talk event was Osamu Nishimura of Meets Takegami, a brand launched by Chuetsu Pulp & Paper that deve-lops and markets a range of products that use paper produced from bamboo pulp, instead of the typical pulp made from coniferous or broadleaved trees.
In traditional satoyama environments, bamboo was harvested and used a variety of ways, including to make trays, baskets and the base layer of earthen walls. However, when left untended, bamboo grows thick and encroaches on other forests and agricultural land, and has become a difficult problem to manage in many local communities.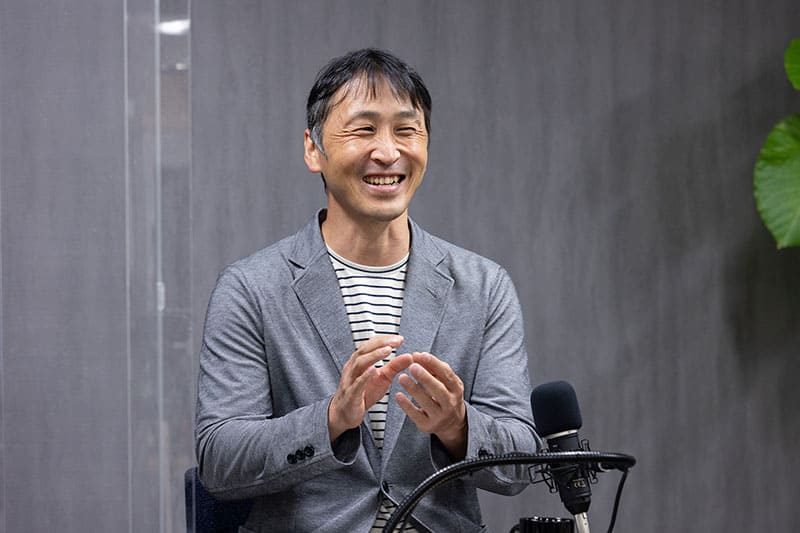 Chuetsu Pulp & Paper has paper plants in Toyama Prefecture, where it is headquartered, as well as Kagoshima Prefecture in southern Kyushu. According to Nishimura, Kagoshima has roughly 10% of the entire country's bamboo forests. In 1998, the company began to experiment with producing a small amount of paper from bamboo at its Kagoshima plant as a way of contributing to the local community.
Spurred by the then company president's enthusiasm for the idea, the company scaled up from initial production of just 7000 tons per year to as much as 20,000 tons by 2011. "This probably constitutes half of the consumption of bamboo in all of Japan," Nishimura estimated.
Producing paper from local bamboo instead of imported pulp has a range of benefits, from preserving adjacent forests and satoyama landscapes to encouraging biodiversity, local economic revitalization and the use of unwanted resources.
However, the initiative remains challenging from a business perspective. Paper made from bamboo is more expensive than regular paper, and "even when it sells it is not necessarily put to use in the best products," Nishimura said. Meets Takegami was launched as a way to develop appealing products that showcase the qualities of bamboo paper. The brand has developed a product line including notebooks, packaging, origami and event materials that feature bamboo and other nature motifs. "We are not doing it foremost to sell products, but to share a message with consumers," Nishimura said.
Pursuing local value can also mean developing products and ideas that have relevance around the world. Tobira Group has attained certifications from multiple organizations, and joined Relais & Chateaux, a French collection of luxury hotels and restaurants, which created new international demand for the refined food and experiences available in Nagano.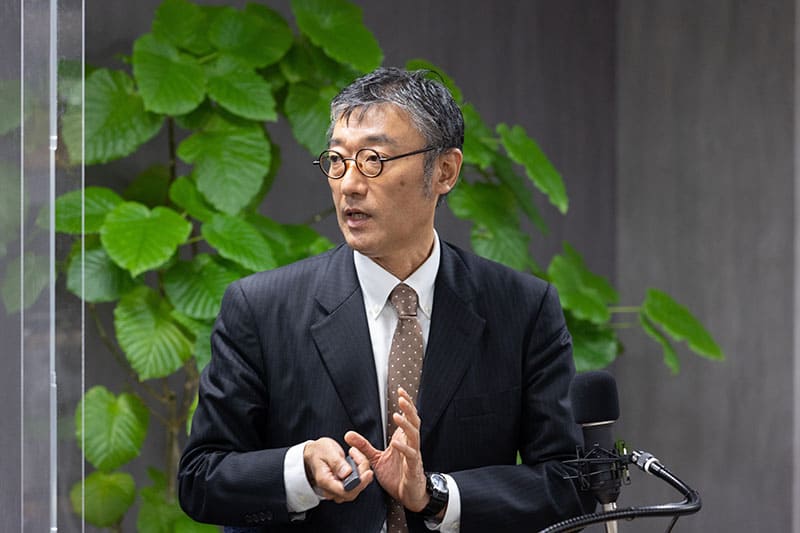 Ama's untranslatable catchphrase of "nai mono wa nai" means both "what we don't have, we don't have" and "there's nothing we don't have." Abe said it reflects an acceptance of both the limitations and richness of the island's environment, and an ethos of creating things they lack together. "This is quite similar to the idea of 'gross national happiness' in Bhutan," he explained. Ama has collaborated with the Japan International Cooperation Agency to conduct exchanges with Bhutan, forging ties between local areas and sharing sustainable practices and values. The phrase was also picked up by former Environment Minister Shinjiro Koizumi as a form of Japanese values worthy of promoting around the world.
Similar in tone, Nishiawakura's slogan of "Ikiru o tanoshimu" ("Enjoy living") reflects a worldview not unlike the "slow life movement" that is spreading around the world. Nishiawakura has also been designated as an SDGs FutureCity by the Cabinet Office.
While satoyama initiatives have great potential for both inbound tourism and sharing sustainable practices abroad, the panelists emphasized that the most important thing is to build understanding within the local community and address local needs.
"I think caring about others and valuing interaction between people is at the root of everything in Ama," Abe said. As the number of migrants and new initiatives in Ama has increased, some residents have not managed to keep up with the changes. One of Abe's organizations is planning to hold bus tours for local residents to see projects and meet those involved. "It can help them to develop a better understanding of what's going on. It's easy to be critical when you don't know, but people become supporters when they learn," he added.
In Nagano, Tobira Group maintains relationships with some 250 local farmers. It works with its suppliers and has provided space in Matsumoto for farmers to sell their goods directly. The company also collaborates with the city government on agricultural policy and has been conducted culinary education in the city of Matsumoto. "If there are no more farmers, we will not be able to supply our restaurants," Saito explained. He expressed hope that his company's activities can contribute to revitalizing the community: "I want to share an image of Nagano life and agriculture that is cool and stylish, that might attract young people who will want to engage in farming."
More than a decade after first moving to Nishiawakura, Oshima recognized that while many new initiatives had sprung up, there was a need to connect different players together and develop closer networks to solve local issues, and founded the general incorporated foundation Mura Marugoto Kenkyujo, which bills itself as a "local invention lab." She sees identifying local needs as a key element of the organization's mission.
"There are always new challenges that keep presenting themselves. I try to avoid using the word 'challenge,' and instead describe them as wishes," Oshima said. "It's easy to get discouraged by counting the challenges we face. … By referring to them as wishes, I focus my activities on trying to create the future together with people who wish to see something different."