October 02, 2023
Tapping into the great potential of rural areas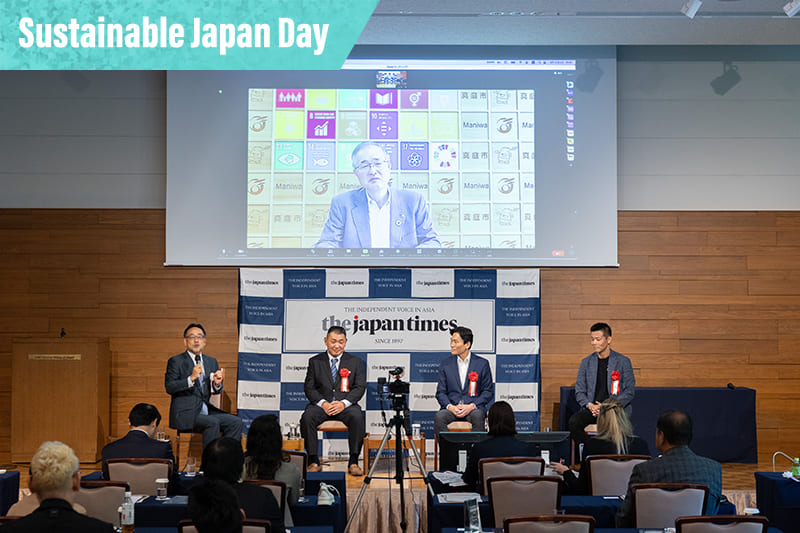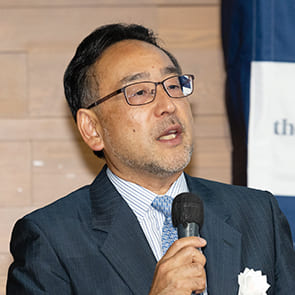 The satoyama panel session featured four winners of the Sustainable Japan Award and was moderated by Kosuke Motani, a senior researcher at the Japan Research Institute. The four — Noboru Ota, the mayor of the Okayama Prefecture city of Maniwa, Value Management Co. CEO Jun Tarikino, Yamagata Design Co. CEO Daisuke Yamanaka and Sasue Maeda Fish Shop Director Naoki Maeda — gave short presentations about their businesses and activities that center around the concept of not only preserving but also effectively utilizing regional resources, and exchanged views about the potential of rural areas.
---
New life for old buildings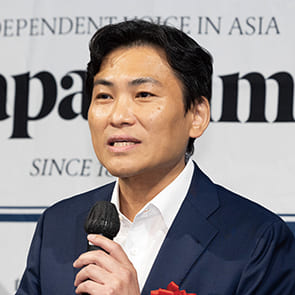 Value Management, which won the Satoyama Excellence Award, specializes in revitalizing regional communities and economies through preserving and using historic facilities and cultural assets. Many owners of tangible assets — in the public sector, temples and shrines, and citizens — are struggling with high maintenance costs. While the costs are expected to only go up as the buildings get older, the finances of the owners tend to become more strained due to shrinking tax revenues or income, in the cases of the public sector or temples and shrines, or issues of property tax and succession for private owners.
Value Management preserves such assets and monetizes them by making them into accommodations, restaurants and other facilities so that maintenance costs burden no one and the buildings generate new income and jobs for their communities.
In addition to the restoration and management of many historic buildings, Value Management engages in the revitalization of about 200 areas across the country. Preserving entire townscapes and making them attractive to tourists creates greater effects than just rejuvenating one building.
"What we deal with are buildings and sceneries with long histories — even several hundred years in some cases. Once they are lost, they are gone forever. We can never bring them back. I just could not bear to see them gone," Tarikino said. The company does not work alone or gain alone. It collaborates with various stakeholders, including municipalities and citizens, to think about and do what is best for each community. "Those who are living in and working for the community should always be the ones to be in the spotlight," he said.
Motani praised the company's stance, saying, "Instead of publicizing the company name, Value Management pushes the communities to center stage. This attitude is significantly different from big enterprises that are bound by the responsibility to demonstrate strong corporate identities to appeal to their shareholders."
Local resources for local needs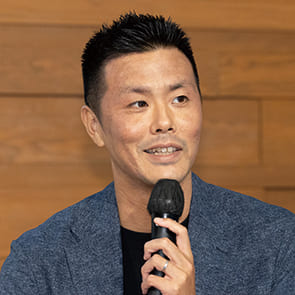 Yamagata Design, which also won the Satoyama Excellence Award, was established in the Yamagata Prefecture city of Tsuruoka in 2014. In the early days of its history, it engaged in property development and stock investment — a more conventional type of regional revitalization effort. "We then invested the profit in facilities and services for local children such as a children's center, free school, an after-school, and day care center, because we learned from the local residents that those were what they most needed," Yamanaka said.
Currently, the company runs seven projects across four categories — tourism, education, human resources and agriculture — with about 120 employees. One project in the tourism category is the Shonai Hotel Suiden Terrasse, a wooden structure on stilts looking down over rice paddies. In the category of agriculture, the company not only produces vegetables in environmentally friendly ways, but also helps farmers shift smoothly from chemical to organic farming and promote their products.
"Japan is importing 99% of its nitrogen, phosphorus and potassium, the three primary nutrients in fertilizers. There is potential to produce premium vegetables unique to Japan, blessed by water and soil, and sell them overseas. We must farm organically," Yamanaka said. He emphasized that true self-sufficiency in food is a result of creating a circulation of resources by growing products organically and consuming them locally. But Yamagata Design is planning to take a step further. "We are aiming to sell the products grown organically in Shonai in the global market," Yamanaka said.
In the category of human resources, Yamagata Design runs a job site named Shonai Zukan (Shonai Encyclopedia) that shares job listings as well as introduces life in Shonai. A new project will start soon as a joint venture with through matching people from across the country with jobs in rural areas that are struggling with depopulation and aging despite the fact that such places are full of potential, with vast resources that can be turned into new values — if there are people who are willing to take on new challenges.
Communicator of fish culture
Sasue Maeda Fish Shop has been selling fish brought in to the port of Yaizu in Shizuoka Prefecture for five generations. Maeda, a fifth-generation fishmonger, has witnessed both the marine environment and fish culture go through major changes over the years. "The marine ecosystem is changing because the minerals and bacteria contained in the water from the mountains and rivers are decreasing and seawater temperatures are rising due to climate change, which means the kinds of fish landed at our port inevitably change," Maeda said.
Since the fish shop has been there long enough to observe the changes, Maeda was able to foresee and prepare for today's marine environment and fish business a decade ago and work with local fishermen and restaurants to continue serving local fish in the best possible condition so that fish-eating culture and the local fish industry would not die out.
The freshness of fish and how they are treated after being caught define their taste. This is why Maeda has been communicating with the restaurants that buy fish from him to learn what kind of fish they want and how they want to cook them, and with fishermen to tell them exactly how the fish need to be treated to serve those purposes. He has been committed to doing so ever since he met the chef of one of the most famous local restaurants and learned his needs and how attractive local products can be if their value is maximized.
"Now there are at least six restaurants in Shizuoka that can bring people from Japan and abroad just to enjoy the fish dishes they serve. Thanks to the restaurants, as many as 25,000 visitors come to Shizuoka every year," Maeda said. Unlike visitors from outside who are sensitive to what they can only experience then and there, Maeda pointed out, local residents tend to be unaware of the value of what they have every day. "It is also important that the top players of each industry in the area try to reach out to the locals to share what they should be proud of to preserve the regional culture," he said.
Waste turned into resources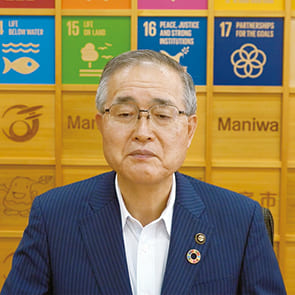 The city of Maniwa, which received the Excellence Award, is located in the mountainous north-central part of Okayama Prefecture and is home to a population of about 42,000 people. The Maniwa Biomass Power Plant, established in 2015, uses wood from forest thinning and woody waste from lumber mills. The city aims to be 100% energy self-sufficient — and not only that, part of the profit generated from the biomass power plant is returned to the mountain owners who take care of the forests, contributing to the revitalization of the local forestry.
"One of our recent projects creates liquid fertilizer from kitchen garbage and human waste in a plant that runs on the methane gas generated by mixing raw garbage, human waste and sludge from septic tanks," Ota said. The process of making the fertilizer, as well as the fertilizer itself, is environmentally friendly.
The southern part of the prefecture, facing the Seto Inland Sea, is known for oyster farming. "We mix crushed oyster shells with the soil in the rice paddies to enrich the soil," Ota said. Oyster shells can be used as a mineral-rich organic lime fertilizer. "We also plan to use the liquid fertilizer for rice farming too."
In addition to these three cases, where what once were waste items are now used as resources, Greenable Hiruzen, a complex of tourist and cultural facilities centered around an installation created by internationally renowned architect Kengo Kuma using cross-laminated timber from Maniwa, was established in 2021 in the Hiruzen Plateau in the northern part of the city. "Kuma also designed and renovated what used to be a rest house on the plateau into a co-working space. We aim to attract intellectual industry too," Ota said.
With all these successful examples, the city itself has become an important resource. Together with the prefecture's cities of Okayama and Kurashiki and village of Nishiawakura, which are also making unique efforts to create new values using existing regional resources, Maniwa is engaging in sustainable tourism, offering trips around the four advanced sustainability-minded municipalities.
Drivers of community change
Many of these efforts cannot be done without local cooperation. However, it is not always easy to share a common purpose with everyone in a community and keep pace. Value Management has been cooperating with various players in the Ehime Prefecture city of Ozu, with a population of about 40,000, to make the entire downtown tourist-friendly, including the iconic Ozu Castle, which Value Management has made into Japan's first castle that offers overnight castle stays.
Tarikino, speaking from his experience of working with small municipalities like Ozu, said, "The smaller municipalities are, the faster the pace of depopulation. This stimulates a healthy sense of crisis that the community itself will cease to exist unless all stakeholders — such as the municipal government, financial institutions, the chamber of commerce, the cultural property conservation center and citizens — collaborate together to overcome regional challenges."
There are also many cases in regional revitalization where a strong commitment by a municipal government is necessary. "Many people talk about public and private partnership in the context of regional revitalization, but the public sector is also made up of citizens. It represents citizens' will and acts accordingly. That is why we have always focused on communicating with citizens for nine years since the company was founded as a form of community management invested in by 40 local companies," Yamanaka said. Yamagata Design consistently tells citizens about projects that it believes to be valuable and beneficial to the community, so that the people will raise their voice. Yamanaka thinks it is the fastest way to move politics forward.
Creating businesses and jobs
To continue making improvements over the long term and ensure that the effects of positive changes last, it is important to secure human resources and make people want to continue contributing to the community. As Tarikino pointed out, many municipalities have invested a lot of money to organize big events that can gather tens of thousands of people during the period of a few days as a way to rejuvenate the region. But once the event is over, both staff members and visitors are gone. "We need to think of regional revitalization efforts that are sustainable and financially independent from tax money," Tarikino said. Through the project in Ozu to monetize not only the city's historic buildings but also the entire town, attracting tourists from Japan and abroad, "We have already created about 100 new jobs in the community."
Yamanaka defines community development as creating businesses that can solve issues unique to each community. Businesses need workers, and securing labor has been a challenge for rural areas. "About 80% of the 120 people working for our company are locals," Yamanaka said. But not all of the locals have lived in the area all their lives. About 80% of them are "U-turn" workers who returned to their hometown after spending some time outside. "Many people, especially the younger generations, think that there are no jobs available in rural areas," Yamanaka said. But in fact, there are many attractive jobs as well as potential for starting new businesses, as is clear from the examples of the areas the panelists represented. That is why one of the pillars of Yamagata Design's business is human resources and why it is trying to connect young people and rural areas across the country.
"We have seen some good examples today that prove there are more exciting opportunities for young people in rural areas than in big cities," Motani commented.
Rural areas in transformation
Even in the areas that the panelists represent or engage in, changes are ongoing and new efforts are being made. "It is an undeniable fact that the marine environment is degrading. What we need to prioritize now is to protect the jobs of fishermen by, for example, artificially creating spawning sites for fish. Then the next step would be to hand down what we think is delicious to younger generations," Maeda said. "Gastronomes are visiting Shizuoka from around the world. All we need to do is to provide them with deliciousness that they have never experienced before, and they will definitely come back again and again."
Tarikino pointed out that Value Management's involvement as an outsider has made rural communities realize that they do not have to give up preserving old things if they can add business perspectives to community development. "If we can preserve the townscape, we can preserve people's attachment to the place. If people feel attached to their town, they will continue to live there. If people are there, livelihoods will remain. I think that is the start," he said.
Ota aims to make Maniwa a place where people can live a rich life in the true sense. "Even if depopulation is the general trend, a place like that would appear attractive to outsiders too and create an inflow of people from outside," he said.