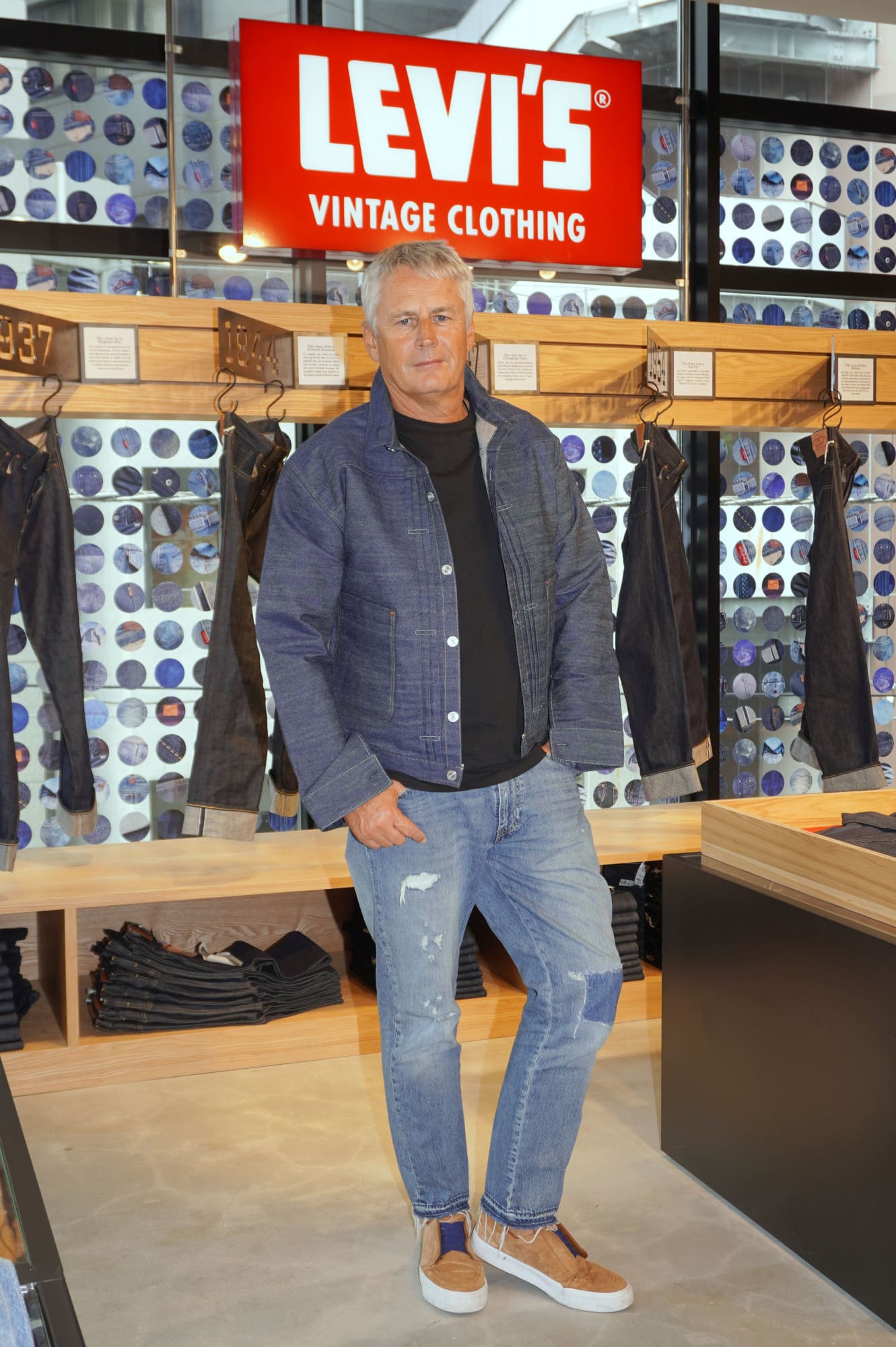 September 15, 2019
Management, connections aided by long-lived passion
Managing Director Pascal Senkoff facilitates bridges between Japan, Korea
BY TRESHA BARRETT
CONTRIBUTING WRITER
Name: Pascal Senkoff
Title: Managing Director of North Asia Levi Strauss K.K.
URL: https://www.levi.jp/
DoB: Sept. 27, 1962
Hometown: Nice, France
Years in Japan: 14
When thinking of sailing, the first things that come to mind for many people are likely freedom, open space and nature. For Pascal Senkoff, the managing director of North Asia Levi Strauss K.K., there's more to this long-held passion than meets the eye.
Senkoff's passion for sailing began in his childhood, when he would go out on the water three or four times a week and partake in competitions throughout his youth. Little did anyone know that those hours spent on the water would hone him into becoming the businessman he is today.
According to Senkoff, the sailing competitions he participated in as a child have helped him a lot, especially when it comes to business.
"Sailing is all about anticipating and reading your environment to know what is around you and to be able to anticipate what's coming next. And business is more or less the same — you need to be able to read the environment, competition, the price, the fashion, the trends … and to be ahead of your competition," Senkoff said.
"I think that's where my sailing background really helped me to be a better business person, by having this kind of capability to read and analyze the environment, and also to be able to read what could come next and to anticipate the next move," he added.
This knowledge that Senkoff gained from his time at sea was put to good use when he joined Levi Strauss and, along with his team, was able to turn around the business and regain the iconic brand's winning spirit.
"Levi's Japan and Korea were very strong 10 to 15 years ago and basically lost a lot of revenue and exposure and market share," Senkoff said. "We managed to fight back and we managed to turn around the business and now we are growing at double digits every year."
Because of his competitive nature, one of Senkoff's key achievements is that he and his team were able to prove, "We cannot lose, we are Levi's — we have such a brand, strong equity, and we are winners."
An example, Senkoff said, was in his team's ability to change the mindsets of consumers and reintroduce them to the strength and staying power of Levi's.
Senkoff's time as a sailor not only helped to hone his future business skills; it allowed him the opportunity to interact with various cultures from an early age. This exposure ignited an interest in different cultures and ways of living, which ultimately led him to Korea and then Japan.
Now, as the jeans manufacturer's managing director for North Asia, Senkoff is responsible for the retail operations of Levi Strauss K.K. for Japan and Korea. This responsibility, however, goes beyond his job title, as Senkoff believes that through his current position he can assist in building a bridge between Japan and Korea.
"What I enjoy and what I like about my job today is being able to bridge the two (countries)," Senkoff said.
Commenting on current political tensions between Japan and South Korea, Senkoff believes that having teams from both countries working together, building trust and respect for each other may help alleviate some of the enmity that exists.
This, he said, makes his job at Levi's a unique and interesting one because he's able to facilitate this bridge.
"I'm kind of neutral because I'm not Japanese, of course I'm not Korean, but I know these two countries very well to be able to put these two teams together and work together for the good of Levi's," Senkoff said.
This aspect of his role, overseeing a cross-functional team that spans across the Japanese and Korean market, is something that Senkoff has great pride in.
"When I see the respect, the trust those two teams have (for each other), I feel very proud about that because before me this position didn't exist. Japan and Korea were separated and now (they) work under the same cluster," he said.
The passion that Senkoff has for his job and company is clear. It reverberates through his words as he talks about Levi's and the manifold possibilities of the brand.
Additionally, he believes that with Levi's new head office's location in Harajuku, Tokyo, the buzzing center of Japanese youth culture and fashion, many of these potentials can be explored and realized.
Senkoff fell in love with Harajuku over 20 years ago when he first encountered the free-spirited fashion that seems to emanate from the pores of the colorful district. And when the opportunity came for Levi's to find a new home, his initial thought was, "This is where we belong."
With the denim, youth and underground culture that Levi's represents and Harajuku embraces, Senkoff saw this location as a perfect marriage of the two. Now, Levi's Japan's main office (with its offices, retail store and showroom all in the same building) sits in an area where the energy from the surrounding locale serves as a somewhat visceral representation of the brand.
For Senkoff, his personal motto to "Never give up" and his belief in learning from experiences and using them to grow certainly ring true. He has found a way to take the lessons he learned over the years and garnered interests to mold his life into one that he envisions.
"I think that if you have a very strong belief — with passion, with effort — you could succeed," he said.
Adding that the difference between success and failure is, "With success you try one more time. … You could fail, but never give up and one day you will succeed."
---
Interests mixed with business innovation
Originally from France, Pascal Senkoff has spent over 30 years working in the Asia-Pacific region. This began when he was offered a job at a cosmetic and pharmaceutical company in Korea. During his two-year stint there, he frequently traveled to Japan and eventually ended up falling in love with its culture. Senkoff soon got an opportunity to work in the apparel industry in Japan, and it was then that a deep ardor for fashion was ignited. This passion has taken him to his current position as the managing director of North Asia Levi Strauss K.K. There, he oversees Levi's retail operations across Japan and Korea. Senkoff has a B.A. in marketing and an MBA from Institut Superieur de Gestion. He also completed Harvard Business School's Executive Program and INSEAD's Strategic Marketing Programme. Senkoff is a former member of the French national sailing team and is still an avid sailor.