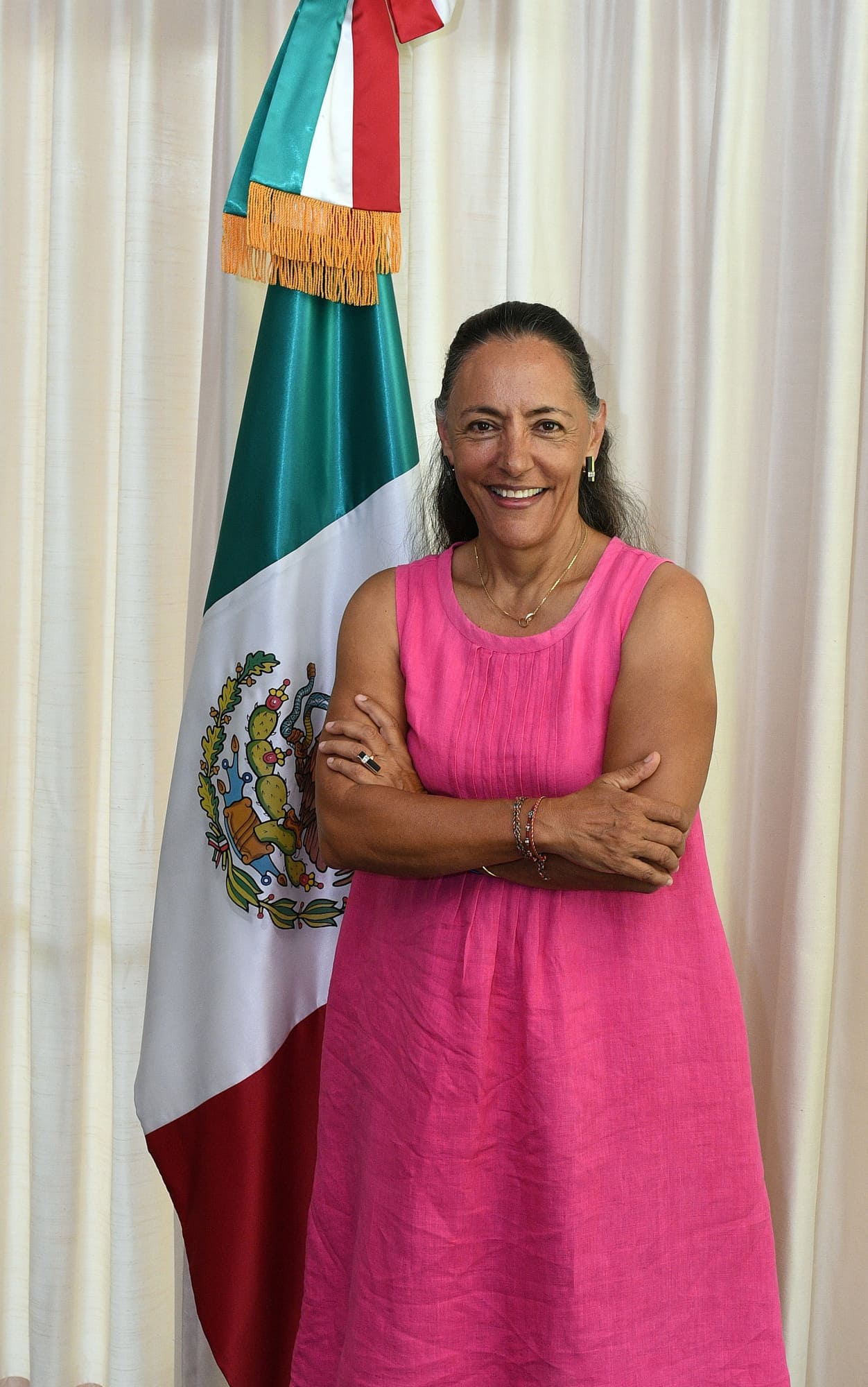 September 01, 2019
Championing widespread inclusion, gender equity
Mexico's Melba Pria on integrating her distinct insights as an ambassador
BY JOE MUNTAL
CONTRIBUTING WRITER
Name: Melba Pria
Title: Ambassador of Mexico (Since June 2019)
Hometown: Mexico City
Years in Japan: Less than a year
Fresh off a stint as Mexico's ambassador to India from 2015 to 2018, Melba Pria aims to "go wider and deeper" as Mexico's official envoy to Japan, a position she assumed earlier this year.
Pria's new assignment marks the next step in her diplomatic career focused on promoting inclusion and strengthening public policy in Mexico and abroad. Mexico-Japan relations are characterized by strong economic and cultural ties. Pria intends to utilize her distinct perspectives on poverty, tolerance and marginalized communities — informed by her training as a sociologist and work with indigenous groups in Mexico — to further develop this relationship.
"I'm a very unusual diplomat, because I've left the Ministry of Foreign Affairs to work with indigenous communities in Mexico from the perspectives of development, health and education," Pria said. "It's rather unusual for a diplomat to have those two kinds of lives. Every time I've worked in Mexico, I've worked with unusual stakeholders, and when working in the Ministry of Foreign Affairs, I brought in stakeholders through public diplomacy, nongovernmental organizations and local governments."
The history of Mexico-Japan relations traces back to the early 17th century. In 1609, Rodrigo de Vivero — former interim governor of the Philippines, a then-Spanish colony — and a crew of 373 were shipwrecked on the coast of Japan while returning to New Spain, a territory that included what is now Mexico. After nine months in Japan, during which time he met extensively and negotiated with Japanese authorities, Vivero left for New Spain on a ship built by William Adams, the famous English navigator renowned as Japan's first Western samurai.
The conclusion of the Japan-Mexico Treaty of Amity in 1888, Japan's first equal treaty with a Western country, established official diplomatic relations between the two. Since then, they have become strong economic partners. Trade between the two countries amounted to $20.3 billion in 2018 and Japanese companies, mainly in the automobile industries, have invested billions of dollars in Mexico. Both countries are also signatories to the Comprehensive and Progressive Agreement for Trans-Pacific Partnership.
Over the course of this relationship, both countries have undergone significant political, economic and cultural transformations. For Pria, an area of keen interest relates to women's issues and gender equity.
While noting that Japan is gradually changing, Pria is concerned about the country's gender inequity. Japan's gender wage gap was 24.5 percent in 2018, the second largest among Organization for Economic Cooperation and Development nations. Women currently account for only 10 percent of Japan's 463 lawmakers — a disparity reflected in the gender makeup of Prime Minister Shinzo Abe's cabinet comprising one woman and 19 men. In contrast, Mexico's gender wage gap was 16.5 percent in 2018; women currently account for 48 percent of the country's lawmakers. The equity in gender representation among Mexico's lawmakers is, in part, the result of mandatory quotas for women candidates set by the Mexico government — 30 percent in 2003, 40 percent in 2009 and 50 percent in 2014.
Pria described how women lawmakers in Mexico set aside their political differences and reached across the aisle in order to ensure equal representation. "It didn't matter that some parties couldn't stand the sight of each other. The women came together and said, 'Look, we're going to do it. We, the women are going to do it.' It's very interesting what happened during that process."
With regards to addressing gender inequity in the workforce and other social contexts, Pria points to the need to enforce labor and anti-discrimination laws in order to guarantee equal opportunities for women.
"There shouldn't be any differences between men and women in the workplace. The labor laws should be very clear on this, and we need to be very vocal about any labor laws not being enforced," Pria said. "Society also has to change. If you have a daughter, you should support her by allowing her to be what she wants to be. If she wants to be a housewife and mother, that's great, but if she wants to be an astronaut, why should she be discouraged from doing so?"
Whether it's in pursuit of gender equality, economic prosperity or solutions to climate change, Pria believes cultural exchange has an important role to play in expanding people's horizons. "There's this funny idea that because we (Mexicans and Japanese) are so different, we can't help but look at each other. There's a curiosity there. The Japanese want to know more about Mexicans because they are so different, and vice versa. Then, once they meet, they realize they aren't that different."
Both have a lot in common, Pria observed. "As modern as Mexico and Japan are, we are traditional when it comes to family, and our relationships with our elders and ancestors are very important. Mexicans and Japanese are also huge foodies and there is a lot of Japanese food in Mexico as well as a growing number of Mexican restaurants in Japan," she said.
As part of its efforts to promote cultural exchange, the embassy is organizing many events, including upcoming cultural festivals in Tokyo, Osaka and Kyoto in mid-September; a presentation by Mayan writer Sol Ceh Moo at the embassy on Sept. 26; and an exhibition of Mexican popular art at the National Museum of Ethnology in Osaka from Oct. 10 to Dec. 24. Details for upcoming events can be found on the embassy's social media pages.
---
Career merges sociology, diplomacy
Melba Pria has served Mexico's public and private sectors for 40 years. Her most recent positions include ambassador to Indonesia from 2007 to 2015 and ambassador to India from 2015 to 2018. At the Ministry of Foreign Affairs, she served as head of public diplomacy, developing the government's relationship with civil society in Mexico and abroad, and as director general for Mexican diaspora, addressing issues related to migrant rights. A sociologist specializing in public policy and international studies, she has authored several publications on issues related to diversity and public policy. She is an avid runner, jumping at any opportunity to participate in a marathon, and also enjoys biking, having recently completed a 150-kilometer ride through Ito. Pria is also a former opera singer, and when she has time, likes to read literature and keep up with Japan's rising literary talent.