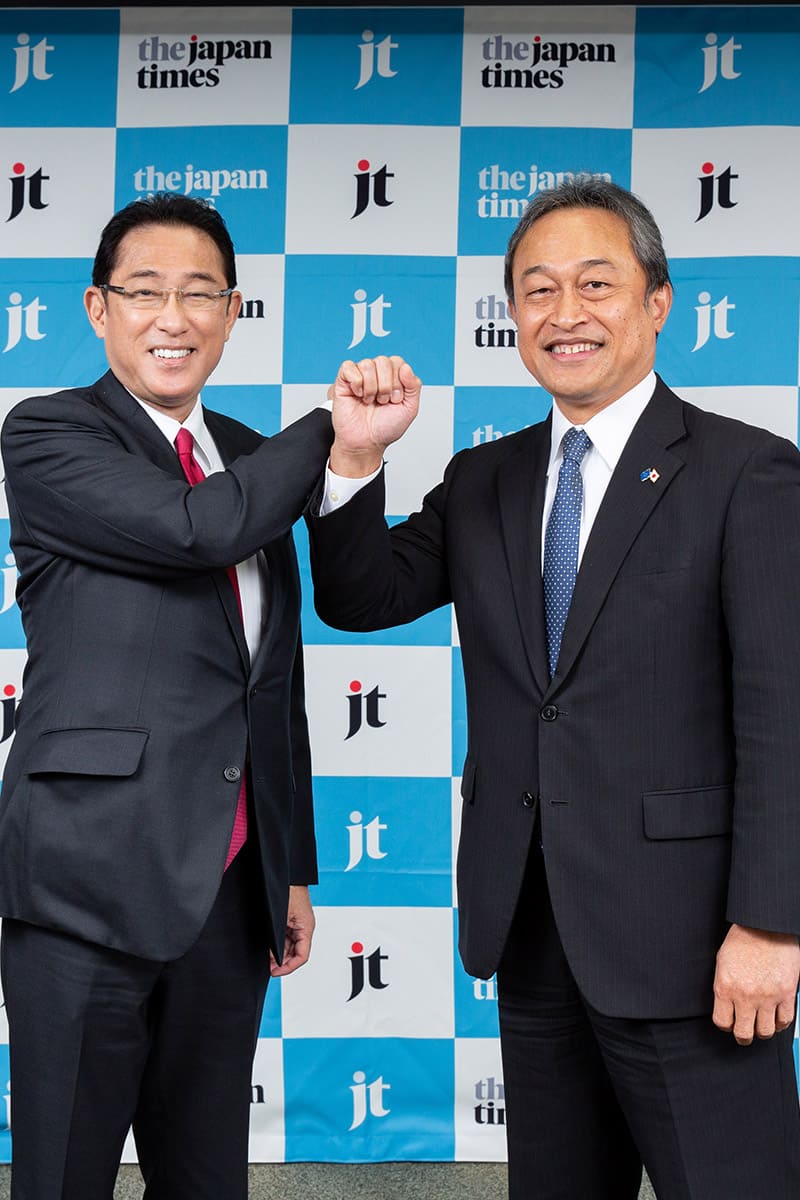 October 08, 2021
Japan helps small islands take oversize global roles
This article was written and published in Nov. 2020
Island countries, with their small populations, finite resources and reliance on trade, are the first to suffer the effects of climate change and global economic shifts.
The coronavirus pandemic has further highlighted the unique challenges facing island countries, said former Japanese Foreign Minister Fumio Kishida in an interview with The Japan Times on Nov. 4. He observed that the pandemic has deepened divisions between countries, resulting in increasingly stringent immigration regulations and other protectionist policies.
"Because of their limited populations and lack of resources, island countries can't adopt such nationalist attitudes," Kishida said. "This is why island countries need to collaborate diplomatically and take on leadership roles to address environmental issues and other global challenges."
John Fritz, the ambassador to Japan of the Federated States of Micronesia (FSM) — whose four states of Yap, Chuuk, Pohnpei and Kosrae comprise thousands of islands in the western Pacific — joined Kishida to discuss the importance of diplomatic relations between the two countries, as well as their experiences working together and the challenges they foresee in the 21st century.
The relationship between Japan and Micronesia traces back to more than 100 years ago, when the Empire of Japan colonized most of Micronesia. During this period, many Japanese settled in Micronesia, marrying Micronesians and raising families. It is estimated that 20 percent of the country's 104,000 people have Japanese ancestry — Fritz included.
An important aspect of strengthening relations between Japan and FSM is reconnecting this segment of Micronesia's population with their Japanese ancestry, Fritz said.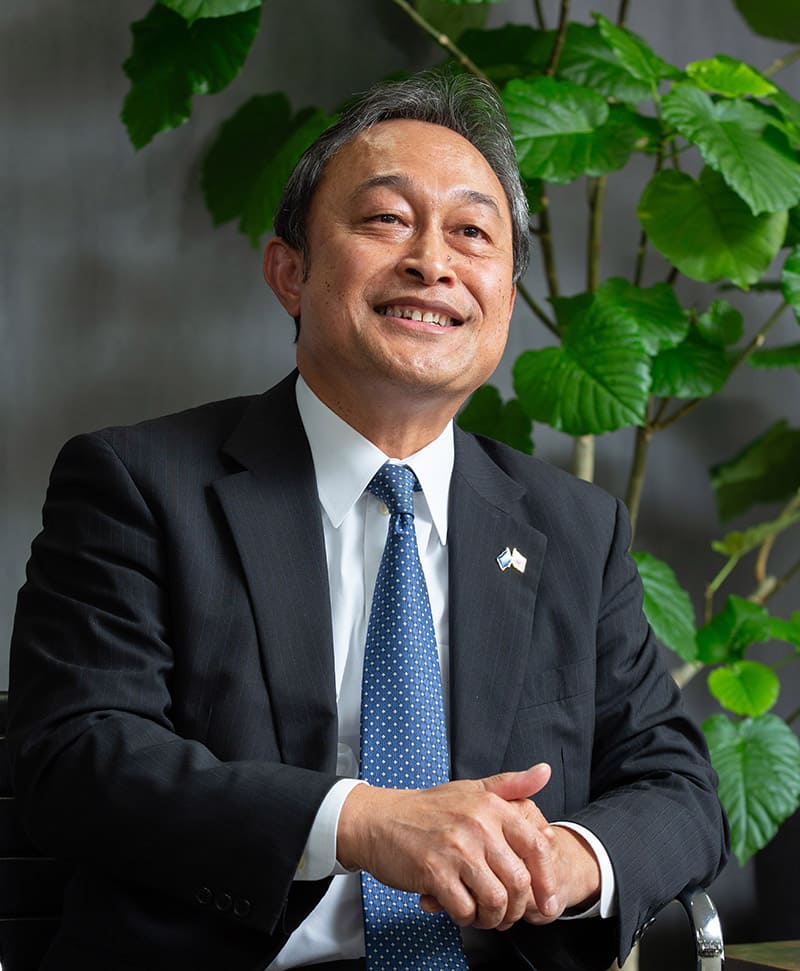 "Reconnecting these Micronesians with their Japanese ancestry is very difficult," he said. "The younger generations are either uninterested or unaware. However, spreading awareness of this connection will be very important in enhancing relations between the people of Japan and Micronesia."
Despite the colonial history between the two countries, the people of Micronesia look at Japan favorably, Fritz said, citing Japan's influence on Micronesian economic and educational policy.
"While it's true that Japan occupied Micronesia," he said, "my country has implemented proactive policies in education and other areas to benefit the people of the islands. This approach emphasizing the importance of development is something we learned from the Japanese. Despite the history of war, the people of Micronesia have a very friendly stance towards Japan."
Diplomatic relations between the two countries are anchored in a strong trade relationship centered on the fishing industry, and their governments have worked together diplomatically in various capacities. After World War II, the two governments worked together to recover the remains of Japanese soldiers who died abroad during the war, and representatives from both governments have frequently collaborated at international conferences.
Fritz has been ambassador to Japan since 2008. His twelve-year assignment is exceptionally long for an ambassador, a position that usually entails a change of post every three to four years. The length of his assignment was initially four years but was extended for another four years under the same administration of former President Emanuel Manny Mori; it was also extended to another four years during former President Peter Christian's mandate.
It is no mystery why the FSM president insisted Fritz stay in Japan. Having first come to the country in 1980 as a student at Tokai University, Fritz has witnessed Japan undergo dramatic changes over the past 40 years. He is intimately familiar with the country and its culture.
"When I first came to Japan, the yen stood at around 300 against the dollar," he recalled. "I've witnessed the country undergo various economic developments since then, and there was one point when I was here that the yen fell all the way to 79 against the dollar. Needless to say, I've become quite accustomed to life here."
Fritz has cultivated strong relationships with other ambassadors in Japan. He is a member of a group of Japanese speaking ambassadors (over 20 members) who, time to time, met with Prime Minister Shinzo Abe during his administration to discuss the initiatives of each of their countries. The ambassadors also have sports associations, and Fritz is the captain of the diplomatic corps golf committee. "Through these activities, we've developed friendships with each other," he commented.
Fritz frequently worked with Kishida during his tenure as foreign minister of Japan from 2012 to 2017. During this period, Fritz noticed improved efforts by Japan's government to engage in international diplomacy, noting the Abe administration's push to enhance diplomatic relationships. Kishida also recounted this shift in Japanese diplomacy.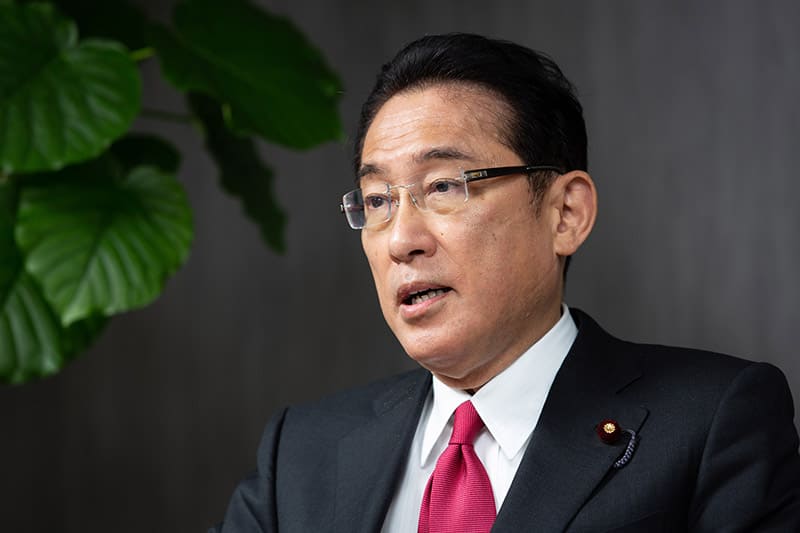 "During those five years, Japan was able to significantly stabilize its relationships with the United Stated and China," he said. "Japan's relationship with neighboring countries also changed. This is especially true with regard to FSM, and I believe Japan was able to greatly enhance its diplomatic presence during that period."
Japan's renewed focus on diplomatic relations was apparent at the Pacific Islands Leaders Meeting (PALM), a triennial forum between the government of Japan and 16 other Pacific island countries. Fritz has been involved in the forum since its inception in 1997. He noted that the initial gatherings were "festive" in nature but have gradually adopted a more serious tone that addresses regional environmental issues such as climate change.
"At first, it was difficult for the forum to take on large-scale topics," Fritz said, "but over the years, the forum started to address important regional challenges, including environmental issues, climate change, health and regional peace. It's been incredibly important that we've been able to establish a platform where we can openly exchange our thoughts and formulate solutions."
Kishida attended the seventh PALM in Fukushima Prefecture in 2015 as well as the third ministerial interim meeting of PALM in 2017. He recalled the kinship he felt with the other member countries and emphasized the need for island countries to take the lead on issues such as climate change and amplify their voices on the international stage.
"As fellow island countries, we have an important role to play in relation to environmental issues," Kishida said. "We are greatly affected by these issues, which is especially true with regard to climate change and the threat of rising sea levels. It's precisely because of this shared predicament that FSM will continue to be an important partner in ensuring regional stability."
This partnership among island nations is also pertinent to the coronavirus. Recognizing the limitations of its health care infrastructure, the FSM government implemented a travel ban in January in response to the coronavirus. As a result, there have yet to be any reported cases in the country. But, as the world eagerly waits for a vaccine, governments around the world are deliberating how distribution should take place once a vaccine is developed.
Fritz noted that Japan has proactively supported island countries in the region with their responses, and he hopes Japan will play a leading role in ensuring the fair distribution of a vaccine in the region. "It's important that a vaccine is distributed fairly to both wealthy and poor countries," he said, "and I think this is where Japan will play an important role. I'm hopeful that Japan will lead the way towards ensuring this fair distribution."
Kishida echoed these sentiments, expressing the need for international collaboration in order to ensure the fair distribution of a vaccine. "The fair distribution of a vaccine will be a significant global issue that will require countries from around the world to come together," Kishida said. "Japan is already meeting with other countries to discuss how this will work, but this issue extends beyond Japan and will require the collaboration of the entire international community."