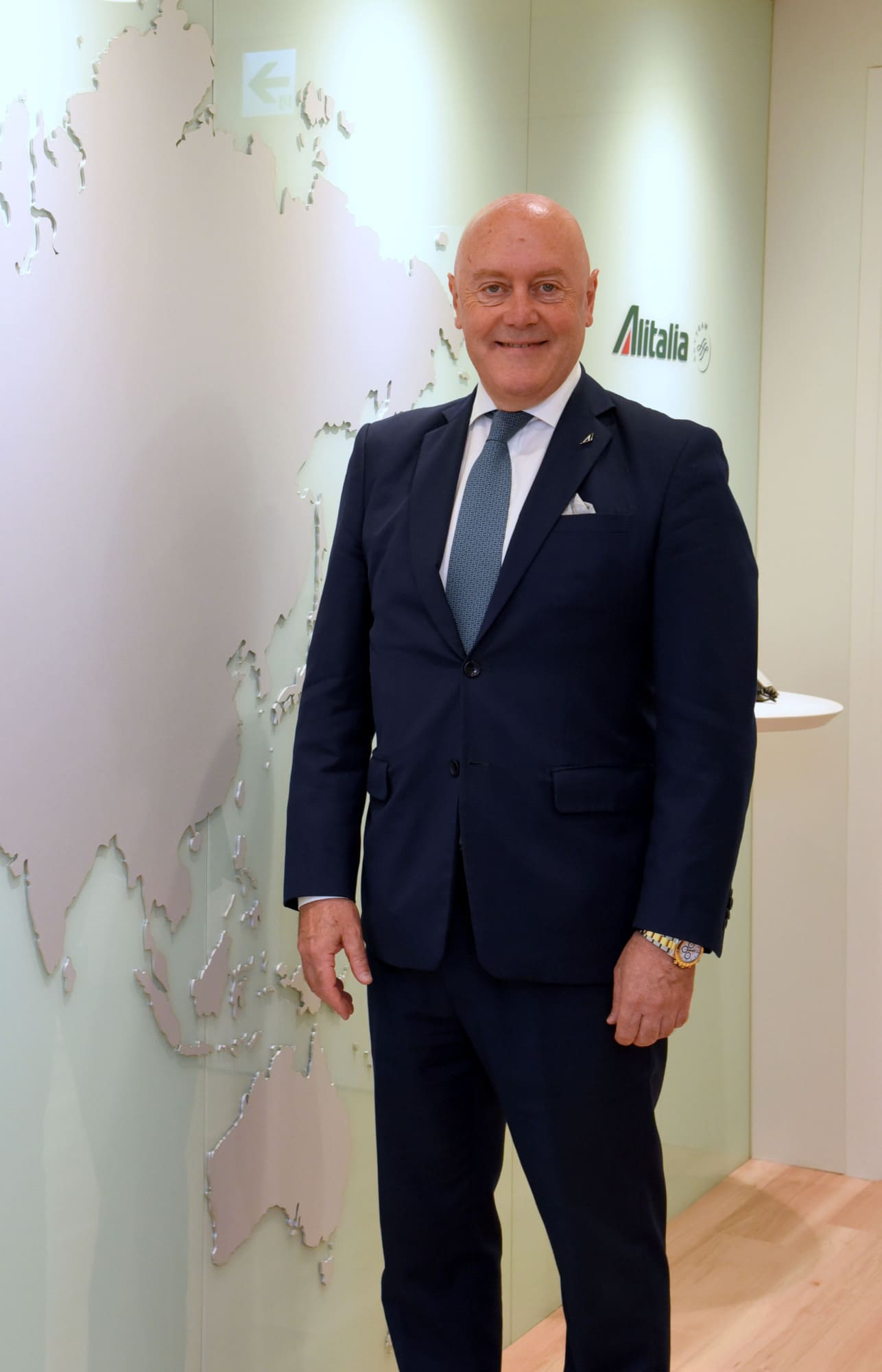 Name: Massimo Allegri
Title: Regional General Manager, East Europe and Asia, Alitalia
DoB: Jan. 3, 1960
Hometown: Genoa, Italy
Years in Japan: 3.5
Alitalia's Regional General Manager for East Europe and Asia Massimo Allegri had much to share during his recent interview with The Japan Times, but he wanted to start off on the right note.
"Coffee first! It's the Italian way," he said with a broad grin after leading the way to a brand new espresso machine in Alitalia's relaxed cafeteria.
With over three decades of experience in airline and tourism affairs, Allegri's enthusiasm for other cultures and artifacts dates back to his childhood when he was interested in becoming an archaeologist.
Surprisingly, he hadn't spent time in Japan until relocating for his current assignment almost four years ago. "I had been traveling all over the world, especially in Asia — China, Indonesia, Thailand, Singapore — but I'd never been to Japan. So when Alitalia offered me this opportunity, I was very happy to come," he said.
Allegri's previous experiences around Asia didn't prepare him for what awaited; he likened arriving in Japan to "landing on Mars." However, within a few weeks he began seeing some similarities between Japanese and Italian people.
"At the end of the day, the feeling between me and some of the Japanese people I've met has been very close," Allegri said. "We probably love the same things in life — beauty, food, culture, tradition, our history. I am enjoying it here a lot."
His career has also overlapped with a period of great change in the airline industry, which saw air travel evolve from a primarily luxurious experience to one for the masses.
The roots of this shift date back to 1978 when American President Jimmy Carter signed the Airline Deregulation Act. Until then, prices and routes had been set by the government. However, as low-cost carriers entered the market and price wars started, some of the well-established legacy airlines could no longer survive.
These changes spread to Europe and Asia, where some airlines consolidated by joining forces and other new companies entered the market. Allegri noted that low-cost airlines offer a completely different travel experience to the standard model of the legacy carriers. "It isn't only about the cost of the tickets, but how to manage the travel and how to book." He pointed out that these trends have caught on in Japan as it has its own share of smaller domestic carriers, some of which are directly connected to JAL and ANA, Japan's two main airlines.
Allegri has recently been focused on building a partnership with ANA, which was formalized last year. "In past years, Alitalia never had a strong relationship with one Japanese carrier. The main goal was to enhance this cooperation with ANA, to code-share with them on our flights to and from Rome and Milan, and we code-share on their domestic flights in Japan and for our domestic flights in Italy."
The negotiations were complicated by the fact that Alitalia and ANA belong to different airline alliances. "It was not simple and so it had to be well-managed, but after one year, it was achieved. It was a good move," Allegri said.
While Italy is a destination that many Japanese tourists aspire to visit, seeing it as a "once-in-a-lifetime destination," he points out that there are an increasing number of repeat visitors; this is especially true among the younger generation who typically start from Rome or Milan, but then want to explore smaller cities and towns on subsequent visits. Two up-and-coming destinations among Japanese travelers are Cinque Terre, a coastal area in the north, and Matera, a southern city known for its ancient cave dwellings.
With so many years of travel under his belt, Allegri has many interesting anecdotes, but there is one particular experience from the early years of his career that he will never forget. He was escorting a group of travelers to Indonesia, and upon arrival at passport control was shocked to discover that one woman was traveling on a Moroccan passport, not an Italian passport like the rest of her family. As she didn't have the visa required for Moroccan travelers at the time, the authorities refused to let her enter the country.
"It was a mess," Allegri said emphatically. "She and I stayed in the terminal for three days to negotiate for her visa. The second night was spent in a hotel in the terminal, but the first night was spent talking to the officials — all night." Finally, on the third day her visa was issued and she was able to enter Indonesia and join her anxious family.
As expected, Allegri has a hectic travel schedule. "I have been flying 20 days per month, and so at the end of the day I just want to relax," he said. His favorite way to travel is by cruise ship and revealed Antarctica is his dream destination.
While acknowledging that life as a jet-setting airline industry executive can be stressful and not as glamorous as people might imagine, Allegri says he still loves to travel. "The best thing for me is the chance to meet a lot of different people — to see different points of view. This is the main beauty of my job, traveling around and talking with people."
And the worst part? "I hate packing. I want to pay someone to pack for me," he said, laughing. "I have one bag, 10 kilograms for 15 days. I'm the best customer for the hotel laundry service."
---
More than 30 years in the travel industry
Massimo Allegri hails from Genoa, Italy, and has more than 35 years of professional experience in the tourism and airline industry. He holds degrees in tourism and business management and has held various roles at Alitalia since joining the firm in 2003. Prior to coming to Japan, he was based in Milan, and served as senior manager for leisure sales in Italy. After arriving in Tokyo in March 2016, he took on the position of regional general manager for the Asia-Pacific region; his role expanded to include Eastern Europe earlier this year. During his time in Japan, he has been developing Alitalia connections from Asia to Italy, including two daily flights from Tokyo to Rome and Milan, four weekly flights from Korea to Rome and one daily flight from New Delhi to Rome. He has also served as vice president of the Italian Chamber of Commerce in Japan since January.