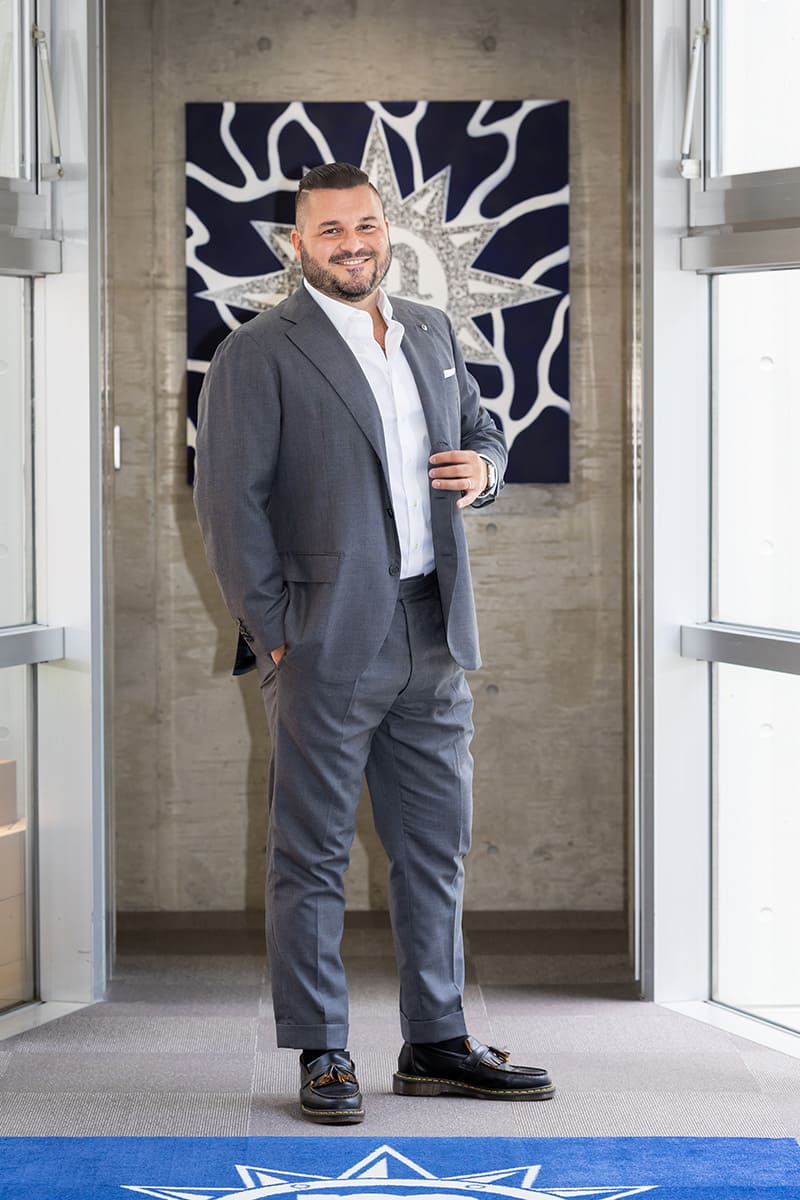 August 04, 2023
MSC Cruises' Morelli aims to sail the ocean green
Company on track to become No. 1 in Japan, catering to all alike
Name: Oliviero Morelli
Title: President, MSC Cruises Japan
Hometown: Naples
Years in Japan: 9
2023 is turning out to be a stellar year for Oliviero Morelli. Not only is his company, MSC Cruises Japan, celebrating its 15th anniversary, but his hometown soccer team, SSC Napoli, recently won the top tier of the Italian league championships for the first time in 33 years. "After finishing work, I headed directly to Narita Airport in the evening and arrived in time to attend the final match in Naples the next day," he recalled with a big smile. "I was a kid of 9 years old the last time it happened, so it was a long wait."
With roots in Italy, MSC Cruises is a global cruise line now headquartered in Geneva, Switzerland. Morelli began working for MSC in Naples on the cargo side in 2004 before moving over to the passenger sector three years later.
"Containers — although they make the world go round — are quite a static object. They don't talk and they don't complain!" Morelli quipped. "Cruises are more of a challenge, as you have to deal with your guests. There is probably no other job that is so diverse, so challenging and so fun."
---
A love of Japanese culture
Morelli's first overseas posting was to London, and he thoroughly enjoyed the seven years he spent there before accepting the posting in Japan in 2014. However, Japan had been calling him long before that. "We grew up with Japanese anime and manga in Italy. Many companies found it cheaper to buy the rights from Japan than from the USA, so Italian kids in the 1980s and '90s were seeing temples and onigiri (rice balls)," he explained.
As a child his favorite anime was "Captain Tsubasa," based on Yoichi Takahashi's popular manga about a boy who is mad about soccer, just like the young Morelli. For the anime's Italian version, the titular character was renamed "Ollie" — which also just happens to be Morelli's childhood nickname.
These early brushes with Japanese culture blossomed into an ongoing love affair with the country. Starting at 18, he visited Japan more than 10 times before moving here for his assignment with MSC. Morelli was the first foreign national at the Tokyo office, but his team has expanded and diversified greatly since then, helping to create a welcoming and supportive corporate culture that is very much in line with MSC's global values.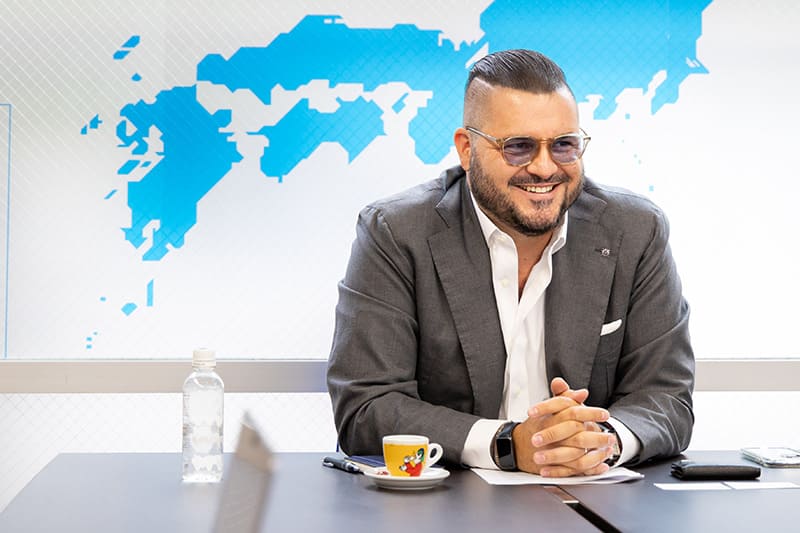 ---
Cruising into the future
Cruising is still seen by some people as an expensive vacation option, but Morelli says this is a misconception, calling it an "affordable luxury" that caters to everyone, from families with small children to seniors. Cruises are also a viable vacation option for wheelchair users and those with mobility issues.
While seniors make up the largest segment of MSC Japan's guests, as a country Japan is still a young market in the cruise industry as a whole. The annual number of Japanese who go on cruises — both those who fly abroad to join one and those who embark from Japan — is still relatively small at 350,000. Morelli sees plenty of potential for growth, and MSC is on track to be the No. 1 cruise line in Japan by the end of the year.
In line with industry trends, the company is working on a variety of initiatives to take cruising into the next era. "Our MSC group includes cruise liners, cargo ships, ferries — we live with the sea and as part of the sea," Morelli said. "We need to take care of the seas in order to safeguard all our futures."
Earlier this year the company launched MSC Euribia, the second ship in its fleet to run on liquefied natural gas, with plans for all subsequent additions to be LNG-powered. There is also a steady move toward shore-side powering, whereby cruise ships plug into local power grids when they berth, turning off power on board and reducing emissions. Other green initiatives include new ship designs that reduce underwater noise and the impact on marine life, as well as wastewater treatment systems that are capable of producing 80% of the freshwater on board.
---
Making regional connections
MSC Japan currently offers a variety of itineraries aboard its flagship MSC Bellissima, ranging from four to 11 days, cruising around Japan and with stops in either Taiwan or South Korea — under Japanese law, any cruise ship sailing around Japan under a foreign flag must officially leave and then re-enter Japanese waters during the voyage.
According to Morelli, creating the right infrastructure is a key point for Japan's cruise market going forward, and MSC ensures that each port of call is ready for an influx of passengers. Terminals must also meet the diverse needs of the hardworking crews, which typically encompass more than 50 nationalities.
MSC has partnered with the local port authority in Naha, Okinawa, where a dedicated terminal for its passengers is currently under development. It will include immigration facilities, paving the way for Naha to become a key port for future cruise itineraries.
As a concrete example of the potential economic impact of cruise ships during ports of call, Morelli cites the city of Sakata in Yamagata Prefecture. MSC passengers toured around a temple during a shore excursion, generating enough income to fund temple operations for an entire year from a single visit.
Speaking of port cities, MSC Cruises has strong ties with Nagasaki in Kyushu as an official sponsor for the V-Varen soccer team. The cruise company also supports various other sports teams around the world, including Morelli's beloved SSC Napoli.
Combining his passions for Japan culture, travel and soccer, Morelli is constantly on the move but he wouldn't have things any other way. "I love my work. It's very hard but it's a beautiful job," he said.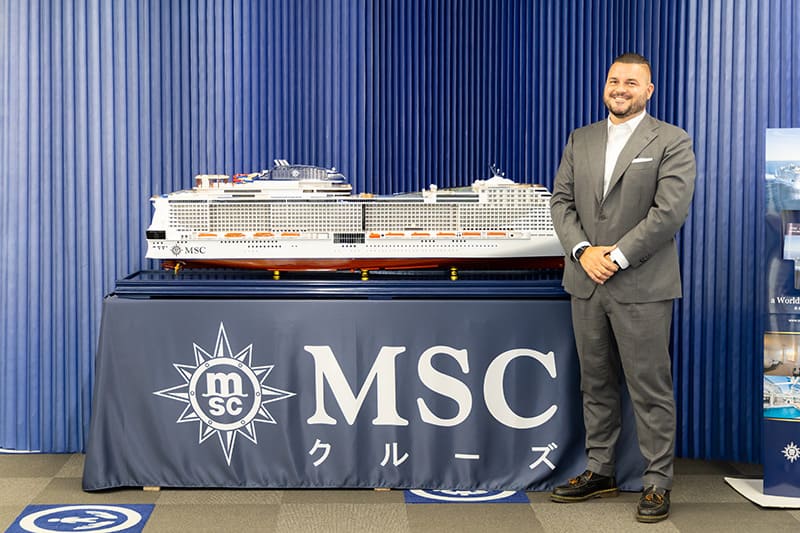 ---
Discovering New Horizons with the MSC Bellissima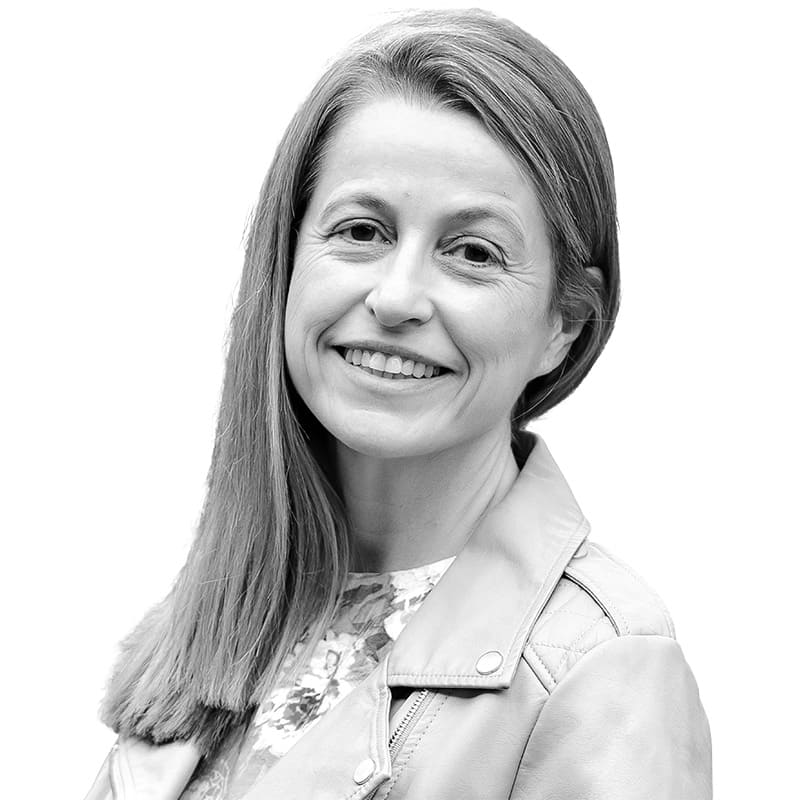 I recently had the pleasure of embarking on a nine-day voyage around Japan on the MSC Bellissima. This beautiful ship has diverse appeal, and families, couples and solo travelers can all find their ideal blend of activities on board. There's plenty to keep kids and teens happy, too! In addition to stops around Japan, MSC cruises include the bonus of an international port—the vibrant city of Busan, Korea, in this case.
The culinary experience is an important aspect on any cruise, and guests are treated to a delightful array of dining options on the Bellissima. Whether you prefer a sumptuous meal in the main dining room or a more casual bite at the extensive buffet, there are dishes catering to every taste.
From waking up with a gentle morning stretch session on deck, to unwinding with a nightcap at one of the bars after a fun-filled day, I had a myriad of activities at my fingertips. Of course, there was also ample time for sunbathing or taking a dip in one of the pools. With attentive staff always close at hand, I was well taken care of throughout the entire voyage.
Getting to know the friendly multinational crew was definitely a highlight for me. The entertainment on the Bellissima was also top-notch, from Broadway-style theatre shows to fun poolside quizzes. I also loved the various themed evenings, offering plenty of opportunities to dress up and party.
MSC's signature song is "Magic in the Air", a feel-good anthem by Magic System, a group from the Ivory Coast. Dancing and singing on deck along with the MSC entertainers and a sea of my fellow passengers, that magic was tangible—a truly unforgettable experience!