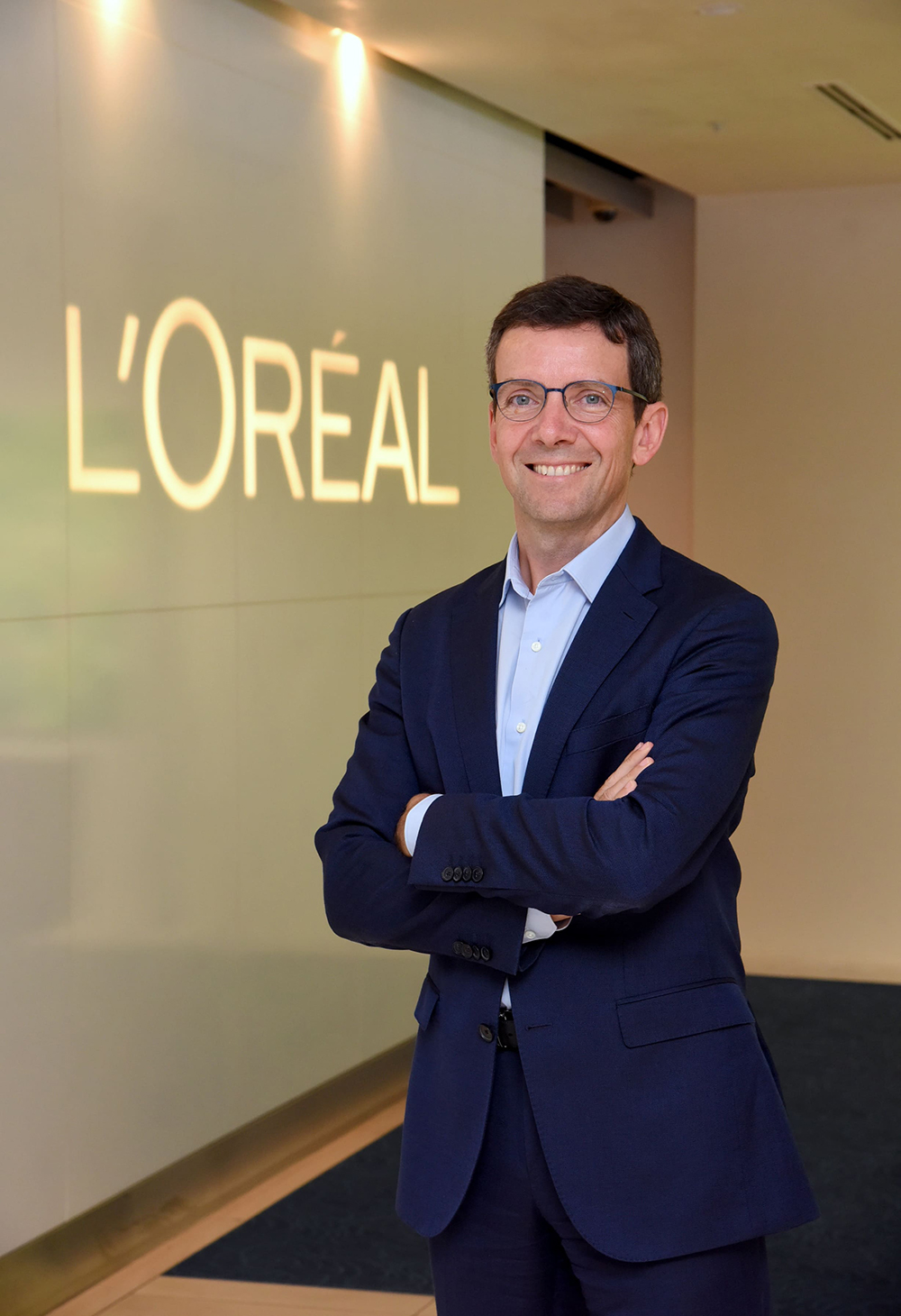 Name: Jerome Bruhat
Title: President and Representative Director, Nihon L'Oreal K.K. (since July 2015)
DoB: Aug. 31, 1967
Hometown: Paris
Years in Japan: 6
As the world's largest cosmetics company, L'Oreal understands the importance of a corporate culture that allows all employees to reach their full potential. The firm was recently included in the top 100 of the Bloomberg Gender-Equality Index, which recognizes companies making strong commitments to parity in the workplace. Jerome Bruhat, the president of L'Oreal in Japan, shared his insights on the firm's efforts to successfully carry out this vision.
Bruhat took up his current position in July 2015, but says his "love affair with this magical country" began almost 20 years ago. "At the time, L'Oreal had recently purchased the Maybelline New York brand — the biggest acquisition in our history. I was in charge of Maybelline and that was my first encounter with Japan's very sophisticated, unique market," he recalled.
As a popular and widely available brand in Japan, Maybelline proved to be an ideal platform for developing new products. "At the end of the 1990s, the market was calling for a very shiny lipstick and we launched the Watershine range," said Bruhat. "The CEO of L'Oreal came to Japan. He said if Watershine was successful in the most difficult market in the world, then we should launch it worldwide. It went on to be a hit in all our markets. It was the first of many such stories for us."
Bruhat first had the chance to live and work in Japan in 2008 when he became general manager of the Consumer Products Division, a post he held for nearly three years. At the time, his family was based in Yokohama for his children's schooling. "I must say that spending three hours a day on the train helps one quickly learn about Japan," he said with a smile. "Through observing the posters and the other passengers, I learned about fashion and makeup trends — and also why the Japanese are a little bit tired in the morning."
Bruhat was delighted to return in 2015. L'Oreal in Japan has now built a solid foundation of policies and programs to empower its female workforce, and Bruhat is keen to continue leveraging this success.
"Fifty percent of our employees at every level are women, from entry level right through to top management. Women know that taking time off for having children will not harm their careers — they don't have to 'reprove themselves.' We have mothers in top-level positions," he noted. "The other big thing is equal pay for equal work. There is a kind of belief in some companies in Japan: 'If you are female, you might leave the company, so we won't pay you as much.' That is not the case at L'Oreal."
According to Bruhat, good communication is the key factor in developing the corporate programs that staff need and want. He points out that a corporate culture that is supportive of parents can benefit all employees.
One example is the Work@Home program that has its roots as part of the company's Working Parents Program where initially, parents with preschool children could telecommute for up to one day a week. In May 2017, a pilot program was launched, extending to include all office staff. After receiving favorable employee feedback, it was decided that, from this October, office staff will be able to work from home up to 10 times a month.
Based on his experiences, Bruhat mentions two key points that he believes Japan needs to address to help close the gender gap.
"The visible thing is the lack of day care. When I worked in Germany, I opened two nurseries near the office, but people there come by car or bicycle. Logistics are not the same in Japan, as people here commute by train and the work culture is different. But firms could certainly invest more in helping women to find a space locally," he pointed out.
"The second thing is creating a culture where women can decide to build a career without guilt, and can feel happy about their decision to go back to work. It is OK for a mother to prefer working to being with her kids. Women should be encouraged to feel confident about their right to be mothers and to work."
The corporation is also committed to corporate social responsibility (CSR) activities, and L'Oreal Japan was honored with the Best CSR Award 2017 by the French Chamber of Commerce and Industry. As befitting of a company that is passionate about closing the gender gap, some of these programs are aimed specifically at women.
On a global level, L'Oreal partners with UNESCO to support talented, young female researchers, with the aim of promoting their careers and encouraging more women to pursue science. Bruhat notes that Japanese recipients have gone on to win the global award among all nominees in the Asia-Pacific region — a ¥2 million scholarship to encourage and subsidize their research.
A Japan-specific initiative is the firm's partnership with the Single Mothers Forum, a nonprofit organization with more than 35 years of supporting this often-marginalized group of women. Due to lack of opportunities and support, single mothers may be forced into low-paying jobs. The partnership's Single Mother's Career Support Program works to end this cycle by offering training courses. Child care support is also offered, and on completion of the course, graduates are given help in finding employment. "If they fit our criteria, some of them go on to work for L'Oreal in Japan. We have many touching stories of how this program has changed their mindset," said Bruhat.
Bruhat is proud of the company's success to date, but is always looking ahead to see what L'Oreal can continue to bring to the table. "Japan has a special role in bringing innovation, and so we are pushing ourselves to develop new things we can share with the world."
---
Global career leads Bruhat back to Japan
In a career that spans 27 years, Jerome Bruhat's work in marketing and management for L'Oreal has taken him around the globe, including time spent in Belgium, Germany, the U.S. and Japan, as well as his native France. His first overseas posting was in the U.S. as international marketing director for Maybelline New York. He subsequently went on to achieve strong sales growth for this brand in Japan during his time as Consumer Products Division general manager at Nihon L'Oreal (2008 to 2010), when Maybelline New York was the first non-Japanese brand to reach the top three in the mass makeup market. After time in Germany as L'Oreal Germany and Austria country manager, he became global brand president of Maybelline New York. He is pleased to be back with Nihon L'Oreal, this time as president and representative director. Bruhat is inspired by the leadership and words of Nelson Mandela, particularly the quote, "It always seems impossible until it's done." When time permits, Bruhat enjoys golf, snow sports and travel.