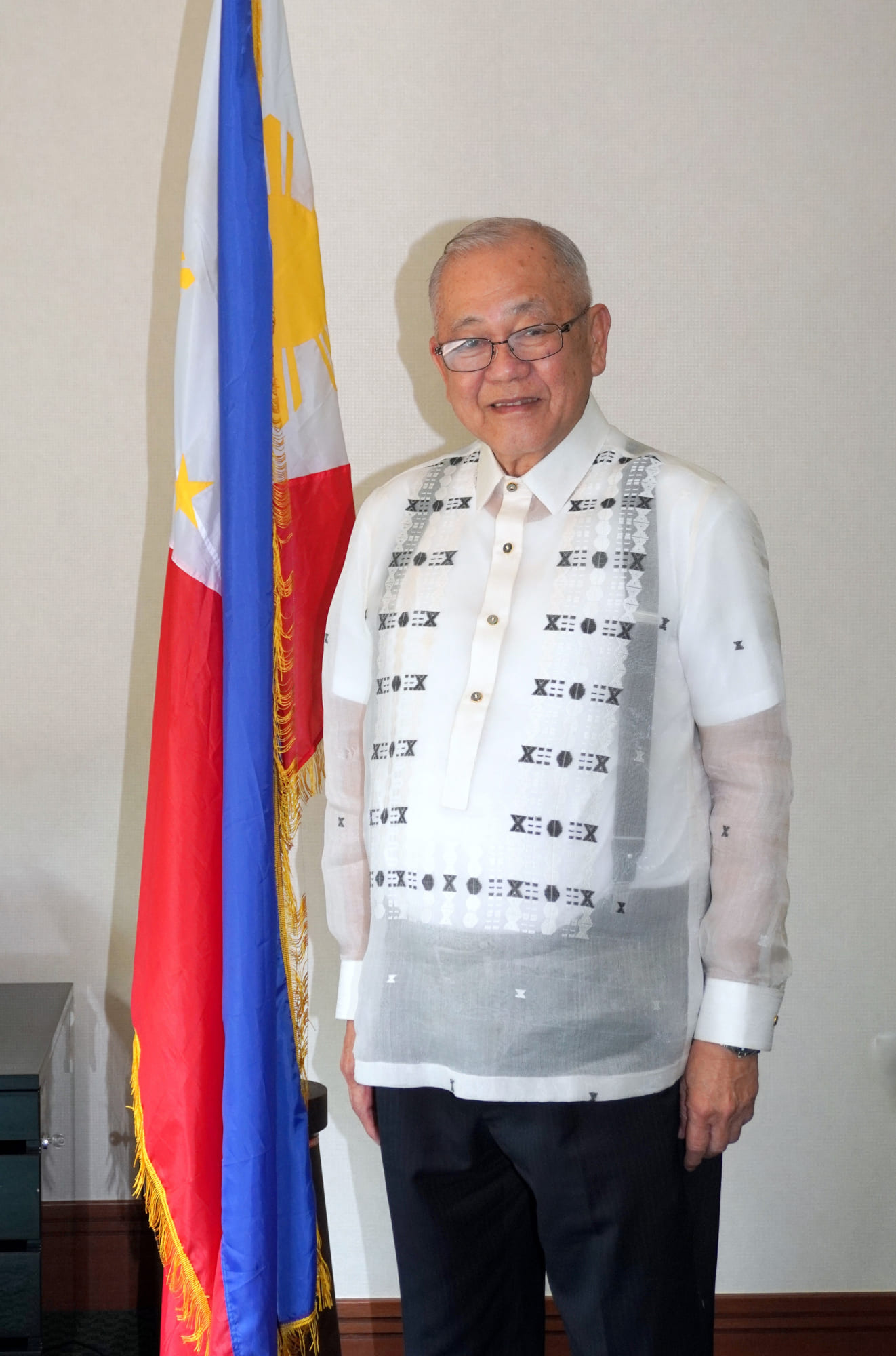 August 18, 2019
Diplomatic legacy ties into nations' 'golden moment'
Jose C. Laurel V recalls Japan's development, relations with the Philippines
BY JOE MUNTAL
CONTRIBUTING WRITER
Name: Jose C. Laurel V
Title: Ambassador Extraordinary and Plenipotentiary, Embassy of the Republic of the Philippines
DoB: Sept. 17, 1944
Hometown: Manila
Years in Japan: 31
To say Jose C. Laurel V arrived in Japan at a pivotal moment in the country's history would be an understatement. Still a toddler, he arrived in Fukuoka with his father in July 1945. The following month, the United States detonated nuclear weapons over Hiroshima and Nagasaki, bringing an end to the Pacific War.
Now, 74 years later, Laurel V is serving his third year as the Philippines' ambassador to Japan, continuing the diplomatic legacy of his father, who served as the third ambassador from 1966 to 1971.
The Laurel family has long been at the forefront of Philippine-Japan geopolitics. Laurel V's grandfather, Jose P. Laurel, was the third president of the Philippines, in office from 1943 to 1945 during Japan's occupation of the country, and his father, Jose S. Laurel III, studied at the Imperial Japanese Army Academy from 1934 to 1937, mastering Japanese language and culture and graduating at the top of his class.
A fascinating historical anecdote involving Laurel V's father took place shortly after Japan's surrender in 1945. Arrested by the United States on charges of alleged treasonous collaboration with Japan — charges that were later dropped — Jose S. Laurel III was held in Sugamo Prison, where he befriended Nobusuke Kishi, grandfather of Japan Prime Minister Shinzo Abe.
It's because of this history that the Laurel family is well known among Japanese diplomats. "Most Japanese in the government know who I am — not because I'm the ambassador, but because of my family name," Laurel V noted.
Given his experience with Japan since childhood, Laurel V has witnessed the country transform from war-torn nation into economic superpower. "We were in Nara when the bomb dropped in Hiroshima. I was 1 year old," Laurel V reminisced.
"I've seen Japan rise from the ashes. When the war ended, Tokyo was flat. The only building left was the Marunouchi Mitsubishi Building. When I returned in 1956, you could still see beggars in the streets and war amputees in Kamakura, but the country was on its way to recovery."
Laurel V observes that throughout this dramatic transformation, Japan's cultural behaviors have largely remained intact. "The Japanese are a very quiet, disciplined, long-suffering people, who've been that way since they closed their borders in the 17th century. They're introverted, very private, and do not open their doors to others like Filipinos. They're not as comfortable with foreigners as they should be considering they've been exposed to the world."
According to Laurel V, despite these cultural differences, Japanese and Filipinos are united by a common humanity that's reinforced by their countries' relationship as natural trading partners.
"We are in a golden moment in Japan-Philippine relations," Laurel V exuded. "Despite the history of Japan invading the Philippines in 1941 and killing many Filipinos — not because they hated Filipinos, but because of the circumstances — I see relations between the countries only getting better. This is because we've learned to forgive Japan, and also because there are around half a million people of mixed Filipino-Japanese parentage. How could we bring ourselves to discriminate against these people?"
Given the region's economic and political climate, the Philippines is a critical partner for Japan, Laurel V explained. "The Japanese are traders. They lack natural resources, and so they have to trade. Due to political circumstances, the only major trade route available is to the south, and what are the first islands Japan sees to the south? The Philippines."
A distinct aspect of the relationship between Japan and the Philippines is the large number of migrant Filipinos working in Japan. With the signing of a Memorandum of Cooperation (MOC) between Japan and the Philippines in March of this year, which aims to ensure a smooth and appropriate flow of specified skilled workers through initiatives that include eliminating malicious intermediary organizations, Filipinos will continue to play an important role in Japan's labor market, which is experiencing shortages due to the country's aging population.
"There are around 300,000 registered Filipinos in Japan, many of whom are permanent residents. Twenty-eight thousand more Filipinos have come to Japan since the signing of the MOC," Laurel V said. "Filipinos, who will continue to come to Japan out of economic necessity, can help address Japan's aging population and labor shortages."
In addition to supporting Filipinos in Japan, the ambassador's responsibilities encompass the maintenance of positive business relations between the two countries. Laurel V is a prominent businessman having assumed top management positions at YKK Philippines, Toyota Batangas City, and Philippine Petrochemical Products, among other large companies in the Philippines. With this experience, he brings a distinct perspective to the diplomatic world, ensuring smooth business dealings between the two countries.
Laurel V is also an ardent promoter of cultural exchange between his home country and Japan. He is the chairman of the Philippines-Japan Friendship Foundation and Philippine Institute of Language & Culture as well as a member and adviser of the Philippines Japan Society. His passion for intercultural understanding was imparted to him by his grandfather, who Laurel V describes as a humanist. He values liberal arts education and has encouraged his children to learn about other cultures, regardless of their professional aspirations.
"The world has forgotten how to love one another, to respect each others' being," Laurel V said. "As a citizen of the world, I believe we must love and respect each other. We can talk about gross domestic product and economics, but what's most important is realizing a world at peace."
---
Esteemed career in business and public
Before becoming the Philippines' ambassador to Japan in 2017, Jose C. Laurel V gained prominence in the Philippine business world, holding management positions at YKK Philippines and Toyota Batangas City, among other large companies. In 1980 he was elected governor of Batangas, an office he held until 1988. He attended De La Salle University in Manila where he obtained bachelor's degrees in social studies and business administration, and a master's degree in business administration. He also earned a Masters of Graphic Arts from Dai Nippon Printing in Tokyo. He is the grandson of Jose P. Laurel, the third president of the Philippines, and son of Jose S. Laurel III, former Philippine ambassador to Japan. Laurel V is married with four children and is the father of prominent fashion designer Rajo Laurel.