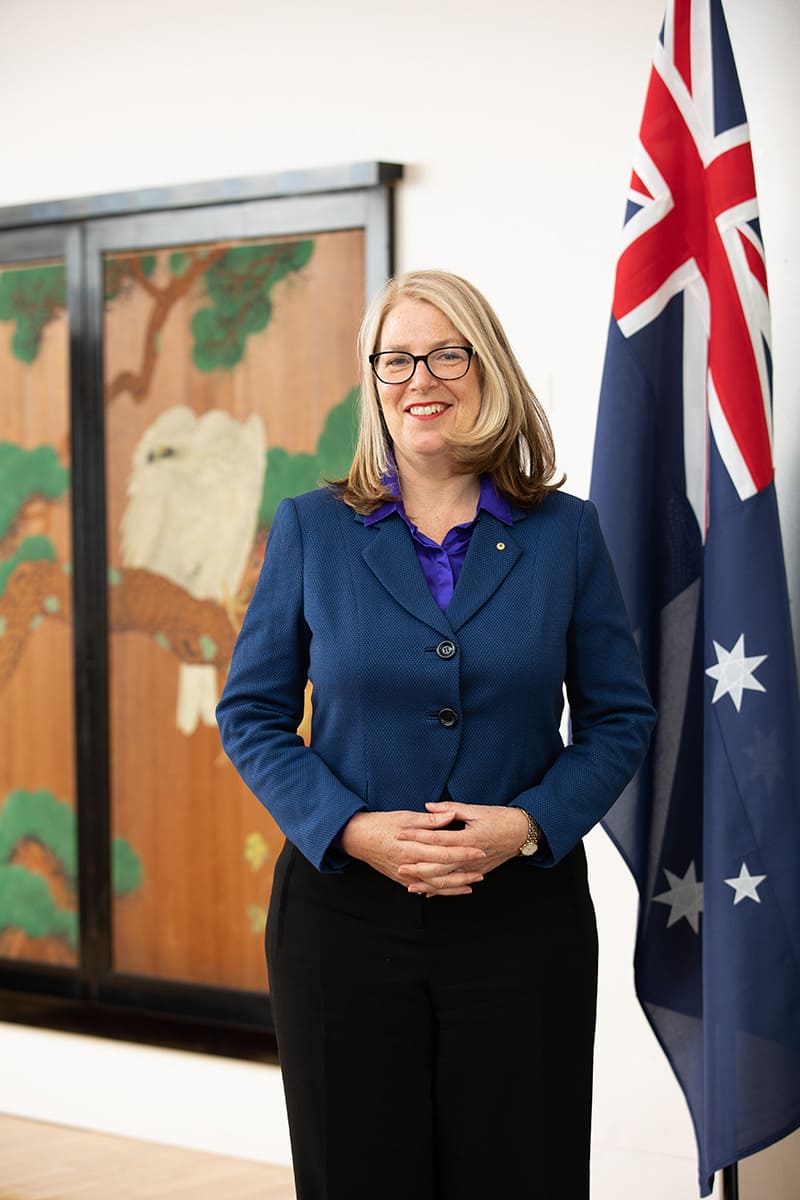 April 16, 2021
Persevering at the junction of trade and climate
Australian envoy Jan Adams oversaw FTAs, international climate partnership
Name: Jan Adams
Title: Ambassador of Australia
Hometown: Wodonga, Australia
Years in Japan: less than a year
Australia's ambassador to Japan, Jan Adams, may not have always been aware of the Japanese concept of gaman, to persevere or "tough it out." Yet for someone who has overseen multiple trade negotiations between Australia, China, the United States and Japan, it is fair to say that tenacity is very much a part of her character. For this, Adams credits her parents.
"My parents were small-business people," Adams explained. "I think this has given me a real sense of self-reliance, independence and needing to persevere to achieve your objectives — because that's what people in small businesses do every day."
To gaman or persevere could very well be her modus operandi for dealing with the coronavirus pandemic — "Stay calm and carry on for 2021." According to Adams, the biggest challenge posed by COVID-19 and its effects on trade, investment, cultural exchange and education between Australia and Japan is safe travel and the reopening of borders between the countries. With the nations having similar time frames for the rollout of vaccinations, as well as ongoing efforts made by the aviation industry, corporations and governments, Adams is positive that intercountry travel will have resumed by this time next year.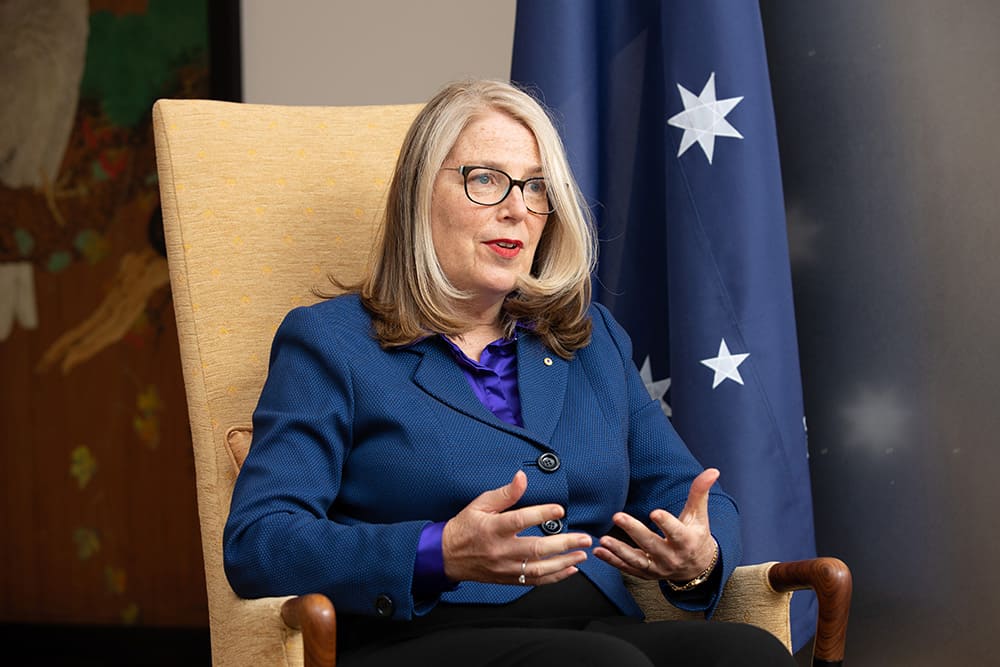 In spite of the pandemic, trade opportunities continue to abound. "Amazingly, Australia has created some high-quality face masks that have been registered for use in Japan — it's like selling tea to China, or coal to Newcastle," Adams said with a laugh. Japan has also recently begun exporting fresh strawberries to Australia, following "years of painstaking work to ensure (that the fruit) was safely in line with Australia's biosecurity needs."
Of special note, she stresses, is the 2021 awarding of the Japan Prize (Resources, Energy, Environment, Social Infrastructure category), a global prize that honors significant contributions made by scientists and engineers, to an Australian physicist, professor Martin Green. Green, whose development of high-efficiency silicon photovoltaic devices has greatly impacted solar power's realization and accessibility, is a shining example of Australia's efforts toward renewable energy, Adams said.
As Japan strives to become carbon-neutral by 2050, Australia will continue to be part of the conversation on energy, Adams adds. Coal will remain part of Japan's energy mix in the years to come, with LNG positioned as a transitional fuel. "Carbon capture and storage is certainly one of the key technologies that will enable the use of abundant fossil fuels while obviating harmful emissions," she observed.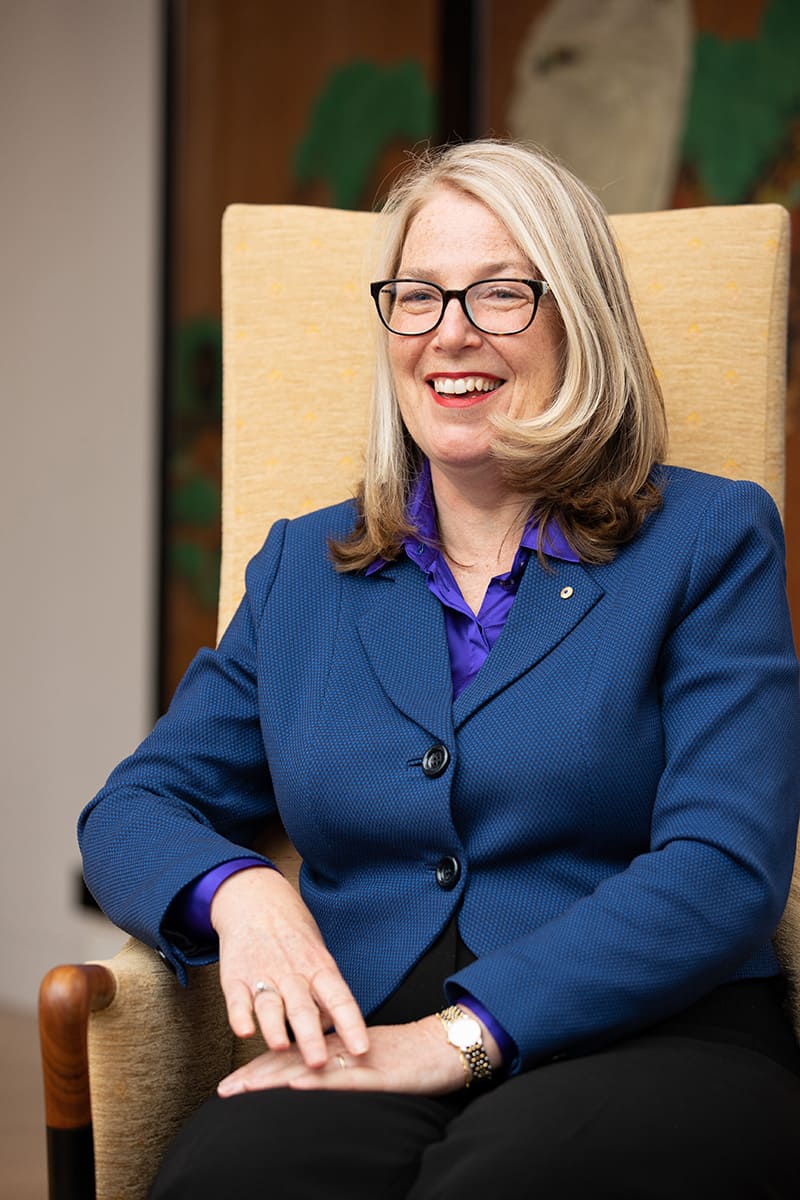 Adams cites the scale and significance of the Inpex Ichthys LNG Project in Darwin — "one of Japan's biggest overseas investments" — and collaborative efforts to capture, store and recycle carbon dioxide emissions on the back of the Japan-Australia Carbon Recycling Cooperation Memorandum, signed in 2019.
The Hydrogen Energy Supply Chain (HESC) project, an initiative to make and transport clean hydrogen from the Latrobe Valley in Victoria to Kobe, is no less important, Adams continues. Australia's federal and Victoria state governments, the Japanese government and industry partners such as Kawasaki Heavy Industries (KHI), J-POWER, Iwatani, Marubeni, AGL and Sumitomo among others, have formed a consortium to spur HESC movement during the project's current pilot phase, aiming toward a commercial rollout in the 2030s.
The liquefied hydrogen is expected to arrive in Japan within the next few months via a specialized marine carrier developed by KHI for the project, according to Adams. "It's a world first," she said.
"It's big project, but a very exciting kind of pointer of things to come. Australia and Japan, having been energy partners for so long, having basically created the LNG seaborne trade, (are) well-placed for building (new sources for) more clean energy on a huge scale," she said.
This intersection between trade and the environment is one in which Adams has much expertise. She obtained degrees in both economics and law, with the honors thesis for her law degree addressing the topic "Applying the General Agreement on Tariffs and Trade to Environmental Law and Policy." She completed two separate stints at the OECD in Paris, working in both the trade and environmental directorates before joining Australia's Department of Foreign Affairs and Trade (DFAT) in 1999.
Adams later served as Australia's ambassador for the environment and as ambassador for climate change. She spearheaded policy development that led to the Asia-Pacific Partnership on Clean Development and Climate (AP6), a voluntary public-private partnership involving Australia, Japan, Canada, India, China, South Korea and the United States.
Prior to her appointment in Japan, Adams served as Ambassador to China from 2016 to 2019.
Adams reveals the importance of her rural upbringing on her work in these areas, having witnessed farmers engaging in careful land management practices to protect the natural environment.
She also learned "where food comes from" and how hard people work to produce it. "I think I have an enduring interest and support for agriculture and farmers," she noted, also signaling an interest in Japan's unique food production culture.
Leading bilateral free trade agreement (FTA) negotiations for Australia during her employ at DFAT's Free Trade Agreement Division enabled Adams to represent the sector at the highest level. The work provided her with much enjoyment and career satisfaction.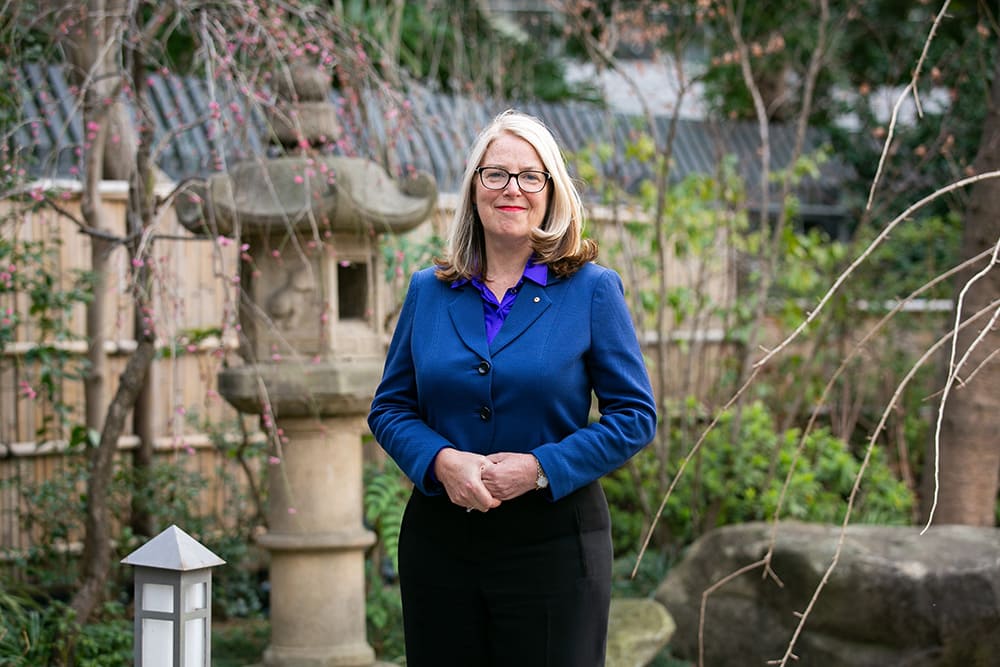 "I was really pleased to have so much to do with agricultural trade in those negotiations, as Australia is a big agriculture exporter … particularly into North Asia, where agriculture protection tends to be relatively high. We spent a lot of time working closely with all peak Australian industry groups and the farmers," she said.
Adams considers the signing and conclusion of Australia's three North Asian FTAs with Japan, China and South Korea as one of her greatest career achievements. She was appointed an Officer of the Order of Australia (AO) in 2016 for her efforts to advance Australia's diplomatic and free trade relationships.
"I was extremely privileged to be working on those big economic agreements for many years; to be able to see them through to conclusion was a real highlight," Adams recalled, crediting her teams and overseas counterparts for their efforts.
"There's a lot of tenacious, very clever and authentic people who worked really hard on those negotiations. … Their counterparts (in all of our partner countries) were equally tenacious, and gifted and skilled," she said with a smile.