December 16, 2022
Morocco's Bouhlal delves into details of fine design
MOROCCO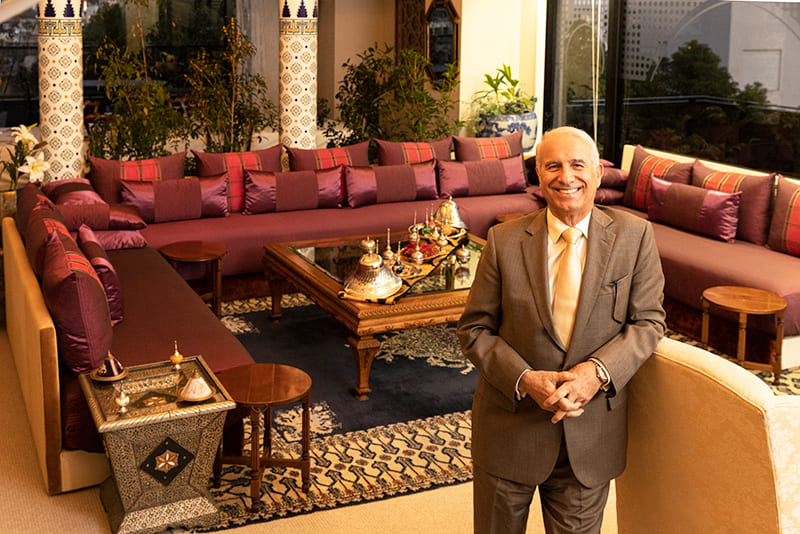 AMBASSADOR RACHAD BOUHLAL
Born in August 1951 in Rabat, he joined the Foreign Trade Department in 1976, with a degree in mathematics. Over the more than 40 years since, he has served in several positions in government, including secretary-general of the ministry of foreign trade, secretary-general of the ministry of foreign affairs and cooperation, and senior advisor to the prime minister. In 1996, he was appointed representative of Morocco to the European Communities and ambassador to Belgium, and Luxembourg, and served as ambassador to Germany from 2004 to 2011. Before taking up his current post, he was ambassador to the United States until 2016. His awards include the Order of the Throne of the Kingdom of Morocco, given for distinguished civil or military service, the Order of Leopold of the Kingdom of Belgium as well as Officer of the Legion of Honor (France). He is an avid golfer and a pilot.
To visit the Ichigaya residence of the Moroccan ambassador to Japan, Rachad Bouhlal, is to leave Japan. It is to be invited to sit on the centerpiece of the main room — a firm, C-shaped burgundy couch that could easily fit 10 people. It is to rest your feet on patterned rugs that blend instead of clash with the colors and designs of the sofa cushions. To be in what could be a living room anywhere in the North African country means having orange flower water splashed on your hands and inhaling its musky sweetness. It means looking out at the Tokyo skyline through printed arches on the glass windows of the seventh-floor condominium and momentarily doubting your whereabouts.
"You've entered Morocco. You're on Moroccan territory," the ambassador clarified. "In Morocco, a room like this is a sitting room for guests, it's a dining room — you just bring a table and some stools — and it's a sleeping room. On this [sofa], four people can sleep. Because traditionally, especially when you have weddings or big events and you receive family members or guests, you don't send them to a hotel, you can put blankets and three, four people can sleep on the carpet, and they have a lot of fun — they tell stories, they laugh."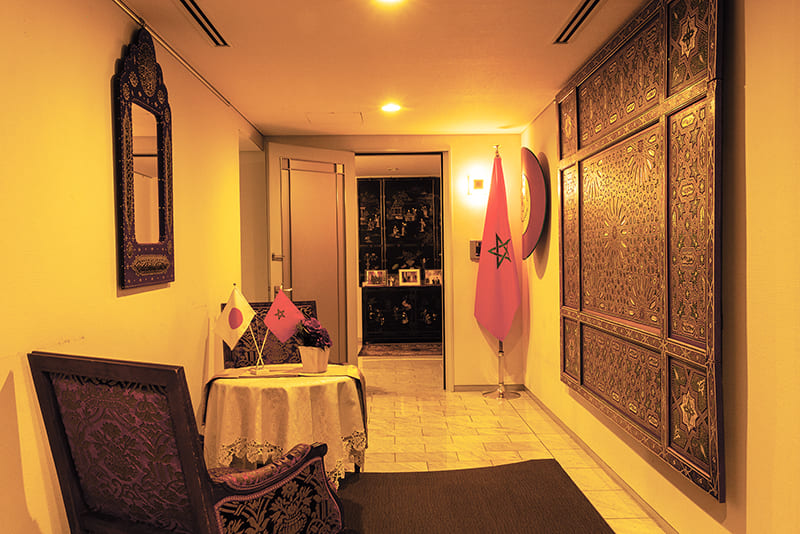 There were indeed many laughs in our conversation, but what stood out more than anything was the ambassador's desire to seek out and immerse himself in authentic Japanese experiences as a way of fostering greater understanding. A trip to the Nagasaki town of Sasebo, where he went fishing with a family who later prepared the day's catch, was one such memorable experience. In fact, Bouhlal has visited more than half of the prefectures in Japan since being appointed ambassador in 2016. There was also the tour of a sake brewery in Fukushima where he made sake, which when presented to him had his face on the bottle. However, one experience that Bouhlal has found to be a continuous way of learning lessons on etiquette and culture is dining at small restaurants known as koryoriya.
"Those places that are run by maybe one or two very old ladies. And they are the ones who cook, and you have only Japanese and they are seated in the traditional way, they are eating in the traditional way. If it's not a Japanese who takes you there, you might not find it. It's not the place where you just push the door, sometimes it's just a curtain or something — you don't even know it's a restaurant. And when you enter, they're sitting there on the floor — sometimes there are no tables — [or] there is one long table, and then you are seated there. And they cook for you. No more than 10 guests, and you see that they know each other, it's a place where they go almost maybe every day."
In such restaurants, Bouhlal has also noticed commonalities between Japan and Morocco, such as using a wet towel to clean the hands before eating. In Moroccan restaurants, it is common for someone to walk around with a pitcher of water, soap and a basin for diners to wash their hands.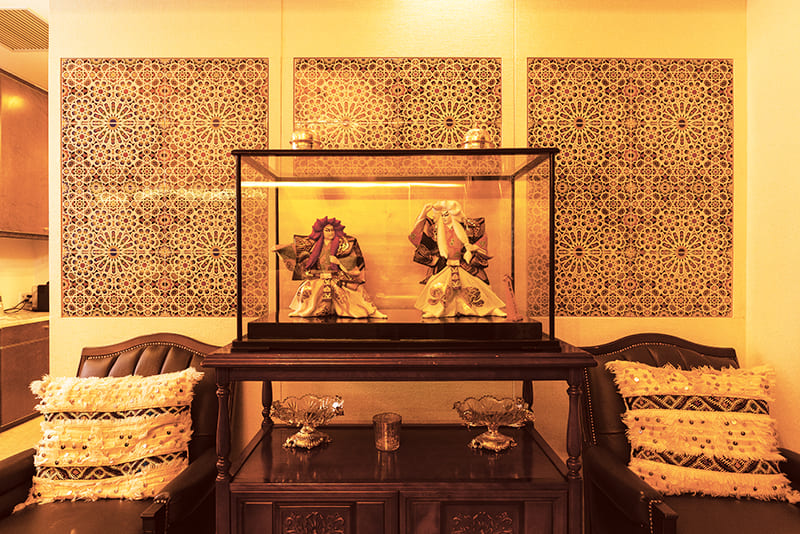 While his experiences have brought him many important realizations about Japan, objects such as tea sets, sake sets and fans have also impressed upon Bouhlal key characteristics of Japanese products. He points, for example, to the placement of the handle of a traditional Japanese teapot on the side, instead of directly opposite the spout.
"I oftentime delve into thinking what went behind the innovation of putting the teapot handle on the side and at that particular angle. Such sense of detail not only adds comfort for the user, but is a testimony of Japanese craftsmen's constant quest for little things that make their final product relevant and close to perfection. As an ambassador, I always give great importance to the following attributes in my daily life: attention to detail, quest for continuous improvement and achieving positive results that last in everyone's memory. In a sense, I can relate to the principles that govern traditional Japanese craftsmanship."
For this reason, Bouhlal often gives tea sets and sake sets as gifts. As in Japan, green tea is widely consumed in Morocco. Moroccans add mint and perhaps sugar. The tea ware — silver and glass — is different from Japan's, but the tradition of drinking the beverage is shared, so people appreciate such gifts. With sake sets, however, Bouhlal gives the drink as well, which might be harder to come by in Morocco.
"[Through these gifts] people discover sake, and you explain to them how we drink sake from these very small glasses. And of course you never help yourself, you pour for someone. And if you don't know that — if you don't live with people, you don't understand how you should behave, and people are expecting you to. Of course, if you're a foreigner, they know that you do not know the tradition. So they will not blame you for that. But when you do it, they are very obviously, 'Oh, you know how to behave with Japanese.'"
The Kingdom of Morocco started diplomatic relations with Japan just after independence from France in 1956. Today, Japanese companies in the automotive industry are the largest foreign employers in the country. Islam is the primary religion, and the population of 37 million is headed by King Mohammed VI under the motto "God, the People and the King."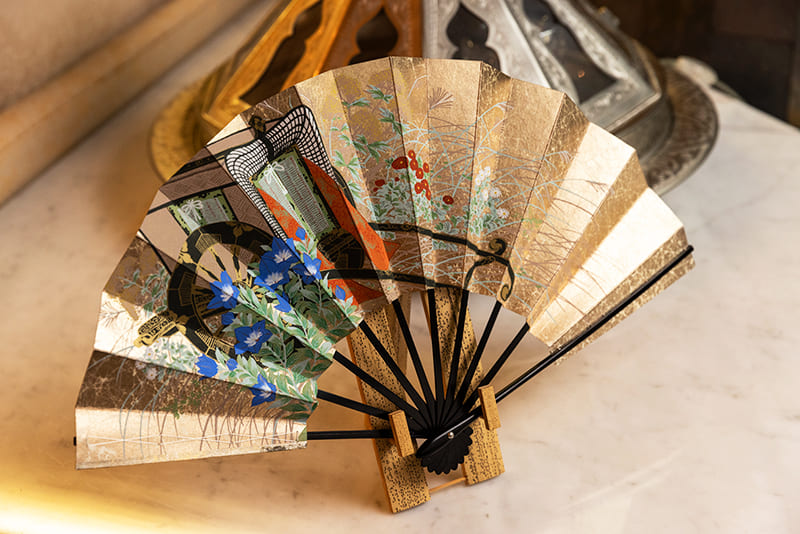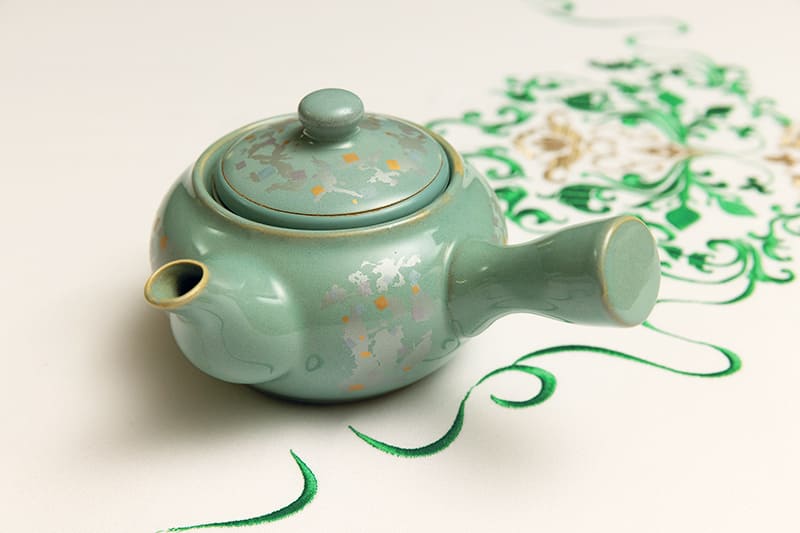 ---
モロッコ大使が語る、細部に宿る日本デザインの奥深さ。
駐日モロッコ大使リチャード・ブフラール氏の公邸は、東京・市谷の小高い丘の上にある。そこは高級感ある集合住宅で、公邸がある階でエレベーターを降りると、エレベーターホールには調度品や独特のお香の香りが漂い、まるでモロッコに来たかのような錯覚を覚える。
大使は日本をより深く理解したいと願い、"本物"の日本を経験するため日本中を旅している。2016年に任命されて以来、日本の半分以上の都道府県を訪れている。
彼は日本の物からたくさんの気づきを得るという。例えば、日本の急須の持ち手。それが注ぎ口の真向かいではなく、急須の側面に配置されていることを指摘する。「ティーポットの持ち手が横に、特定の角度で付いている。このようなディテールには、使い手が便利に使うことができるということだけでなく、製品をデザイン的に完璧なものに近づけるため改善や探求を常にしていることがわかる。私は、日本人の日常生活の中にある細部への関心、継続的な改善への探求、そんな伝統的な日本の職人技を支える考え方に共感を覚えます」。
Return to Sustainable Japan Magazine Vol. 19 article list page