July 29, 2022
At upcycled bag brand Plasticity, sustainability is style
Warren Meehan
Contributing writer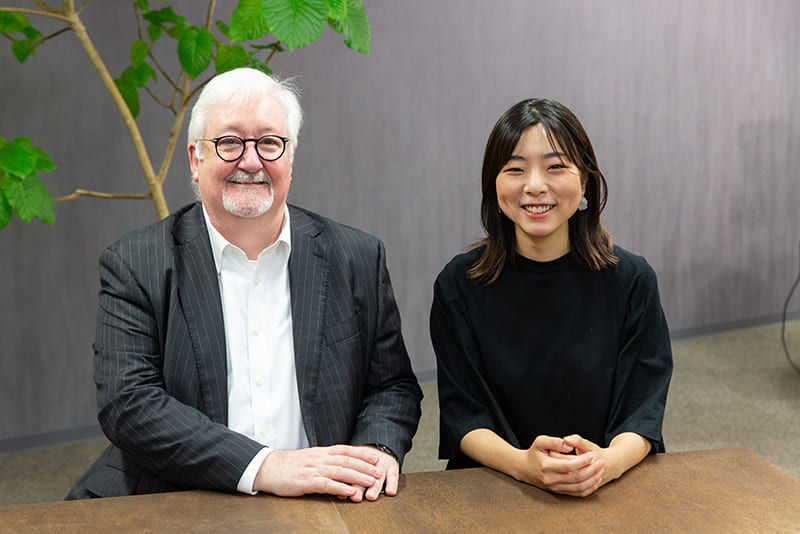 Aki Saito hopes the fashion brand she created will be doomed by environmental progress — in fact, the company's tag line is "A brand that should disappear in 10 years." For this Tokyo-based designer and founder of the upcycled bag brand Plasticity, recycling and sustainability are at the core of her company's mission, and the millions of disposable plastic umbrellas discarded every year in Japan are her white whale — she catches what would normally be buried in landfills and upcycles it into individually unique high-quality and guilt-free fashion items.
Saito took time out from her busy schedule to sit down with Ross Rowbury for The Japan Times Sustainability Roundtable's 21st iteration to talk about how she began in fashion, what she has learned on her journey of discovery and why we don't need to make sacrifices to help save the planet — and can even do it in style. Rowbury began by asking how Plasticity got started and what it does.
---
A way to contribute more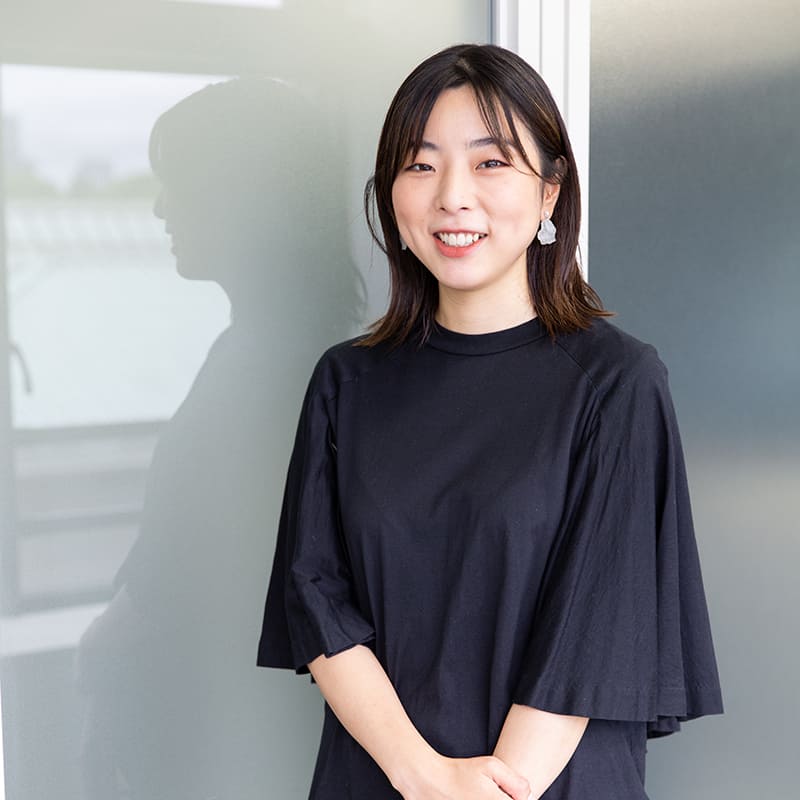 Saito's journey to creating Plasticity was as circuitous as the circular economy she so passionately believes in. After graduating from a university in England, the Tokyo native returned home and started work, but she soon found herself wondering whether she could contribute more. "I always spent time at home just making things and crafting," she explained. Her first foray into upcycling was when she transformed a faux-leather skirt into a bag, and realized she had found her passion. But how to contribute?
This led Saito back to school to learn the basics of bag-making — everything from using a sewing machine to how to follow a simple pattern. Around the same time, she had become very concerned about the environment and she wanted to find more environmentally friendly and sustainable materials. She investigated a few options, ranging from cork to nylon, but not satisfied they were truly sustainable, she decided to make her own material.
Walking around Tokyo one day thinking about her options, she realized she was surrounded by one hiding in plain sight: old umbrellas. Japanese, famous for their attachment to umbrellas, end up leaving or forgetting millions of unloved umbrellas at convenience stores, supermarkets, office buildings and on trains, all ultimately destined for landfills yet holding reams of plastic ready for repurposing. By some estimates, between 60 million and 100 million umbrellas are sent to landfills every year. Owing to disposable umbrellas' metal frames being directly attached to the plastic canopies, they are uniquely impractical and costly to recycle on a mass scale, so they often just end up as waste.
---
A step to combat waste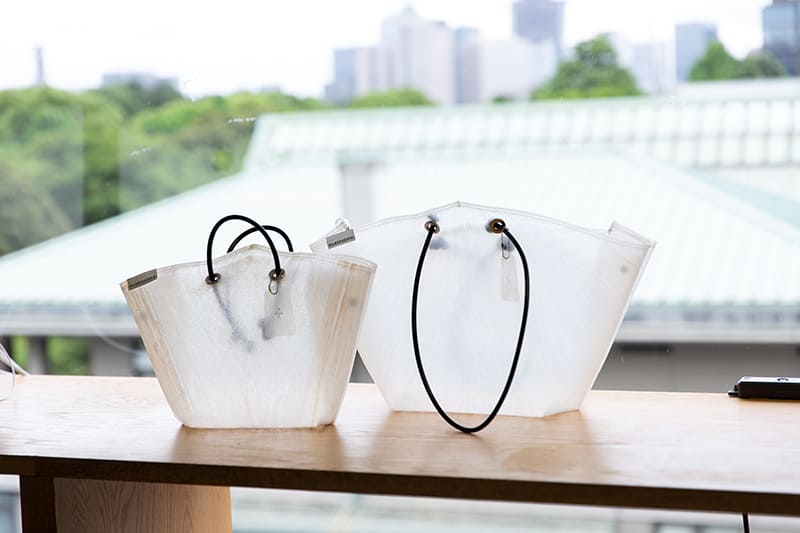 Rowbury and Saito reflected on why Japan in particular seems to have so many discarded umbrellas. "Going to high school in Japan and then uni in England, I would just wear a hoodie around and wouldn't worry too much about a bit of rain," Saito said, "but in Japan, with a combination of manners and how convenient it is to buy an umbrella, they are just everywhere." They further discussed Japan's unique cultural habits of always using umbrellas as well as the sense of civic honesty of never daring to use a discarded-looking umbrella for fear it still has a rightful owner.
Having the idea and the passion, Saito then had to deal with the reality of the manufacturing process. Her attempts at converting collected plastic canopies into a durable and nice-looking medium to work with proceeded by trial and error. She found that applying heat hardened the plastic, so in early experiments she set about ironing it under wax paper. Today, Plasticity's material is developed by heat-pressing four layers of umbrella plastic in a "press factory." Four layers "is about the ideal thickness to work with," explained Saito.
---
Every item tells a unique story
Each Plasticity product is an individual, slightly unique in its own way, and each one tells a story about an umbrella's journey through time and space. Saito presented one bag as an example of Plasticity's work, and Rowbury noticed a dark mark running through the material. This, Saito explained, was a rust mark indelibly conveying the age and abandonment of the original umbrella. As Saito pointed out, the more marked the material, the more interesting the story of the umbrella's journey. These unique marks subtly remind us that the bag once had a different life and different purpose, and let us wonder where it has been and how long it sat until it was found and upcycled into a new product.
For Saito, there is method in the randomness. If the four layers come from two umbrellas with different colors, "maybe a light blue or a purple can be pressed to make a color, and I love that we are never able to tell how the materials will end up looking in the end, and that's the fun of upcycling." Each bag's unique lines and patterns are the product of random defects, traces of the weather it experienced or conditions it endured before coming to Plasticity for upcycling. For Saito, the irony is that the worse the condition of the original umbrella, the more interesting and unique the final product and the story it tells. "Just to imagine how long has this been used as an umbrella and the path that it's traveled to get to us, it's definitely something I think about," she said.
---
Mountain of opportunity

With Plasticity's rapid success, Saito is now working with a small team of designers and expanding their range. She no longer wanders the streets looking for abandoned umbrellas. Today, Plasticity buys its umbrellas directly from waste disposal companies, but it still only uses a tiny fraction of all the umbrellas discarded annually. "In our factory I saw a mountain of plastic stacked up, and that was just 3,000 umbrellas, so I just can't imagine — it's a crazy figure," she said. Saito is hoping to expand into other items while Plasticity continues to grow as a bag and accessories brand using the same material. "This material is hard to explain through images," Saito explained. "You really need to touch it."
As for the prospects of living up to the company's motto that it should no longer exist in 10 years, "Given the number of plastic umbrellas discarded annually, I want to explore — I have ideas, I need to start acting, and I do want to spend time thinking," Saito said. "Every age has a different problem."
Click the link below to watch the interview