August 18, 2023
Marubeni develops the 'power of people and forests'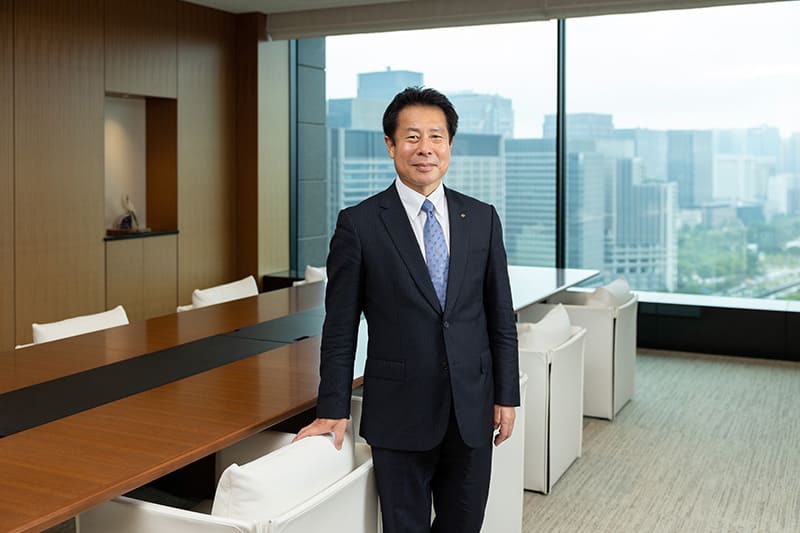 A green strategy is one of the major pillars of Marubeni Corp.'s business. Working to reinforce green-related businesses and go green in all sectors, Marubeni aims to maximize its profitability and corporate value.
"Every part of our company is pursuing green strategy right now," said Tsuyoshi Teragaki, chief operating officer for Marubeni's Forest Products Division, "and our division intends to be at its center."
Marubeni, one of Japan's five largest trading companies, was founded as a linen trading business in 1858 and became Marubeni Corp. in 1949. During its long history, pulp and paper has been one of its major business pillars, along with food and power generation. In 2019, the pulp and paper division changed its name to the Forest Products Division, reflecting the wide range of products using forest-derived materials, and set as its purpose "Open the way to a sustainable future through the power of people and forests."
"I wanted people in my division to think about what we were fundamentally doing. We were confident that what we were doing was nature-friendly and ecological. So, I asked them to think about something that could be a compass if we got lost," Teragaki said in a recent interview, looking back to discussions on the purpose in early 2021. The interview was part of a monthly series featuring sustainable Japanese companies by Naonori Kimura, a partner specializing in corporate reform for the consulting firm Industrial Growth Platform Inc.
The division deals in materials and projects derived from forests. For example, at the upstream end of value chains, it has operated plantation projects in Indonesia and Australia covering a total of 130,000 hectares. A fully owned Indonesian unit, MHP, alone manages 120,000 hectares of eucalyptus forests, supplying raw material to integrated pulp mills that export across Asia. Marubeni also aims to develop new businesses utilizing forest resources such as biomass fuel and biochar, a form of charcoal, by cooperating with local communities, contributing to local economies and environmental conservation.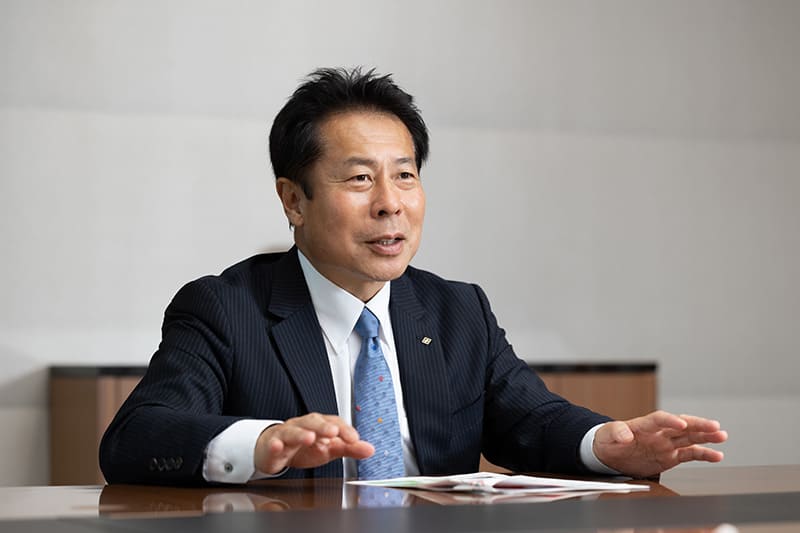 But beyond simply producing raw materials for wood chips, pulp and paper, Teragaki said it is not good enough to aim at carbon dioxide (CO2) absorption by forests without logging. "We pursue both types of benefits from forests — as economic value of using raw materials and environmental value — by utilizing forests," he added. The projects in Indonesia and Australia contained the equivalent of 11 million tons of CO2 in 2020, and Marubeni aims to make that 19 million tons by 2030.
Moreover, Marubeni eyes further expansion of the business to Southeast Asia and Africa, a continent that is experiencing the fastest deforestation rates in the world.
In the Philippines, about 70% of the land was covered by forests in the early 20th century, but that now has fallen to 20%. Due to this deforestation, the country suffers from serious floods and landslides when it rains. In February, Marubeni signed a memorandum of understanding with the Department of Environment and Natural Resources, the University of the Philippines and a local conglomerate to protect the environment through plantations and at the same time launch a carbon credit program utilizing reforestation.
Marubeni also signed a memorandum with a local firm in Angola to examine the feasibility of plantations in the former Portuguese colony. In southern Angola, where civil war forced out a Portuguese pulp manufacturer and plantation trees were illegally cut down, Marubeni is considering utilizing forest resources as material and creating carbon credits through reforestation, Teragaki said. He added that it also is looking at setting up a similar business model in Ghana.
What makes the plantation business difficult, he said, is that beyond generating profits in the long term and benefiting the environment, it also has to help local people, such as by hiring them at the plantation site.
"If you just plant trees and let them grow to absorb CO2, it only generates money for plantation owners by creating carbon credits. Local people complain about that and cut them down for fuel and their own exports. So, we need to communicate with the local communities and cooperate with them," he continued.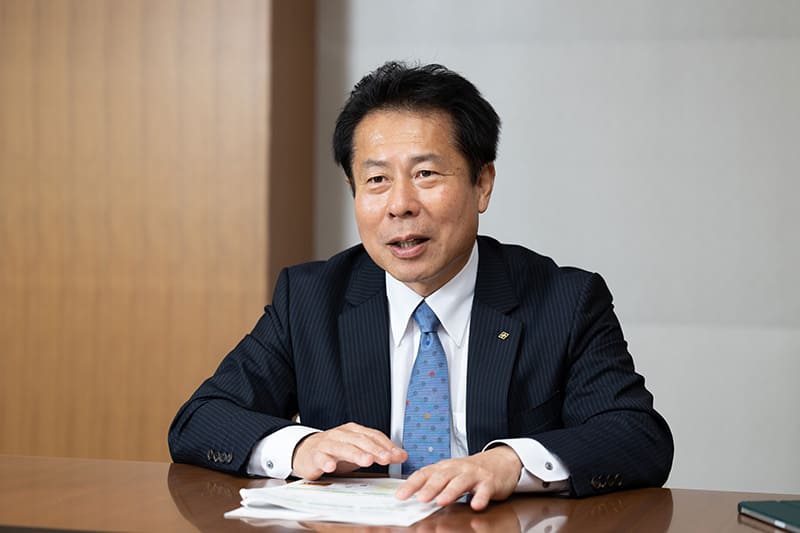 To do that, Teragaki said, plantation businesses need to form "land portfolios" — some for raw materials, some for local fuel, some for environmental conservation.
Marubeni also provides forest management services in Japan, where forest resources were largely consumed in many areas during World War II. Although reforestation has been conducted afterwards, it cannot be said that these resources are utilized effectively. Currently, the company cooperates with cities like Noshiro in Akita Prefecture and Shunan in Yamaguchi Prefecture to regenerate their forests to create carbon credits for sale and manufacture wooden biomass fuels, which also lead to revitalization of the forestry industry.
In the downstream of its value chains, Marubeni is working on digital transformation for greener business. The company's research institute and digital innovation team cooperated to create a system that visualizes the carbon footprints of its containerboard supply chains transparently so that carton box users can choose among paper manufacturers and box converters in order to lower carbon emissions.
"In the past, end users decided to procure containerboard and carton boxes in terms of better quality, lower costs and quick delivery. But the more excellent the companies are, the higher their demands are. We received requests that they wanted to visualize how much greenhouse gas emissions each product has and how much they could be cut," Teragaki said.
In the future, buyers will take emissions into consideration when choosing from among paper manufacturers and carton box converters. The movement likely will spread to other kinds of packaging materials, such as plastic bottles and aluminum cans, and cooperation between manufacturers and converters will be essential, he said.
Teragaki also stressed that keeping green business profitable is important in making it sustainable. Although Marubeni's Forest Products Division posted a net loss of ¥9.4 billion ($65 million) due to temporary reasons for the business year that ended in March, its forecast for the current year is a net profit of ¥6 billion.
"As long as companies engage in green strategy as a business, it is to their advantage to pursue scale and speed, and to do that, we have to run things economically. Through our green strategy, we would like to pursue a positive correlation between the environment, society and the economy," Teragaki said.
---
Naonori Kimura
Industrial Growth Platform Inc. (IGPI) Partner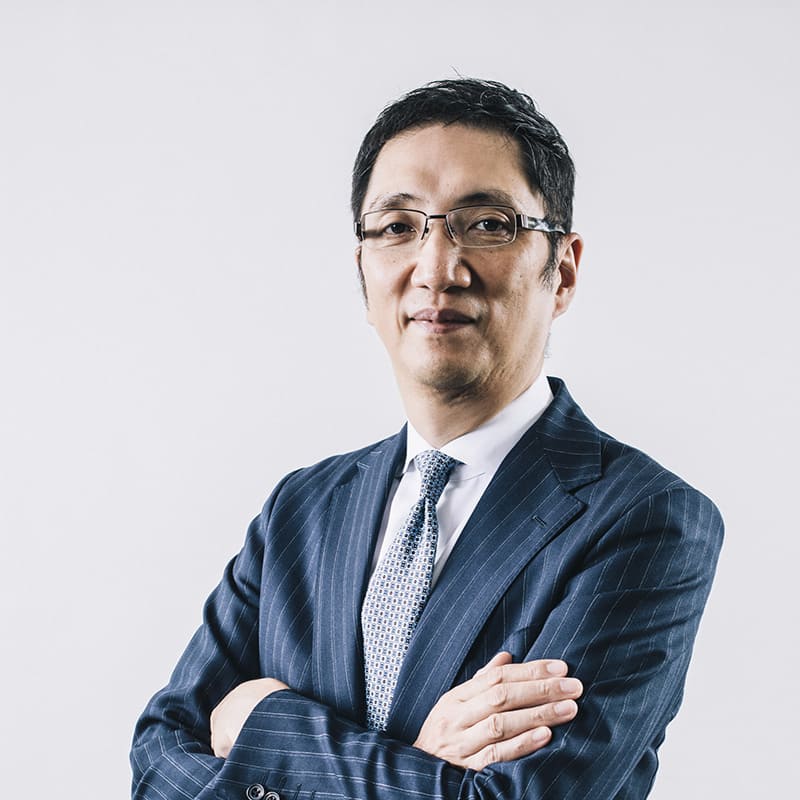 To the Marubeni Group, sustainability means practicing its management philosophy, which it describes as "In accordance with the spirit grounded in 'Fairness, Innovation and Harmony,' the Marubeni Group is proudly committed to social and economic development and safeguarding the global environment."
The company has especially set a green strategy as one of the major pillars of its medium-term management plans and aims to improve its profitability and maximize its corporate value through its environmental contributions, further promoting its existing green businesses as well as making all of its operations green.
Starting in 2020, the Forest Products Division's leaders and members together set a new purpose: "Open the way to a sustainable future through the power of people and forests." Based on sustainability perspectives, the division develops various business across the world, aiming to broadly further a digital transformation together with a green transformation, from plantation projects upstream to sales and distribution downstream. Also, the company sees human resources as one of the most effective elements for realizing sustainability and has built the Marubeni HR Ecosystem and committed itself to cultivating human resources, the root source of value creation. Without being overly concerned by the word "sustainability" itself, the company understands that sustainability is a way of putting its philosophy into practice.