January 13, 2023
CCJA winner's nonprofit helps kids with family issues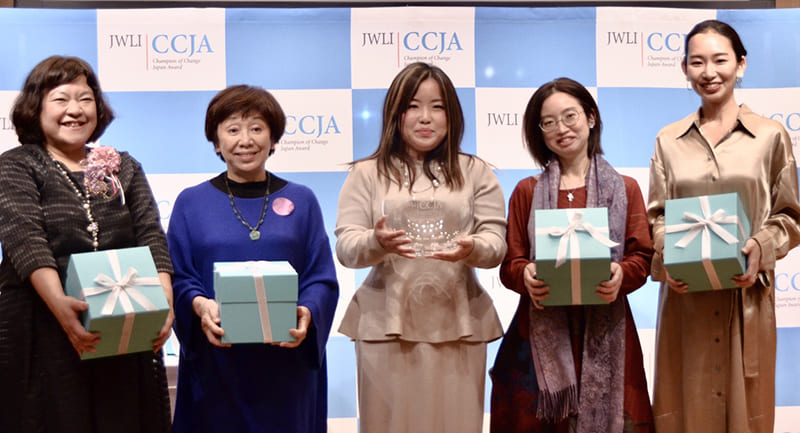 Ayumi Mitsumoto won the grand prize of the Champion of Change Japan Award 2022 for her 13 years of work supporting youths with family issues. At the CCJA 2022 award ceremony in Tokyo's Bunkyo Ward on Dec. 12, five aspiring women who are committed to changing society for the better, including Mitsumoto, were introduced. The audience, deeply impressed by the speeches of these five women leaders, congratulated Mitsumoto and the other four prize winners with warm applause.
In her acceptance speech, Mitsumoto said: "Even now, when I'm standing here with this prize in my hands, there are calls to our hotline that one of our staff members standing in the back is responding to. There are youths seeking help now. That is what keeps us going."
It was the sixth ceremony since the award was established in 2017 by Atsuko Toko Fish, a Japanese philanthropist living in Boston, to recognize women leaders in Japan who engage in activities that address pressing social needs. The last two ceremonies were held online because of the COVID-19 pandemic, and it was the first face-to-face ceremony in three years.
The five winners congratulated one another, and all said they had gained a great deal from learning about each other's activities through the award ceremony and were eager to keep in touch to discuss possibilities for collaboration and cooperation, even though they work in different fields and locations.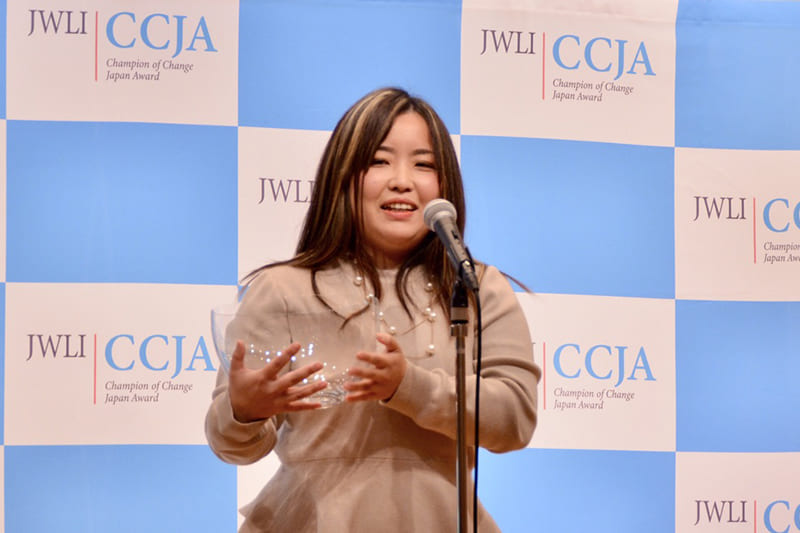 The ceremony was organized by the private Fish Family Foundation, established in 1999 in Boston. Atsuko Toko Fish is a founding trustee of the organization. The selection committee consisted of Fish and five other members who represented five sponsors and partners out of the total of 11. The Japan Times has been contributing to the CCJA as a media partner.
The five prize winners were selected from among 177 recommendations, with two rounds of selection followed by an interview. Mitsumoto received a cash prize of ¥1 million ($7,500) and a crystal bowl made by Tiffany and Co. Japan Inc. The other four winners each received ¥250,000 and a commemorative gift presented by Tiffany. All five also received additional prizes from sponsor companies and organizations.
Mitsumoto is the director of Weeds, a nonprofit based in the Chiba Prefecture city of Funabashi. With the organization's nearly 70 staff members, Mitsumoto strives to extend support to as many children and adolescents as possible who suffer from abuse, maltreatment or problems resulting from their parents' divorce or remarriage.
When she was a child, she was a witness of issues in her own family, including physical and verbal abuse between her parents. It lasted until her parents got divorced when she was 14, but that did not free her from worries and instability. She found no solace in her life with her father and sister. "With no place to call home and no hope for the future, I found myself jumping from a window one day. Who would have imagined back then that I would be who I am today?" she said.

Despite all the hardships she had to go through during her adolescence, Mitsumoto said she was lucky. "I faced a number of difficulties, but I always had someone's support. Thanks to this, I could make myself believe that a challenge is also an inspiration. I have been driven by the sense of mission to pay this experience forward and share my luck with children who are suffering now," Mitsumoto said.
The organization was established in 2016, but her activities to support children with family issues had already begun in 2009, when she was 21 years old. "I am truly honored that years of my efforts are recognized, and I want to tell children and youths that someone like myself who had been in misery and desperation as a girl could take actions that are worth a prize," she said.
Weeds provides counseling and information via social networking services, visitation support for children and their separated parents, and various programs for children and parents to ensure children's sound growth. It also opened Michikusa House, a six-bedroom house in the Chiba city of Matsudo, in July 2021 to offer a place for youths facing hardships to stay. "We aim to launch another one like this in Nerima Ward in Tokyo this year," Mitsumoto said. She explained that such places play an important role as a buffer zone for children who want temporary shelter or time away from their tough environment but are not necessarily in need of protection through temporary custody by child consultation centers or police intervention.
Mitsumoto also revealed her plan to train 150 additional supporters and said: "You do not need anything special to become a supporter. Your own experience will be useful to someone. You can offer help the way you can."
"But the future that we should aim to create is one that does not need organizations like ourselves and activities to support children with family problems," she added.
Atsuko Toko Fish
Founder of CCJA
The Champion of Change Japan Award (CCJA) was established in 2017 after I had been selected in 2013 for the Champion of Change Award, an award founded by President Obama to recognize those who contribute to society. To me, this award symbolizes the U.S.'s spirit of being open, positive and inclusive. My selection as an Asian woman for the award is a testament of how the importance of diversity and the need for the advancement and leadership of women and minorities were being recognized in the U.S. I was truly inspired by the experience and wanted to reciprocate by creating a similar spark in women in Japan. There are many women leaders in the Japanese social sector who are serving those who suffer from poverty, prejudice, and inequality. These women leaders work tirelessly, creating a country where all people can live equally and comfortably. I founded CCJA in 2017 to recognize these unsung heroes, make their work and contribution known more widely, and express my gratitude and respect to them.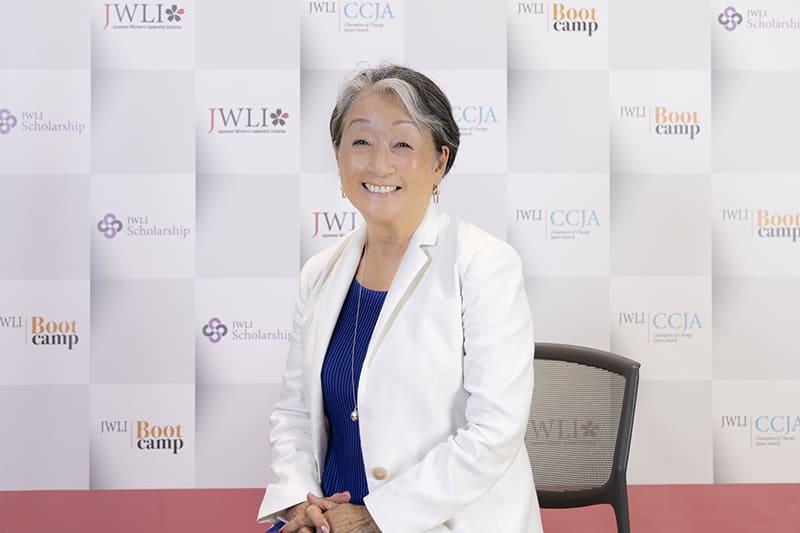 ---
The four finalists tell of their struggles and successes
Shoko Katsuragi
Director of Nonprofit Corporation QWRC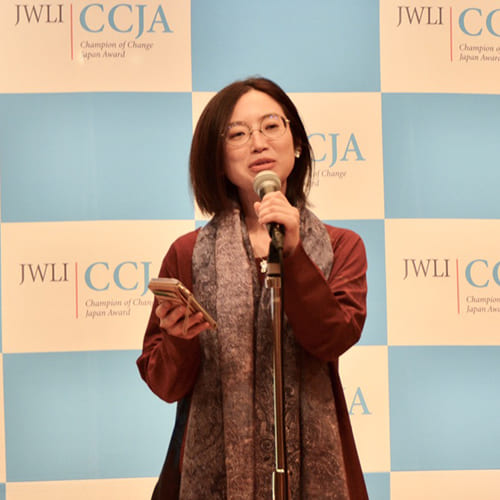 During my 18-year career as a social worker, I have met people who faced hardships, people who were at risk of losing their home the next month, people struggling to survive. These people are worth a prize. Among those who are in need, LGBTQ people are particularly difficult to support. There are cases where problems such as domestic violence or rape inflicted on LGBTQ people are not recognized properly, or the support they receive is irrelevant to their need. The current social system and support systems are not geared to accommodating people with diverse sexuality, making it harder for LGBTQ people to use social resources that are supposed to be equally available for all citizens. We will further strive to provide necessary support for LGBTQ people, including those who additionally suffer other problems such as disability.
Michiyo Zaitsu
Nonprofit Corporation Heart Space M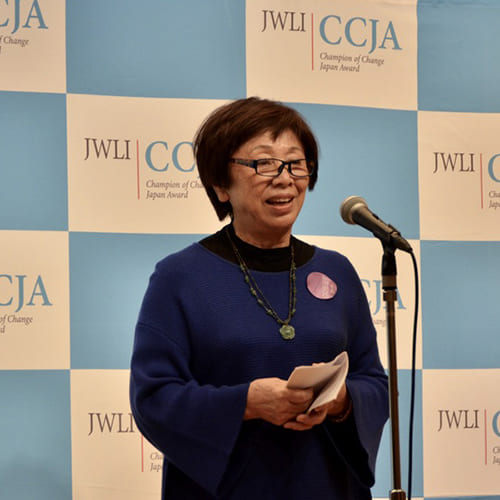 Our 20 years of activity started when I lost one of my friends to domestic violence. The first person who asked us for support was a mother of two small children who was on the run from her husband, who had beaten her. We offered the mother and children a shelter. Since then, about 300 people have built a new life with our support. Unfortunately, the number of domestic violence cases does not seem to decrease.
In addition to providing shelter and support to victims of domestic violence, we provide education on nonviolence to all the elementary schools in the city of Miyazaki. We all have every right to live safely. We will continue our efforts to empower women of all ages who have suffered violence and help them become more self-reliant.
Asako Noma
Nonprofit Corporation High Heel Flamingo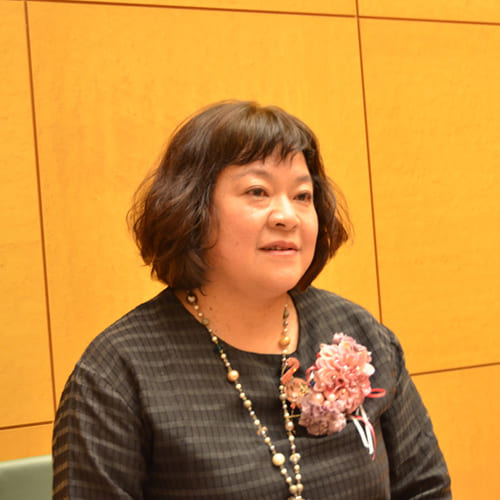 We have been helping women with prosthetic legs since 2018 under the slogan "Let's go where we want to, not where we can." Since it is not easy for them to get out, they tend to become isolated from society.
We want to create a society where they do not have to feel alone and give up on dressing up and going out. To do that, we aim to empower them and help them connect with each other to build a community.
There are not many opportunities or places for them to get together, but we strongly believe that they can go farther if they are together. We welcome supporters who can offer helping hands in a variety of ways when and where they can to create an ecosystem of supporting women with prosthetic legs.
Ulala Mikami
General Incorporated Association READYBOX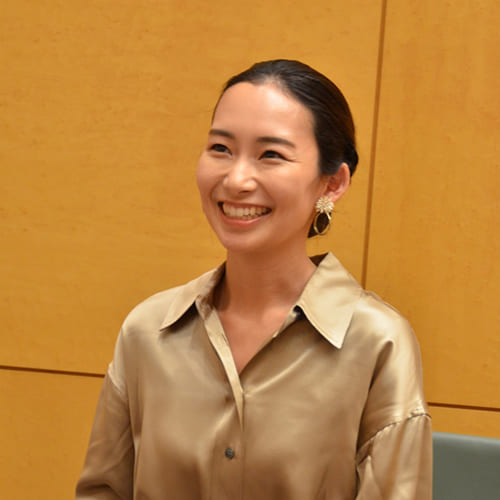 I started providing sex education to children two years ago. Based on my experience of feeling embarrassed about my own menarche, I decided to make sex education more accessible and easier to understand for children through interesting products. One of them is our Menstruation Preparation Box, which helps girls understand more about menstruation and prepare for it. We are also planning to develop an educational tool for boys to teach them about male reproductive functions, as well as teaching materials to share knowledge about menstruation that can be used by everyone regardless of their sex. We want to make it a natural thing for children to ask and learn about sex, and encourage adults to show positive responses to their questions so children will not have to hesitate when they need help.