October 13, 2019
Investing in a time of socioeconomic shifts
Japan Times ESG Consortium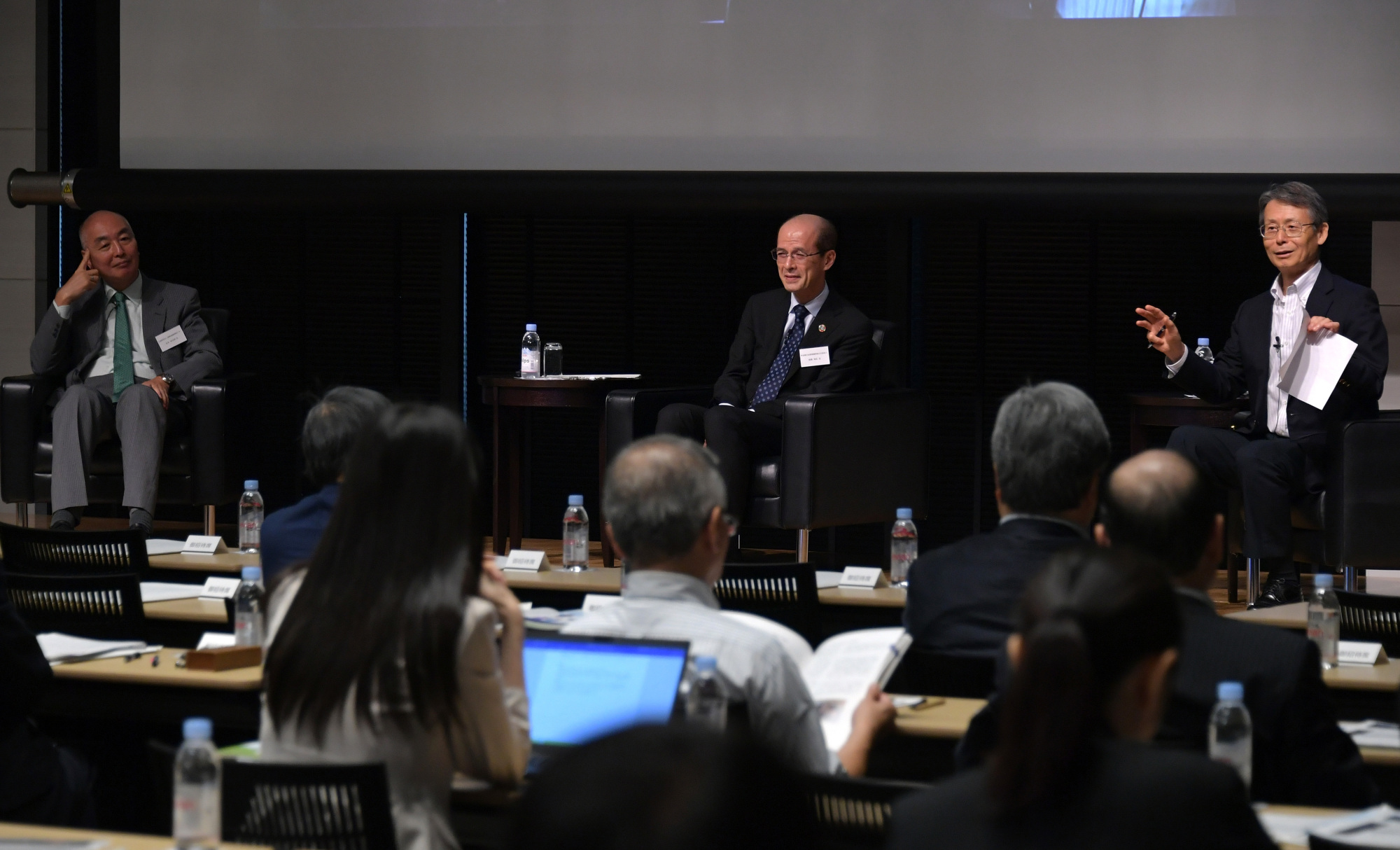 The Japan Times ESG Consortium and the Japan Center for International Finance co-organized a forum on Sept. 26 in Tokyo to provide innovative ideas and thought-provoking suggestions in addressing global structural transformations at a time when environmental, social and governance (ESG) factors are increasingly considered important for corporate management and activities.
Dubbed the 2019 Leaders' Conference, the event, featuring two panels focusing on the role and trend of investment, was supported by Russell Investments Japan Co.
The first panel discussion saw Norihiro Takahashi, president of the Government Pension Investment Fund (GPIF), and Rintaro Tamaki, president of the Japan Center for International Finance, exchange perspectives on the theme, "Structural changes on a global scale and what we should do."
The session was moderated by Akiyoshi Oba, chairman of the Japan Investment Advisers Association.
Oba firstly mentioned that the theme embodies how returns can be increased while taking measures to create a sustainable society in the field of finance in an era when postwar business models seem to face limitations.
He started the discussion by asking Tamaki how this change has been brought about and how different Japan is from other countries in terms of background and process of structural change.
Tamaki answered, "Demographics, digitalization and innovation, and decarbonization are three factors that have driven social and economic transformation."
He stressed that each company should disclose climate-related information to respond to the demand of long-term investors and stakeholders overall.
"People have been more or less happy in Japan's highly complex social and economic system that was created after World War II, so the country has not taken risks to change the whole system," he said.
He noted that companies should be aware that today's decisions would define their long-term future.
Next, Oba asked Takahashi how GPIF has been acting as both a long-term and the world's largest pension fund during the current transition.
Takahashi introduced a survey conducted by GPIF that revealed the number of listed companies publishing integrated reports with nonfinancial information has been increasing.
"However, there are multiple disclosure standards for ESG factors, which makes it difficult for companies to decide what to disclose," he said. "We are also calling for investors to clarify what aspects — climate change, for example — they are interested in."
Takahashi also noted that although most of the GPIF's stock investment is conducted upon index-based passive management, GPIF encourages investors to engage with investee companies through deeper dialogue.
Oba went on to ask another question, "What should investors, companies and the government do to realize the continuous improvement of returns and the sustainability of the society at the same time?"
Tamaki answered that investment destinations of long-term funds held by institutional investors will determine the speed of the necessary structural change.
He explained that sustainable, long-term investments, such as one in renewable energy, produce steady returns for a long time without being affected by market value fluctuations of other financial assets.
"Long-term investments should meet the needs of institutional investors," Tamaki said.
He added: "It is also important to understand what beneficiary owners, such as policyholders and pension payers, behind those institutional investors really expect. Are they concerned about quarterly results? I suppose that most of them would prefer that funds are used to make the society sustainable in the long term."
Tamaki also said that the government should be a supporting player and provide frameworks such as a carbon pricing system to help the private sector head in the right direction.
Meanwhile, Takahashi noted that asset management companies should look into nonfinancial information about their investees to find out what said investees are really aiming for.
"We try to encourage enterprises to include ESG factors in their corporate strategies," he said.
Takahashi added: "As GPIF does not make direct investments, we are particularly concerned about how ESG indexes are structured, who the index providers are, and the transparency of the indexes."
To conclude the session, Tamaki said that millennials and those younger than that generation typically have different values.
"Young people's voting behavior is changing especially in Europe and Canada. They are opting for greener options. It is highly likely that Japanese youths will follow suit in the future, triggering sudden changes in policies. We need to prepare for it," he said.
The forum's second panel discussion is scheduled to be reported on in a future installment of this column.