September 06, 2021
Troubled teens find solace with Saori Okada's support network
Saori Okada has been reaching out, day or night, to teenagers in need of mental and emotional support for the past nine years. As a victim of physical and mental violence and bullying who also experienced a number of hardships including drug abuse, depression, divorce, poverty and suicide attempts, she knows that teens facing such difficulties are desperate for someone to communicate with.
"There wasn't anybody who was doing what I am doing when I was young and desperate. That's why I started doing this," Okada said, stressing the importance of hearing their voices and responding with love and care.
At first, she accepted mainly SNS messages from those who visited her personal blog, which she set up to share her tough experiences and encourage youths. The number of people she counseled, initially just a few per month, grew rapidly. Volunteers started to gather too, prompting her to turn her personal activity into an organized one to offer timely and professional support for those who are on the edge. This is how the nonprofit Teenagers' Mental Support Association was established in 2015.
The Champion of Change Japan Award (CCJA) — founded by philanthropist Atsuko Toko Fish, who has been active in Japan and the U.S. — selected Okada as one of the five winners in 2020. The award is presented to female leaders in Japan who are dedicated to addressing social issues and needs.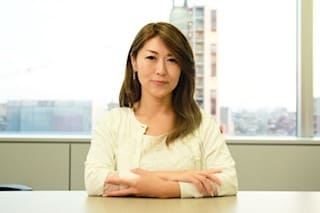 According to recent statistics, Japan has the Group of Seven's highest suicide rate among people between the ages of 15 and 34. Okada fears the figure may continue to increase as youths' situations worsen due to the COVID-19 pandemic. "We received about 24,000 requests for consultation from about 3,000 youths in May last year, and the numbers reached 41,000 requests from 4,200 youths in December," said Okada. The figures seem to be increasing in proportion to higher stress levels in the adults around adolescents, she said, and 20% to 30% of the cases involve abuse.
There are child consultation centers that can provide temporary shelter to those who need protection, but she pointed out difficulties that may arise. "During the stay in a child consultation center, kids cannot go to school. Those who felt they belonged only at school are tempted to return home. They have to wear borrowed, shared underwear. No smartphones are allowed," Okada said, expressing the dilemma that teenagers face when they need help but do not want to be reported to child consultation centers.
"Some of them try to seek space for themselves on the internet and fall victim to adults with evil intentions," she said. Teens are just a few years away from becoming independent, but those years are long when they are trapped in misery with no place to hide.
To be available online for such youths at any time, she and more than 40 counselors with various specialties — from domestic violence, sexual abuse, bullying, LGBT issues, self-injury behavior, drug abuse and eating disorders to nursing, child care, psychology, financial planning and entertainment — take turns staying online to make sure callers are matched with the counselors most suited to their particular problems. Okada noted that the counselors are ready to deal with shocking statements and stories, such as about recent suicide attempts, because most have gone through similar experiences themselves.
In addition to online consultations, the association organizes online gatherings three times a week to replace the monthly face-to-face events it conducted before the pandemic.
Okada said adults need to change in order to improve teens' situations. To increase the number of adults who can provide support for at-risk teens, the organization has also been offering courses to train counselors. Okada and her team also established the Ladies' Mental Support Association to reach out to women with issues and concerns, especially mothers. "We also want to network with various organizations across the nation so we can ensure both offline and online support to everyone wherever they are," she said.
"I could have done this more strategically and efficiently from the beginning, but I was able make the association as it is today because I pursued my belief even if someone criticized me for trying to help others when I could barely feed myself by working part-time jobs," Okada said of her passion to demonstrate to teens through her own experiences that a strong will is what it takes to achieve their goals.