September 20, 2021
At 2020 Games, NTT made watching events remotely feel live
SPONSORED CONTENT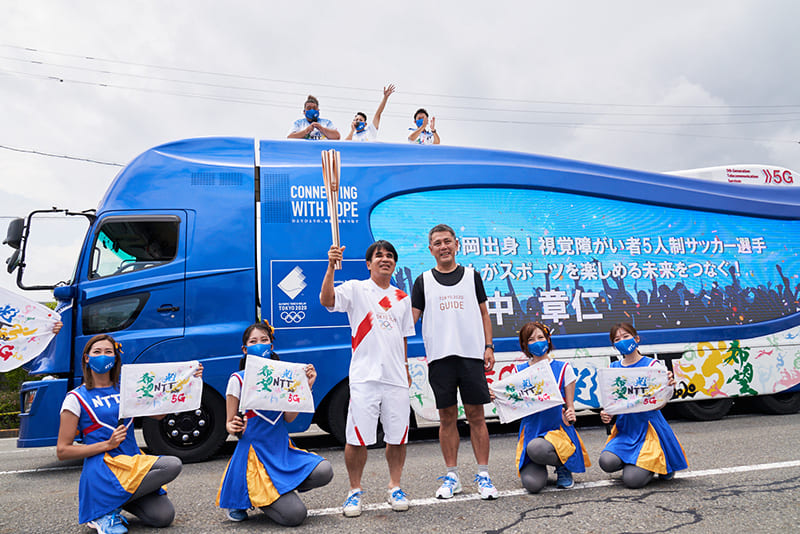 Spectators heard many athletes express appreciation in postgame interviews for Japan holding the Olympic and Paralympic Games even before they thanked their families and supporters. No one in the world had ever before done or witnessed anything like Tokyo 2020. It was a tremendous challenge for those who strove to make it happen, including NTT Corp., a leading telecommunications company that sponsored both the Games and the Olympic Torch Relay as a Tokyo 2020 Gold Partner.
NTT proved its power of technology and how it can connect people, starting with its torch relay support. It used trailer trucks with huge LED screens to display messages, pictures and videos from across the nation to cheer the torchbearers. This turned out to be especially effective in a situation where the COVID-19 pandemic worsened daily as the relay proceeded. In some places, no roadside spectators were allowed, and in others — including Tokyo — the relay did not take place on public roads at all.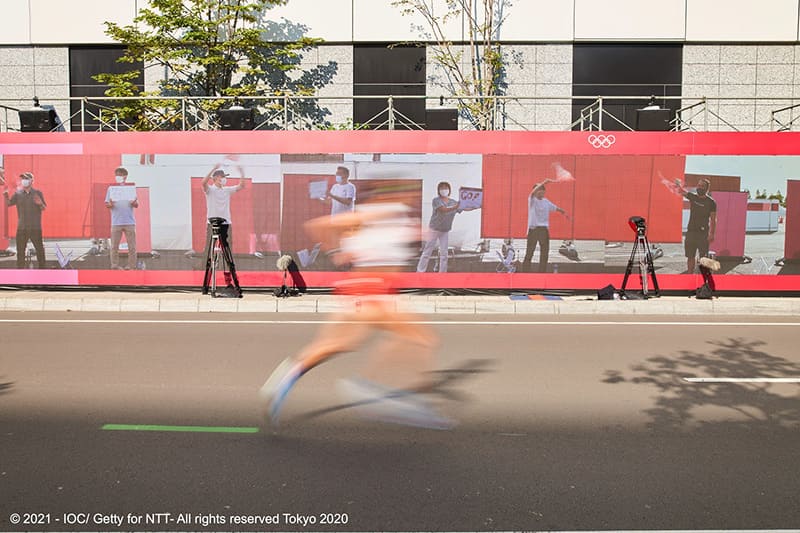 NTT staff members supporting the relay did not stop there — they did not forget about the prospective torchbearers who became unable to take part because of changes in routes and plans. NTT created a movie for each such runner, with messages and videos submitted for that particular person.
"Remote cheering had already been the main part of the project from the beginning, but we had not imagined a situation in which some runners could not run. So that was our impromptu idea," said Isao Yoshikawa, a director of the 2020 Projects, Strategic Business Development Division.
As part of the torch relay, two major celebration events presented by NTT took place in Yokohama and Osaka, showcasing NTT's virtual and remote technologies. Daily celebration events for runners and local residents also were full of entertaining features such as a virtual reality tour of the National Stadium in Tokyo.
The events in Tokyo and Osaka, initially planned to accommodate 5,000 people each, also had to be conducted with almost no spectators. NTT quickly switched to online distribution using Realive360, a video streaming service that offered real-time 360-degree views of the stage. NTT also used holographic technology to let people in different places interact virtually. The total number of viewers reached 100,000.
During the Games, NTT provided not only the network and systems for conducting and broadcasting competitions but also many innovative solutions for making the Games interactive and inclusive.
Spectators' cheers are what encourage athletes the most, especially in long and solitary races like marathons. However, almost all the games of Tokyo 2020 were conducted without spectators on site, and marathons were no exception.
NTT set up LED displays stretching for about 50 meters along the Olympic marathon course in Sapporo and also at a venue in Tokyo. The long displays in Tokyo let selected officials and staff members who gathered to send cheers see the runners in real time and feel how fast they were running.
The roadside screens in Sapporo displayed supporters cheering for runners as they passed. Thanks to technologies developed by NTT, video processing and transmission times were minimized, allowing video of 4K quality with a delay of only 20 milliseconds. This enabled both remote supporters and runners to feel each other's presence even in a situation where cross-prefectural travel was discouraged and people were asked to refrain from cheering along roadsides.

At some of the Olympic badminton matches, NTT used its Kirari! technology to capture the shapes and motions of players and transmit them as holographic live video in real time, enabling remote spectators to watch as if they were in the stands.
"There is a real badminton court, just like the one used at the matches, and the three-dimensionally extracted shapes of players and the shuttlecock appear and move on the court," said Shinsuke Awano, another director of the 2020 Projects, Strategic Business Development Division.
These are only some of NTT's technologies that contributed to the Games. None of them will forgotten or neglected now that the events are over — they will continue to evolve and expand.
Through these unprecedented Olympic and Paralympic Games, NTT demonstrated to the world how technology can contribute to enriching people's experiences and lives.