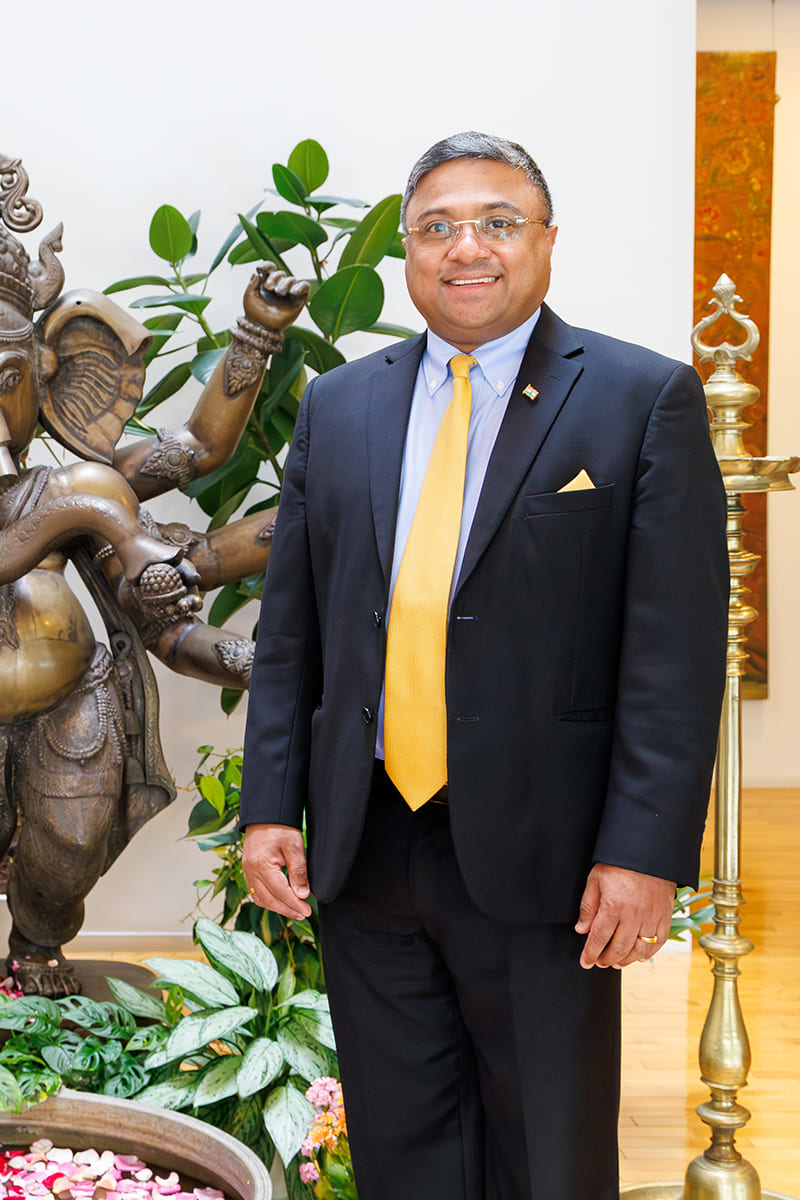 November 02, 2023
Indian envoy George links Himalayas with Fuji
Diplomat works to boost partnership with companies, skilled workers
Name: Sibi George
Title: Ambassador of India to Japan
Hometown: Kerala, India
Years in Japan: Less than 1
Indian Ambassador Sibi George wants to increase the current 1,500 Japanese companies in his homeland to 15,000. Arriving in Tokyo less than a year ago, he hit the ground running to achieve this target and has already had meetings and events in 30-plus prefectures. His aim is to get to all 47 by his one-year mark and forge the ties necessary for the big goals he has in mind.
"Huge, huge potential exists. See, what is India today? India is 1.4 billion people. India is the most populated country in the world. India is the largest democracy in the world. India has the largest youth population in the world. And Japan is an advanced — technologically and scientifically advanced — country. There are great things which we can do together, and there are many things which connect us," George said.
A career diplomat, George quips that every ambassador is a salesman, and can comfortably recite a lot of numbers in the India-Japan relationship. There are, for example, 12 Japanese industrial townships in India, with facilities and infrastructure ready for Japanese investors to do business. A prominently displayed book in his office documents 70 success stories of Japanese companies in India over 70 years. The ambassador notes that the automaker Suzuki has been in India for more than 40 years, has a 40% market share and furthermore is building new plants in India to increase its production by a million vehicles.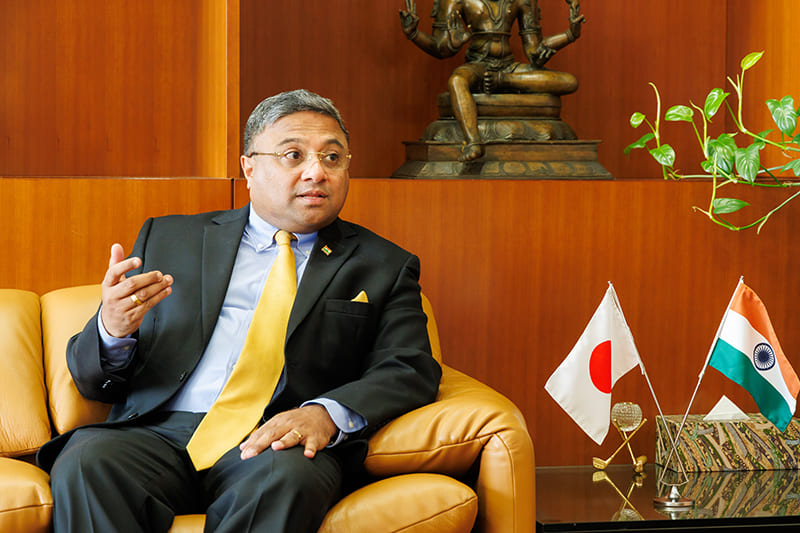 George uses these numbers to underscore his view that India-Japan ties are crucial and will become even more so, given India's 7% annual economic growth. There is even more growth potential, he says, in a market with 800 million smartphones on which millions of transactions are performed daily.
Referencing a strategic partnership signed by former Japanese Prime Minister Shinzo Abe and Indian Prime Minister Narendra Modi, and reinforced by Prime Minister Fumio Kishida, George said it will be beneficial for the entire Indo-Pacific region. But, as with any partnership, there are challenges — including, in this case, terrorism.
"Protection of the sea lanes is a big challenge. I was an ambassador in the Middle East before coming here. When I look at the world map, 90% of Japan's oil comes from the Middle East. And which is the sea lane it takes? It comes by sea, from the [Persian] Gulf to the Arabian Sea, territorial waters of India. Then goes to the Indian Ocean, territorial waters of India; Bay of Bengal, territorial waters of India; Andaman and Nicobar Islands; Malacca Strait; South China Sea; Japan. It takes this route. This sea lane is not safe. It is not benign. One needs to be alert. Counterterrorism, piracy, natural disasters, multinational crimes — a series of problems that we face. So we need to be alert and cooperate for that sea lane to be safe. Any development in this part of the world has a direct impact on that part of the world, and [the] direct impact of any developments in the Indian Ocean also affects Japan, [and] the prosperity of our people. That's why we talk about the confluence of the two seas — Indian Ocean and Pacific Ocean, they are connected."
A native of the southern state of Kerala, George joined the Indian Foreign Service because so many around him were crossing waters. At least one member of every family, he says, had someone working abroad. But he did not merely want to travel, he wanted to know more about the workings of engagements between nations that allowed such travel to take place. He went on to study politics and international relations at university, and calls his move into the Foreign Service a natural progression. But it wasn't a statistically easy one. More than 1.5 million people apply to take the Civil Services Examination, from which government workers, including diplomats, are selected. Ten thousand make it to a second round, which is further narrowed down to 2,000. Of that number, 15 to 20 are selected for the Foreign Service.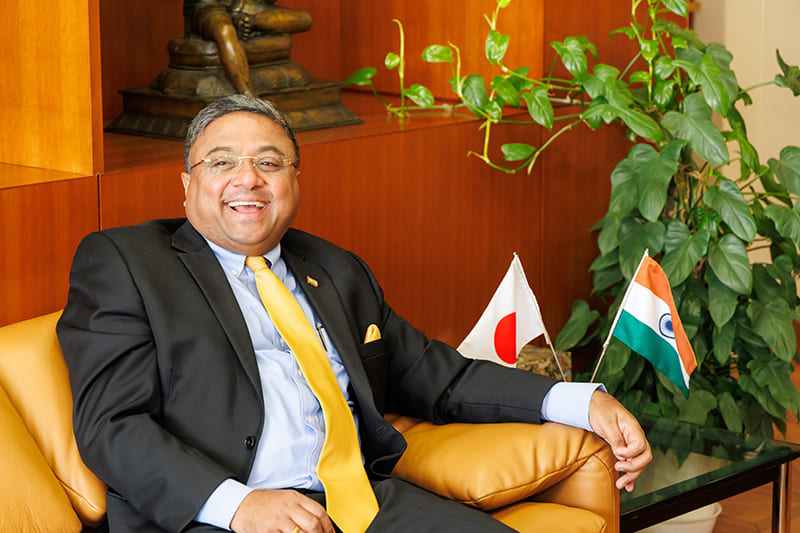 "So imagine from that 1.5 million we come down to 15. Not bad. And I can tell you, this is one of the most successful selection processes anywhere in the world because of the scale."
Scale is what the ambassador is hoping Japanese businesses in India will capitalize on. But he also wants more Indian businesses and students in Japan. India is noted for having the largest overseas diaspora, with 30 million Indians living outside of the country. Currently, there are 50,000 Indians in Japan.
"That is one thing which we need to work on, because there is a shortage of workforce in Japan. And India has a history of engineers, doctors, medical professors, nurses. We can work together. In fact, I have set up an India-Japan skill connect to tell my people in India that there are opportunities in Japan, and tell the Japanese companies and people that there are resources available in India. Indian skilled workers are one of the most disciplined, honest, sincere, hardworking, dedicated."
Particularly with regard to increasing the number of Indians studying at Japanese universities, the ambassador acknowledges that language is a constraint. He says, however, that in his meetings across the country, he has noted that universities are offering more programs in English. Importantly, he says, Indians are interested in Japan. India has developed a reputation for supplying tech talent, but so far there hasn't been much of a transfer of that to Japan.
"It is happening, but we need to accelerate it. It is a bit slow. There is huge opportunity, huge potential, for example in semiconductors, artificial intelligence, quantum computing. These are areas we are also working on. We recently signed an India-Japan semiconductor MOU (memorandum of understanding), so we are working on that."