October 28, 2022
NEC uses technology to contribute to sustainability
Mission: Sustainability VOL. 3: NEC Corp.
By OSAMU INOUE / Renews, TRANSLATOR:EMI MAEDA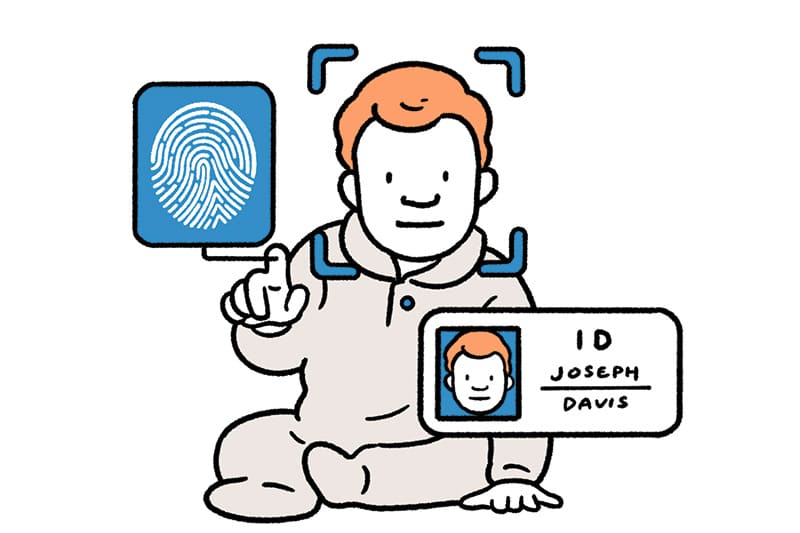 NEC's strong points
1.Selected as a component of all of ESG indexes for Japanese stocks adopted by the Government Pension Investment Fund, including the FTSE Blossom Japan Index
2.Contributes to solving sustainability and social issues using technologies from its main business, including biometric authentication and artificial intelligence
3.Puts effort into initiatives that can contribute to society, including "AI and human rights" and "increasing visibility of CO2"
4.Its chief financial officer concurrently serves as executive officer in charge of sustainable management and works to improve nonfinancial value
---
NEC Corp., one of Japan's leading IT vendors, is in the process of transforming itself from an information and communications technology company into a "company that contributes to achieving sustainability using information and communication technology."
Many companies have adopted a "realize a sustainable society" slogan or sustainability-oriented business model, but the degrees of their commitments vary. Not a small number of these companies are doing so in form only, adopting such slogans as a marketing ploy or to sound convincing to investors.
But objective evaluation proves NEC is not among them. There is a factual basis for calling the company a "leader that drives the world's sustainability with technology."
---
Inclusion in ESG indexes
NEC is a component company of many of the world's key ESG stock indexes. One of them is the Dow Jones Sustainability Indices World Index, which selects companies that excel in sustainability efforts among the world's top 3,500 companies in terms of market capitalization. Selection for this index is a testament on a global level to a sustainability-oriented company. In 2021, it selected 322 companies globally, including 35 from Japan. NEC was one of them, and was selected for the second straight year.
Japan's Government Pension Investment Fund, one of the world's biggest pension funds, uses eight environmental, social and governance (ESG) indexes in its investment strategy. Of these, five, including the FTSE Blossom Japan Index and the MSCI Japan Empowering Women (WIN) Select Index, target Japanese stocks. NEC is included in all five.
CDP, formerly the Carbon Disclosure Project, is an international nonprofit organization that evaluates climate change measures taken by companies. NEC was selected among highly rated "A List" companies in the "climate change" and "water security" sections for three consecutive years. It was also listed as a "supplier engagement leader" for two consecutive years.
In the area of carbon neutrality, NEC pledged in fiscal 2021 to reduce emissions of carbon dioxide from not just the company but also its entire supply chains — known as Scope 3 — to net-zero by 2050. Many listed Japanese companies have pledged to achieve carbon neutrality by 2050, but few of them have clearly stated they aim to include Scope 3 in their targets for carbon neutrality.
The essence of NEC's transformation, however, is not clearly revealed by these evaluations.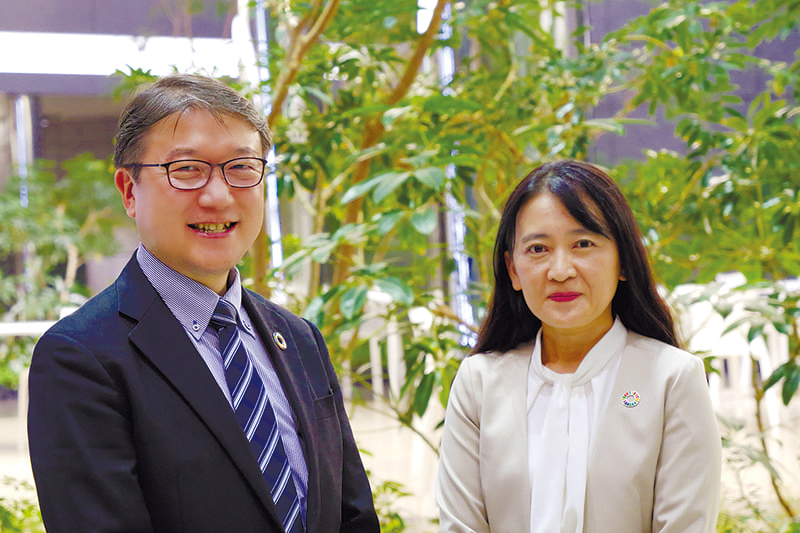 ---
Biometric authentication
"NEC is currently in the middle of the 'third founding period.' All of our operations exist for CSV [creating shared value]," NEC Executive Vice President and Chief Financial Officer Osamu Fujikawa said. He also serves as officer in charge of sustainable management (see the interview article in the box).
For NEC, working to improve efficiency and convenience for customer companies and organizations by integrating computers and communications was what characterized its second founding phase. Working to achieve sustainability and resolve issues for society using technology is what characterizes its third founding period. In NEC's definition, sustainable management means that its core business contributes to improving sustainability and resolving social issues, instead of paying attention to the environment only on the surface.
Illustrative of this are contributions NEC made using its biometric authentication technology, which boasts one of the highest standards of precision in the world.
NEC provided biometric authentication technology combining face, iris and fingerprint recognition for Aadhaar, a program introduced in 2009 by the Indian government to identify its people. The company contributed to simplifying the registration process — deemed the most technically difficult part — plus various application processes under the program, for which 1.3 billion people have registered.
"At the time, a key problem for the government was that its attempt at distributing money to poor people was undermined by malicious intermediaries who purportedly applied for the service on their behalf just to exploit them, resulting in the money not reaching the intended targets. The problem was resolved using our biometric authentication technology," Fujikawa said.
"Other developing countries, not just India, have similar problems," he added. "A technology that can address these social issues has significant value."
Biometric authentication technology is often seen as a way to improve efficiency. Less well known is that it also can save infants and people in trouble.
In a 2019 test project that NEC conducted in Kenya, it successfully reduced the error rate of fingerprint authentication for infants on the day of their birth, including babies just 2 hours old, to 0.3%. In the same year, NEC signed a memorandum of understanding on the use of biometrics to improve immunization coverage in developing countries with Gavi, the Vaccine Alliance — a body established in 2000 at the annual meeting of the World Economic Forum to promote vaccination — and another entity. The project aims to develop fingerprint authentication technology that works for children ages 1 to 5.
Biometric authentication technologies like this use artificial intelligence technology. NEC has now also begun to apply AI technology to entirely different areas in order to contribute to achieving the sustainability of humanity.
---
AI drug development
"We launched an AI drug development business in 2019. We took it seriously enough to amend the articles of incorporation at a general shareholders meeting," said Yuria Hiroi, director of NEC's Sustainability Promotion Division. "That made me realize that NEC has come so far in reinventing itself. We are more committed to using our technology for society."
NEC is currently working with a French biotechnology company on a project to develop a therapy using individualized neoantigen vaccines — vaccines with tumor-specific antigens. It uses AI analysis to enable the administration of a vaccine that is optimized for the genetic makeup of each patient and triggers the patient's immune response to fight cancer.
In 2020, the company began conducting clinical tests of individualized vaccines targeting ovarian and head and neck cancer. It has expanded the scope of the AI technology's application to the development of a novel coronavirus vaccine.
Furthermore, NEC announced this past June a joint project with Kagome Co., a major Japanese food company, as part of its efforts on AI farming. It and Kagome set up a joint venture in Portugal to provide farming support for tomatoes used to make ketchup. The plan is to have the AI learn from successful examples of experienced farmers, then provide a service using digital technology to monitor plant growth and soil conditions and give instructions on the optimum amounts of water and fertilizer.
"Farming is said to represent 75% of water consumption, so [the service] can have a significant impact on the protection of the Earth's water resources. It can also help prevent soil contamination resulting from using excessive amounts of fertilizers," Fujikawa said. "Furthermore, it can be useful for averting a food crisis, as it can increase crop yields. I think AI technology has the potential to contribute to very broad areas of efforts to realize sustainability."
While hopeful on AI's potential, Fujikawa also had this to say, as if to remind himself: "Cutting-edge technologies, including AI, could lead to big problems if you use them in the wrong way. In particular, we are a leader in facial recognition and image recognition, which means we must also be a leader in the protection of human rights and privacy."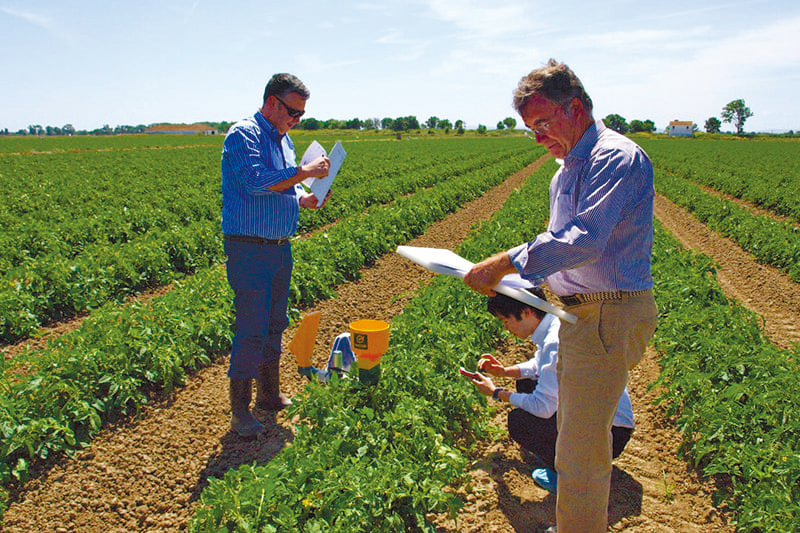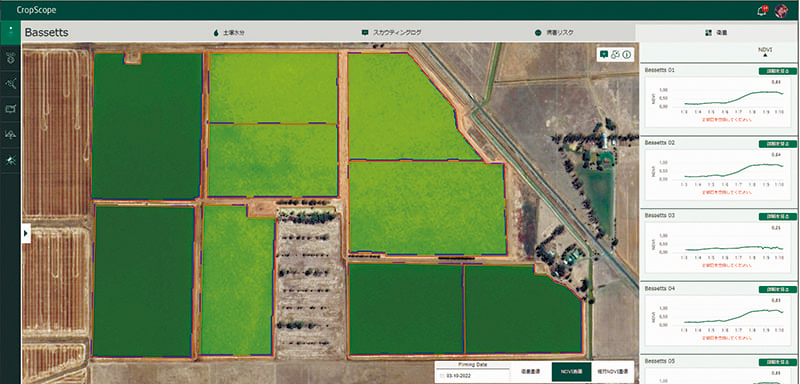 ---
Respecting human rights
In 2019, NEC established the "NEC Group AI and Human Rights Principles," which place top priority on respecting human rights in business activities, and has since been working to develop systems and rules that "cannot be used with malicious intent" and also cover nonprofit activities.
"About 70% to 80% of my work is for strengthening governance structures for protecting human rights," said Hiroi of the Sustainability Promotion Division.
"Strict regulations are being introduced in Europe and the United States, and we are leading such activities by getting deeply involved in them and expressing our views," she continued. "We have communicated comments to Japan's Ministry of Economy, Trade and Industry. We believe it's our responsibility as a leading vendor in the industry to help create a world where technologies unlikely to cause human rights violations are chosen."
There are concerns that facial-recognition and AI technologies could be used for purposes that undermine human rights, including unmanned deadly weapons targeting individuals and identifying "easy prey" for scams at casinos. Such applications could be lucrative for the makers. But NEC has chosen to place top priority on respecting human rights and has been toiling for the creation of a world where people are protected from malicious actors.
The company attaches importance to social contributions, rather than short-term gains, which probably reflects the "NEC Way," a common set of values forming the basis for how the group conducts itself. This attitude is seen in many aspects of the company.
In October 2021, the Green x Digital Consortium was launched, with its administrative office set up within the Japan Electronics and Information Technology Industries Association. JEITA, led by IT and electronics giants, including Panasonic Corp., Sony Corp. and Fujitsu Ltd., is one of Japan's largest industry groups.
The consortium aims, first, to develop a platform that enhances CO2 visibility across supply chains and, second, to establish new methods of purchasing renewable energy. NEC leads a working group on the first aim, working with a total of 74 companies (as of April) from industries including transportation, finance, automotive and construction.
Leading this role at NEC is Koichi Inagaki, a senior professional in the company's Sustainability Promotion Division.
"There are many competing tools for increasing visibility of CO2, and criteria are vague. Unless we unify them, we won't be able to see the true picture or devise measures," he said.
"In addition, when it comes to reducing CO2 emissions, we won't be able to expect a significant impact unless everybody across all industries and all supply chains is committed."
As Inagaki says, most CO2 emissions from businesses are discharged from Scope 3 activities within supply chains, such as the purchase and use of products, rather than production activity per se. In fact, Scope 3 represents 95% of NEC's total emissions.
The problem is, different companies and industries have different ways of calculating the enormous amounts of Scope 3 emissions, so there are no unified criteria. That is why the initiative led by NEC involves providing tools to calculate emissions in any industry, establishing standards and creating a platform under which CO2 emissions are calculated and shared.
Naturally, the platform will belong to no one in particular and be a quasi-public one that contributes to reducing CO2 emissions for Japan as a whole. It will benefit not just NEC but every company under equal conditions. NEC's taking the initiative in the endeavor is a testament to its commitment to prioritizing the nonfinancial value of its business.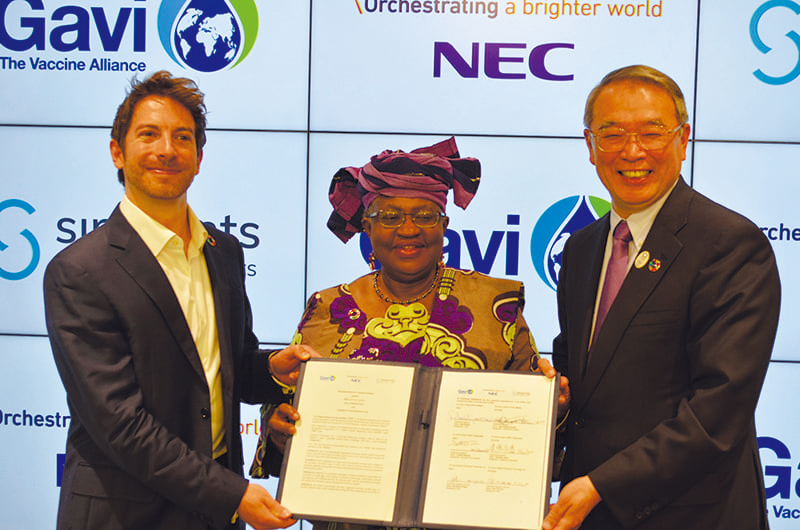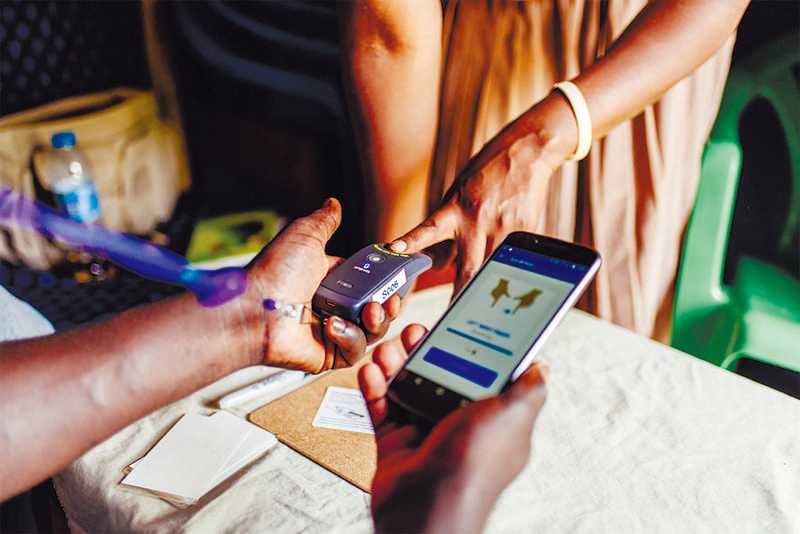 ---
Financial and nonfinancial
"Carrying out initiatives for financial affairs, which are an indicator of outcomes, and initiatives for nonfinancial affairs, which create future value, in an integrated manner will help maintain sustainable growth and lead to improvement in the ability to respond to changes," Fujikawa said in front of many media reporters gathered for a briefing on ESG-related activities in December 2021.
NEC is not trying to contribute to sustainability or resolving social issues at the cost of its growth or profits. On the contrary, the company is convinced that the nonfinancial value of operations that contribute significantly to society will also drive its enterprise value and growth.
That is why NEC decided to adopt a structure in which the chief financial officer concurrently serves as officer in charge of sustainable management.
"My biggest mission is to increase [NEC's] enterprise value," Fujikawa said. "In my view, financial and nonfinancial affairs are ultimately two sides of the same coin that leads to improving enterprise value. My responsibilities as CFO naturally include the nonfinancial domain, not just the existing responsibility for financial affairs."
At first glance, it appears unusual for a CFO, who is responsible for financial affairs, to also serve as the officer tasked to promote sustainable management and ESG principles, which are the two biggest factors driving nonfinancial value. However, the decision is very reasonable when the goal is to maximize enterprise value. In the near future, we may find ourselves in a world where a CFO in charge of ESG affairs is nothing unusual.
All targets lead to enterprise value
Osamu Fujikawa
Executive vice president and chief,financial officer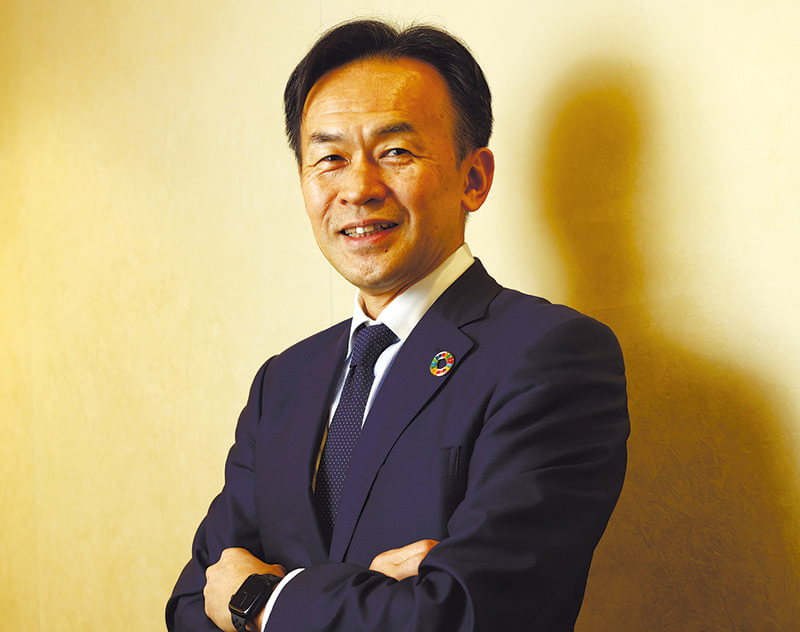 NEC is in the middle of a period of major reforms, which it calls its "third founding period." Kunihiko Iwadare founded NEC in 1899. In 1977, Chairman Koji Kobayashi advocated a "C&C" concept — the integration of computer and communications technologies — and laid the foundation for NEC as it is today.
In 2013, when C&C had become commonplace, we pledged to reinvent ourselves as a "social value innovator"in a mid-term management plan. That is roughly the time when the third founding period began.
However, we had a difficulty to fully align employees' views during the reforms. The "NEC Way," which represents our values and is the starting point of our actions, had lost its focus by that time. So in 2020, we updated the NEC Way with a focus on aligning the views of all employees. As the "purpose," we adopted the line"NEC creates the social values of safety, security, fairness and efficiency to promote a more sustainable world where everyone has the chance to reach their full potential."
Furthermore, in 2021, we published the "NEC 2030VISION," which paints our vision of the world beyond a mid-term management plan for the period through 2025. You can think of this plan and vision as representing our commitment to efforts to help make our society sustainable using our digital technologies. Among the digital technologies, the starting point is the value of the technologies we excel in, including biometric and image authentication technologies and AI technology. We are in the process of exploring ways in which these technologies can help resolve social issues.
It is not easy find which technologies may be best suited for addressing a particular social issue. Sometimes it takes time to see the results, and businesswise such efforts can expose us to investment risks. When we announced in 2019 that we would fully commit to drug development with an exclusive focus on cuttingedge immunotherapy using AI technology, targeting cancer and other diseases, we said we would increase the business value to \300 billion ($2 billion) by 2025. But the potential of vaccines tailored to individuals' immune systems far exceeds that. I believe the business has the potential to make an impact strong enough to completely change the structure of the drug industry. I will stay committed to fulfilling my responsibilities on both financial and nonfinancial value to maximize enterprise value.
---
技術でサステナビリティに貢献 NECの変革
今、国内有数のITベンダーであるNECは、「ICT」の会社から「ICTを活かしサステナビリティに貢献する会社」へと大転換しようとしている。
「持続可能な社会の実現」や、それを目標とした「Purpose経営」を標榜する企業は多いが、その濃淡や、本気度は千差万別。中には、「口だけ」でマーケティング目的やIR対策でそう銘打つ企業も少なくない。
だが、NECには「そうではない」と言える客観的な評価がある。「技術で世界のサステナビリティをけん引するリーダー」と言えるファクトもある。
象徴するのが、世界トップクラスの精度を誇る「生体認証」技術を使った貢献だろう。
生体認証技術というと、効率化だけに目が行きがちだが、困った人々や小さな命を救う技術でもあることは、あまり知られていない。
生体認証技術には、AI技術も活用されているが、そのAI技術を全く違う分野に応用し、人類のサステナビリティに貢献する挑戦も始まっている。
Return to Sustainable Japan Magazine Vol. 17 article list page