May 26, 2023
Fuji Oil: Co-creating a sustainable future for food
VOL. 7 : Fuji Oil Holdings Inc.
By OSAMU INOUE / Renews, TRANSLATOR:ATSUSHI KODERA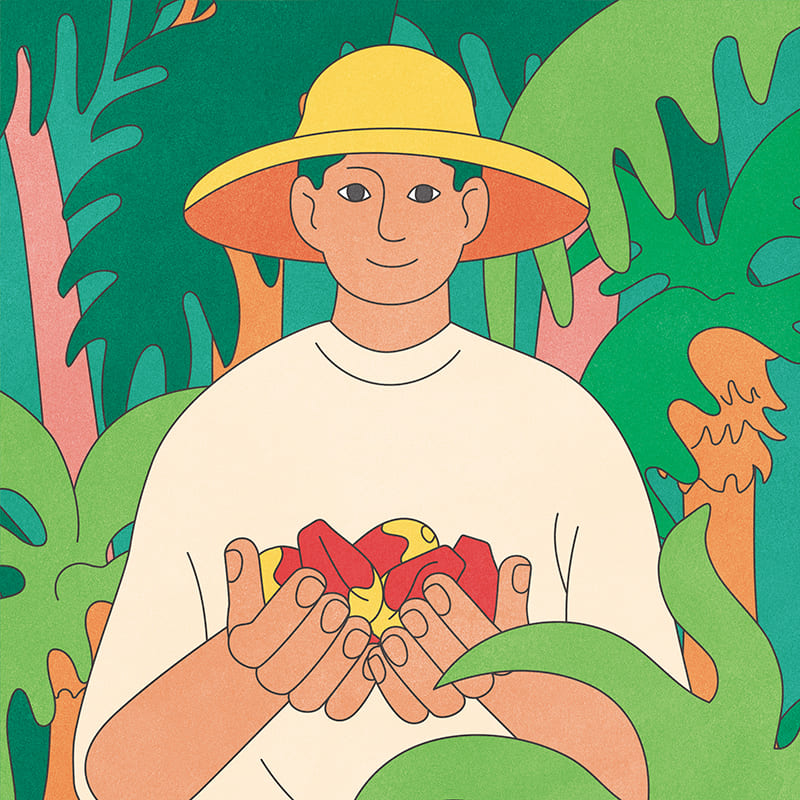 Fuji Oil's strong points
1. Awarded triple A's by CDP for transparency and performance regarding climate change, water security and deforestation in 2020 and 2021
2. Committed to no deforestation, no development of peat land and no exploitation
3. Committed to achieving full traceability to palm plantations by 2030
4. Also focuses efforts on foods containing plant-based protein, including soy meat
---
Last March, Fuji Oil Co., Ltd. a major food company, received the Minister of Agriculture, Forestry and Fisheries Award, the highest award in the ministry's commendation program for Japanese food manufacturers recognized as excellent in practicing sustainable procurement. The honor is a testament to the company's remarkable track record in contributing to sustainability in the food field.
Fuji Oil Co., Ltd. is the largest subsidiary of the Fuji Oil group, whose holding company, Fuji Oil Holdings Inc., (hereinafter "Fuji Oil") has 37 consolidated subsidiaries in 14 countries. Founded in 1950, Fuji Oil, though a latecomer in the vegetable oil business, has increased its presence by focusing on tropical fats. Today, it operates core businesses of vegetable oils and fats, industrial chocolate, emulsified and fermented ingredients and soy-based ingredients, supporting food manufacturers and convenience stores.
The company has the top share in the Japanese market of hard butters for chocolate, which are essential for giving chocolate a smooth texture, and is in the top three globally. Fuji Oil' industrial chocolate business, which serves manufacturers, holds the top share in Japan and Brazil.
This dark horse of the food industry now is attracting attention for its sustainability initiatives.
CDP, an international nonprofit organization formerly known as the Carbon Disclosure Project, annually announces its A List of companies recognized as having made significant contributions to sustainability. Fuji Oil was selected for the A List for its outstanding disclosure and performance in all three areas of climate change, water security and deforestation in 2020 and 2021.
In 2021, only 14 out of the 12,000 companies that CDP scored worldwide achieved triple A's, making the A List in all three areas. Fuji Oil was one of the only two Japanese companies that achieved triple A's, the other being Kao Corp.
Fuji Oil' climate change score was downgraded to an A- in 2022, but it still made the A List in deforestation and water security. Furthermore, the company has been continuously included in major indexes for environmental, social and governance (ESG) performance, including the MSCI Japan ESG Select Leaders index. It is known for being highly rated by external entities.
One of the factors behind these outstanding evaluations is that the company comprehensively addresses sustainability, with a sustainability team in Europe collecting the latest information and sharing it internally. But one cannot talk about Fuji Oil' sustainability without mentioning its efforts to sustainably procure materials from the very beginning.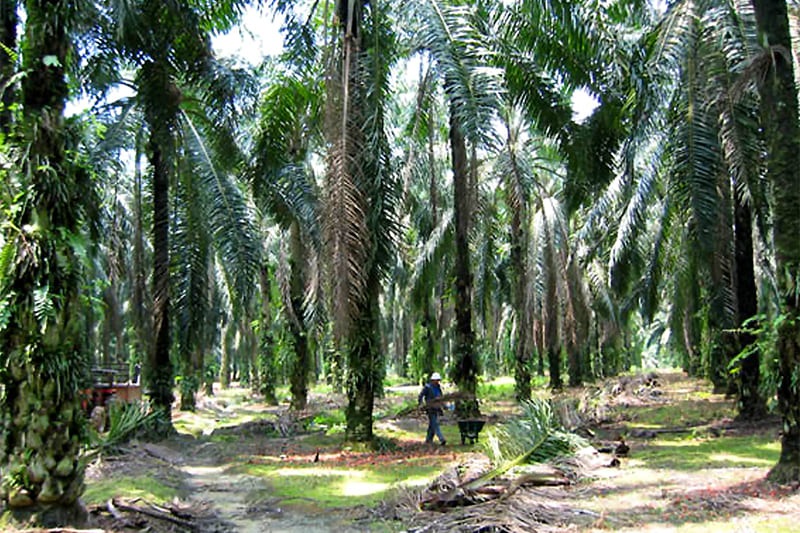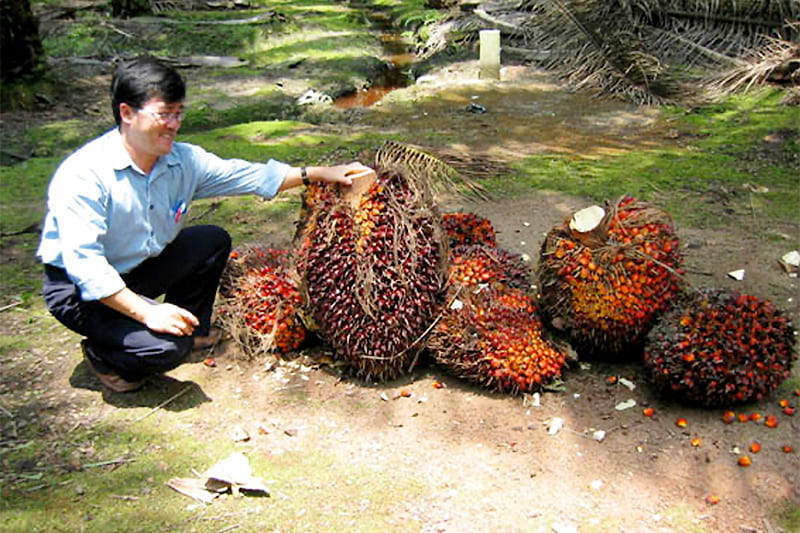 ---
Full palm oil traceability
In addition to vegetable oils, including hard butters for chocolate, and industrial chocolate, Fuji Oil manufactures and sells a wide range of food ingredients, including whipping cream, cheese-flavored ingredients and soy protein ingredients. Their key sources are palm oil — the largest by volume — plus cacao beans and soybeans.
Palm oil is obtained by pressing the fruit of oil palms and refining the liquid. As the oil can be processed more easily than other vegetable oils and is produced in greater quantities than any other vegetable oil, it is used in a wide range of products, from foods to home products. About half of the products sold at supermarkets and convenience stores are said to contain palm oil, including chocolates, snacks and instant noodles, as well as detergents and cosmetics.
On the other hand, the problems of deforestation for palm oil plantations and human rights violations, including forced labor and child labor, have caused concern in palm oil-producing countries in Southeast Asia, particularly Indonesia and Malaysia. The biggest trouble with preventing them was that they were not readily visible from downstream in the supply chain.
Fuji Oil therefore formulated a "Responsible Palm Oil Sourcing Policy" in March 2016. It states the company's commitment to "no deforestation, no peatland development and no exploitation" — known as NDPE — and to procuring palm oil produced in a responsible manner from suppliers who respect people and the global environment throughout the supply chain. In addition, the company imposed on itself very difficult targets for key performance indicators.
The scope of responsibility that Fuji Oil assumes is vast. The 11 Fuji Oil group companies process and refine palm oil, for which materials are sourced from major suppliers and group subsidiaries, mainly in Malaysia and Indonesia.
The number of oil mills in various locations, which extract oil from palm fruit, totals more than 1,400. They do not have capital relationships with Fuji Oil. Furthermore, there are several hundred thousand plantations that supply oil palm fruit to the mills.
However, Fuji Oil pledged to achieve 100% traceability for all of them by 2030.
Are there any illegal acts of deforestation? Any human rights issues? Basically, the company would not be qualified to say its palm oil is fully traceable unless it could go to the furthest upstream end of the supply chain and inspect the situation there.
---
Working with local NPOs
"There are a vast number of points to check, and we are Japanese. There are also language barriers and gaps in culture and customs," Fuji Oil' ESG Division Head Yoshiaki Hiramatsu said. "But we wouldn't be qualified to talk about sustainable procurement until we fully confirmed that rules are followed along the upstream of the supply chain."
It sounds like an endless endeavor, but Fuji Oil has already realized traceability faster than it had expected.
It achieved full traceability to oil mills in fiscal 2019. It aims to achieve full traceability to plantations by 2030 and had already reached 85% in fiscal 2021, achieving the interim target initially set for 2025.
How does it grasp the situations at so many plantations and oil mills that change daily and on such a vast scale? The answer lies in its endeavors and know-how.
"As we are doing pioneering work, it's difficult to disclose all our sustainable sourcing know-how," Hiramatsu said, but there are some clues outsiders can use. The key words are "collaboration with local nonprofit organizations" and "use of satellite images."
Fuji Oil works with nonprofit organizations based in Malaysia and Indonesia, enlisting wide-ranging advice and support from them. For example, it has worked with them to design a "labor transformation program" and discussed ways to make the program accepted by people at plants and plantations, train personnel and operate the program with them. This approach reflects the company's belief that, considering the disadvantages of language and cultural barriers, it should enlist local people's assistance.
Furthermore, Fuji Oil uses satellite images and artificial intelligence regarding environmental problems of plantations. The cooperation of local nonprofits is essential for the analysis of such images. "We've been able to clearly grasp, for example, where the points of … impact are by sharing information with NPOs and setting milestones," said Director Takashi Kadota, who supervises Fuji Oil Holdings' sustainability strategies. "Objective information allows us to understand the situation of deforestation and so on, and we take measures such as asking relevant suppliers to improve situations. All this is impossible for us alone. NPOs are very important for us."
Needless to say, Fuji Oil cannot achieve 100% with only the assistance of nonprofits. It has been working to confirm situations by continuously communicating with all suppliers and visiting them. In addition, it uses a grievance mechanism, a rare practice for a Japanese company.
The mechanism is aimed at allowing the company and its partners to engage with suppliers to address environmental and human rights issues that are reported by stakeholders, in accordance with the responsible sourcing policy. The company publicly reports on its progress on a website set up for this purpose in English. This is a pioneering endeavor in which issues are made thoroughly open and transparent to encourage action for improvement rather than try to sweep problems under the rug.
Fuji Oil had received 259 grievances that it confirmed as valid by the end of June 2022, and has since resolved about 80% of them. It updates reports on responses to grievances once every quarter to let its stakeholders know the situation.
---
Plant-based food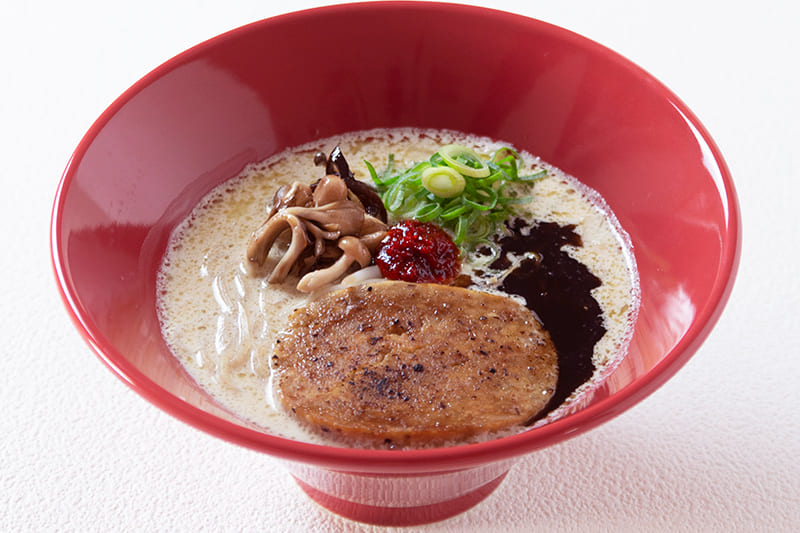 As a major company handling palm oil, Fuji Oil has steadily contributed to achieving sustainability of the environment and human rights. It has set key performance indicators regarding the sustainability of cacao beans and soybeans and strives to achieve full traceability.
It now also is putting effort into a new sustainability initiative for the future of mankind: the development of plant-based food using ingredients like plant proteins to replace animal meat and milk. "It's not our aim to deny animal-based food," Kadota said. "But if we rely on animal-based food alone, we won't be able to prevent environmental destruction, control greenhouse gas emissions and feed the global population, which is expected to continue to grow. These are very difficult endeavors."
"We believe the vegetable-derived food we are suggesting will be a viable way of helping solve these issues if they are accepted widely," he added.
One such product that is easy to picture is made from soybean protein that is treated to achieve a meat-like texture. Fuji Oil began working on the development of soy meat as early as the 1960s. It has spent decades on improving the product, working to give it a texture and taste as similar as possible to animal meat. In recent years, soy meat has been accepted in the general market as large restaurant chains and convenience stores have introduced it.
Fuji Oil also developed Mira-Dashi, a soup stock that achieves a taste as good as animal-based stock using only plant-based ingredients. The product has attracted wide interest after Ippudo, a ramen restaurant chain known for its tonkotsu (pork bone) broth, introduced a vegetable-based tonkotsu-like ramen using Mira-Dashi on the regular menu at a restaurant it opened July 2022 in Tokyo's Shinjuku district.
In July 2022, Fuji Oil announced Goodnoon, a group of new business field for which it has worked to achieve good taste, and targeted ¥100 billion ($740 million) in sales in the high-value-added area, including Goodnoon, by fiscal 2030. The company is working to promote Goodnoon by seeking partners to endorse its concept.
The sustainable sourcing of palm oil and the promotion of plant-based food both reflect Fuji Oil' fundamental belief that it should work with as many companies and communities as possible to make the world a better place. Sustainability cannot be achieved without co-creation. This belief by Fuji Oil is set to change the face of the world drastically.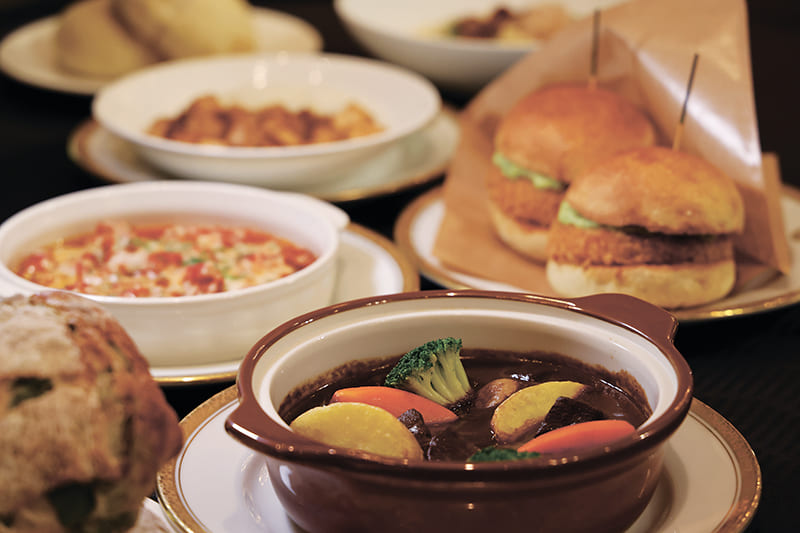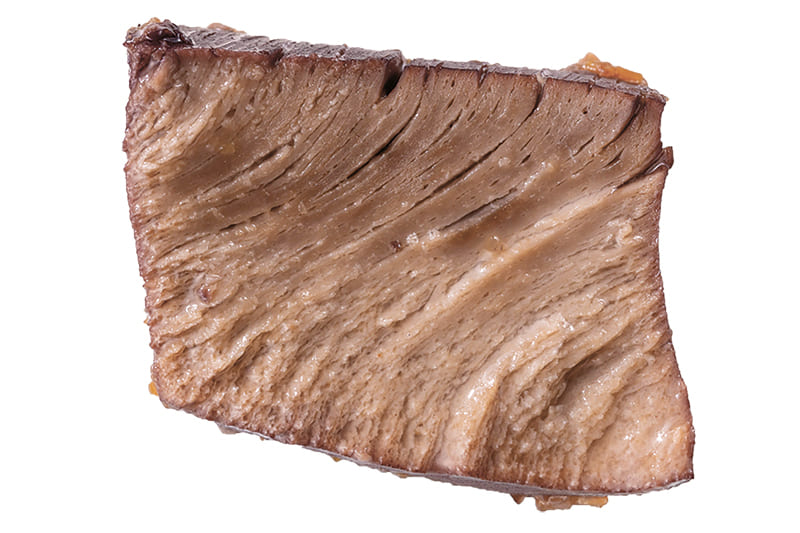 Why Fuji Oil is so serious about sustainability
Takashi Kadota
Director, senior executive officer, Chief Technology Officer and ESG representative, Fuji Oil Holdings Inc.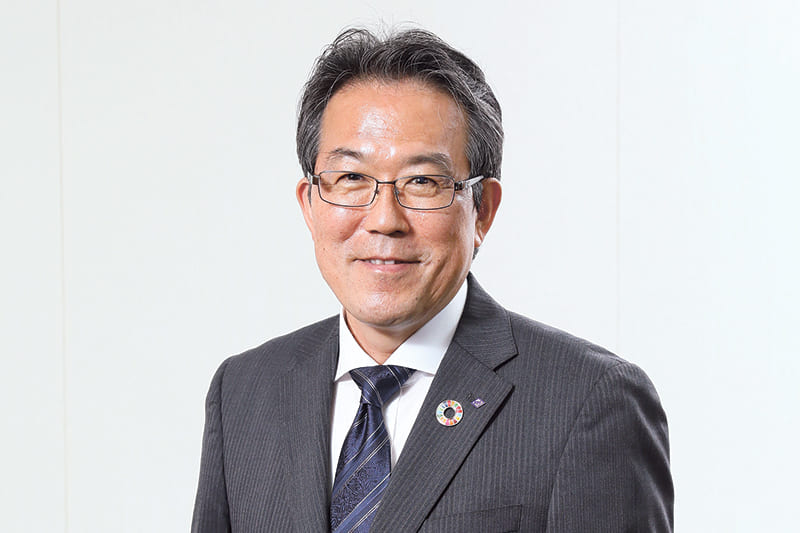 The Fuji Oil group has operations in 14 countries. A very large number of people are involved in our supply chains, which begin with the procurement of production materials. In parts of the supply chains for palm oil, etc., there are human rights issues, such as forced labor and child labor, and environmental issues, including deforestation. We have put enormous effort into addressing and solving these issues.
First of all, our Group Management Philosophy calls on us to "work for people," stated as part of our Values, and our current midterm management plan calls for "enhancing sustainability."
Many of our customers have been global companies that originated in Europe and the United States, and their sustainability standards were very high in the first place. So we were prompted by these customers' requirements and worked to respond to them, and found Fuji Oil's responsibilities and the direction it should take in society.
As tough actions have been taken on human rights and environmental issues, a slow response would increase reputational risk. It could also increase the risk of being forced out of a market if we faced a suspension of business or import ban. So we have worked on sustainability measures to avoid these situations as well.
Having said that, today we look at sustainability in a more active, positive light.
That is, by taking sustainability measures quickly, we feel we can further build our customers' trust, create additional value and find opportunities to enter the sustainability market. So we think taking sustainability measures can itself contribute to improving our corporate value. Today, we have set sustainability as the foundation of all our corporate activities and are working out corporate strategies based on it.
In recent years, we have been focusing efforts on developing sustainable foods made from plant-based ingredients, such as soy meat.
Since the COVID-19 pandemic began, a sense of crisis about food has grown considerably, affected by spikes in prices for materials and energy and aggravated by frequent natural disasters and abnormal weather. Over the more than seven decades since our foundation, we have pursued plant-derived food ingredients in our business, which has helped us build on knowledge that allows us to contribute to solving the issue.
The market for plant-based food, including plant-based meat and milk, is estimated to grow to about 22 trillion yen ($160 billion) by 2030, five times the size in 2020. Demand for plant-based foods has been steadily growing across the globe, led by Europe, and this is true not only for meat and milk products. The market is expected to grow at an accelerated pace going forward. We are convinced that for us to create plant-based food that taste better than animal-based counterparts and expand options will lead to making humankind and the global environment more sustainable.
That said, we are far from satisfied with the level of our contribution to sustainability. There are many companies in the world that have helped increase sustainability significantly while at the same time increasing their corporate value. We will continue to work to catch up with those leading companies.
---
植物性でサステナブルな食の未来を共創。
1950年創業の不二製油HDは、植物性油脂メーカーとしては後発ながらも「南方系油脂」に目をつけ、頭角を現した。今では「植物性油脂」「業務用チョコレート」「乳化・発酵素材」「大豆加工素材」の4事業を核とし、食品メーカーやコンビニエンスストアを支えている。
この食品業界の"黒子"は今、サステナビリティへの取り組みでも注目されている。「持続可能な原料調達」への取り組みを抜きにして、不二製油HDのサステナビリティは語れない。
不二製油HDは2016年3月、「責任あるパーム油調達方針」を策定。サプライチェーンにおける全てのパーム油生産において、「森林破壊ゼロ、泥炭地開発ゼロ、搾取ゼロ(NDPE)」を明言し、「人々と地球環境を尊重するサプライヤーから、責任ある方法で生産されたパーム油を調達する」と約束した。加えて、相当に困難な目標を自らに課した。不二製油HDが掲げる「責任」の範囲は膨大だ。では、日々、変遷する農園や搾油工場の状況をどう把握しているのだろうか。
Return to Sustainable Japan Magazine Vol. 24 article list page