November 25, 2022
Suntory committed to nurturing forests and water
Mission: Sustainability VOL. 4: Suntory Group
Osamu Inoue/Renews, TRANSLATOR:ATSUSHI KODERA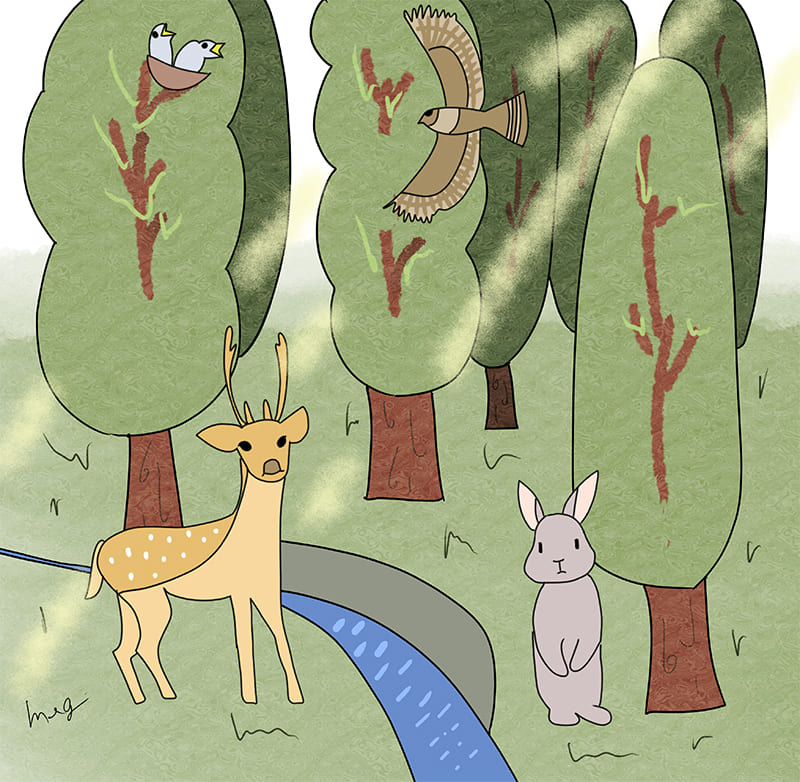 Suntory's strong points
1.Carrying out decadeslong projects to replenish underground water in forests totaling 12,000 hectares at 21 locations across Japan
2.Has pledged to replenish more than 100% of the water used at all of its plants globally by 2050
3.Has earned Alliance for Water Stewardship certifications for meeting the global benchmark for responsible water management, the only company to do so in Japan
4.Has pledged to achieve zero use of virgin petroleum-based materials in all PET plastic bottles used in its products globally by 2030
---
Suntory Group is serious about trying to protect water resources — perhaps more so than any other company in the world. Being thoroughly serious about the resource that supports its core business is what a sustainability-leading company should be. Suntory embodies such an ideal.
Suntory's efforts on sustainability have earned it high objective evaluations from external bodies. One of them is CDP, formerly the Carbon Disclosure Project, an international nonprofit that evaluates climate change measures taken by companies. Suntory has been selected by CDP for its "A list" of highly rated companies six years in a row in the water security section and three straight years in the climate change section.
In July 2019, Suntory established its "Sustainability Vision" and identified seven sustainability themes of importance for its business, including water, carbon dioxide, containers and packaging, raw ingredients and human rights. Furthermore, the company revised its "Environmental Vision Toward 2050" in June 2020 to make it more ambitious by introducing a target of net-zero greenhouse gas emissions across its entire value chain, including indirect Scope 3 emissions, by 2050.
Especially noteworthy are Suntory's commitments regarding water. Its 2050 vision features targets that include reducing water intensity at plants by 50%, replenishing more than 100% of water used at all of its plants globally, and achieving sustainable water use for all key ingredients.
But the true level of Suntory's seriousness about water is not really visible from such public pledges.
---
Cultivating groundwater
"It takes nearly two decades for rainwater to become groundwater to be finally pumped up. It stirs many emotions in me to think that we can finally pump up the rainwater that fell when we began the Natural Water Sanctuary project," Yuko Koshiishi, senior general manager of Suntory's Corporate Sustainability Department, said with a smile.
Since 2003, Suntory has been working on the Natural Water Sanctuary initiatives to protect forests in the water source recharge areas of its factories.
Together with external experts, Suntory's Institute for Water Science has led research to specify its plants' water source recharge areas. The company has signed long-term agreements with local governments and forest owners and has been doing what it can to protect water resources.
The Natural Water Sanctuary initiatives, which began in Aso, Kumamoto Prefecture, expanded to 21 locations across Japan covering a total area of about 12,000 hectares by 2019, when an agreement was signed with the Yamanashi prefectural government on water source recharge areas for the Suntory Minami Alps Hakushu Water Plant. These forest areas are enough to cultivate more than twice the total amount of groundwater used by its plants in Japan.
All 21 projects require a long-term commitment. Many of the agreements cover a period spanning three decades. They include the Natural Water Sanctuary Aso, for which the agreement will be renewed for several decades, as well as the agreement for the Natural Water Sanctuary Akagi, which is planned to be renewed for 100 years.
Some other large beverage makers in Japan also have water cultivation projects, but Suntory's cover the largest area. Furthermore, Suntory goes beyond simple forest-maintenance work such as planting and thinning trees.
For example, based on various field work such as laser surveying by aircraft, soil investigation and groundwater surveys, Suntory visualized the flow of groundwater through simulation models and develop maintenance plans tailored for each forest looking 100 years ahead.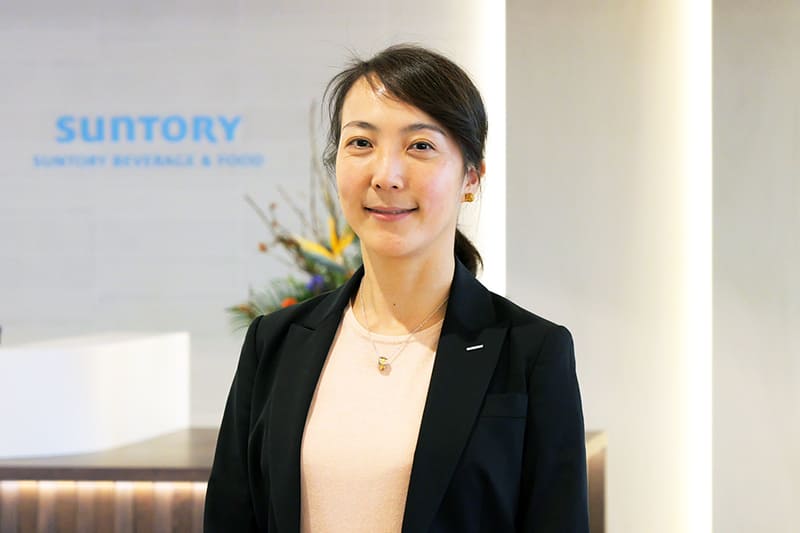 ---
Forests rich in biodiversity
Furthermore, the Natural Water Sanctuary initiatives nurture forests full of biodiversity. For example, in forests with dense, dark stands of planted trees, thinning to an appropriate density to let in sunlight promotes diverse undergrowth that nurtures many creatures.
The decomposition of fallen leaves and other materials from diverse vegetation by microorganisms and soil creatures cultivates "soft and fluffy" soil with a high water infiltration rate, leading to abundant groundwater and a rich ecosystem. The vegetation and soil creatures become food for rabbits and other small animals, which in turn attract raptors that prey on them.
Under the belief that a forest rich in biodiversity is also a forest that functions well for recharging water sources, Suntory has been carrying out a project to support nest-building and rearing of chicks by eagles and hawks, which are at the top of the ecosystem pyramid. These birds cannot raise chicks unless they can find sufficient food. Nesting by raptors to raise their young is a way to ensure that a well-balanced forest ecosystem is developed.
As an extension of these activities, Suntory is also carrying out an environmental education program for children called Mizuiku, a portmanteau word combining "water" and "education." The program began in 2004. The company runs the Outdoor School of Forest and Water, a program in which parents and children experience the importance of nature in the field, at sanctuary forests near Suntory plants, as well as the Teaching Program at Schools. So far, a total of 210,000 children and parents have participated in the program in Japan. The program has expanded globally, starting with Vietnam in 2015 and growing to include Thailand, Indonesia, China and Spain, and the number of participants has reached 370,000.
---
Water the starting point
These wide-ranging efforts, marked by a scope and depth rarely seen, are rated highly by external organizations such as the Alliance for Water Stewardship (AWS), a global organization that promotes "water stewardship" — the responsible management of water resources at the watershed level, in partnership with local communities. In 2018, Suntory's Okudaisen Bunanomori Water Plant received AWS certification for its efforts to meet international water stewardship standards, and two more Suntory water plants followed. Currently, Suntory is the only Japanese company to obtain AWS certifications.
Suntory was selected by the Science Based Targets Network, an international organization that develops methodologies for setting science-based targets for natural systems, as one of the three pilot companies for its SBTN Freshwater Hub, along with General Mills and P&G. In September, SBTN pubished the draft technical guidance based on the results of the pilot study.
Suntory's efforts on water resource protection have thus been recognized internationally. Asked what drives the company to go as far as it does, Makiko Ono, Suntory's chief sustainability officer, had this to say:
"Nature is at the heart of our business. We pump up water to manufacture products. Water is indispensable for the growth of ingredients for beer and whisky. So when we think of these facts, we are led to realize that water is the starting point of all our sustainability efforts."
She added that the founding spirit of "giving back to society," which has been passed on for more than 120 years in Suntory, is another factor that makes Suntory do its best. (See the article in the box.)
The targets of this spirit, which calls for returning profits to society, are not limited to water. Suntory has spent money and efforts on a wide range of social contribution activities. In the context of sustainability, the company is actively engaged in projects beyond protecting water resources.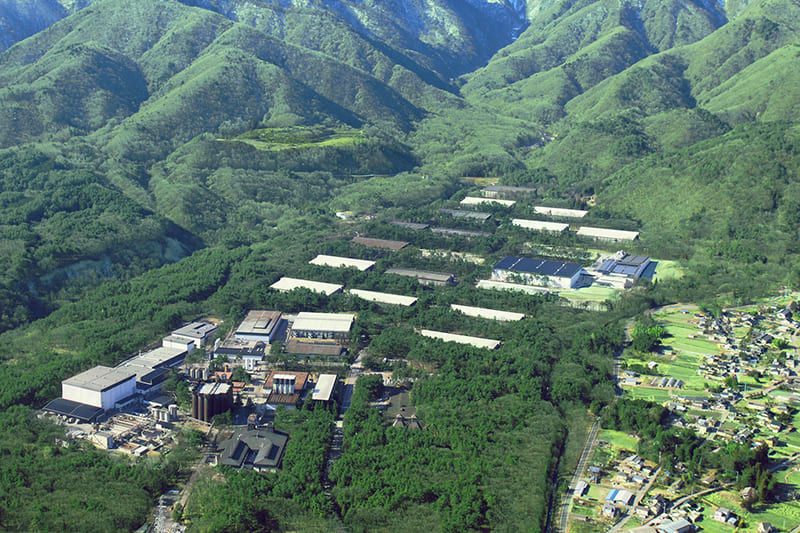 ---
Recycling bottles into bottles
Compared to water, plastics are seen as having similar or even greater significance as an issue standing in the way of achieving sustainability. Plastics are a significant issue for the Suntory Group, which shipped about 29,000 tons of PET bottles as part of its products in 2020.
Overall, 18% of PET bottles were recycled in the United States in fiscal 2020. The figure for Europe was 39.6% in fiscal 2019. In Japan, 88.5% of PET bottles were recycled in fiscal 2020, making it the leading country in this area. But only 15.7% of collected PET bottles were recycled into new PET bottles in fiscal 2020. Plastics from recycled bottles are mostly used in trays used in food packaging and interior materials in automobiles and railway cars. Beverage makers still continue to manufacture PET bottles using fossil fuel-derived materials.
Given these circumstances, Suntory announced a new commitment in May 2019. The company said that by 2030, it will switch all of the PET bottles used by the group globally to ones made of recycled or plant-based materials, achieving zero use of virgin petroleum-based materials.
Until then, Suntory had already been reducing the amount of virgin fossil-derived materials used in its products by, for example, making bottles lighter. It is very ambitious to aim to reduce the use of virgin petroleum-based materials to zero in just eight years. Many other beverage makers in Japan and overseas have not gone beyond targets such as increasing the proportion of recycled materials used in plastic bottles to 50% by 2030.
Will it be really possible for Suntory to achieve this ambitious target? Actually, it has already increased the share of recycled materials in PET bottles in Japan to 26% by 2020 and 37% by 2021, going way beyond the average figure of about 16% for Japanese companies. Suntory's plan is to reduce fossil fuel-derived materials to zero by both increasing the proportion of recycled materials — already one of the highest in the world — and increasing the proportion of plant-based PET bottles, made from molasses and wood chips.
"Dirty bottles or those containing contaminants cannot be recycled," Koshiishi said, "so we've been working diligently with other companies and major retail chain operators on an initiative to collect PET bottles that are as clean as possible." This is a costly endeavor, but "we have a sense of mission, the feeling that we must do it nonetheless," she said.
Suntory has begun raising consumer awareness on separating PET bottles as a resource and disposing of them in as clean a state as possible. Its beverage packages in Japan bear the message "Bottles are resources! Towards a Sustainable Bottle."
Suntory is also working with other companies on a project to develop more advanced technology for recycling. The "FtoP direct recycle technology" omits an intermediate step in the recycling process of melting shredded bottles and making new ones. Not only does it improve the efficiency of the recycling process, it also can reduce the amount of carbon dioxide emissions from the bottle-to-bottle recycling process by about 70% compared to producing a virgin fossil fuel-based PET preform, according to Suntory. The first production line using this technology went into operation in 2018, and the second in 2021.
---
CO2 Reduction Can
Suntory is diligently working toward its goals with efforts on collection, awareness-raising and investments in new technology. "The use of the word 'sustainability' is rapidly growing, but everything we're doing is basically the same thing as what we've been doing in the same spirit from long ago," Ono said.
But she added: "Our management team felt we should shift into a higher gear once again, and so we upgraded our team to an independent division, the Sustainability Management Division, in September last year. We will make sure we respond to trends without fail, by leading the industry not just on water but also plastics, and not falling behind on reducing greenhouse gas emissions."
Aiming to close the distance between the headquarters and each business unit, Ono, who was appointed head of the division last January, began holding regular meetings with heads of business units globally. One of the ideas suggested at these meetings took shape in September.
Launched in limited quantities, The Premium Malt's CO2 Reduction Can is the world's first commercially available stay-on-tab can that uses only aluminum from recycled cans. The can reduces carbon dioxide emissions by 60% compared to conventional aluminum cans.
Also this September, Suntory announced a plan to introduce at two plants in Yamanashi Prefecture a green hydrogen-production system jointly developed by the Yamanashi government and companies including Tokyo Electric Power Co. Holdings. The system produces hydrogen without emitting carbon dioxide by electrolyzing groundwater using electricity from renewable energy sources. The hydrogen will be used for heating boilers and in the whisky distillation process. Suntory plans to introduce the 16-megawatt system, one of the largest of its kind in Japan, by 2025.
"We still have a lot more work to do," Ono said. It is interesting to think what the geared-up Suntory may do next.
Why Suntory takes water seriously
Makiko Ono
Chief Sustainability Officer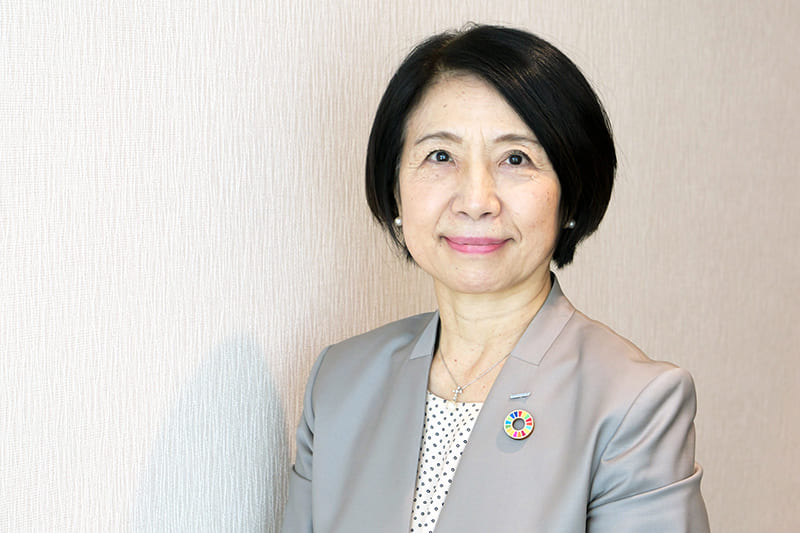 All our products use water, including not just Suntory Tennensui (natural mineral water, a product name) but whisky and beer. Water is indispensable for human living anywhere in the world. As a company that uses water, we have the responsibility to protect it.
At Suntory, a spirit of "giving back to society" has been deeply rooted in the company since Shinjiro Torii founded the company more than 120 years ago. This is a way of thinking that says our profits should not only be used to reinvest in our businesses but also be used to provide services to our clients and partners as well as to contribute to society.
With that spirit, we introduced the "inspiring the brilliance of life" slogan in our corporate motto, and our corporate mission, "to create harmony with people and nature," has taken root. And in 2005, we adopted "Mizu To Ikiru" (living with water) as the group's promise.
With this spirit deeply rooted in our company, cherishing water is natural for us and inseparable from our business.
The founding spirit has been protected by the members of the founding family in the company for over 120 years. Our current management team also strongly resonates with the founding spirit and takes it as their mission to pass it on. They take it as their mission to pass it on. I feel that our employees also respond very positively to the values cherished by the company and they are making great synergies.
Efforts on sustainability, not just limited to water resources conservation, require a lot of investments. Such efforts often have no immediate results. However, our efforts will eventually lead us to gain trust from customers and society, which will in turn prompt them to choose our products to our benefit. We have learned through our more than 120 years of history that the cycle of returning such benefits is the right way of thinking.
Keizo Saji, our second president, engaged in cultural activities to help make people's lives richer. This includes the establishment of Suntory Hall and the Suntory Museum of Art. These activities themselves did not bring direct benefit (to the company) but have led to enhancing Suntory's brand value over a long term. If you do something for society, you are sure to get something in return. That way of thinking is still alive today in the company, I believe.
Hardly a day goes by without hearing about sustainability-related global issues. The hurdles for finding solutions are very high, including the development of new technologies and innovations. However, we have another founding spirit of bold ambition summarized in the slogan "Yatte Minahare" (Why not give it a try). It's what our founder is remembered to have often said, meaning: "Take the challenge of creating new value without being afraid of failures." Suntory is committed to continuing to take challenges in the spirit of Yatte Minahare.
---
「水と生きる」ために本気で森林を守る
サントリーは今、世界でも例のないくらい、企業として本気で水資源を守ろうとしている。本業を支える資源に徹底的に向き合う。これも、サステナビリティ先進企業としての、あるべき姿。サントリーは代表格だろう。
サントリーは2003年から、地下水を汲み上げている自社工場周辺の森で、涵養を守る活動「天然水の森」を進めている。「水科学研究所」が中心となって調査し、工場の水源涵養エリアを特定。行政や森林所有者と長期的な協定を結び、あらゆる施策を講じてきた。
涵養保護は国内のほかの大手飲料メーカーも行っているが、サントリーの涵養エリアの面積は最も広い。しかも、単に植林や伐採といった整備にとどまらず、生物多様性の保護までも含めた徹底した森づくりをしている。
世界も認めるサントリーの水資源保護への取り組み。なぜここまでやるのか、という問いに、小野真紀子常務執行役員は、120年以上サントリーに脈々と流れ続ける「利益三分主義」という創業の精神がサントリーを本気にさせている、と説明する。
Return to Sustainable Japan Magazine Vol. 18 article list page