March 24, 2023
Leading sustainability-oriented company recycling sweet potatoes to decarbonize
Mission: Sustainability VOL. 6: Kirishima Shuzo Co.
By OSAMU INOUE / Renews, TRANSLATOR:ATSUSHI KODERA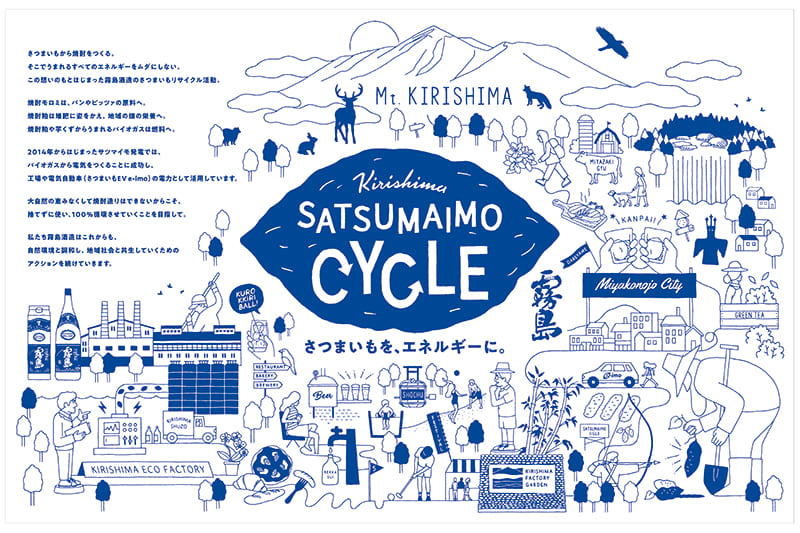 Kirishima Shuzo's strong points
1.Generates daily up to 34,000 cubic meters of biogas from shōchūkasu, a byproduct of shōchū spirit production
2.Burns the biogas in boilers and to generate power
3.Pledged to reduce CO2 emissions from plants and offices to net-zero by fiscal 2030
4.Working to increase biogas production at its recycling plant by collecting food waste from other companies
---
There is no shortage of initiatives to manufacture biogas from waste materials or water containing organic compounds, such as food waste and sewage. But efforts to recycle huge amounts of sweet potato waste into energy used to manufacture alcoholic beverages are rare.
Such a large-scale initiative by a Japanese company is probably unique on a global level. It should be held in high regard.
Founded 107 years ago, Kirishima Shuzo Co. is a well-established distillery whose shōchū spirit has been the bestseller in Japan for 10 consecutive years. Shōchū, typically distilled from rice, barley or sweet potatoes, is a popular drink loved by Japanese, along with sake.
Kirishima's shōchū is a honkaku, or authentic, grade of product distilled from sweet potatoes using pot stills. The company is headquartered in Miyakonojo, Miyazaki Prefecture, in the southern part of Kyushu, a region known for the production of sweet potatoes.
Kirishima can produce 200,000 1-shō (1.8-liter) bottles of shōchū a day, with an annual output of 50 million bottles. The company daily consumes about 400 tons of sweet potatoes. The figure is probably one of the world's largest for a single company.
In the shōchū production process, sweet potatoes are steamed, crushed and then distilled. The alcohol and umami contained in the steam are extracted to become shōchū, resulting in a byproduct of shōchūkasu lees containing water and yeast. The amount of shōchūkasu totals 850 tons a day. Another byproduct is chopped-off remnants of sweet potatoes, totaling 15 tons a day.
Nearly all such waste products are now recycled at a plant the company spent several billion yen (tens of millions of dollars) to build.
---
Energy for 22,000 homes
The company began the initiative to recycle waste from sweet potatoes in earnest in 2005, 10 years before the United Nations' sustainable development goals were adopted at a September 2015 summit.
The shōchūkasu left over from distillation has a high temperature. If it is subjected to fermentation using methanogen microorganisms, it generates biogas whose main component is methane. However, typical methanogens are sensitive to high temperatures.
Then Kajima Corp., a major Japanese general contractor and Kirishima's research partner, discovered in a French submarine volcano a unique methanogen that is activated at around 55 degrees Celsius and does not die even at 60 to 70 degrees. In 2005, Kirishima began the construction of a recycling plant using this methanogen, which was completed in December the next year.
Since then, the company has expanded the plant in phases. Currently, 24 methane-producing tanks generate about 34,000 cubic meters of biogas per day. The amount of energy generated from this biogas is enough to meet the daily power requirements of about 22,000 households, assuming each uses about 10 kilowatt-hours of electricity.
The methane is sent to gas boilers and used to generate heat, mainly for shōchū production. Biogas now represents 65% of the fuel consumed at a plant attached to the company headquarters, completed in 2011.
In 2014, Kirishima began an initiative to generate power using biogas as a way to put the methane generated when the shōchū plant is idle, including at night, to effective use.
Until then, the company had only been able to use 44% of the biogas it generated, but it now has succeeded in using nearly 100%. Most of the 8.5 million kilowatt-hours of electricity generated annually is sold to power utilities.
Some of the biogas-generated power is used at the recycling plant. Beginning in 2021, some is also used to power electric vehicles that the company uses. Kirishima, which currently has four electric vehicles, dubbed "e-imo" — "imo" means potato — plans eventually to switch all 130 company cars to electric vehicles.
Kirishima's efforts to recycle sweet potato waste also help reduce its overall energy costs and contribute to cutting emissions of greenhouse gases.
Carbon dioxide makes up about 90% of the greenhouse gases emitted in Japan. Kirishima's emissions, however, are nearly 100% carbon dioxide. By fiscal 2021, Kirishima had reduced its overall emissions of carbon dioxide by about 9,000 tons, or 33%, from the level in 2013.
For Kirishima, however, that achievement is still midway toward its goal. The company has begun efforts to realize its vision for a sustainability strategy dubbed the "Kirishima Satsumaimo Cycle," with "satsumaimo" meaning sweet potatoes.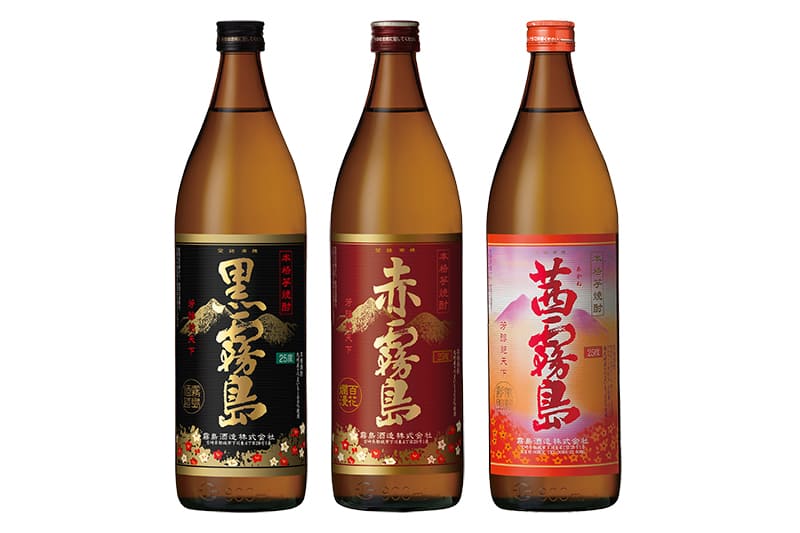 ---
Collecting food waste
In November 2021, Kirishima pledged to reduce the amount of carbon dioxide emissions from its plants and offices to net-zero by fiscal 2030.
The targets include Scope 1 emissions directly from its facilities, including from production activities, and Scope 2 emissions that the company is indirectly responsible for, such as those resulting from its purchase of electricity. Scope 3 emissions from supply chains — including those attributable to Kirishima's purchase of materials, its transportation of products and their use or disposal by consumers — are not included. Even so, trying to achieve net-zero by fiscal 2030 is an ambitious goal even by global standards.
Kirishima's existing initiatives are not sufficient to achieve that goal, however, according to Executive Managing Director Takuzo Enatsu. Yoshikazu Higashimori, a section chief belonging to Kirishima's green energy department, which is responsible for designing sustainability strategies, said, "The amount of sweet potato-derived energy, or biogas we make, is not enough to cover all of the amounts of energy needed to manufacture shōchū."
"By 2030, we would be able to halve CO2 emissions at best even if we used the entire amount of biogas from our shōchūkasu and did all we could," Higashimori said. "So there's a limit there."
That is why Kirishima decided to collect materials to feed the recycling plant from other companies and use them to boost its biogas output.
The idea was, if shōchūkasu derived in-house is not enough, materials can be collected from other companies. For this purpose, Kirishima obtained the business license required to process industrial waste. The company thus began in April 2022 to collect shōchūkasu from two other established distilleries in Miyakonojo for its biogas production.
Seeking to boost the impact further, Kirishima began collecting food waste from Nichirei Logistics Group Inc., a major provider of temperature-controlled logistics services.
Nichirei is subcontracted by Kirishima to wash, sort, cut, freeze and store sweet potatoes it receives at a logistics center in the Kagoshima prefectural city of Soo. Leftover sweet potato materials totaling 30 tons had been generated monthly from Nichirei's processing.
The leftovers, totaling 90 tons over the three months of the harvest season, were discarded through a processing service for industrial waste in Kagoshima Prefecture. Kirishima began in September 2022 to use that as additional material for biogas production. For that purpose, the company obtained official permission to transport industrial waste into Miyazaki Prefecture from elsewhere.
Currently, food waste that Kirishima obtains from Nichirei is only derived from Nichirei's processing work for Kirishima, but in the future Kirishima plans to collect all of the food waste generated at Nichirei's Soo logistics center. A Nichirei insider said Kirishima "will be able to increase the amount to about 300 tons per month," describing the figure as "realistic."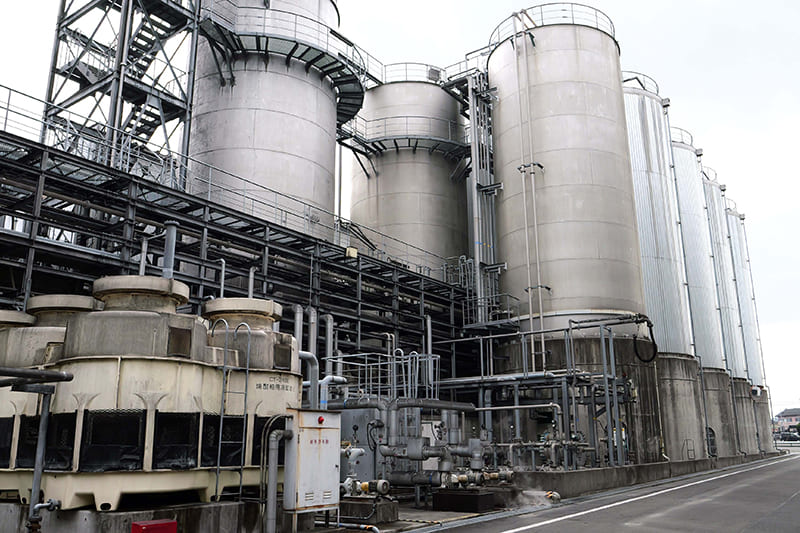 ---
Solar energy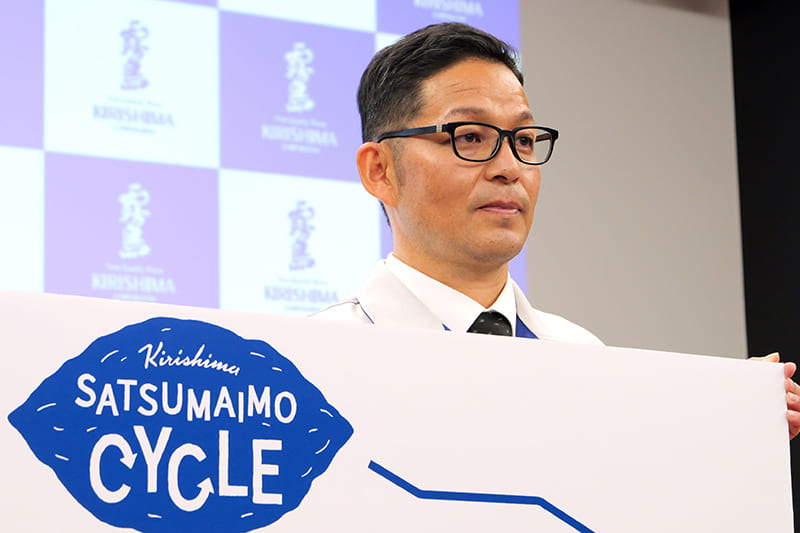 In the future, Kirishima's biogas plant may become livelier as energy derived from strawberry stems or carrots is added.
Even then, however, Kirishima's goal of reducing carbon dioxide emissions from plants and offices by 2030 is not within reach. That is because Kirishima will have to continue burning some amount of city gas to produce its huge amounts of shōchū at least until 2030.
Kirishima is thus working to use natural energy sources to offset its carbon emissions so it can achieve net-zero emissions. Enatsu thinks solar energy is a viable option for this purpose.
"Solar energy is a strong candidate, as we have many plants that face south and are fully exposed to sunlight," Enatsu said. "We are making calculations to determine how much power we will be able to generate. But we have other options as well."
Already, Kirishima has installed solar panels at the plant attached to the company headquarters. These can generate up to 100 kilowatts per hour. The electricity from them is used at the plant.
Kirishima also sees potential in high-temperature wastewater that is generated in the distillation process. Such water is now used in boilers, for cleaning plant equipment and supplies, and for heating. But not all wastewater or heat is being utilized.
"You can generate power using high-temperature wastewater, and you can generate power using waste steam," Higashimori said. "So we are considering these options, trying to determine how much they cost and how much environmental value they have."
Although Kirishima's reduction target currently involves only Scope 1 and 2 emissions, as noted above, it is considering options for reducing carbon emissions from its supply chains, including Scope 3 emissions, in the future.
---
Waste as treasure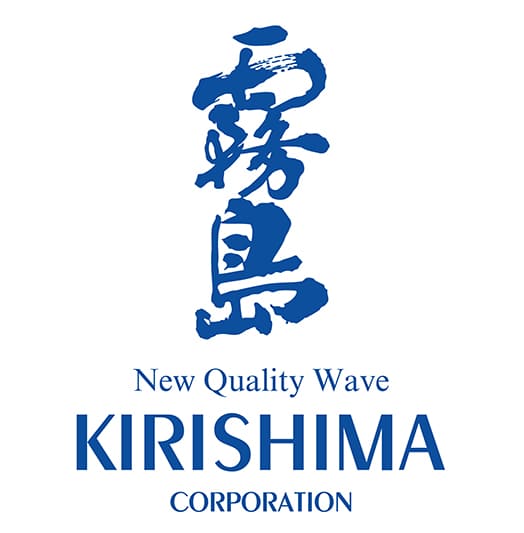 Kirishima estimates that Scope 3 emissions — which include those resulting from activities to procure materials, such as harvesting sweet potatoes and transporting them, as well as transporting, using and discarding shōchū — represent over 80% of the emissions from its supply chains.
The company is currently working to accurately determine the amount of its Scope 3 emissions. I believe it will pledge a new reduction target for its supply chains overall in the near future.
Kirishima's sustainability initiatives are not limited to climate-change countermeasures involving energy recycling and emissions reductions.
In January 2023, Kirishima announced it had worked out an action plan dubbed "Kirishima Environmental Action 2030." In this plan, the company said conserving the natural environment is as important as measures to address climate change.
Already in 2010, the company joined a "companies' forest creation project" promoted by the Miyazaki prefectural government and began activities to plant broadleaf trees, including keyaki (Japanese zelkova) and kunugi (Japanese chestnut oak). Through regional forest-conservation activities like this and other initiatives, Kirishima aims to help maintain forests' multifaceted functions.
Kirishima's growth has always been supported by the blessings of nature. That is why the company appreciates what nature means to it. And its appreciation of nature was evident in these words from Enatsu: "Sweet potatoes are a blessing of nature, and shōchūkasu is a treasure."
I am sure the sustainability efforts of Kirishima, which remains on the cutting edge even though it is located in a provincial area, will continue to evolve well into the future.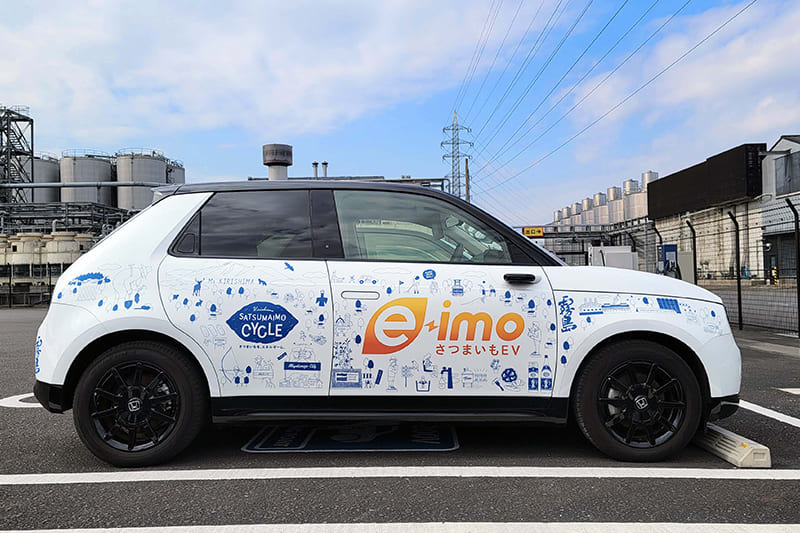 Turning sweet potatoes into a treasure
Takuzo Enatsu
Executive managing director
Kirishima Shuzo Co.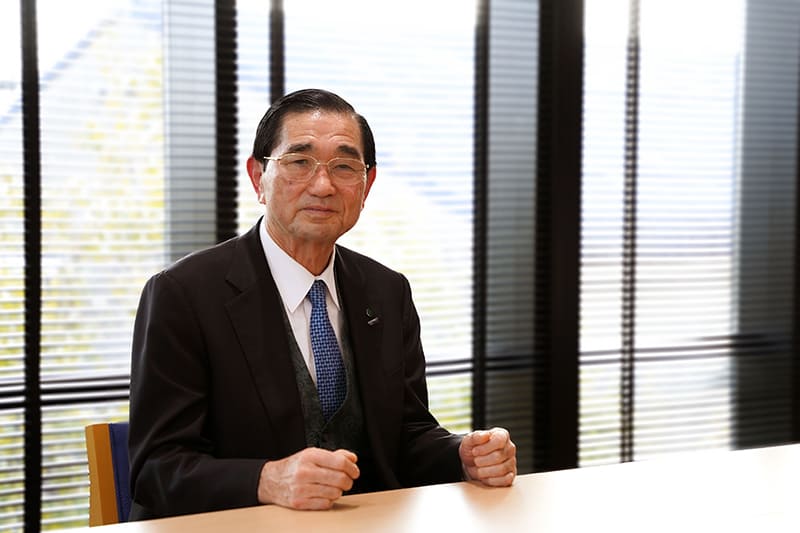 Amaker of alcoholic beverages needs to exist at least 100 years before it can be recognized as an established business. We now in our 107th year, so we became an established company in our industry not so long ago. We are feeling relieved!
Sweet potatoes are a wonderful thing. It is no exaggeration to say the human race has survived so far thanks to sweet potatoes. You can plant seed potatoes in subtropical areas or other places as long as you have some. When humans have suffered food shortages, sweet potatoes have saved their lives.
Our business is to process sweet potatoes to turn them into shōchū, adding value. In Japan, about 700,000 tons of sweet potatoes are produced annually. Kirishima Shuzo alone consumes about 100,000 tons of them, or one-seventh. This level of consumption is probably one of the largest by a single company anywhere in the world. Our business is only viable thanks to sweet potatoes, a blessing of nature.
So we should not just carelessly discard any part of this blessing. We should make sure even shōchūkasu, a byproduct of shōchū production, is recycled naturally. It should be considered a treasure and put to effective use. And this is something that I have been thinking about ever since 1977, when I joined Kirishima Shuzo, where my father served as president.
At Kirishima, some of the shōchūkasu generated was returned to the soil as a fertilizer, but much of it was simply discarded. That is because it contains too much nitrogen to be used as a fertilizer and so is difficult to use as is. We once tried to use it as feed for milk cattle, but that didn't work out because of a complex issue.
After considering many options, we finally settled on the idea of using a methanogen microorganism to ferment shōchūkasu to generate biogas, thereby recycling it.
The shōchūkasu we generate is rich in energy. Its "biochemical oxygen demand," an indicator of the level of organic compounds, is as high as 50,000 parts per million. In order to take advantage of it efficiently, we need to do a lot of different things, which include the use of huge equipment.
We began with an experiment under a joint development project with Kajima Corp., a major general contractor. The project proved successful and grew in scale, and took us where we are today.
But that is not enough. Kirishima Shuzo is currently working to reduce emissions of carbon dioxide from plants and offices to net-zero by fiscal 2030. We are considering the option of procuring renewable energy, in addition to using sweet potato-derived energy.
A target date of "by 2030" is what leading companies of the world are aiming for. I have instructed our green energy department, which is responsible for shōchūkasu recycling, to "get it done." I think we can probably achieve it.
Our company alone uses 943 terajoules of energy annually, a huge amount. It is equivalent to the total energy used by 73,000 households. As a company, we must be accountable for that energy. That is what I think.
---
サツマイモリサイクルで脱炭素に貢献。
創業107年目の霧島酒造は、10年連続で「焼酎」売り上げ日本一を堅持する老舗の焼酎酒蔵。焼酎を製造したあとに残る膨大なサツマイモの「粕」を原料とし、バイオガスを生成。酒造りに必要なエネルギーへとリサイクルさせている。
「サツマイモリサイクル」の取り組みは、2015年9月の国連サミットで採択された「SDGs」という言葉が生まれる10年前、2005年から本格的に始まり、2006年、特殊なメタン菌を用いたリサイクルプラントが完成した。
その規模は段階的に拡大。今では計24基のメタン発酵槽が、1日約3万4000N㎥(標準状態での気体の体積=ノルマルリューベ)ものバイオガスを発生させているほか、2014年からは「サツマイモ発電」にも着手し、ほぼ100%のガスを消費することに成功。これにより2021年度、霧島酒造は全体で、2013年度に比べて約9000トン、率にして33%のCO2を削減した。
ただし、霧島酒造にとってはまだ道半ば。ビジョンの実現へ向けて、より高みへと動き出している。
Return to Sustainable Japan Magazine Vol. 22 article list page