July 29, 2022
Kao committed to goal of net-zero waste by 2040
Mission: Sustainability VOL. 1: Kao Corp.
By OSAMU INOUE / Renews, TRANSLATOR:ATSUSHI KODERA
Kao's Strong Point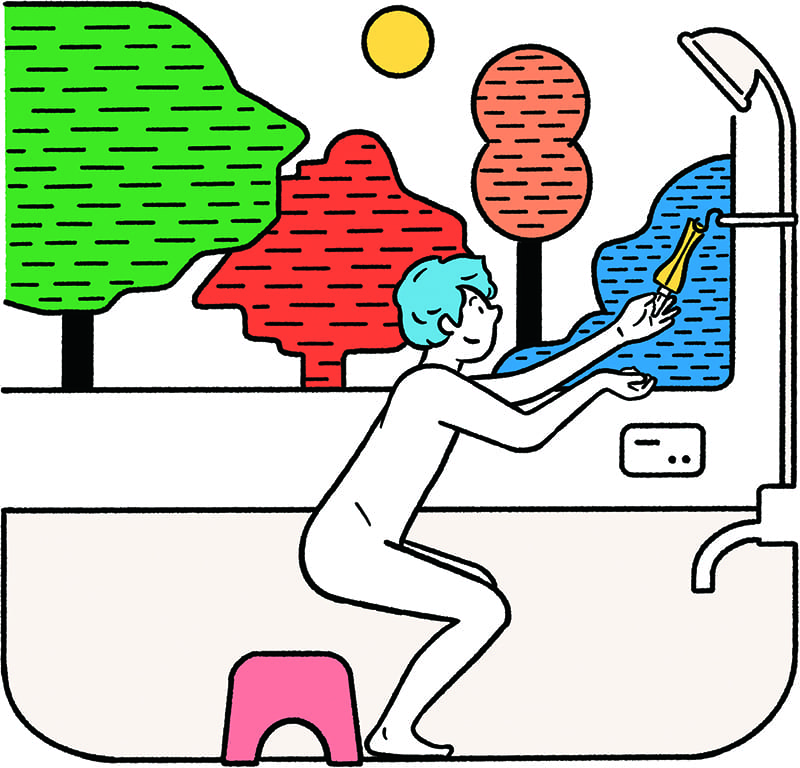 1.Aims to be carbon neutral by 2040 and carbon negative by 2050
2.Aims to reduce the amount of plastic packaging waste to net-zero by 2040 and be net negative by 2050
3.Made CDP's A List in all three areas of climate change, forest and water security for the second consecutive year in 2021
4.Became the only company in Asia to be a World's Most Ethical Companies honoree for a 16th straight year in 2022
---
Kao Corp., a major Japanese maker of consumer products, on June 29 quietly announced a new strategy that will have a strong impact: commitments to reduce its plastic packaging waste to net-zero by 2040 and then make it net negative by 2050.
Many companies have pledged to achieve carbon neutrality, reducing emissions of greenhouse gases from their business operations to net-zero. But a company announcing a commitment to reduce its waste to net-zero is rarely heard of. In fact, Kao is the first company to do so in Japan.
---
Triple A on CDP list
In May last year, Kao announced a commitment to achieving net-zero carbon emissions by 2040 and being carbon negative — with its reductions exceeding emissions — by 2050. At that point, there were few companies in Japan to set the target year of 2040, a decade ahead of the target date set by the Paris Agreement and the Japanese government.
Kao's target for emissions reduction includes Scope 3, or indirect emissions from activities by the suppliers and users of a company's products, in addition to Scope 1 and Scope 2, which include emissions related to fuel and electricity used in production. Kao made clear its commitment to achieve net-zero emissions for its supply chains and product life cycles as a whole.
Currently, only a handful of Japanese listed companies are committed to achieving net-zero for emissions including Scope 3. Kao is the only one among Japan's major consumer products companies, whose goods are used in large quantities in homes. About a year after announcing the industry-leading net-zero commitment, the company began a fresh initiative to tackle the issue of plastic waste.
Kao, which continues to lead the industry by undertaking challenging initiatives, is no doubt a leader in sustainability as well as in environmental, social and governance-oriented (ESG) corporate management.
CDP, formerly the Carbon Disclosure Project, is an international nonprofit organization that evaluates climate change measures taken by companies. It annually releases "A Lists" of companies to which a high evaluation is awarded in the three areas of climate change, forests and water security. In 2021, only 14 out of 12,000 companies worldwide achieved triple As, included in the A List in all three areas. Kao was among them, achieving triple As for the second consecutive year.
Kao was also named a 2022 World's Most Ethical Companies honoree for the 16th straight year and was selected for inclusion in the 2022 Bloomberg Gender-Equality Index for the fourth consecutive year. These honors were in recognition of Kao's commitment to progressive targets, efforts to form effective internal structures to work toward them and its successful track record.
In 2009, Kao announced an "environmental statement" in which it pledged to place environmental conservation at the center of its management. In that same year, in which it took a major turn to environmentally oriented management, Kao introduced Attack Neo, a laundry detergent with a low environmental impact, requiring only one rinse cycle. The product became a hit.
In 2018, when the term "ESG" had yet to gain currency, the company reformed its internal structure for promoting its sustainability strategy. An ESG managing committee in which executives participated and an ESG promotion meeting, a committee composed of division heads, were set up and ESG was positioned as the core of the company's management.
This past April, Kao launched ESG steering committees. The company set four priority themes — decarbonization, plastic packaging, human rights and DEI (diversity, equity and inclusion), and chemical stewardship — to further reinforce governance and effectiveness. Let us first look at the decarbonization theme.
---
Decarbonization and tech
"We came to the realization as early as 2009 that we won't be able to solve the problem of global warming unless we get wide-ranging suppliers and customers on board," Manabu Shibata, Kao's director for ESG global action management said about the net-zero commitment, the centerpiece of the company's decarbonization strategy. "It was a natural for us to include Scope 3 in our pursuit for net-zero CO2 emissions."
Kao's work to reduce Scope 1 and 2 emissions has progressed steadily. Their combined total had dropped 15% by 2020 and 20% by 2021 compared to 2017, thanks to efforts to shift to renewable energy sources at its operational facilities. However, reducing Scope 3 emissions is not an easy task — for Kao or any company.
Scopes 1 and 2 represent 7% of Kao's greenhouse gas emissions. Most of the company's emissions are Scope 3, in which "raw material procurement" and "product use" represent 38.5% and 38.5%, respectively. Kao aims to reduce Scope 3 emissions by 22% compared to 2017 through reductions across entire product life cycles, including the stages of raw material procurement, manufacturing, transportation, product usage and disposal of used products. But the total reduction has not been large, falling just 4% by 2020 and staying there in 2021.
Does Kao, in the end, plan to achieve its target through using the carbon offset system, buying credits for reductions achieved by others to offset its emissions?
"The public would not allow us to do that," said Junko Otani, vice president, ESG Global Strategy, Kao's ESG division Director Shibata said: "Kao is a company marked by its technology. If we did all we could and still weren't able to achieve it, we might use offset credits, but our staff are trying their best to address the situation through development of technologies such as recycling of carbon and carbon fixation."
There are credits of bad quality that are changing hands. Some, for example, do not actually reflect successful initiatives to stop deforestation. And there are companies that purchase such credits and claim to have contributed to reducing greenhouse gas emissions. Kao says it wants to do all it can to avoid using carbon offsets, and such an attitude is worth trusting.
---
Net-zero plastic 'possible'
As regards the issue of plastic packaging, a key theme that rivals decarbonization in importance, Kao has contributed to reducing the use of plastics by promoting refill and replacement products and increasing the degree of concentration of liquid products. For example, the company began selling refill products with highly concentrated liquid content in large-size film-based packaging at prices lower than bottled versions. This successfully encouraged consumers to develop the habit of refilling their used product bottles at home.
Compared to a scenario in which refill and replacement products are still sold in plastic bottles and liquid products are not concentrated, Kao estimates it has reduced its plastic use by 139,800 tons, or 78.4%.
In 2020, Kao introduced in the United States the MyKirei brand of products sold in what it calls "air-in film bottles," or inflated film bottles. They proved popular, especially in online sales channels. These bottles gain their rigidity "like a rubber swimming ring," allowing them to stand upright. The products have nearly halved the amount of plastic used in packaging compared to existing products.
In the same year, Kao announced it would eliminate eye-catching plastic stickers attached to product packages, an in-store sales promotion ploy used in Japan. It ended the production of all products with such stickers by the end of 2021. This resulted in a reduction of about 60 tons in the amount of plastic used.
The stickers had been used as a key tool to attract buyers' attention for many years. The decision to eliminate them is proof that Kao prioritizes environmental measures ahead of sales or profits. The amount of reduction may be small, but the story is sufficient to convince the public about Kao's seriousness.
Still, Kao used 104,000 tons of fossil fuel-derived plastics in 2021. The film-based packaging the company uses is made of plastic, and the company has not been able to completely eliminate the use of plastics due to sanitary considerations. Neither can it achieve perfect recycling of plastics by collecting all the waste packaging of the products it has sold.
The situation has led Kao to adopt the new strategy mentioned at the beginning, in which it aims to achieve net-zero plastic by collecting and recycling plastic waste in an amount equivalent to what it uses.
Kao has said it will step up efforts for innovation in the reduction and recycling of waste to achieve the goal of net-zero plastic waste by 2040 and take it further to net negative by 2050. It is already working on trial projects, including the sale of products in volume at retail shops and the collection of packaging, and it has high hopes for innovative new materials.
Newtlac 5000, which Kao introduced in December 2020, is an asphalt modifier that improves the durability of asphalt pavement. It is made from discarded plastic drink bottles, with fatty acid and an additive mixed in. Asphalt pavement whose composition is about 1% Newtlac 5000 has roughly five times the durability of conventional pavement, according to the company.
"When self-driving vehicles become widely used, roads will become more prone to ruts as wheels on such vehicles trace exactly the same lines," Shibata said. "We believe Newtlac 5000 will contribute to directly reducing greenhouse gases by reducing road maintenance work, in addition to its potential to help us achieve net-zero plastic waste."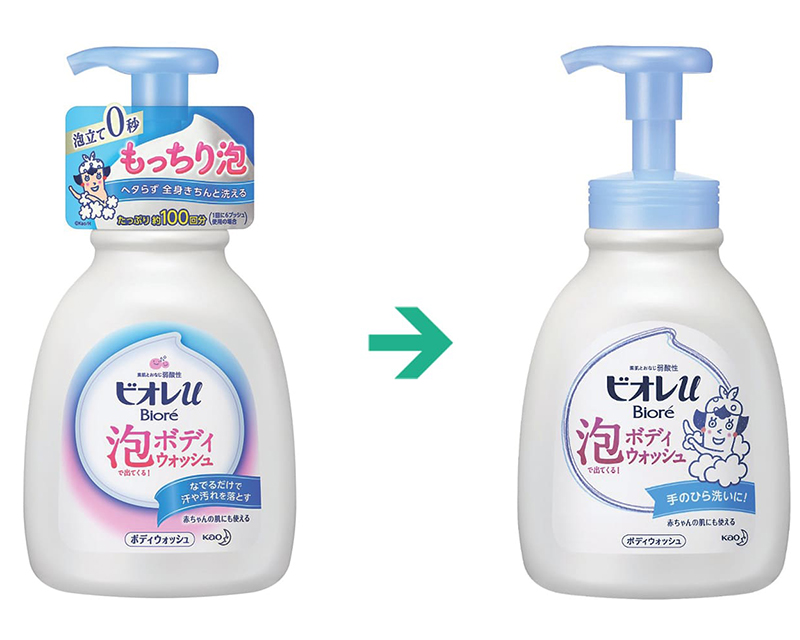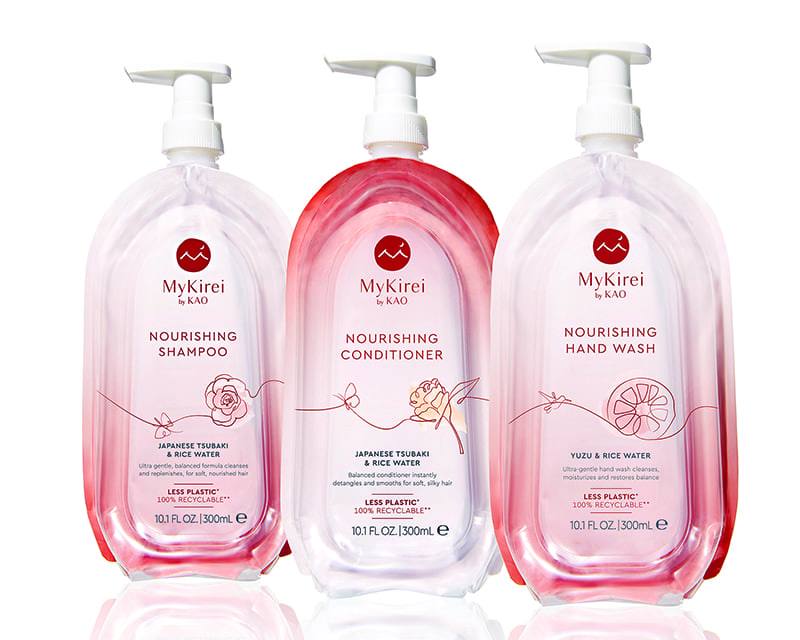 ---
The 'Kao Way'
Kao has a remarkable track record and has won a great reputation, but the head of its ESG division is still not satisfied.
"If what we really looked at is the initial successes that we have today, which are great … we've done a lot to make those things happen as an organization," said David Muenz, who heads Kao's ESG division.
"But I guess if I really searched my soul, search my heart, I don't have a lot of satisfaction with where we are, probably because I see the distance we have to go yet — the tough journey that exists before us — and so I kind of remain hungry or driven to not accept where we are," added Muenz, who serves as the director and managing executive officer.
"The journey in front of us is still long, still tough. We have a lot of work to do," he added.
Those comments indicate the degree of Kao's seriousness in its commitment to sustainability.
Indeed, Kao's journey will be tough. But why does it choose to set high hurdles? What makes the company so serious about sustainability? "Because it's in our corporate philosophy," Otani said. "We gave it the name 'Kao Way' in 2004, but the spirit of the founder expressed in the corporate philosophy has been passed down through generations of executives and employees."
"Being seriously committed to sustainability is something that comes natural to Kao employees," she said.
The company describes the Kao Way in detail, using such phrases as "We work … to create a Kirei life — a cleaner, more beautiful, and healthier life for all people and the planet" and "integrity as the only choice" and "We do what is right, not what is easy." These derive from the words of Kao founder Tomiro Nagase.
Muenz said the Kao Way impressed him very much.
"Kao's corporate philosophy and its management's leadership go together well, and that made me so serious in my role," he said.
These are all good answers to interview questions. But the most convincing thing he said was about the company's "big opportunity" as a consumer products maker.
---
Causing lifestyle shifts
Decarbonization and plastic waste reduction will not be achieved for society as a whole unless we can change the behavior of consumers, who use and discard large amounts of products. A consumer products company is in a position to frequently reach out to consumers.
If Kao succeeds in changing the lifestyles of people through its efforts in research and development and innovation, making our society significantly more sustainable, the company will as a result be able to gain the fruits of creating new markets. For Kao, sustainability is not something it talks about to make itself look good. It is a real issue on which its survival depends.
Kao knows it is not easy to change people's lifestyles. Yet it knows it can change consumer behavior, even though it may take a long time.
Kao, whose primary business since its foundation in 1887 has been soap products, introduced the Biore U body wash in 1984, which made liquid body wash products sold in plastic bottles common in Japan. The company subsequently encouraged consumers to shift from bottled products to refills, which they accepted.
"Instead of trying to force consumers, we think it is important to gently nudge them to change lifestyles so they can make a smooth shift," Otani said.
Ten years from now, hard plastic bottles may be gone from store shelves, a thing of the past. Kao, at least, anticipates the possibility of this coming true.
Why Kao plunges into a tough journey to purity
David J. Muenz
Kao Corp. director, managing executive officer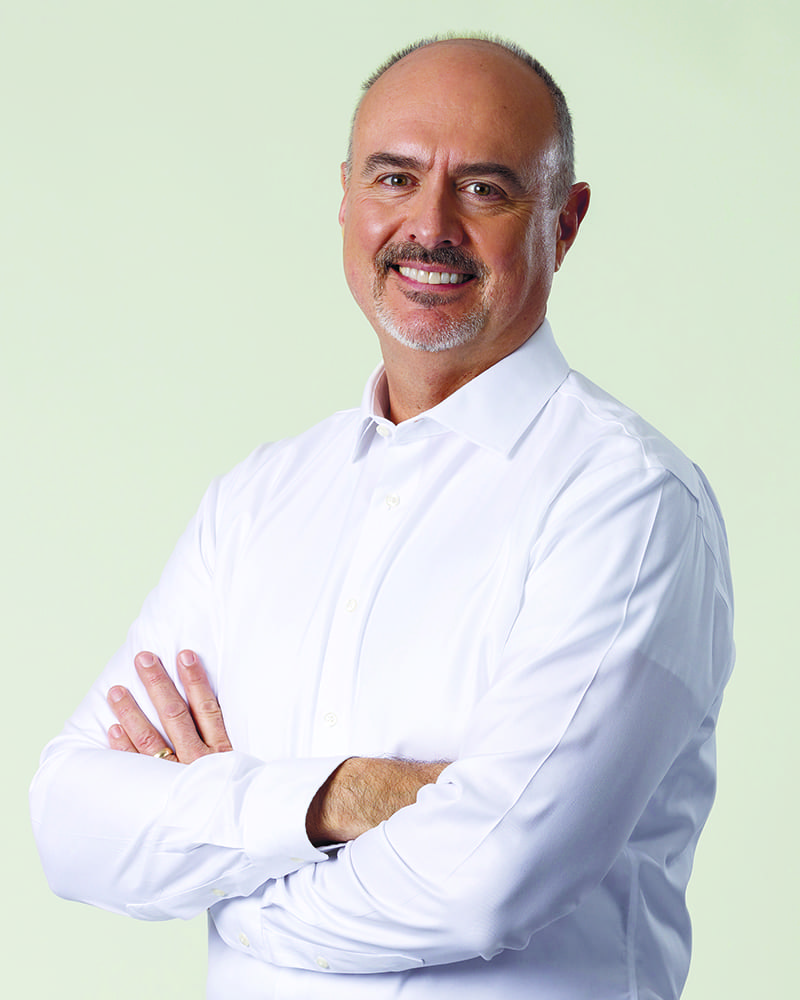 Kao's corporate philosophy, the "Kao Way," specifies a mission of "providing care and enrichment for the life of all people and the planet" and a value of "integrity as the only choice," so working toward the sustainability of the Earth was only natural for the company.
The company's leaders, from its founder on, instilled these fundamental principles and ideals into its people, and so that spirit and culture lives in them. After joining Kao in midcareer, I became even more enamored with it based on what I saw and found in terms of the living spirit, the living culture that exists in the company.
We have been very fortunate to have lots of strong leaders at Kao. When I talk to other people who are leading the sustainability groups in other companies, I always tell them, "My job is so much easier because our leaders have shaped the character of the leadership, whether Chair Michitaka Sawada or CEO Yoshihiro Hasebe."
So I think our philosophy and leadership are truly important elements of why Kao is able to do these things, plunge into a tough journey.
And we consider our actions to be not just related to the sustainability of the world, but also the sustainability of our company.
What can we do? What opportunity do we have to change the way people impact the environment — waste and so forth?
Certainly, the household and the beauty care goods and so forth tend to be at the forefront of consideration for the environment. The pressure is one aspect. But perhaps another is the opportunity.
We are in almost every room of every home, so we have a big opportunity to touch people's lives. By structuring our products in certain ways, we can make a tremendous difference in the footprint of the people who use them.
Sure, these things are not easy. But, I think, by having aggressive challenges like this, we really catalyze and energize the spirit of innovation. The aggressive goals we consider push us to be innovative and to be the leader of the future. And so we consider that, deeply, to be a motivating factor.
---
2040年炭素/ごみゼロへ花王の本気度と原動力
今年6月29日、花王はインパクトがあるサステナビリティの新戦略を公表した。自社起因で排出される「プラスチック包装容器」のごみを2040年までに実質ゼロにするという「ごみゼロ」宣言である。
温室効果ガスを実質ゼロにする「カーボンニュートラル(カーボンゼロ)」と同じ発想をごみにも適用する取り組みは世界的にも珍しい。花王は昨年、日本の上場企業としては初めて、「Scope3まで含めたカーボンゼロを2040年までに達成する」と宣言している。
花王は、国際非営利団体のCDPが選ぶ「気候変動」「フォレスト」「水セキュリティ」3部門のAリストに、2年連続で選出されている。同社がサステナビリティ/ESG経営のリーダーであることは疑いようもない。
道のりは険しい。それでも、ハードな目標を自らに課すのはなぜか。なぜ、花王はここまでサステナビリティに対して本気になれるのか。背景には企業理念と経営者の姿勢、そして、消費者のライフスタイルに大きな影響を与え得る消費財メーカーとしての覚悟があった。
Return to Sustainable Japan Magazine Vol. 14 article list page