December 16, 2022
L'Atelier de Noto: French restaurant, producers forge Noto future
Destination Restaurants 2022
By TAEKO TERAO, TRANSLATOR:WINIFRED BIRD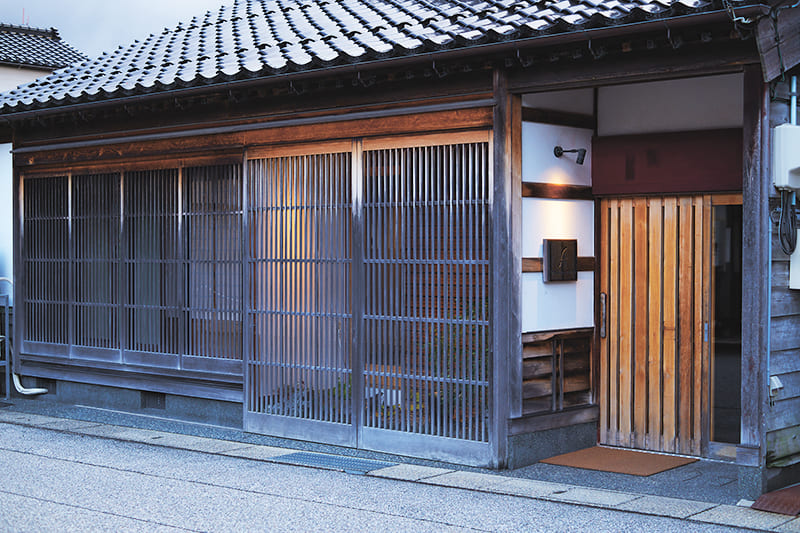 Facing the Sea of Japan on the Noto Peninsula in northern Ishikawa Prefecture, Wajima is a city known for its lacquerware and morning market. The culture and geography are quite different from those of elegant Kanazawa, although both are in Ishikawa. Wajima is a rustic city surrounded by the sea and mountains. It is here that L'Atelier de Noto has established itself in an old house that was formerly a lacquer workshop. The harbor is only a few minutes' walk away, close enough to feel the sea breezes.
Owner Toshiya Ikehata is a French chef who sharpened his skills at well-known restaurants in Osaka and France. After returning to Japan from France, he initially planned to open a restaurant in Osaka.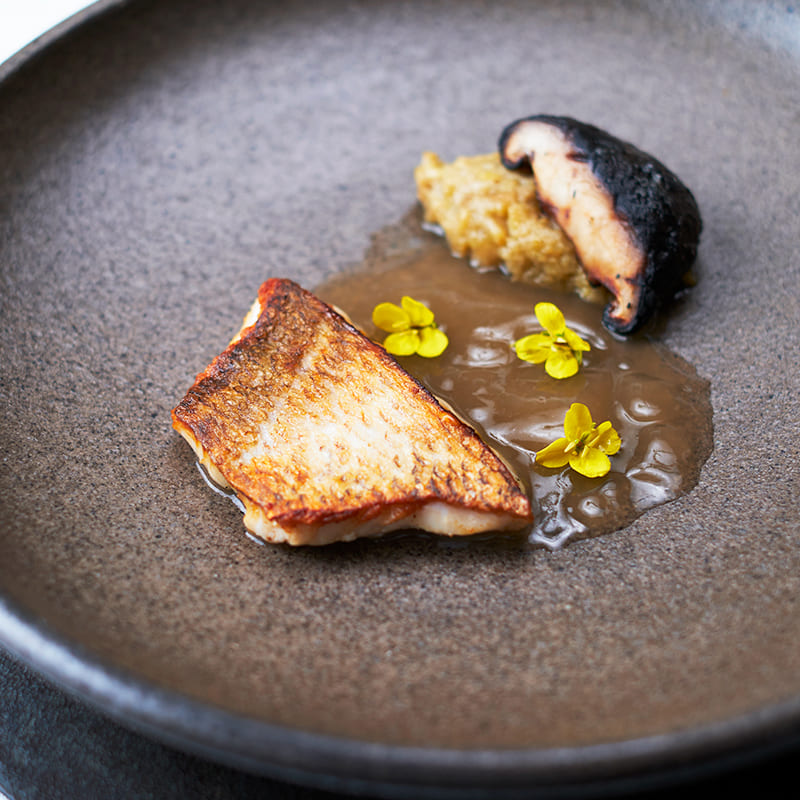 "I happened to be visiting Wajima, where I grew up, and an acquaintance asked me to do some catering," he recalled. "I was cooking with the terrific local ingredients, and that's when my feelings started to change. In culinary school I was embarrassed to have come from a rural area, but during my time training in France I realized that rural areas actually have the best ingredients, and customers come from around the world to dine at restaurants there. I felt like in that sense Wajima had greater potential than Osaka, so I opened my restaurant here."
L'Atelier de Noto opened in 2014. Over time, Ikehata deepened his relationships with local producers to the point that he now sources 99% of his ingredients from the peninsula, primarily Wajima. He engages closely with his suppliers. Together with Takayoshi Yamaguchi, owner of Sushidokoro Mekumi, one of the Destination Restaurants 2021, Ikehata has held workshops to teach fishermen better processing techniques. He also contracts with a local ranch practicing outstanding soil-management techniques to raise grass-fed Jersey cows, including male calves that would normally be slaughtered and discarded. He uses both the milk and meat at the restaurant.
"I've gotten to the point where I can say to producers, 'I want ingredients that will work for this specific dish,' so I'm getting ideal ingredients," he said. "In exchange, I pay higher-than-market prices for the fish, vegetables and other products they supply to me. Equality between the restaurants that buy food and the farmers, fishermen and others who supply it is essential. Without that, we won't be able to hand this work down to the next generation."
The prix fixe menu brims with Noto flavors. There is an oyster and chrychrysanthemum green flan and a chilled miniature kabocha (pumpkin) soup with ama ebi (northern prawns) or baigai (Japanese ivory shell sea snail). Then there is the Kaga lotus root galette, served in fall with turkey and wild mushrooms picked by Ikehata that same morning in the mountains, and in winter with zuwaigani (snow crab). The menu always showcases ingredients at their seasonal peak in Noto, for example in the kobakogani (female snow crab) risotto. The climax of one meal was a fatty nodoguro (blackthroat seaperch) roasted and steamed with a sauce flavored with ishiru, a local fish sauce made in house from nodoguro and shiitake. Without the foods of the Noto Peninsula and their producers, the cuisine of L'Atelier de Noto would not exist.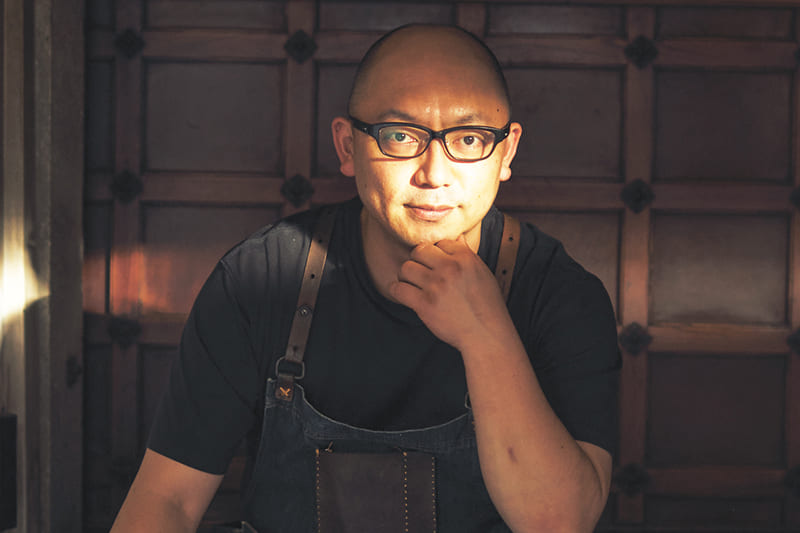 TOSHIYA IKEHATA
Born in Wajima, Ishikawa Prefecture, in 1979, Ikehata was sous chef at the Osaka French restaurant Calendrie before moving to France in 2006. After training for 4½ years at restaurants including Maison Lameloise in Burgundy and La Table de Joel Robuchon in Paris, he returned to Japan. He opened L'Atelier de Noto in 2014, serving French cuisine made from local ingredients in Wajima lacquerware and Noto's Suzu ware pottery. He plans to add lodgings in the near future, turning the restaurant into an inn.
---
Sponsored by ANA
DESTINATION
Wajima Onsen
Noto no Sho
The small city of Wajima sits near the tip of the Noto Peninsula, which juts dramatically into the Sea of Japan. The sea is the city's doorstep, and mountains clad in deep forest are its backyard. Throughout the year, the woodlands, fields and waters are rich with a natural bounty that has shaped local food culture over the long span of history. Noto no Sho, our featured hotel in this issue, is a relaxing getaway where guests savor the regional cuisine between soaks in hot spring baths.
A natural spring on the hotel grounds boasts some of the highest-quality alkaline hot water in Japan. What a luxury it is to let your exhaustion drain away as you immerse yourself in the baths, gazing out at the sea beyond the Noto coastline.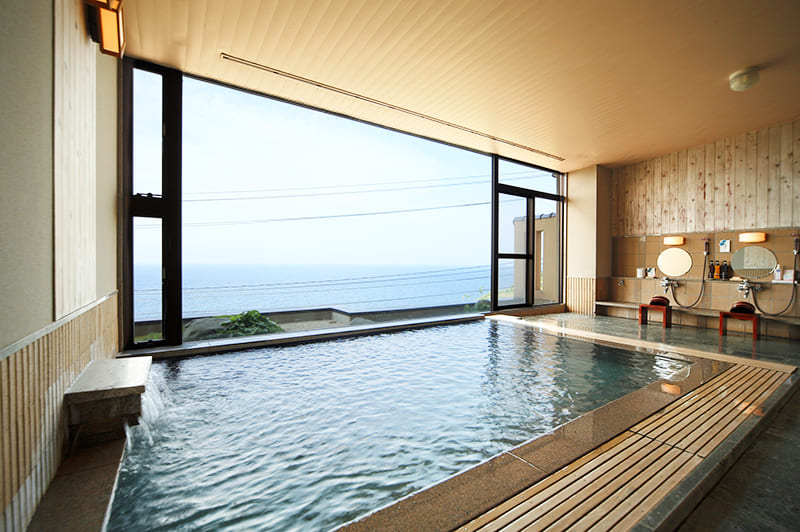 ---
日本海に面した能登半島で生産者と未来を拓くフレンチ。
石川県・輪島にある〈L'Atelier de Noto〉。オーナーシェフ、池畑隼也氏は、フランスでの修業を経て帰国した当初は、大阪で店を出すつもりだった。
「でも、考えが変わったんです。以前は故郷は田舎で恥ずかしいという感覚でしたが、フランスでは地方こそ食材がよく、そこにある店に世界中からお客さんが来ている。それは素晴らしい食材が揃う輪島でも実現可能だと思いました」
2014年の開店以来、生産者との交流を深め、現在では用いる食材の99%が能登産となっている。漁師には魚の処理を学んでもらい、牧場でジャージー牛の委託飼育を行うほど、生産過程にも力を入れる。
「生産者に"調理に合わせた食材が欲しい"と伝えることで、理想の食材を手に入れられるようになってきました。その分、相場より高値で買っています。レストランと生産者が同じ目線で頑張って、次世代につなげたい」。コースは能登食材のオンパレード。現在、加賀蓮根並みの上質な蓮根を能登で作る計画も進めている。能登食材100%になる日が着々と近づいているようだ。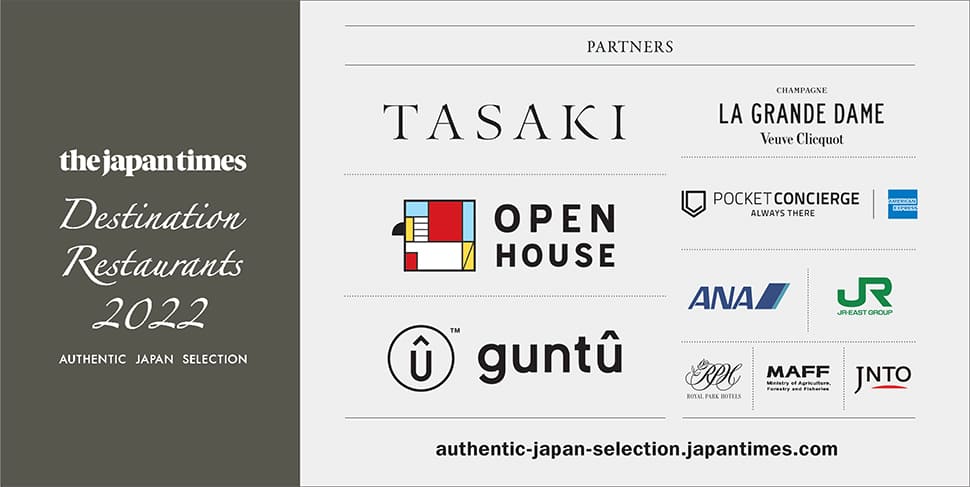 Return to Sustainable Japan Magazine Vol. 19 article list page