May 26, 2023
Ibaraki NPO preserves nature, ways of life in Shishitsuka area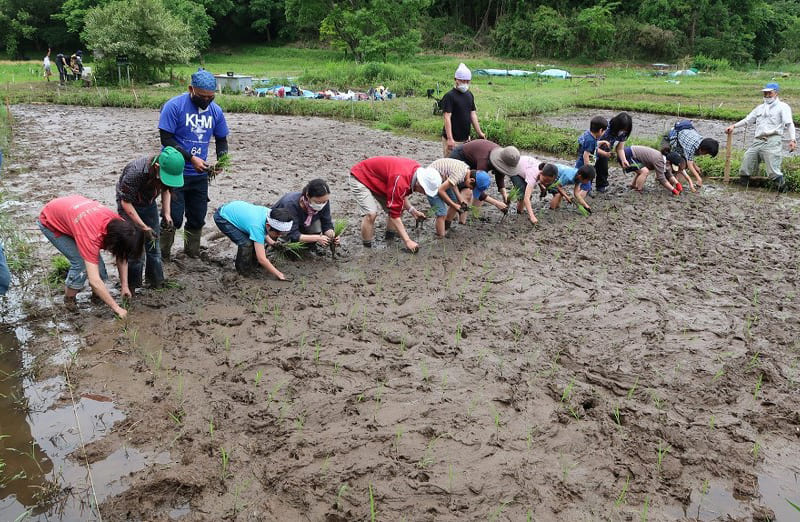 "I know! This is a Japanese dandelion, and that one is a nonnative one," exclaimed an elementary school boy taking part in a nature observation walk held in the Shishitsuka area of the Ibaraki city of Tsuchiura, near Tsukuba. The area is blessed with nature, consisting of woods, bamboo forests, swamps and ponds that provide water to neighboring rice paddies, all well taken care of by a local nonprofit organization and residents — a perfect example of satoyama areas between wilderness and human habitats. In satoyama areas, both wildlife and people continue to benefit from natural resources that are kept intact by adequate human intervention.
The nature walk is one of the regular monthly events organized by the Certified Non-profit Organization for Nature Conservation and History Transmission of Shishitsuka Satoyama to nurture awareness of and love for Shishitsuka's nature among young generations. Nobuo Morimoto founded the organization in 1989 to conduct conservation activities and research in the area, which faced the risk of extensive urban development at the height of the bubble economy. The group received the Satoyama Special Award last year from the Sustainable Japan Network, run by The Japan Times, for its contributions to the sustainable circulation of regional natural resources.
About a dozen children and their parents gathered one Sunday morning in April to take a walk with an instructor who specializes in plants. Morimoto explained that the themes and instructors are different each time so participants can learn something new and seasonal. The theme for the month was to observe spring plants. The instructor handed a checklist to each participant and showed them where they could find the plants in the list. They enjoyed looking for the plants on roadsides, paths along rice paddies, empty lots, forest boundaries and along a small irrigation stream.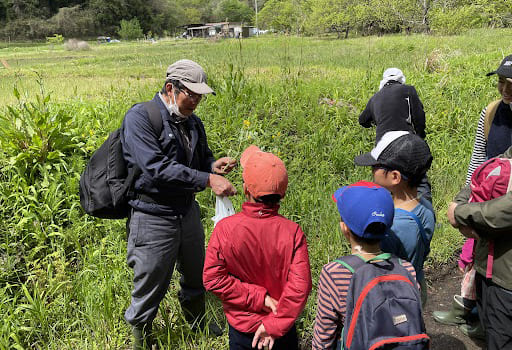 They compared similar yet different plants as well as native and foreign relatives, checked differences between male and female plants, chewed the edible stems of tawny daylilies and learned about the unique characteristics of various plants, such as why the young leaves of the "food wrapper plant" Mallotus japonicus are red. The instructor pulled out some tape and told the children to apply a small piece to a leaf and remove it carefully. The red came off the leaf and stuck to the tape. One of them looked up from a magnifying glass and said, "What's red is actually like a carpet of very fine hairs on the leaves' surface!"
While the group walked near some rice paddies, a group of young men in rain boots who are also members of the organization came by, saying they were going out to help a rice farmer. Morimoto said that supporting local farmers is also an important role of the organization in an area where aging and a shortage of successors is posing a major obstacle to the sustainability of local agriculture, like in many other rural towns in Japan.
However, the nonprofit is not giving up natural, organic farming for more efficient artificial and chemical-based techniques of farming. On the paddies they manage, they grow rice organically with a unique method that combines traditional methods and new ideas developed by Fukunobu Osaka, a former engineer. He moved to Ibaraki Prefecture to work for a research institute long ago and stayed there after retirement. His curiosity and ingenuity are now directed at how to grow rice more efficiently in organic ways while contributing to the enhancement of biodiversity in and around the rice paddies. "I keep experimenting to improve my method every year," he said with a hoe in his hand.
For the benefit of the members and supporters of the organization, as well as those who participate in various events and activities like the nature walks, the organization has renovated a century-old traditional house that stood on the roadside right next to the rice paddies. "The initial purpose was to make a small utility space with a bathroom, because there was no place where we could get changed or wash our hands. But as we worked on the renovation plan, we came to realize that this house is worth much more than that," Morimoto said.
They turned about half of the space into a back room with a small kitchen and a bathroom, and the other half into a meeting place where not only members and participants but also neighbors and visitors can socialize.
The nonprofit raised more than ¥3 million ($22,000) through a crowdfunding campaign for the renovation last year. Some of the work, such as making mud walls, was done in workshop style, gathering local people including children. The house, named Hyakunen-tei, meaning "100-year home," will continue to watch over the community for generations to come.
---
The Sustainable Japan Award commends individuals, companies and organizations who have made advances in sustainable efforts.