December 08, 2020
Green economic recovery requires sustained effort
Japan Times Satoyama Consortium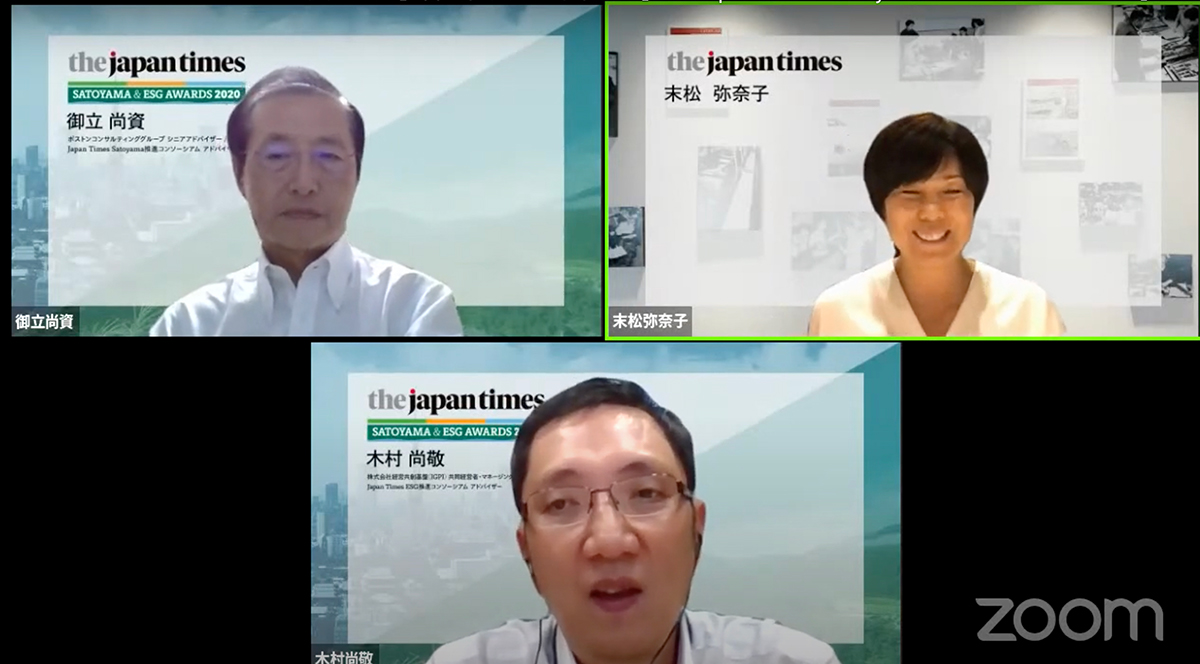 With major nations starting to show commitment to a green economic recovery from the COVID-19 pandemic, increasing sustainability will be key to both regional revitalization and fostering businesses run according to environmental, social and corporate governance factors (ESG.)
"Achieving sustainability would ensure full lives for future generations. It is our responsibility," said Naonori Kimura, partner and managing director at Industrial Growth Platform Inc., during an Oct. 14 online talk session organized by the Japan Times Satoyama and ESG Consortiums. The other speaker at the session was Takashi Mitachi, senior adviser at Boston Consulting Group and also an adviser to the Satoyama Consortium. The session was moderated by Minako Suematsu, chairperson and president of The Japan Times.
Mitachi defined the concept of "satoyama" as a commons in which natural resources are maintained by local residents. "Satoyama itself is a long-term, sustainable resource as well as asset," he said.
---
Drivers of enhanced value
Kimura noted that sustainability is a key concept in ESG too. Companies' efforts toward making a more sustainable society must be long-term, Kimura said, and therefore must be viewed as drivers of the company's enhanced value over time.
"A company's ESG engagement will not suffer any impact from COVID-19 if ESG factors are incorporated in its integrated report and built into the business," Kimura said, explaining that it would be difficult for a company to maintain its ESG efforts in the midst of the downturn if it saw ESG engagement as a cost.
Mitachi pointed out that though all of society has been suffering from the unexpected crisis, it has not put the brakes on all economic activity. "For example, people continue to buy consumer goods that they use at home. It is likely that the longer they stay home, the more they are concerned about whether what they buy and use is really sustainable," he said, referring to the pandemic as a chance for more companies to recognize the need to launch full-scale ESG efforts.
Some companies are on the brink of bankruptcy as a result of the open-ended crisis across the country. Kimura said that more important than preserving a company itself is managers' commitment to carrying on its business. "A business may become more long-lasting, and may even increase its value, if it comes under the umbrella of another company in a realignment of the industry. You need to make this kind of decision with sustainability as an axis," Kimura said.
Mitachi agreed and said mergers need not be between companies but can also happen project by project. He suggested that it would be a good idea to create a platform providing multiple businesses services such as logistics or managing orders. "The concept of a commons is to co-invest in something that can be made more efficient by increasing its scale," Mitachi said.
---
New era, new standards
Kimura said Japanese enterprises are good at forging common rules and de facto standards for each industry. He explained that whether any Japanese industry can become top globally depends on how fast it can contribute to creating a de facto global standard. There are at this moment such opportunities in many sectors because digital transformation may change not only individual companies but also entire industries, stimulating new international competition. "Japanese companies are good at making de facto standards for manufacturing devices. The next challenge would be to do the same in for service platforms and more. If we allow Western countries and China to take the lead in this, Japanese industries will make themselves mere subcontractors," Kimura said.
Mitachi said Japan can and should take the role of making the rules in the context of ESG as well. "Actually, the Economy, Trade and Industry Ministry and the Environment Ministry together created a method demonstrating how to measure the carbon emissions from listed companies' business activities," he said. Investors, using accurate information on each company's emissions, can compare profit per ton of emissions across thousands of companies in an industry and identify which ones are the most environmentally efficient.
"Whenever I show this data to foreign investment analysts, they totally change their attitude. This is how ESG can really become a profit center for a company," Mitachi said. He also stressed that Japan should not keep quiet and wait for rules to be issued at a time when many other countries are making rules to their own advantage.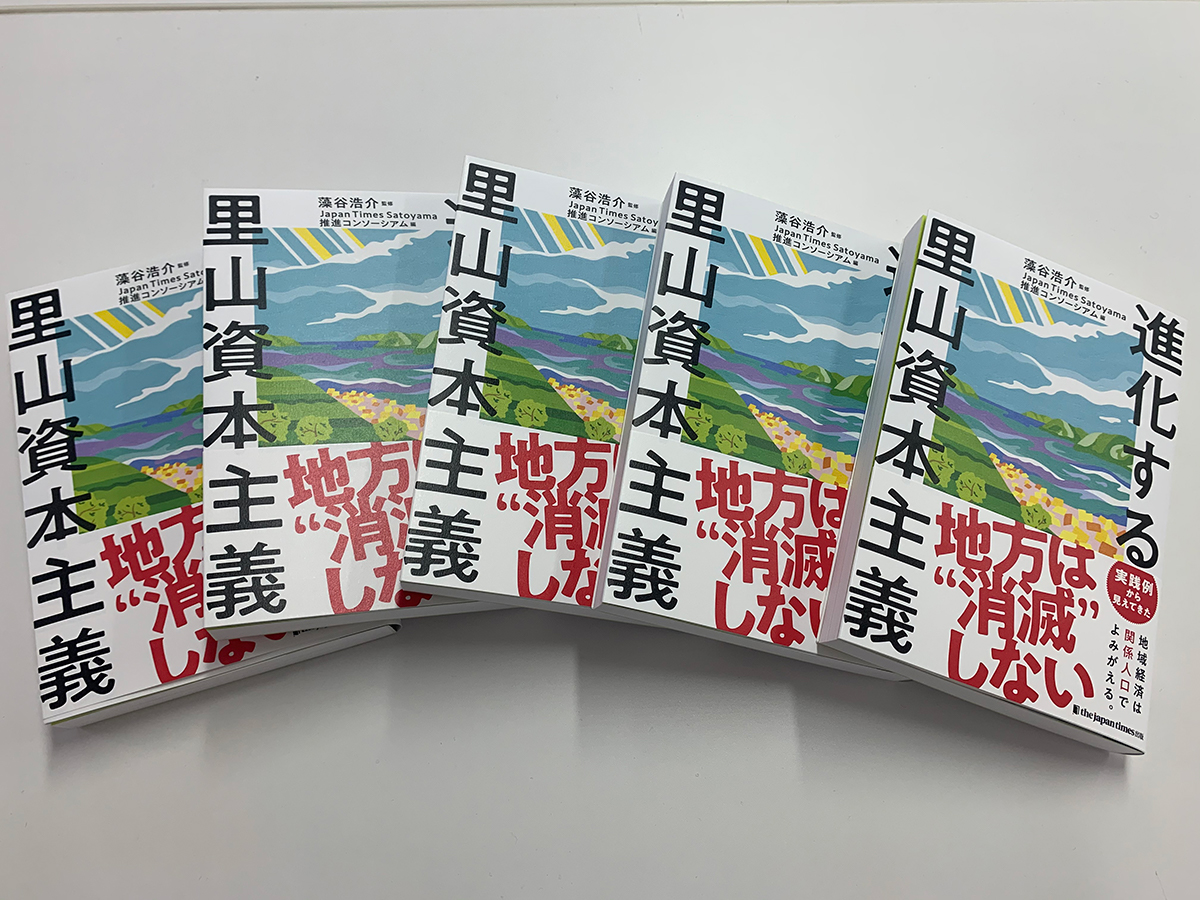 ---
Taking the global initiative
He said that taking the initiative in global rule-making processes is important. "Former Prime Minister Shinzo Abe's foreign diplomacy is evaluated highly by other countries because of his contribution to global rule-making, while the United States has been turning its back on international cooperation," Mitachi said, explaining that Abe managed to build up his influence by continuously making statements on various issues such as trade and data governance during his long time in office.
"Chinese President Xi Jinping announced that China will become carbon-neutral, though it may take time. He said it not as a bargaining chip in some international negotiation, but as a country's commitment to taking part in the rule-making in this field," Mitachi said. He pointed out that countries like China and South Korea have been successful in developing people who demonstrate leadership and influence in international organizations. "It is of great importance to foster talents who will represent Japan in international rule-making," said Mitachi.
Kimura agreed, saying that changes in human resource development and assessment as well as recruitment strategies will be needed to nurture powerful leaders: "Japanese companies have been successful by making decisions based on bottom-up consultation and agreement. But in this unprecedented situation, where companies need to work on short-term cash-flow efforts and medium- to long-term strategies at the same time, decision-making by fewer, more capable personnel is the key for survival on the international stage."
Both Kimura and Mitachi consider The Japan Times a powerful platform for disseminating information on such efforts by companies, industries and the nation. "Though The Japan Times is a medium of Japanese origin, it also introduces views of other countries," Mitachi said, pointing out that this will help Japanese companies appeal to the global market more effectively.
Moderator Suematsu of The Japan Times said that through the activities and awards of the Japan Times Satoyama and ESG Consortiums she has witnessed extensive sustainability efforts by individual companies and organizations. She expressed the company's commitment to continue sharing information and insights on "sustainable Japan" in both English and Japanese through its publications, symposiums, study tours and other events.