July 21, 2019
Torch relay aims to better connect people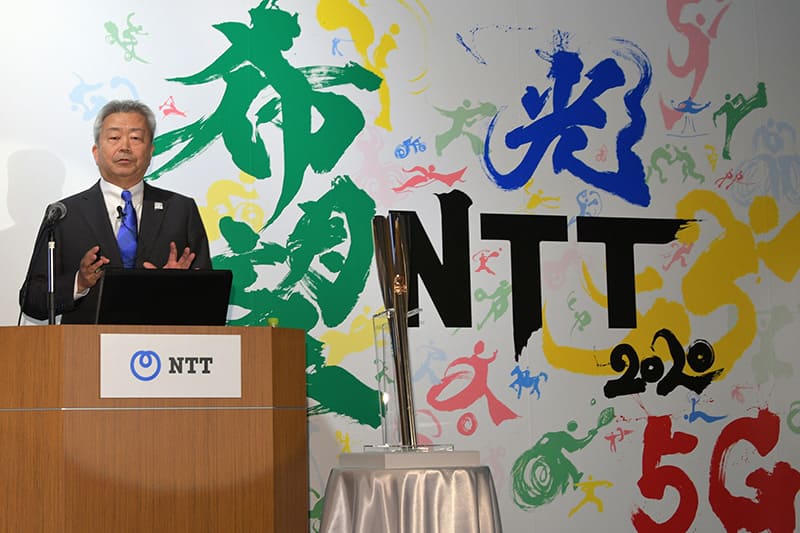 As a company involved in the torch relay for the upcoming Tokyo Olympics, NTT Corp. hopes to involve a wide variety of people who contribute to their regional communities as torchbearers. The organization also seeks to showcase its latest technology to help provide convenience and excitement at the 2020 Games, hoping to subsequently utilize it as a "legacy" in other projects.
Japan's largest telecommunications firm recently began recruiting torchbearer candidates for the Olympics, setting "Connecting with Hope" as its concept to attract people who connect local communities to the future with "the light of hope."
The company is one of four firms in the Tokyo 2020 Olympic Torch Relay Presenting Partner program. The status permits them to recruit torchbearers and conduct promotional activities using the torch relay emblem under the Olympic torch relay concept "Hope Lights Our Way."
"NTT's fundamentals are to connect networks and link telecommunications even at times of disaster; in essence, it's communication that connects people. We also connect the past and future with technology," President and CEO Jun Sawada said at a press conference on June 20 in Tokyo. "Combining our philosophy and the concept presented by the committee, we came up with 'Connecting with Hope' to pass on every person's hope in seeking torchbearers."
With the application period through Aug. 31, there are several specific traits in torchbearers. They are those who connect with their communities through sports instruction and regional revitalization efforts; are involved in local products and crafts; and work to restore historic buildings and aid in disaster reconstruction efforts, Sawada said.
The torchbearers, including those recruited by other parties, are scheduled to run a designated portion of the relay route — about 200 meters each — across 47 prefectures in 2020.
"We will prepare a convoy (accompanying the relay), incorporating new technology to create an innovative torch relay," Sawada noted, adding the company plans to hold events next year featuring its technology in Osaka in April and Yokohama in July to heighten the excitement surrounding the relay.
For details of NTT's torchbearer recruiting, see 2020.ntt/en/tokyo/torch/.
Additionally, the company aims to create a technological legacy for a digitalized society, which it calls "Smart World," through a number of innovative efforts in relation to the Olympics and Paralympics.
"We'd like to introduce various types of solutions as business services across the country. This includes the use of 5G, which is expected to be featured in the torch relay," Sawada said. NTT Docomo Inc. plans to deliver a "pre-service" of the next generation of wireless technology during the Rugby World Cup in September ahead of its official launch in 2020.
As a gold partner of the Olympics and Paralympics in the telecommunications services category, NTT provides relevant systems in this field including information technology and cybersecurity.
In an effort toward what would be a "Wi-Fi system with the highest density in the world," Sawada said the company plans to install about 1,300 access points at the 68,000-seat National Stadium that is currently under construction.
To integrally address the growing threat of cyberattacks, Sawada explained NTT and its partner companies would deal with security both in the network and IT systems, which used to be handled separately.
What could be a legacy for the next generation, and possibly a model facility incorporating technology, is Ariake Arena. Upon completion, it will be the venue for volleyball and wheelchair basketball games during the Olympics and Paralympics.
"We'd like to make it a new, 'smart' arena, providing guests with an environment enabling them to watch events and buy merchandise in a comfortable and easy manner," he explained, adding details of the facility including the technological aspect would be announced once determined.
To better navigate visitors coming to the games, NTT is working on digitalizing relevant information surrounding routes to event venues.
"We are aware that people with disabilities have not received proper route guidance from current maps and signboards," Sawada said, as those usually don't include information on stairs. "We are planning to offer a solution for those in wheelchairs and those with strollers so that they can get around more easily."
With Tokyo Metro Co., NTT also studies congestion patterns to better predict and control traffic.
"Combining data on stations and the flow of people between Tokyo Metro and us, we're hoping to come up with measures to predict and address congestion," Sawada noted.
The company is also committed to maintaining the health of those who work outside in the summer sun in intense heat. About 20,000 workers from NTT and its group companies are expected to serve on the telecommunications and cybersecurity front.
"We are considering having some of our engineers wear shirts equipped with 'hitoe,' a functional textile that can digitalize body information," Sawada said. "We would analyze data through collaboration with parties in the field of thermal physiology so that we can foresee any risks and give proper directions to better care for workers' health."