March 31, 2023
IISE institute kindles 'guide stars' for solving global social issues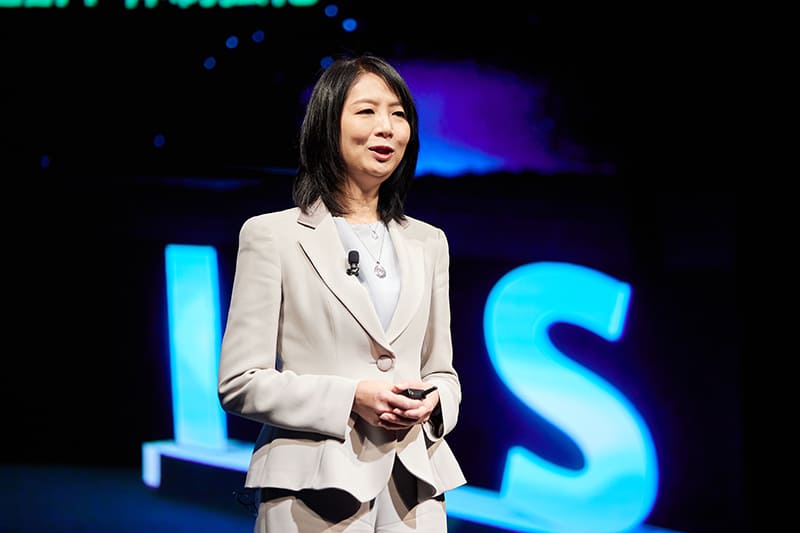 To address increasingly complex issues amid global uncertainty, new ideas and innovative solutions are ever more important.
The NEC group's Institute for International Socio-Economic Studies (IISE), which explores new ways of thinking and acting to solve social issues, on Feb. 10 held a forum on potential issues facing the world and what the institute aims to do about them.
"We will take a role of thought leadership," IISE Chairperson Kumi Fujisawa said in a speech at the start of the forum. She said the institute will explore what issues the world must tackle, at the level of people as well as from a macroeconomic perspective. "We will help society implement a new framework, a new system and new business with those who agree with the future grand design we propose."
Fujisawa told the audience the think tank's mission is "illuminating the future with the world's wisdom." Like the stars that guided mariners in ancient times, "we would like to show you the way and create the future with you by connecting global issues, people's wisdom and advancing technologies."
The forum also featured a topic that broadly affects global issues: economic security. Christopher Johnstone, senior adviser and Japan chair at the Center for Strategic and International Studies (CSIS), addressed that in a keynote speech titled "The Essential Partnership: U.S.-Japan Relations and the Future of the Free and Open Indo-Pacific."
Amid rising geopolitical tensions in the last two years due to Russia's invasion of Ukraine, North Korea's launch of ballistic and cruise missiles, and China's large-scale military exercises around Taiwan, Johnstone said the importance of the U.S. partnership with Japan and other allies has become stronger. He said conflict with China over Taiwan is possible but is avoidable if military and economic deterrence works, making the costs to China over such a conflict enormous. On the economic side, the U.S. is taking steps, particularly in the semiconductor industry, to strengthen its capacity at home, make supply chain resilience a pivotal element of national and economic security, and protect critical technologies from moving into China.
"For the governments of Japan and the U.S. and other allies and partners, the key message is none of us can achieve economic security alone," Johnston said. "We must find a way to balance deterrence and economic interdependence with China. … This is, I believe, a fundamental challenge that we must advance together in years to come. But fortunately, our alliances have never been stronger, and we're well positioned to tackle over challenges ahead."
The keynote speech was followed by a session with economists discussing the outlook for the global economy, in which U.S. inflation was peaking out, conditions in Europe were better than expected partly because of a warm winter, and the Japanese economy was expected to stay firm on the back of strong capital spending.
The forum also had breakout sessions on topics such as carbon neutrality, global health, digital transformation, digital health, data-driven city management and smart cities led by sports.
Established in 2000, the IISE was revamped in April 2022 and now features seven themes for its thought leadership activities. As a result, the institute on Feb. 6 announced a proposal, in collaboration with Keio University, to create a market to trade as "future carbon reduction credits" the carbon dioxide emissions that preventing and adapting to natural disasters would avoid.
Also, the institute proposed in January a new smart city concept called "purpose-driven city management," calling on municipal governments and all the stakeholders for city management to introduce ways of managing business with clear purposes and using competent analytic data in order to achieve well-being for all their citizens. The IISE has additionally published white papers on digital transformation for governments and support for developing countries.
As for the IISE's future projects, Fujisawa said the institute plans to make alliances with think tanks in the U.S., Britain, ASEAN and elsewhere to conduct joint studies on economic security.
"What we want to value is a global standpoint, so we want to collaborate with people around the world, share their wisdom and technologies, and create a new global market," she said.
For example, NEC has advanced technologies such as digital transformation for government administration and biometrics for personal identification. "NEC has great technologies that can be used to address global issues. We want to further coordination to use such technologies to create new business and solve societal problems at the same time," Fujisawa said.