August 04, 2023
Suntory replenishes a century of water stewardship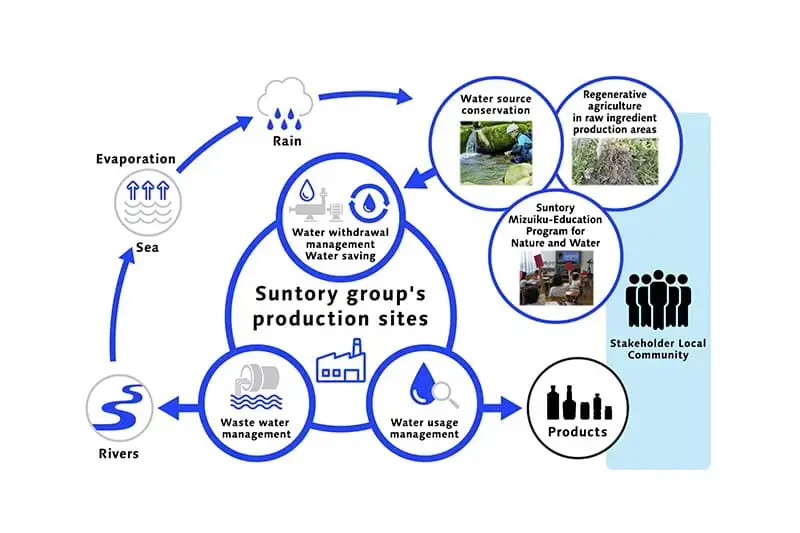 This year is the 100th anniversary of Japan's first malt whisky distillery, established in the Yamazaki district of the town of Shimamoto, near Kyoto. It was built by Suntory Holdings, a global maker of beverages and food founded by Shinjiro Torii in 1899. In this commemorative year, the company marked another milestone: Its Kyushu Kumamoto Plant, which produces water and drinks both nonalcoholic and alcoholic, received platinum certification from the Alliance for Water Stewardship, a global organization for increasing the sustainability of water resources.
Among the 263 certified sites as of July 17, platinum certification was given only to those that achieved the highest levels of water stewardship. There are three levels of certification: core, gold and finally platinum. After basic requirements are met, points gained on advanced indictors determine the level.
Water stewardship is defined by AWS as "the use of water that is socially and culturally equitable, environmentally sustainable and economically beneficial, achieved through a stakeholder-inclusive process that includes both site- and catchment-based actions."
The process of getting a site certified is not easy, involving training, registration, implementation of the AWS Standard and an audit. It requires months of gathering and analyzing information and getting performance evaluated.
Suntory is doing this not to give a new challenge a try, but because this essentially aligns with what the company has been doing all along — contributing to the healthy circulation of water, an important resource for the company's business as well as for everyone else who benefits from the same water sources.
---
Giving back double
Through the Natural Water Sanctuary Initiative that the company started in 2003, activities to conserve water sources have been conducted at 22 locations totaling 12,000 hectares in 15 prefectures, successfully recharging twice the amount of groundwater used in the company's plants.
Suntory announced its new corporate philosophy in April, including its new slogan, "Suntory, Sustained by Nature and Water" — a clear message that it recognizes its role in natural water circulation. As its Sustainability Management Division's general manager, Harumichi Seta, put it in a recent interview with The Japan Times, "Suntory's business is the process of sharing some of the blessings of nature with our consumers to enrich their lives and culture."
Since the company's foundation in 1899, the mindset of committing to the sustainability of water resources and communities has always been reflected across the company's purpose, values and principles, shaping how each of its 270 group companies and their 40,885 employees across the world work every day.
For a company like this, it made perfect sense to have its long-standing and ever-evolving efforts evaluated and recognized globally through the international framework of AWS and start engaging more deeply with AWS to promote water stewardship across diverse sectors in order to contribute to greater sustainability worldwide.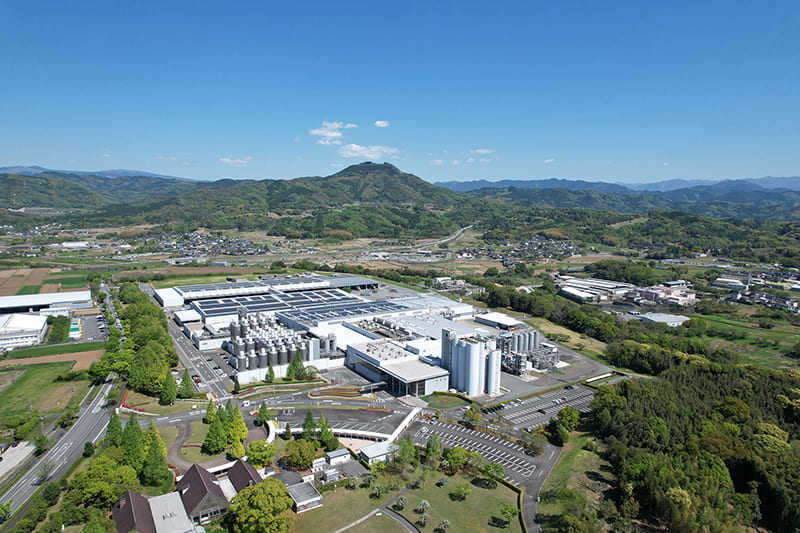 ---
Each area is unique
While water sustainability is a global issue, Suntory, as an expert that provides education on water through its Mizuiku program in Japan and eight other countries, is well aware that each area has particular water issues.
"Any practices of water stewardship start from defining the catchment area you will be working on and getting a thorough understanding of it through scientific means," Seta said. "In this process, we also gathered data about what is called embedded water — the water coming from other areas that is used to produce part of the ingredients for the products being manufactured at the Kyushu Kumamoto Plant. This is one of the requirements of the advanced indicators of the AWS certification."
He also pointed out the importance of understanding the water issues that others in an area have. In the case of this plant, there were a number of stakeholders to engage, including local residents, agricultural and fishery producers, municipal governments, academics, clients and suppliers in addition to workers and subcontractors for the plant.
The water stewardship activities were planned, with each having a clear target, to address issues involving those stakeholders. Among the activities were forest management of the groundwater recharge area, cleaning the premises of Ukishima Shrine, which sits among neighboring natural springs, the plant's water management and the assessment of the environmental impact of the plant's discharged water.
They filled rice paddies in the area with water during the winter fallow period and helped British barley farms that supply the plant implement regenerative agriculture. These practices help secure biodiversity and enrich the soil, which leads to better crops and less impact on the groundwater and rivers in the area.
The beauty of the AWS certification is that reviewing and disclosing the performance of each activity and communicating with stakeholders is part of the requirements, which helps ensure the credibility of not only AWS itself but also the certified companies.
The Suntory Okudaisen Bunanomori Water Plant in Tottori Prefecture and the Suntory Minami Alps Hakushu Water Plant in Yamanashi Prefecture hold core certifications. "In addition, since drinking water is part of the infrastructure that supports the lives of consumers, I believe that the AWS certification will contribute in strengthening the trust we receive from our customers by helping us effectively communicate our activities to preserve the sources of the water." Seta said.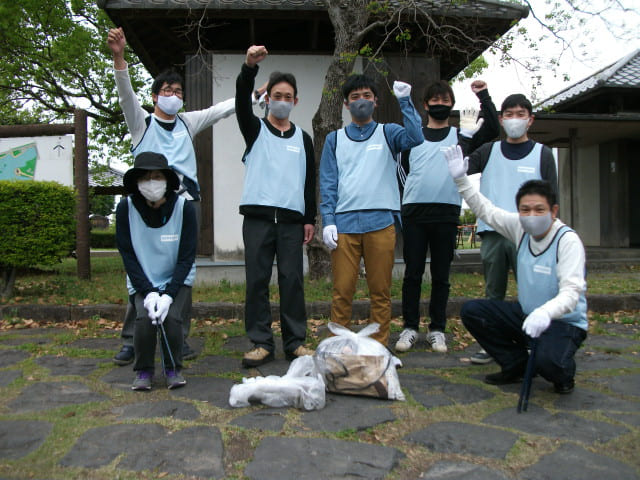 ---
Leadership role in Japan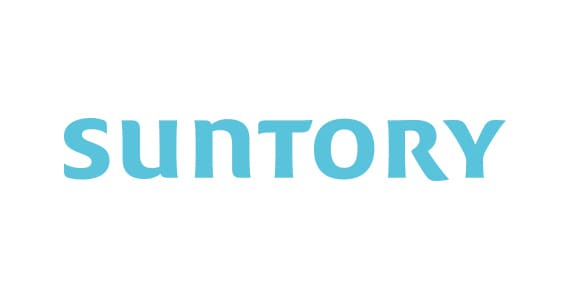 In addition to running AWS-certified plants, Suntory also signed a cooperation agreement with AWS to take a leadership role in promoting water stewardship among diverse industries in Japan. Based on this partnership, Suntory supervised the Japanese-language version of the AWS Standard. The company is also starting to contribute to various AWS activities in Japan and the creation of AWS training and capacity-building programs.
As part of promotional efforts by AWS, the first AWS meeting was held in Japan on Feb. 22 to discuss companies' responsible water resource management in catchment areas.
As the first company in Japan to receive AWS certifications, Suntory contributed to the event not only by sharing its insights but also by calling for various industries to participate. About 230 participants from both the private and public sectors gathered to learn about good practices in sustainable water management and the importance and benefits of water stewardship.
"AWS offers a highly systematized certification scheme that is committed to the results of water stewardship efforts and is working with other international frameworks related to sustainability to be compatible with each other. Suntory aims to advocate the benefits of making and disclosing water stewardship efforts as a local leader of AWS so that Japanese companies that are already engaging in water stewardship efforts will be recognized — and those that haven't will follow suit," Seta said.
---
Suntory is a member of the Sustainable Japan Network, a group of companies that cooperate with this newspaper in spreading information about sustainability in Japan. You can also be part of the network; visit https://sustainable.japantimes.com/sjnetwork-jp for more details.