October 16, 2023
Organization strives to empower women in society, the workplace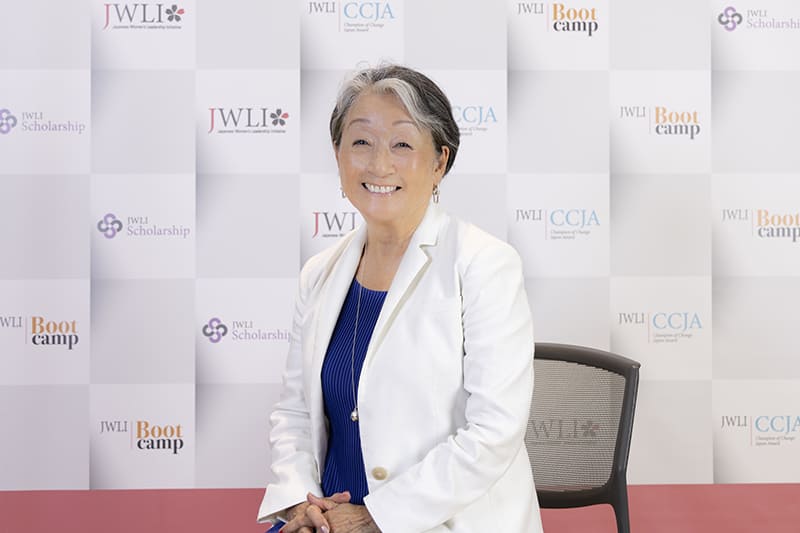 The Japanese Women's Leadership Initiative is based in Boston and aims to empower women in Japan to play leadership roles in bringing positive and innovative changes in society. It has provided executive leadership programs to more than 160 aspiring women NPO executives and social entrepreneurs for nearly 20 years.
"Even two decades ago, there were women who were striving to make changes in the society, but they were like small dots scattered across the country. Through our effort to empower and connect them, the dots gradually became lines and now that we have so many lines, they are forming a big waving surface that creates movements," said Atsuko Fish, who has represented the JWLI since founding it in 2003, in a recent interview with The Japan Times.
In July, Fish became the chairperson of the JWLI and authorized Kozue Sawame, a former program director, to represent it. After finishing her undergraduate studies at Hosei University and master's programs in the United States, Sawame worked for a nonprofit that focused on supporting domestic violence survivors in Boston, where she met Fish, who was serving as its board chair.
But it was after the Great East Japan Earthquake in 2011, several years after they had met, when they strengthened their bonds of trust through the intensive activities of the Japanese Disaster Relief Fund-Boston. The fund was launched right after the earthquake by the Fish Family Foundation, which Fish and her husband, Larry, established in 1999 to contribute to society with the spirit of giving.
"We worked together as volunteers night and day to raise money for the disaster-hit area as quickly as possible and succeeded in raising approximately $1 million to support the recovery in Tohoku," Sawame recalled. In 2012, she joined the Fish Family foundation, which administers JWLI programs.
One of the things Sawame found inspiring about Fish was her ability to make swift decisions and take action.
"For example, Fish told us about her idea to launch a scholarship. In four months, we had already made an announcement about the scholarship and started accepting applications, and in 12 months four students were selected to go to universities on our scholarship," Sawame said.
Behind Fish's agility is her sense of urgency in making Japanese society more "open, positive and inclusive." Japan's postwar period has seen the establishment of democracy and male-centered collective efforts aimed at accelerating economic growth.
"It was successful in getting Japan's economy back on its feet again. But there were people who were left behind in the process," she explained. "Though peace and democracy were gained, there has been the lack of effort in the protection of individual rights and realization of equality."
Then, after decades of stagnation, and the Great Recession, the coronavirus pandemic hit, making life miserable for those who were already vulnerable.
But some women leaders began to shed light on the social issues. The Fish Family Foundation, aside from its training programs, provides an opportunity to recognize such women through the Champion of Change Japan Award, established in 2017. Fish took inspiration from the Champion of Change Award founded by former U.S. President Barack Obama to recognize those who contribute to their communities. Fish was one of the winners of the award in 2013.
"There are many role models of women leaders who are making extraordinary contributions to the Japanese society," Fish said, emphasizing that this hopeful fact should be shared with the public to encourage more people to join or support the activities of such leaders and enlighten younger generations.
The seventh round of the Champion of Change Japan Award will be held in Tokyo's Bunkyo Ward on Dec. 12. Screenings are underway to select five winners, who will attend the ceremony where the grand prize winner will be announced.
"There have been about 200 recommendations from all corners of Japan. The candidates' ages vary from early 20s to mid-70s. In terms of the lengths of their activities, those who have been continuing their activities for more than 10 years marked the highest ratio, followed by those with five to nine years of history. These two groups together comprise about 60% to 70%," Sawame said, highlighting these women's expertise, experience and commitment. The ceremony is open to the public by advance reservation.
As the second-generation representative of the JWLI, Sawame has high hopes for women leaders to promote their activities, taking advantage of the adversity posed by Japan's low 125th-place showing in the World Economic Forum's 146-country gender equality rankings this year – the worst result ever.
"I am confident that they will transfer crisis into opportunity," she said. What drives the new leader is the privilege of witnessing someone's growth. "It is truly rewarding to see women leaders transform and foster collaborations that drive meaningful social change," Sawame said.
---