October 22, 2021
TCFD Summit weighs transition to sustainable finance, business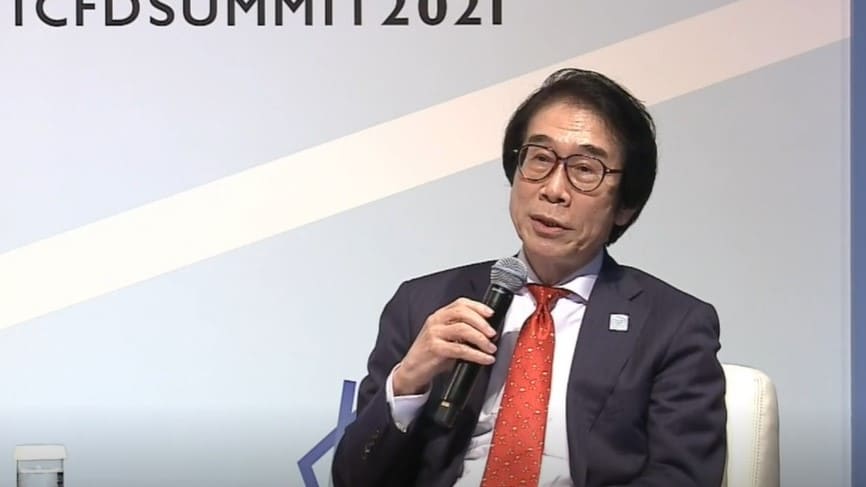 The third annual TCFD Summit on the theme of "transition" was held online on Oct. 5 over four different panels. The summit featured speakers from a wide range of sectors, including industry experts, government policymakers and transition framework setters.
According to professor Kunio Ito, chairman of the TCFD Consortium, the role of TCFD (the Taskforce on Climate-related Financial Disclosures) disclosure is to provide information for financial institutions and investors to "fund companies who are proactively tackling climate change." Japan is the world leader in TCFD, with over 500 Japanese organizations representing around 20% of global support. Among supporters is the Bank of Japan, which now requires transparent disclosure from banks to help align the entire financial sector with the nation's net-zero agenda.
---
TCFD and transition strategy
Futoshi Nasuno of the Ministry of Economy, Trade and Industry was the keynote speaker for the third panel, titled "TCFD and transition strategy." Nasuno reminded us that "transition cannot happen overnight." There are multiple pathways toward decarbonization, depending on region and sector. This year, METI has been providing industry-based decarbonization road maps and has certified three business models: transition bond, transition loan and transition link loan.
Representing TCFD, Kaja Pergar highlighted the importance of transition plans at the organization level for moving to a low-carbon economy. Pergar stressed the characteristics of an effective transition plan, which include alignment with a company's strategy and having targets grounded in quantitative climate science.
Nicholas Pfaff, head of sustainable finance at the International Capital Market Association (ICMA), was enthusiastic about the inclusion of emission reduction targets as part of TCFD's transition plan framework. He explained that target-setting approaches are "highly compatible" with the types of financial instruments that they are developing.
Speaking on the panel from the energy space were Sergio Molisani of Snam S.p.A., one of the largest energy infrastructure companies in Europe, and Michiyo Terakami of Idemitsu Kosan Co. Ltd., a Japanese titan of petroleum refining and products. On transition targets, Molisani indicated that because Snam invests around 1.5 billion euros ($1.7 billion) per year into assets with expected life of 40 to 50 years, "alignment between corporate and financial strategy is a must." Of course, energy companies' business activities are at the very foundation of advanced economies. As a result, Terakami explained, companies like Idemitsu can have a positive ripple effect throughout the entire supply chain. She understands the great responsibility the energy sector has, but admitted that showing continuous progress toward decarbonization is a serious challenge.
Due to heavy reliance on fossil fuels in the energy space, banks are crucial for providing necessary funding for transition. Bank of America's Reiko Hayashi stated that interest in transition- and sustainability-linked bonds is growing, and that the more this trend continues, the more widespread understanding of transition finance will become.
"The bottom line is that transition finance is indispensable to carbon neutrality," Ito said.
---
TCFD in the trans-Pacific area
Takehiro Fujimura of Mitsubishi Corp. facilitated the fourth panel on TCFD in the trans-Pacific region. The panel's aim was to outline TCFD's status in the region and explore the possibility of Japan encouraging more disclosure among regional partners.
Overall, TCFD is growing in the region, with Japan leading the way. Mexico has modeled its own TCFD Consortium after the Japanese one, Ayala Corp. companies in the Philippines are disclosing, and DBS Bank in Singapore is using TCFD data points for structuring transition loans.
In Japan, Mitsui O.S.K. Lines (MOL) shipping company representative Toshiaki Tanaka observed that TCFD is a "very good framework" for its business. Using the guidelines, MOL has drawn its road map to net-zero emissions by 2050. Tanaka made plain that use of the TCFD framework has helped MOL to identify risks and opportunities, including making it eligible for a transition loan at a competitive rate. The debt was used to finance two LNG-fueled domestic ferries. Unfortunately, only building eco-ships will not be enough; Tanaka explained that more needs to be done by all stakeholders to ensure a stable supply chain for LNG fuel in Japan if scaling is to become viable.
When asked how to encourage more disclosures, DBS Bank's Yulanda Chung suggested that financial institutions incentivize those companies with well-defined targets by offering better loan terms. "We structure credible transition loans for our customers by looking at company history, peer comparisons, and seeing whether or not they are lagging behind," she said.
However, emerging markets in Asia may have a more difficult time transitioning than other regions like Europe. Victoria Tan of Ayala illustrated one example: lack of technology and requisite skill sets. Asian countries "need more assistance in measuring and analyzing the impact of other gases, such as methane," she said. Additionally, she expressed her hope that climate modeling techniques available in Japan will make their way to the Philippines as well.
Fujimura ended by reiterating the main theme of the summit: Transition is vital, and financing is required for transition. The only question is how to allocate available financing, and doing that requires transparent disclosures.