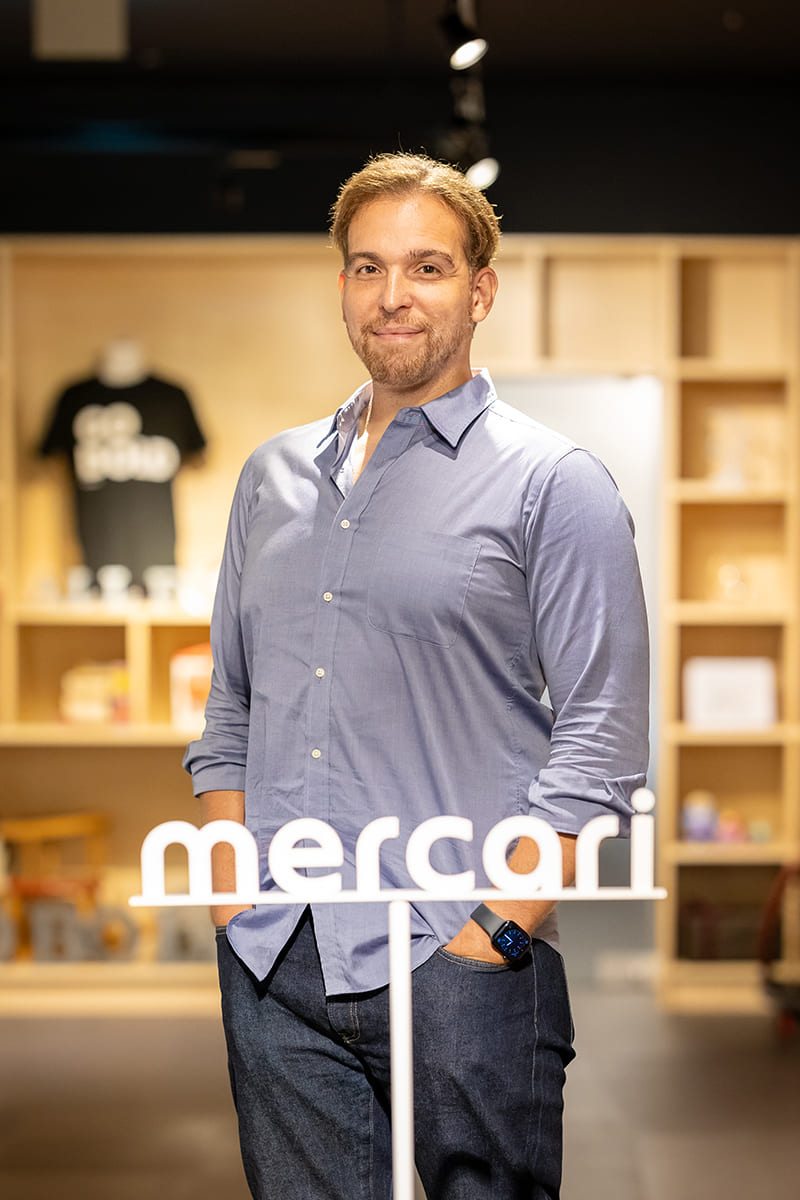 September 15, 2023
Carlos Donderis bridges work cultures at Mercari
Spaniard joined person-to-person marketplace when it was a startup
Name: Carlos Donderis
Title: Vice President of Engineering
Hometown: San Lorenzo de Escorial, Spain
Years in Japan: 13
After a 10-day visit 13 years ago, Spaniard Carlos Donderis decided he wanted to live in Japan. He had been working as a programmer, and determined that in order to distinguish himself and get a job in Japan, he needed a strong specialization. He chose testing, which he didn't like, because nobody likes it, but there was a lot of demand for those skills. After a few months of job-hunting from Spain, which involved plugging translated terms into search engines, he got an offer. Much different from the systematic tech hiring that takes place today, Donderis — now vice president of product engineering at the online person-to-person marketplace Mercari — calls the recruitment for his first role in Japan chaotic.
Added to that, within eight months of Donderis' first day, the only two people who spoke English at the company resigned. He had initially planned to stay in Japan for a year, but that event started a rugged, unmapped path to learning Japanese and the country's culture and business practices.
Along the way to joining Mercari — then a startup that had been building a reputation for hiring a lot of overseas tech talent — Donderis developed an interest in how his back-office coding fit into strategic goals. At the same time, his sympathy for newly arrived foreign engineers grew. Not only did he want to make the environment more comfortable for them, he wanted to build understanding on both sides.
"Before Mercari, I got access to good mentors, bad mentors. I worked with good managers, bad managers. And I saw the huge influence, positive or negative, that having the right manager or the right mentor might have on an engineer or a team. And I was interested in becoming one of these good managers. I became more and more interested in exploring working with people, not only with computers, and with teams, trying different setups so that the teams perform better. And on top of that, the reason why I decided to join Mercari is at that time, Mercari was going bold and hiring from abroad, and they got maybe 80 engineers or so from different countries, and almost none of them could speak any Japanese. The managers that were here couldn't really speak English. And I saw myself reflected in these engineers because I had been in their shoes for a long time. So I wanted to try to be on the opposite side this time, knowing what I know. I also saw that it was beneficial for the company because I was also one of these foreigners that can be very cocky. Japanese people don't antagonize as much, or they have a subtle way of antagonizing, but we foreigners are very loud, so I thought that because I was there as well, and through the years I also learned how to convey my message in a different way, I saw that I could be a good bridge between these two working cultures."
Now himself involved in recruiting from abroad, Donderis says the shrinking talent pool in Japan cannot supply the number of businesses. For this reason, organizations have to recruit from overseas and also have to start looking at entire teams located outside of the country.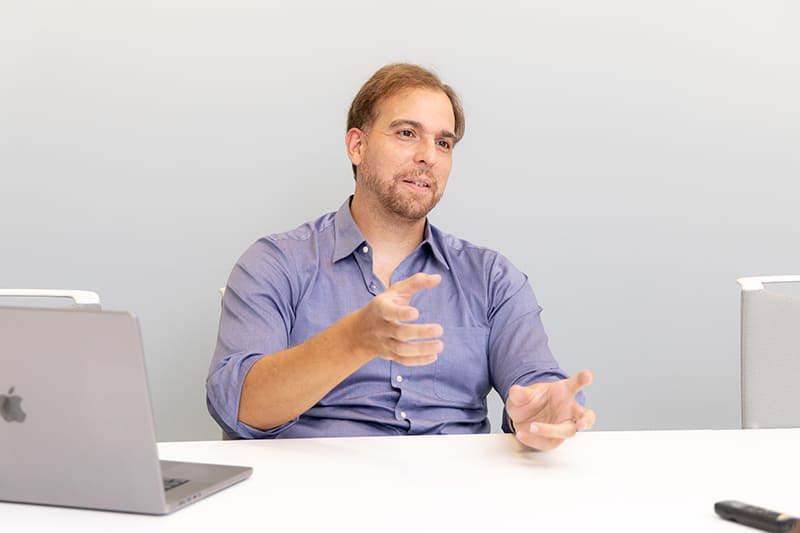 At Mercari, the ratio of Japanese to non-Japanese engineers is 50:50, which Donderis says has produced "messy" challenges. Solutions have included not just providing language classes, but initiatives such as paid-for English or Japanese lunch sessions. Across diverse teams, however, he says people who want to communicate ultimately do, regardless of language barriers.
That insight has come from Donderis' experience in other multicultural business environments. He had worked in the international hub of Panama early in his career. That professional experience, along with the fact that he had lived in the Central American country with his family as a child, might have had some impact on his agility in diverse teams.
Donderis' Spanish mother and Panamanian father moved their family to Panama shortly after his birth until he was 7 years old. He returned to Spain with memories of vibrantly colored tropical produce, salsa rhythms, the heat, and smells of his Jamaican grandmother's cooking. Another thing he brought back to Spain was a "funny accent," which led to him being bullied at school. His mother decided to send him to karate classes.
"At the beginning of karate, you sort of kneel down and meditate for a little bit, that is how all the lessons start. But I didn't know what I was supposed to do. And Spain is a very Catholic country, so I thought we were praying, and I asked my sensei, 'Is this praying?' And he told me, 'No, this is Japanese meditation, so you have to try to make your mind blank and just focus on breathing.' And I was a curious kid, so I was asking my mother, what is this Japan thing? My mother explained a little bit about the country, and we had an encyclopedia at home. So I looked for karate, I looked for Japan, I looked for Okinawa," the birthplace of karate.
As a teenager, Donderis was also interested in Japanese video games and anime. When he finally got a chance to visit the country as an adult, he was awestruck. Now married with a daughter, Donderis feels that he can make a contribution to Japanese society.
"I'm very grateful for all the things that Japan has done for me, and I think I've found my place somewhere in this society. I will never be Japanese myself, but I think I've found a spot for me and my family to contribute to the country. My wife is Japanese, so my baby is, I guess, it's a quarter Jamaican and Panamanian, Spanish and Japanese — it's a mixture of many bloods and cultures, but she's growing happy here."