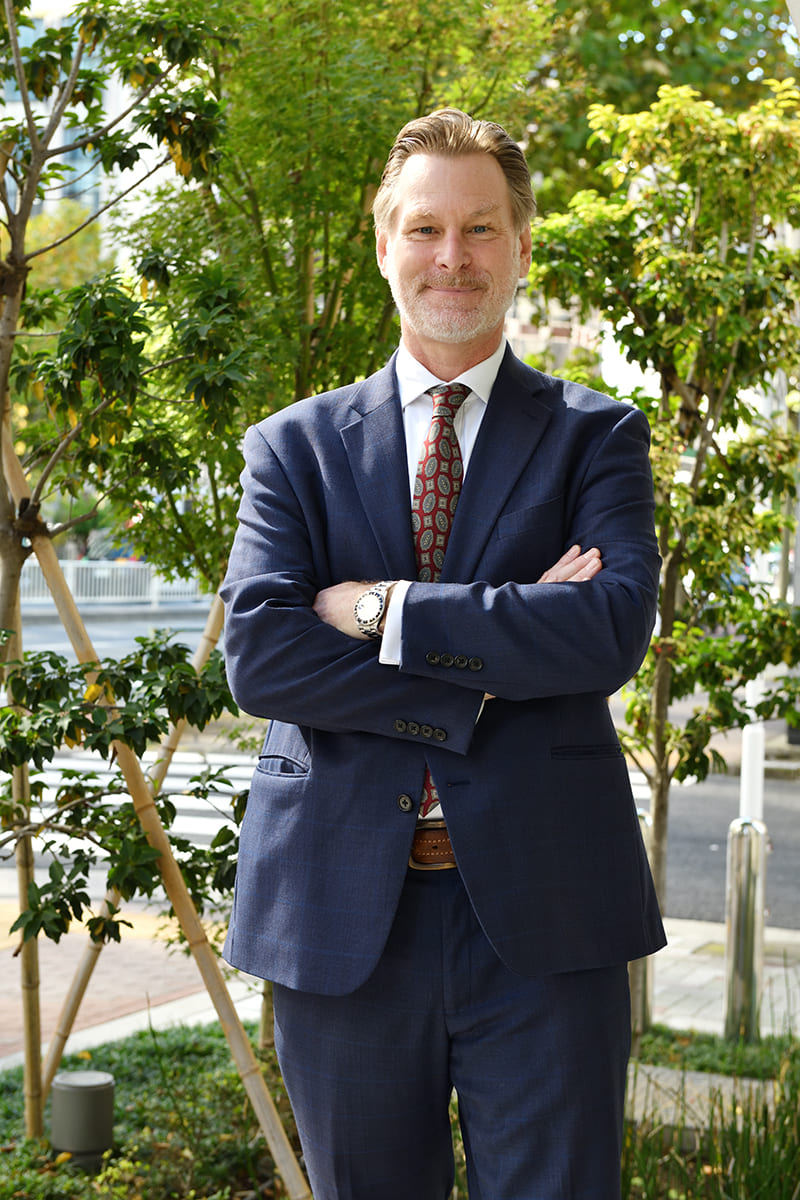 January 27, 2023
BCCJ head Lyle cultivates change for sustainability
Bicultural development consultant all about bringing people together
Name: Richard Lyle
Title: VP, Head of Government Services and President of the British Chamber of Commerce in Japan
Hometown: Kent, England
Years in Japan: 30
Inspired by the environmental movements of the 1980s and '90s while studying environmental science in England, and after reading James E. Lovelock's seminal work, "Gaia," Richard Lyle set off on a career that would see him truly live up to one of his favorite mottos: "Think globally, act locally." Over decades working both in the private sector and with government, Lyle has managed to interweave environmentally conscious solutions into everyday decisions and actions, often with market-based outcomes.
Now, as the vice president of trade and foreign direct investment at the international development consultancy Intralink, and as the president of the British Chamber of Commerce in Japan (BCCJ), Lyle feels he is in a great place to further work with companies and governments to implement sustainability locally while fostering environmentally positive outcomes globally.
With over 30 years working in Japan, the bilingual executive took time out from his busy schedule to sit down with The Japan Times and talk about how Intralink and the BCCJ are fostering positive changes over multiple sectors, why he enjoys the job and what keeps him busy.
"Intralink delivers three main services," Lyle explained. "Firstly, we provide Asia market expansion, which is helping mostly European and North American venture companies enter Asia. These include high-tech, med-tech, life sciences and companies in the decarbonization and digital space. We represent these clients in Japan and undertake business development for them."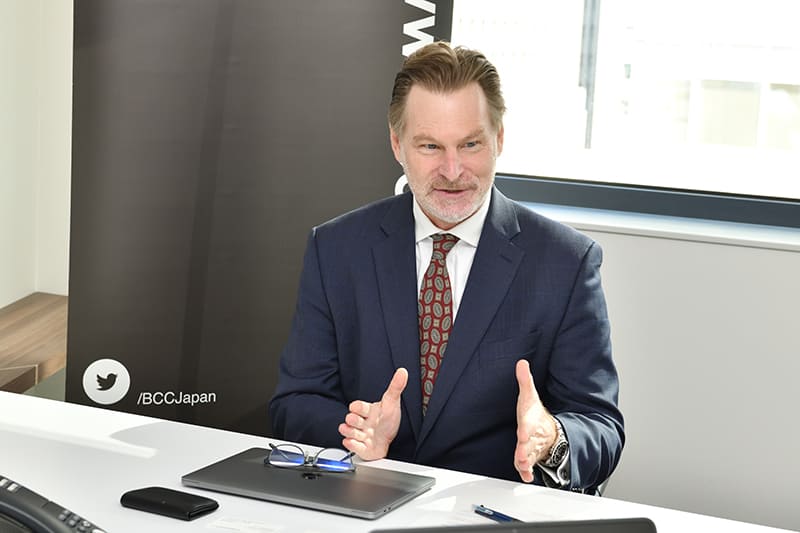 The next area of support Intralink provides is for the government sector. "We help governments and regions bring missions to Japan, undertaking market research and helping those regions attract foreign investment from the country," he explained. Recent examples are Intralink's representative work for South Carolina's Department of Commerce, in which it secured millions of dollars in Japanese foreign direct investment to build factories, as well as bringing a trade mission from Washington.
The third area is corporate innovation. "We help Japanese corporates with their innovation strategies, sourcing technologies overseas to enable them to develop next-generation products. This involves tech-scouting and innovation strategy consulting," Lyle said. With a team of 40 people in their Tokyo office and a current client list numbering 50, Lyle happily joked that it keeps them all busy: "Our clients want us to close deals, basically, and usually we do."
As a consultancy that works with smaller startups and scale-ups, especially firms without the resources and connections in Japan, Intralink proved to be an invaluable resource during the pandemic, when travel was all but shut down. "While big consultancies are very upstream, doing top-level work, Intralink also rolls up its sleeves, goes out and meets the people and gets the job done. Yes, we do the strategy, but we also go and implement it," Lyle explained. "We're fully bilingual and bicultural, and we're able to represent overseas companies here extremely well."
With his new role as the president of the BCCJ, Lyle is excited about opportunities for cooperation between Japan and the U.K. on sustainability initiatives, as well as fostering businesses to take on a more active role. "I strongly believe business has a very important role to play in sustainability and corporate responsibility," he said. "Of course the government plays its role, but at the end of the day, it's going to be technologies, services and products that companies make that will make or break us."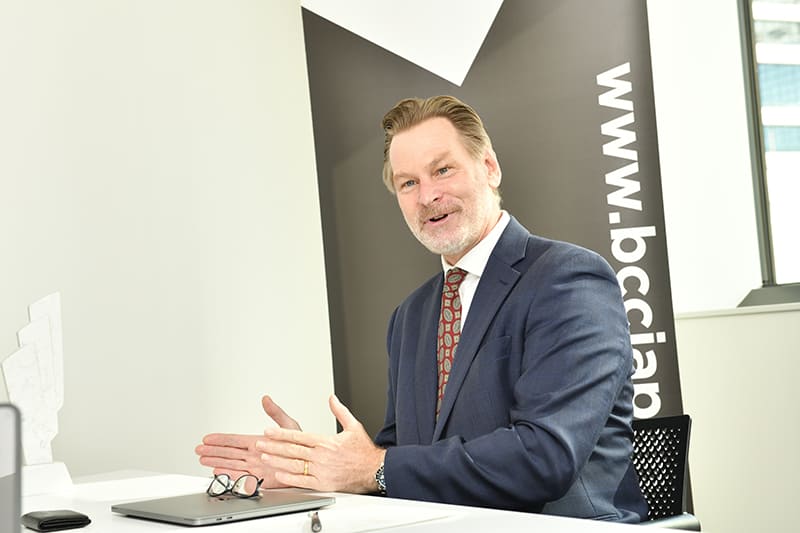 With a view from the front seat of commerce, Lyle considers that the motivation for business to become sustainable is driven by corporate responsibility — there is money to be made in the emerging sector — and that, simply, without sustainability companies won't exist. Lyle notes that Intralink leads by example, having set up an in-house sustainability committee called SusCom to find ways to reduce their own carbon footprint.
Lyle sees an important role for the BCCJ to help foster initiatives across government and the private sector. "Japanese companies look to Europe for leadership on green tech, and the BCCJ helps foster valuable connections," Lyle explained. "With technology, it's moving so fast, there's always going to be gaps, so how do you identify those gaps? That's where governments come in, because they provide the framework for it, whether it's a trade mission or an event at the British Embassy. Those initiatives start the conversation, but at the end of the day, it's businesses that can pick up those conversations and make them concrete."
The BCCJ facilitates this backdrop by holding regular events to bring together industry players in everything from agribusiness to the digital space — holding themed breakfast events, inviting guest speakers, setting up roundtable discussions. The recent "Hacking Sustainability for SMEs" meeting brought together small and medium-size enterprises with larger organizations to better understand each other's sustainability-related challenges. Lyle plans to hold a follow-up event to figure out what worked and what didn't. For Lyle, this cross-fertilization is what drives progress: "It's mainly about getting everyone into a room to talk."
Along with recently being elected president of the BCCJ and becoming the first member of the Intralink team to have worked on over a hundred projects, one job Lyle found rewarding was his work to help British nanotechnology company P2i to secure a multimillion-dollar deal to develop its ultra-thin coatings — a technology spun off from the Ministry of Defence — to sustainably protect devices and materials. He also cites securing venture capital in Japan for British startups, leading to the cybersecurity company CertiVox securing $5 million worth of investment from Docomo Ventures.
It is not just the game-changing technology that Lyle enjoys about Japan. "It's safe, it's reliable, the weather is pretty good, and on the fringe it's got some really cool subcultures." When not cutting deals and facilitating meetings, Lyle loves to try any kind of watersport, and is also a big fan of barbecuing, a passion he picked up on a trip to the United States. He now helps out with the Hayama Barbeque Club, a group of barbecue devotees, regularly catching up with friends and family for food and sunset viewing on the beach near where he lives in Hayama, on the Miura Peninsula. "It's a beautiful place to watch the sunset, and everyone's invited," joked Lyle.