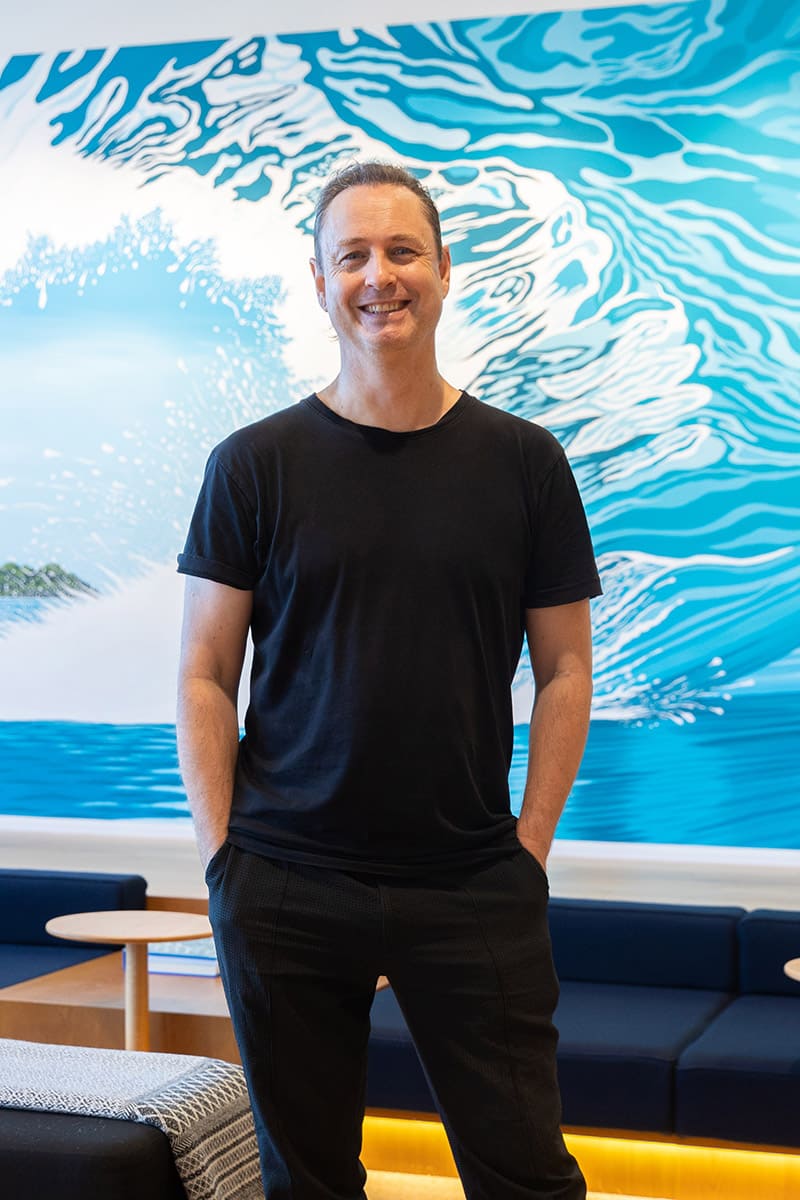 September 02, 2022
From banana stems, One Planet Cafe grows change
Peo Ekberg's fair trade company pioneers solutions from the inside
Name: Peo Ekberg
Title: Director and Sustainability Producer, One Planet Cafe
Hometown: Malmo, Sweden
Years in Japan: 28 (cumulative)
For sustainability producer Peo Ekberg, the smallest change can be an exciting chance to make a difference in the world, and his enthusiasm inspires and motivates those around him.
Originally from Sweden, Ekberg has been working in Japan's sustainability sector for more than 20 years. Together with his wife, Satoko, he runs one of Japan's first fair trade-verified companies, One Planet Cafe, training companies in sustainability basics, SDGs and strategy, while producing a fair trade-labeled paper made from banana waste.
"There are two major ways to approach sustainability. One way is from the outside, protesting or talking about greenwashing. This is how I started my career," he said with candor. "The other way is working from inside with companies and the government. After all, executives and officials are people and they have children, too. " Ekberg is now taking the latter approach, emphasizing positive solutions rather than problems.
---
Small steps, big differences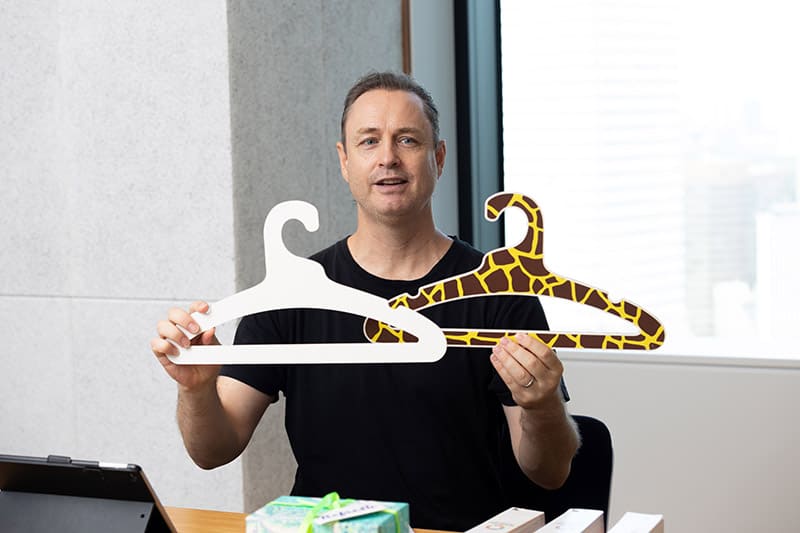 One Planet Cafe's Japan office is based in the World Gate building in Tokyo's Toranomon Hills district, utilizing WeWork Japan's coworking space there. Efforts from Ekberg have been the catalyst for two sustainability initiatives in the office environment.
As vegetarians, Ekberg and his wife were keen to see some nonmeat options on the menu at WeWork's cafe in the building. After speaking with the cafe operators and pointing out how meatless meals can contribute to sustainability, they were invited to contribute their ideas. They developed a vegan taco rice together, now the best-selling item on the entire menu.
Moreover, when Ekberg learned that WeWork was going through 2.6 million sheets of copy paper annually, he started a conversation with the admin team about sourcing a more eco-friendly option. Their collective efforts led to a switch to FSC-certified paper. (The FSC, or Forest Stewardship Council, is a multi-stakeholder organization that promotes responsible management of the world's forests.) WeWork's management liked the initiative so much that they eventually rolled it out at all their co-working spaces across Japan.
Environmental stewardship is now Ekberg's main mission in life, but growing up in Sweden he had another passion: soccer. In fact, he set three world records for soccer juggling (freestyle) while still a teenager. These included heading and double juggling, whereby two people trade off times juggling the ball with only their feet and head. While Ekberg's soccer days are behind him, he is very much on the ball when it comes to finding opportunities to connect with people.
---
Talk, show, do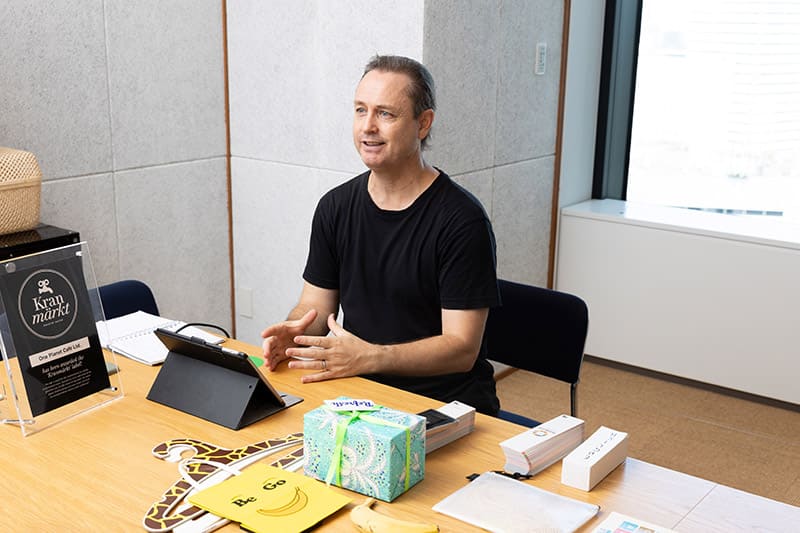 One Planet Cafe is celebrating a decade in business. Asked about the inspiration behind the name, Ekberg laughed and admitted that some people mistakenly assume he is running some kind of restaurant. "The first part of our name — One Planet — means to connect globally. Local connections are also very important, but we can't forget about the rest of the world," he explained. "And Cafe, is a place where people can come together and talk about solutions."
With bases in Zambia, Sweden and Japan, One Planet Cafe's activities on sustainability can be broadly divided into what Ekberg refers to as the "three main pillars": talk (lectures and training); show (study tours); do (SDG tools and banana paper). The first two involve working with individuals and companies to discuss and implement environmentally friendly solutions, including leading study tours to Sweden and Zambia to allow people to experience things firsthand. One Planet has worked with some of Japan's leading companies, including Fujitsu, Kao, Lush and Seven & I Holdings.
The third pillar, producing banana paper, is the heart and soul of Ekberg's efforts to show how sustainable practices can help an entire community. The business was born from a visit to South Luangwa National Park in Zambia with his wife to see the wild animals there. The people in the area were living in extreme poverty, some cutting trees for fuel to cook with and even hunting some wildlife, including endangered species like elephants and lions. The Ekbergs searched for a way to provide the people with a decent living while also protecting the natural environment.
"We found the answer in the banana farms there, and we collaborate with the farmers. The trees grow 3 to 5 meters, but after harvesting one bunch of bananas, they need to cut it back to allow a new banana tree to grow, and they throw the stems away. So we buy the stems from the farmers," he explained.
---
It takes a village
One Planet Cafe subsequently established a "green factory" near South Luangwa, employing 25 local people to extract the fibers from the banana stems. These fibers are then used to make handmade paper and cards in Zambia, and high quality machine-made fair trade paper in Japan and the United Kingdom. The paper is one of the first climate-positive papers, and is used in a wide variety of products, including notebooks, packaging, certificates and coat hangers.
The local workers in Zambia come from areas of extreme poverty and now receive a fair living wage and multiple benefits such as insurance, bonuses, paid education, micro-credit loans and paid days off, which are far from standard for most employees in the area. Ekberg points out that there has been a ripple effect, with the banana paper project now benefiting over 1,000 people in the area. Four children of team members have been able to enter university — a rare thing. With an eye to the future, Ekberg is pleased that Japan's young people are concerned about making a difference in their world. In a recent survey among Gen Z about work preferences at ethical companies, One Planet Cafe was recognized as one of the most desirable firms for new job seekers, ranking alongside famous names such as The Body Shop, Patagonia and Lush. "For me, it felt like a dream come true, as companies like these have been my inspiration," Ekberg said with palpable pride.