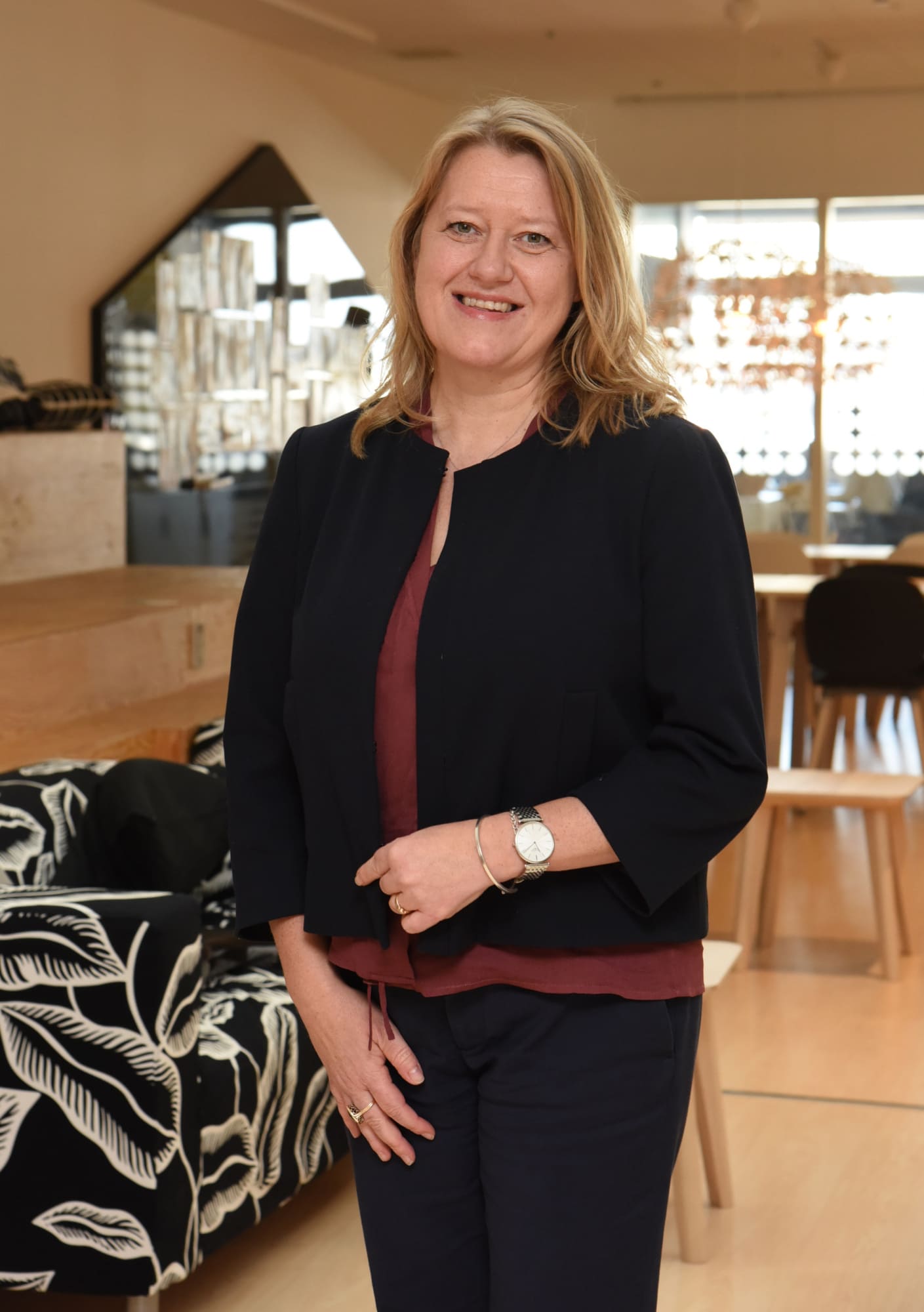 November 20, 2017
Gender equality critical for Japanese economic success
Japan head of home retailer lauded for efforts to better work environment
BY JANE KITAGAWA
CONTRIBUTING WRITER
Name: Helene von Reis
Title: President & CEO, Management, Ikea Japan K.K. (since July 2016)
URL: https://www.ikea.com
DoB: June 21, 1969
Hometown: Malmo, Sweden
Years in Japan: 1
"I've never been one of those people who's had a passion for Japan since childhood, like some people in Europe," smiled Helene von Reis, president and CEO of Ikea Japan K.K. Queried by The Japan Times about when the country "first appeared on her radar," she let out a hearty laugh. "Actually, when I was first asked the question, 'Would you like to go work in Japan?'"
That said, von Reis knew that the opportunity was too good to pass up. Indeed, she recommends that anyone thinking about living or working in Japan should take the plunge. "When my family lived [and I worked] in China," she explained, "We really liked living in an Asian country, though it's very difficult to explain what this tangible idea of 'Asia' is. But certainly, if you compare it with living in Europe or the U.S., it's another way of seeing life."
Reflecting on her background, von Reis was exposed to different ways of seeing life from a young age. Childhood vacations across Europe stimulated her curiosity about the world around her. A year spent abroad as a high school exchange student in Maine, seeing her hosts "…living the American dream, working hard and making a [consequent] success of their lives," showed her a very different lifestyle compared to her upbringing in a more socialist Sweden.
The transformation of her childhood hometown of Malmo, from a working-class shipping hub to a self-stylized "eco-city" also impacted greatly on von Reis, "It absolutely shaped me." Living by the oceanfront, she witnessed the Oresund Bridge connecting Sweden to Denmark "being built step by step." Once renowned for herring fishing, Malmo became defined by renewables and bikes.
The ideas of sustainability and living life mindfully, aware of one's environmental footprint, were further reinforced when von Reis' children attended "outdoor style" day care. From her experiences in Sweden and abroad, von Reis also developed strong feelings about gender equality and how that manifests in the workplace.
"Of course it was fantastic to receive [the award], but it was not so much about my efforts," emphasized von Reis, when discussing this topic and the Forbes Japan Women 2016 Award she received last year. "Ikea Japan has worked extremely hard over the last three to four years on creating equal conditions with equal pay for equal work and benefits being the same whether you work part time or full time. I really think that this is so important in Japan, and many, many more companies need to do the same for Japan's success and economic growth."
On the issue of work-life balance and identity, von Reis acknowledges she has a supportive husband. "But I think it's also something that I had to decide for myself that I am first, and foremost, a mother. And then I work for Ikea, and I'm a CEO." She understands that for others it won't necessarily be the same, but remains positive.
"I like to be visionary, so I like to think that Japan will realize that their biggest growth factor is women. And to get the opportunities for women going, with whatever it takes. Day care, salaries, promotions; it's so obvious that we are sitting on double-digit GDP growth in Japan if we can get all the well-educated women into the workplace. I would like to believe that is the path forward."
Leaning back into a Stockholm sofa, von Reis responded enthusiastically to a question about her ideal Japanese dinner party guests, citing mostly politicians to discuss issues such as gender equality and Japan's growth at a time when population numbers are stalling. "Prime Minister Shinzo Abe, Tokyo Gov. Yuriko Koike, Mayor of Yokohama Fumiko Hayashi, Nagakute Mayor Ippei Yoshida — he's the type of leader you would like to see anywhere in the world, with a passion and a vision for his work — and from an Ikea perspective, the designer of one of our best-selling items, the Poang chair, Noboru Nakamura. He would be a bridge between Japan and Sweden, so to speak, and could talk about the home furnishing dimension," she said.
Full of admiration for Nakamura, who traveled to Sweden in 1973 to learn more about Scandinavian furniture despite not knowing any Swedish, she says his curiosity was integral to the collaboration's success. The chair was also sustainable and innovative for its time.
Curiosity was certainly a deciding factor in her coming to Japan, and von Reis concedes the emotion being an innate trait. "I've always been curious and interested in the world around me. Communication has always been a tool to try to understand the world. So I think the red thread through my life in many regards is communication. And I think it also subconsciously made me choose different paths in life because I believe so much in communication between people."
But for von Reis, communication is more than language. She again mentioned Nakamura's time in Sweden before relaying her own experience.
"I think one of my biggest takeaways from living in China is that leadership is not about language. Leadership is about behavior. I don't speak Mandarin, and I was the only Westerner at the Shenzhen store. I had to lead and show via my behavior. When you don't speak the same language, your body language becomes much more important than it ever is when speaking the same language as each other."
---
Global experience shapes corporate outlook
A native of Malmo, Sweden, Helene von Reis assumed the post of Ikea Japan president and CEO in July 2016. Her first "posting" abroad, however, was a year spent in Maine, as a high-school exchange student. Von Reis began working for Ikea Communication, the division responsible for the company's catalog based in Almhult, in 1998, after graduating from Lund University with a degree in marketing and communications. From 2003 to 2007 she worked as Ikea Sweden's information manager before returning to Ikea Communication as managing director. In 2011, von Reis moved to China where she held the position of store manager at Ikea Shenzhen. A three-year stint in the United States followed, where she served as deputy retail manager of Ikea U.S. from 2013 until her transfer to Japan. Von Reis received a Forbes Japan Women Award 2016 that year, the only non-Japanese awardee, in recognition of Ikea Japan's efforts to promote a gender-equal working environment.