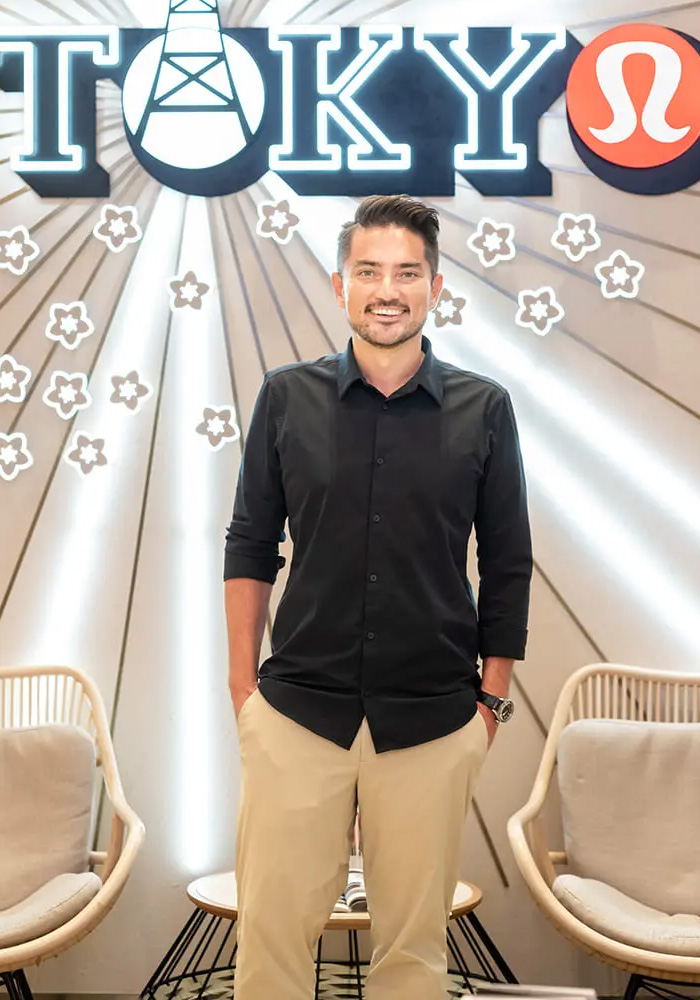 November 28, 2022
Lululemon leader takes change and runs with it
Tudor expands athleisure brand as lineup, Japanese society grow
Name: Stewart Tudor
Title: Managing Director and Country Manager, lululemon
Hometown: Tokyo
Years in Japan: Over 25
Stewart Tudor came on board with the athleisure brand lululemon in March 2020, just as COVID-19 hit. While the pandemic has undoubtedly brought many challenges, it has been also the catalyst for positive developments in Japanese society, and Tudor believes the company is well-placed to meet the latest needs. With roots in both Japan and the U.S., the bicultural executive met with The Japan Times to talk about the latest developments at lululemon and to share his thoughts on what lies ahead.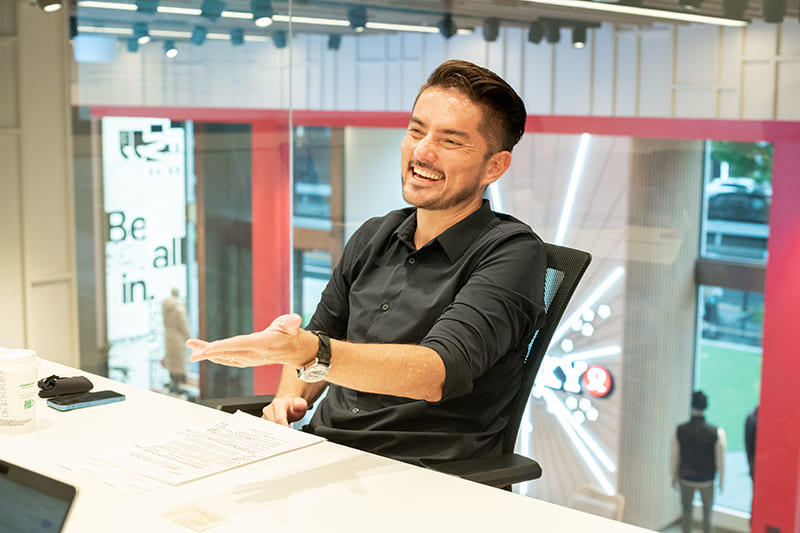 ---
Tough times, positive changes
Tudor pointed out that the pandemic has had a major effect on fashion trends, with more people working at home and increasingly interested in wellness and working out. "In many ways, I think this makes lululemon being in Japan quite timely. I am honored to be able to contribute to that in some way," he said.
Tudor noted that tough times, serving as agents of social change, often bring out the best in people. "I was here for the 2011 Tohoku earthquake and tsunami disaster, and I noticed that tremendous growth occurred in digital communications around that time," he said. "In terms of the COVID-19 pandemic, I think it is more about thinking in terms of well-being and investing in yourself."
He believes that Japan is moving in a positive direction in this respect. "We come from a culture of gaman (endurance) here, and that is commendable — there will always be an element of gaman. However, I think people have woken up and have started treating themselves a little bit better."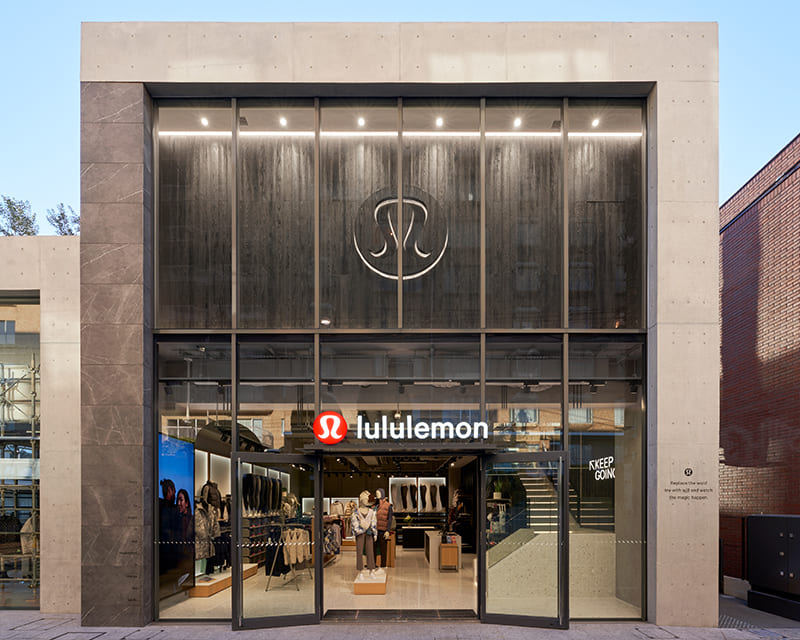 ---
Customers as valued guests
The company places priority on helping everyone who comes to the store get the most out of the experience. Customers are referred to as "guests," while staff members are "educators." Tudor explained that educators take time to get to know their guests and their needs, often spending 30 to 45 minutes with each one for a curated shopping experience.
It was this aspect of the brand's business model that first attracted Tudor's attention. "At one of my former companies I was in charge of how to create the theater and communication for our products. Everything about retail is storytelling, and you want tell that story in the right way. When I went to New York to do some research in 2016, I stumbled upon lululemon lab in Soho and I was blown away!" said Tudor, who was based in Portland, Oregon, at the time.
"They had everything: a connection between the guest and the company, and getting feedback from the guest in terms of design or intent, and what needed to be modified or adjusted. I had never seen a company that was so in touch with the guest, and it was done in such an intuitive way," he noted.
Two years later Tudor returned to Japan as vice president for WeWork, a provider of co-working spaces, before taking on his current position in 2020. "With lululemon expanding into Japan, being the steward of a major brand from abroad has been a dream for me."
Following the opening of the Aoyama store this month in Tokyo, Japan now has a total of eight lululemon locations in Tokyo, Osaka and Shizuoka. The product lineup of lululemon has seen major changes since the Roppongi flagship store opened in June 2020. It has expanded from being known primarily as a women's yoga brand to now include apparel for golf and hiking, jackets and even comfortable business wear. "In essence, we have gone 'beyond yoga.' Anyone can wear lululemon," Tudor said, adding that there are plans to expand global stores fourfold by 2026.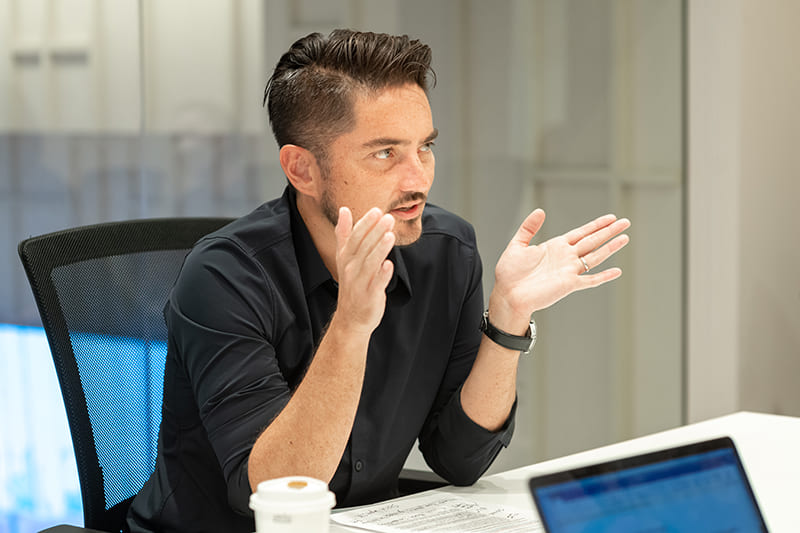 ---
Rising to the challenge
Tudor is excited to see what lies ahead and how lululemon rises to meet new challenges. "People want to know what brands are doing, and how they're impacting society; there's a reprioritization of values. There is an urgency in the world, and I feel it, too," he said. "It's great that we are getting called out and that companies all around the world are starting to speak up. I think the fuse has been ignited, and the question is how fast we can make these changes."
Tudor points out that lululemon's products are designed to be worn and enjoyed for 10 or 15 years — or more. The company recently introduced lululemon Like New in the U.S., a trade-in and resale program that operates both in-store and online. Tudor is looking forward to implementing the program in the Japanese market in the future. Moreover, with a global target of using all sustainable materials by 2030, lululemon has been steadily incorporating innovative solutions into its product lines. In 2021, for example, they developed a 100% recycled polyester fabric, which is now being used for the pockets in men's apparel.
When he isn't taking care of business, Tudor enjoys spending time with his family. A dedicated rower during his high school and college years in the USA, he later switched to running. These days he and his wife go for regular runs together as a way to connect and de-stress. He is also the proud father of a 12-year-old daughter and a 6-year-old son. Spending more time at home during the pandemic has allowed Tudor to connect with his children on a deeper level, as well as take a more active role in managing things at home after his wife returned to her teaching career.
"I love cooking for the kids. I didn't cook all that well before, but now my son and daughter often ask, 'Did Daddy make this?' I do a pretty mean roast chicken with rosemary potatoes!" he said with a smile.