July 26, 2021
Architect Kengo Kuma reapplies wood to create 'spiritual sustainability'
ARCHITECTURE
INTERVIEWER: YOSHIKUNI SHIRAI WRITER: TOSHICHIKA IZUMI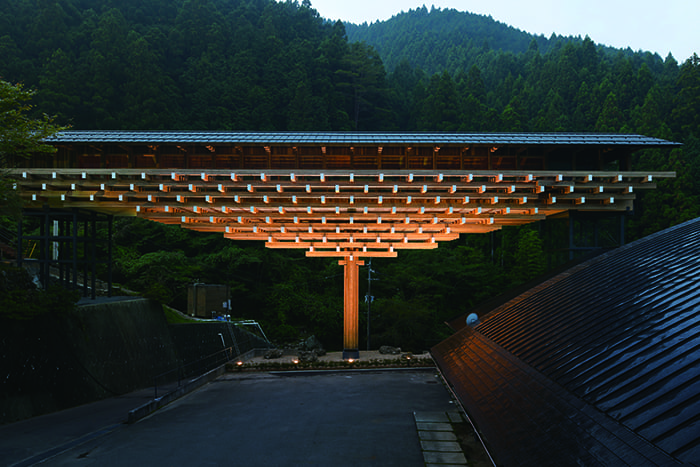 Many Japanese architects have successful practices that span the globe, but few compare with Kengo Kuma in sheer number of projects.
Based in Tokyo, with a second office in Paris, Kuma currently has more than 200 projects underway in Japan and abroad. Having worked on the new National Stadium, the main venue for the Tokyo Olympics and Paralympics, Kuma is without doubt one of the nation's leading architects. We sat down with Kuma to hear his thoughts on the future of architecture, and on contemporary architecture's relationship with wood.
"From the very beginning, traditional Japanese architecture has been made of wood and has been designed with harmony with the natural environment in mind," Kuma said. "For example, in houses there are eaves and also deep awnings designed to control exposure to sunlight. Open up the shoji (sliding doors) and a cooling breeze will enter, and an indoor space will become one with the garden and external scenery. The floors are made from wooden boards and tatami mats, both of which are derived from plants. One of the main styles of traditional Japanese housing is known as shoin-zukuri. If you visit Japan, I hope you get the chance to look at some examples. One of the best would be Kojoin Kyakuden at Miidera in Otsu, Shiga Prefecture, which is a National Treasure."
Shoin-zukuri was a style of residential architecture favored by high-ranking samurai around the Muromachi Period (1392-1573), in which a living room doubling as a study (shoin) was at the center of the house. Floors are covered with tatami mats, and there is a tokonoma alcove — it is the architectural style most commonly associated with traditional Japanese houses.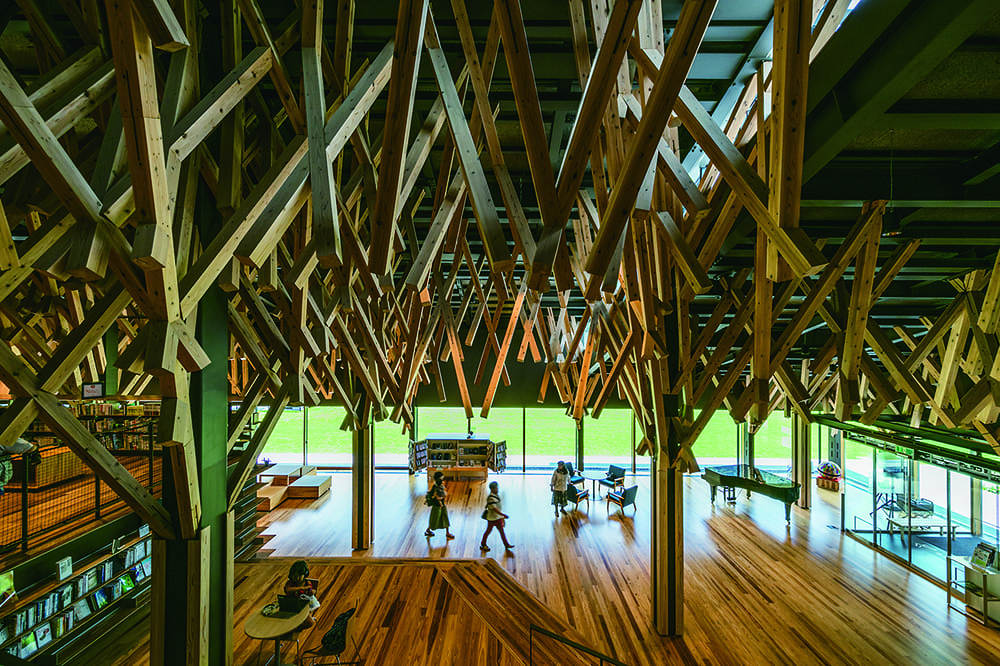 "That environmentally friendly and sustainable Japanese architecture exemplified in shoin-zukuri lost many of its good parts, especially since the period of high economic growth after World War II," Kuma said. "Many square buildings made of concrete and steel were made, wood was no longer used, roofs and shades were lost. My idea is to reapply the wisdom of traditional Japanese architecture to contemporary architecture."
Many of the buildings you make use wood. Why is that?
"The choice of wood of course stems in part from the need for sustainability to counteract global warming, but at the same time, I think wood has the effect of creating 'spiritual sustainability' for those who inhabit a space. In other words, wood as a material has the effect of relieving the stress that builds in humans in a dense city — just by placing wood in a space, you can change that space's essence completely. This is what I discovered — that beyond any 'sustainability' that scholars might measure in numbers, there is something much greater that wood brings to an interior."
So what was it that made you aware of wood as a material, and its ability to transform the quality of a space?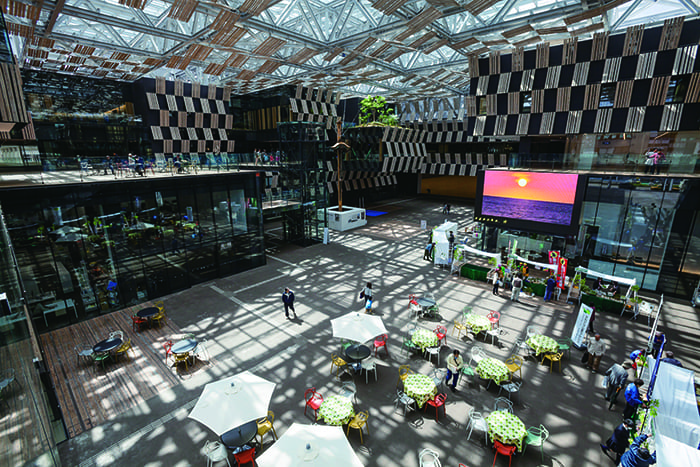 "The turning point for me was when I became involved in a town called Yusuhara in Kochi Prefecture, which had a thriving forestry industry. I first visited in 1992, just when the bubble economy burst, and I had some time on my hands. I got involved in a movement to preserve a wooden theater down there. Until then, I had only built in Tokyo, so I had never really had to reckon with wood as a material. But in this town I tried making six buildings with wood — a town hall, hotel, museum and others — and I had to learn about it as a material: its architectural expression, psychological effect on users and the need to address environmental problems. I came to understand wood's potential."
One of Kuma's buildings in particular possesses the essence of traditional Japanese architecture: the multipurpose Aore Nagaoka facility, in the Niigata Prefecture city of Nagaoka, which includes the City Hall.
"There is a semi-outdoor space called Nakadoma between the City Hall and the City Assembly chambers. It is a place for the citizens to relax, where a pleasant breeze is allowed in. In other words, instead of creating a closed-in air-conditioned space for people to spend their time, we've created a space that in traditional houses would be akin to the doma (internal areas of earth flooring where shoes are worn) or engawa (wooden porches around a house). Those spaces are also both simultaneously internal and external, and naturally air-conditioned. That's the kind of sustainable thinking I've tried to incorporate."
An exhibition of Kuma's architecture is being held in Tokyo at the National Museum of Modern Art until Sept. 26 (https://www.momat.go.jp/english/am/exhibition/kumakengo/). One of the exhibits, "Kuma Looks to Cats to Show Us the City's Future," is particularly interesting. Completely opposite to the kind of city planning proposed by architect Kenzo Tange in 1960 during Japan's period of rapid economic growth, Kuma's proposal is to think of the city from the perspective of a cat, much closer to the ground than humans. In an era when we have to address sustainability in a range of situations, thinking about things from a different perspective may just provide clues for a pathway forward.
---
建築家・隈研吾が語る、木のサスティナビリティ。
日本人建築家の中で、一番多くの建築プロジェクトを抱えるのは隈研吾に間違いない。国内外で200件以上のプロジェクトが同時進行している。東京五輪のメインスタジアム<国立競技場>の設計に参画するなど、日本を代表する建築家だ。その隈研吾に「現代建築と"木"の関係」について聞いてみた。「木を使用することには、いわゆる地球温暖化を防ぐためのサスティナビリティという意味もありますが、それと同時に、その空間を使う人にとって"精神的なサスティナビリィティ"を生む効果があると考えています。つまり、木という素材には、高密度な都市の中で人間が感じるストレスを、やわらげるという効果があるということです。木を空間の中に置くだけで、その空間の質が全く違うものに変わってしまう。木を建築の内部空間などに使用すると、学者などが数値を使用して示すサスティナビリティ以上の"何か"が建築に現れる、ということを知ってしまったのです」。
Return to Sustainable Japan Magazine Vol. 2 article list page