July 26, 2021
The cool, smooth touch of century-old wood This summer, experience life in a kominka
TRAVEL
WRITER: ARINA TSUKADA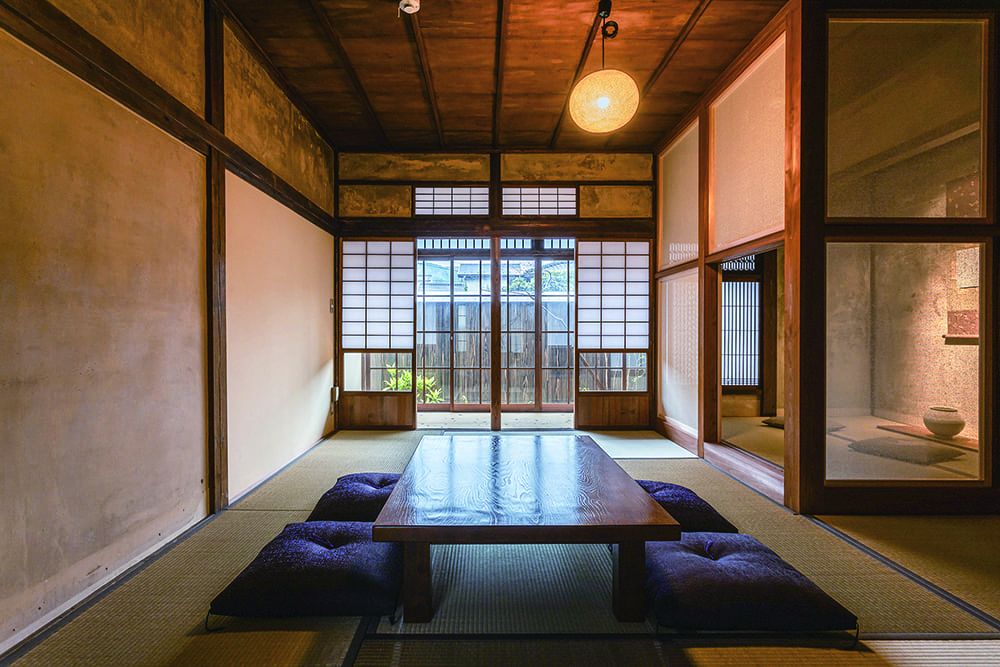 Traveling across Japan, wooden houses with tiled roofs are a regular sight. Today these traditional houses, known as kominka, are enjoying a resurgence in popularity. There is no clear definition of a kominka, but most houses that receive the appellation are of wooden construction and between one and two centuries old. The main appeal of kominka is the natural timber used for floors, ceilings, support pillars and other parts of the house. After long decades of use, this timber takes on a deep, warm patina.
Kominka are generally designed to ensure good ventilation, important in a country as humid as Japan. The space inside the house is partitioned by thin paper screens, with little clear demarcation even between interior and exterior. Corridors known as engawa open directly onto gardens, forming a mild buffer between interior and exterior that gives the space a mysterious depth. Sitting in an engawa and listening to the birds and insects outside, one understands how these houses were conceived of as part of nature itself.
Opportunities to experience life in a kominka through temporary stays are increasingly prevalent. Old buildings are renovated in accordance with contemporary style and made available as accommodations. Some are divided into individual suites, while others are offered as a whole. Renovating and continuing to use old buildings instead of constructing new ones is truly sustainable. And unlike hotels and ryokan inns, renovated kominka can give travelers an experience almost like living in a real traditional house. Here, we introduce three accommodation facilities housed in renovated kominka, each one offering a unique encounter with a structure shaped by the local climate and history.
---
Nipponia Hotel Ozu Castle Town
Where the whole town is the hotel
A private journey through castle town history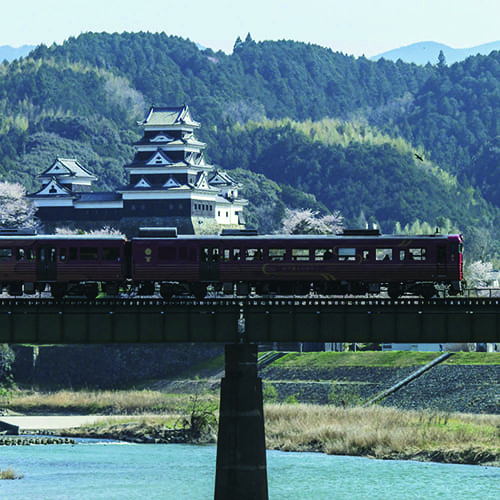 The city of Ozu is located at the western edge of the island of Shikoku, 2½ hours by plane from Tokyo. Often called "the Little Kyoto of Iyo Province" (the old name of Ehime Prefecture), it is a castle town that produced more than its share of renowned military commanders over the centuries. Nipponia Hotel Ozu Castle Town, which opened in the summer of 2020, is made up of multiple kominka and machiya townhouses scattered throughout Ozu, turning the entire city into a single "distributed hotel." Residences formerly belonging to prosperous samurai or merchant families have been renovated into luxurious accommodation facilities where visitors can experience the region's history almost as if traveling through time. One building was constructed in the Taisho Era around a century ago as a residence for a former feudal lord, skillfully integrating Western-inspired modern flourishes into the refined forms of early modern Japanese architecture. Another was built by a wealthy merchant during the same period and is noteworthy for its luxurious private garden, complete with engawa where visitors can sit and gaze at the garden while breathing in the scent of old timber. There is even a "castle stay" option offering accommodation inside Ozu Castle itself, which is a Designated Cultural Asset. This is the first program in Japan allowing visitors stay inside an actual castle, representing a rare, private opportunity to live like a feudal lord.
---
Iwami-Ginzan Kurasu Yado
Learning a lifestyle through architecture
Journey to a way of life from two centuries ago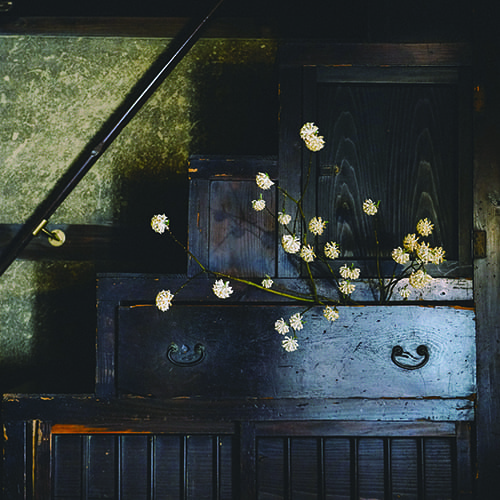 The Iwami Ginzan silver mine was inscribed on the UNESCO World Heritage list in 2007, partly in recognition of the four centuries of mining history it represents. Right nearby is Iwami-Ginzan Kurasu Yado, where old Japanese landscapes and ways of life can still be experienced. Kurasu is Japanese for "spend one's days" or simply "live," and just as the name suggests, Iwami-Ginzan Kurasu Yado offers a relaxed, congenial taste of life as a householder in a traditional town. The facility includes two buildings. The first, Takyo-Abeke, was originally built as a samurai mansion in 1789. More than 10 years were spent on renovating it from near-ruined condition before reopening it to visitors in 2008. Household furnishings and tools from a former age have also been restored for use, including the kamado stove and stone basin. At mealtimes, all visitors sit down around the same table to enjoy seasonal home-style cooking made using the freshest local ingredients. The other building, Tadaima Katoke, is also a renovated samurai mansion, and caters to visitors seeking a longer stay in the area. (Reservations are not currently being taken, as the building has a long-term resident.)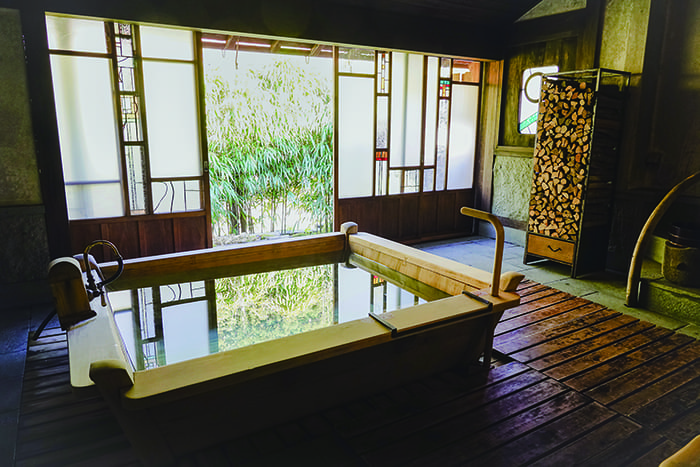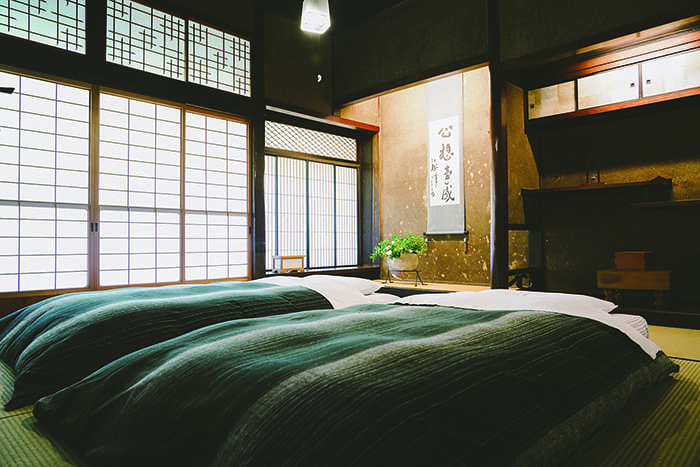 ---
Azumi Setoda
Experience sukiya-zukuri aesthetics
Architecture designed for continuous coexistence with nature
Setoda is a small town on Ikuchi Island in the Setouchi Inland Sea. Administratively it is part of the city of Onomichi, Hiroshima, one end of the Shimanami Kaido bridge connecting Honshu to Shikoku. Rich in natural beauty and resources, Setoda prospered as a center for salt-making and fishing, with the local Horiuchi family rising to prominence as wealthy merchant traders in the 17th century. Azumi Setoda, which opened in March this year, lets visitors experience a stay in the former Horiuchi residence, fully renovated for modern comfort. The original building was constructed in 1876, with no expense spared on gathering the finest materials and most skilled artisans from across the country. The restoration was overseen by architect Shiro Miura, a specialist in the traditional sukiya-zukuri style of architecture. Miura's work has created a contemporary space for today's visitors that incorporates key elements of the original design, such as the wooden pillars and shoji partitions. There are multiple inner gardens on the grounds, and the positions of the trees and rocks in each are carefully calculated to ensure that guest rooms and corridors facing the gardens always enjoy light filtered through leaves. Combined with the brisk breeze off the Setouchi Inland Sea, this offers guests a fully immersive experience.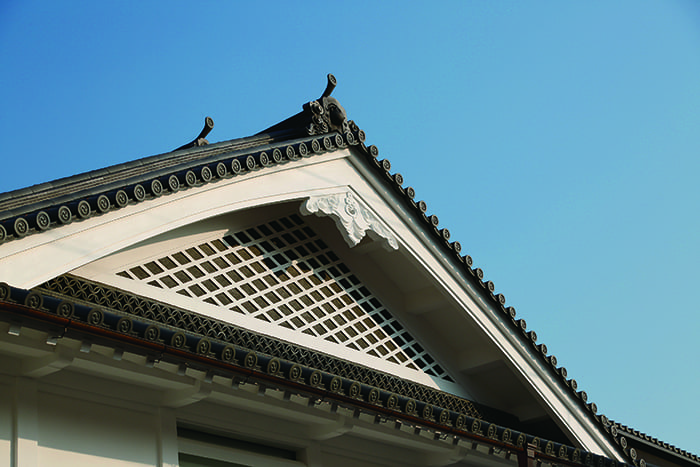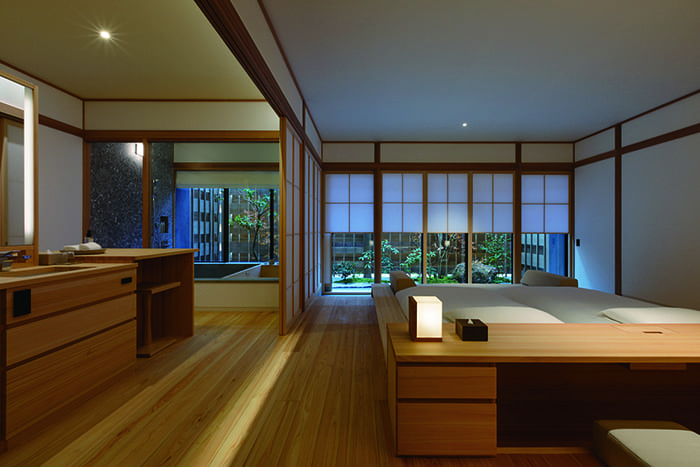 ---
この夏は、古民家の暮らしを体感する旅へ。
日本各地を旅すれば、そこかしこに木造で瓦屋根という家を見つけることができる。これらは「古民家」と呼ばれ、近年人気を集めている。古民家における明確な定義はないが、主に100~200年前に建てられた木造の家のことを指す場合が多い。
古民家の魅力は、第一に天井や床、柱など家の随所に天然の木が使われていることだ。長い年月を経た木の風合いは味わい深く、おだやかな温もりに包まれる。また高温多湿の日本では通気性を良くするため、仕切りは薄い障子紙で区切られ、庭や外の空間との隔たりが少ないのも特徴だ。特に「縁側」と呼ばれる庭に面した廊下は、室内と屋外をつなぐゆるやかな境界であり、この場所が空間に不思議な奥行きをもたらしてくれる。
そんな古民家の暮らしを体感できる宿が続々と増えている。新しく建物を建てるのではなく、古い建物を改装して使い続けることは実にサスティナブルだ。そして従来の旅館やホテルとも異なり、その家に暮らすかのような体験が可能になっている。
Return to Sustainable Japan Magazine Vol. 2 article list page