June 24, 2022
Looking back at the first Destination Restaurants
LIST OF 2021
By TOSHICHIKA IZUMI, TRANSLATOR:EDAN CORKILL
Couldn't we make a restaurant guide here in Japan that really reflects the Japanese climate, spirituality and values, rather than have to rely on guides and rankings that are run by organizations from other countries? From this simple question was born Destination Restaurants, a list of the best restaurants in Japan selected by Japanese experts with foreign diners in mind. These days we are told, for example, that Tokyo has the most Michelin-starred restaurants in the world. And yet, the truth is that those restaurants are chosen on the basis of international criteria and values, and it is hard to avoid the conclusion that they don't really capture the minutiae of Japan's highly nuanced cooking methods, its ingredients and the regional diversity of its restaurants. The Japan Times, which was first published in 1897, was born from a concern that the English-language newspapers of the time were only conveying what foreigners saw in Japan, and not what Japan itself wanted to convey. Adopting that same philosophy, Destination Restaurants kicked off in 2021 with the desire to showcase Japanese food culture as chosen by Japanese people.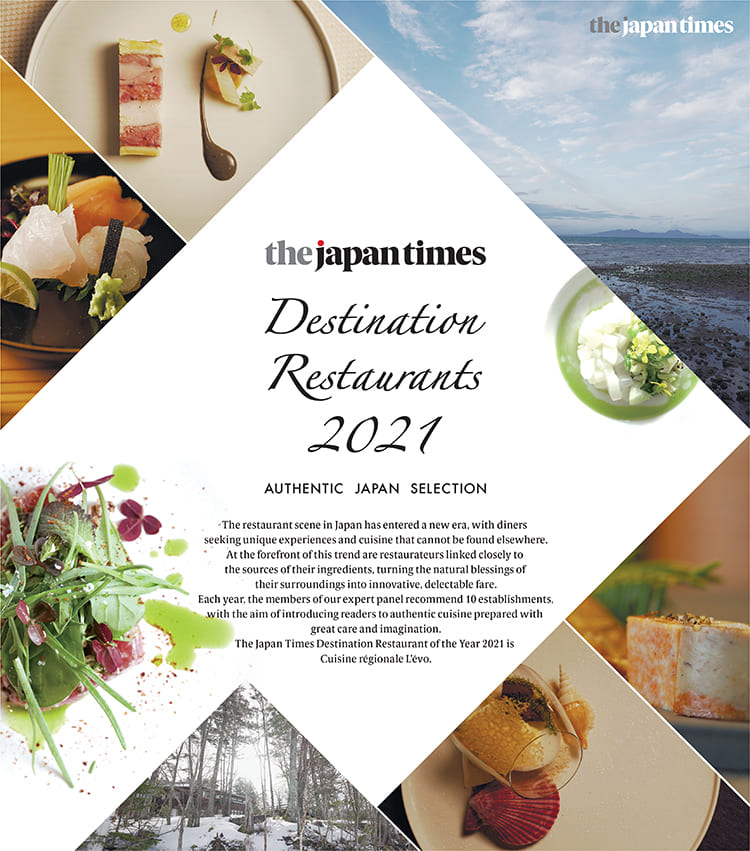 The Destination Restaurants judges, back for a second year, are Yoshiki Tsuji, Naoyuki Honda and Takeshi Hamada. All are familiar with both domestic and global restaurant trends and, more than anything, love restaurant culture. They decided that the chief criterion for the new list would be to exclude restaurants located within the 23 wards of Tokyo or Japan's 20 designated major cities. They had three reasons. First, they believe that the true expression of Japan's land and climate is to be found in its regional areas, not its cities. Second, they think it is important to unearth those unique talents that tend to get lost in regional areas. And, finally, they believe that a regional-focused list provides an alternative to the many other popular restaurant rankings.
In recent years, The Japan Times has paid close attention to the efforts of people and communities in Japan's regional areas and has introduced readers to many of their activities. When considering the sustainability of economies and the environment, the role of regional restaurants cannot be overstated. Restaurants capable of attracting diners from all over the world have a tremendous impact on local economies, with the benefits even flowing through to local agriculture and fishing. In addition to the economic aspects, such restaurants also help preserve local food cultures and the natural richness of regional areas for future generations, and even help people regain their local pride.
Japan, which stretches broadly from north to south, is 70% forested and has the sixth-longest coastline in the world. The country's climate, flora and fauna are highly diverse. In this rich natural environment, it is possible to derive great pleasure not only from the wide range of unique dishes you can find, but also from the unique scenery you might witness on the way to a restaurant, or from the creativity of the chef. Covering all these aspects of the dining experience, Destination Restaurants is your total guide to Japanese food culture. Each year we will select 10 must-visit restaurants. We hope you will enjoy them.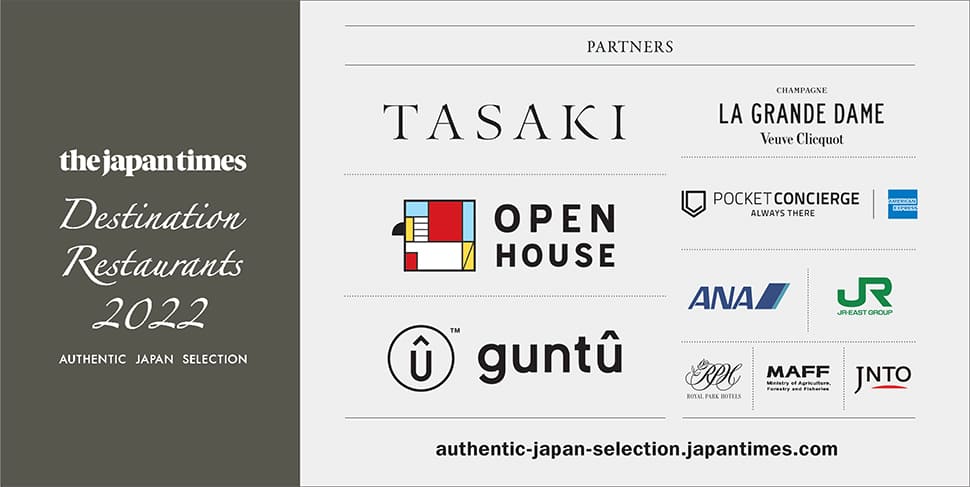 ---
「ジャパンタイムズ」が地方レストランに注目する理由。
海外の評価機関を母体にしたレストランガイドやランキングではなく、日本の風土や精神性などを反映させた、日本発信のレストラン・セレクションをできないか。そんな考えから生まれたのが、日本人が選ぶ、世界の人々のための、日本のレストランリストである。今年第2回目の選定も含め、選考は、辻芳樹、本田直之、浜田岳史という、国内外のレストラン事情に精通し、何よりレストラン文化を愛してやまない3氏が行っている。
「ジャパンタイムズ」では近年特に、日本の地方の人や街の取り組みに着目し、その活動の一旦を紹介してきている。持続可能な社会や環境を考えるうえで、地方にあるレストランの地域社会に対する役割は重要である。なぜなら、世界中からゲストを集めるレストランが地域経済に及ぼす経済効果は大きく、その存在は、地域の農業や漁業に刺激を与え、活性化を促す作用があるからだ。
また、それは経済的な側面だけではなく、その地域が持つ食文化や自然の豊かさを次世代に残し、その地域に住む人々の誇りを取り戻すことにも繋がる。
Return to Sustainable Japan Magazine Vol. 13 article list page