February 24, 2023
Dewaya: Pure flavors of local northern cooking
Destination Restaurants 2022
By TAEKO TERAO, TRANSLATOR:WINIFRED BIRD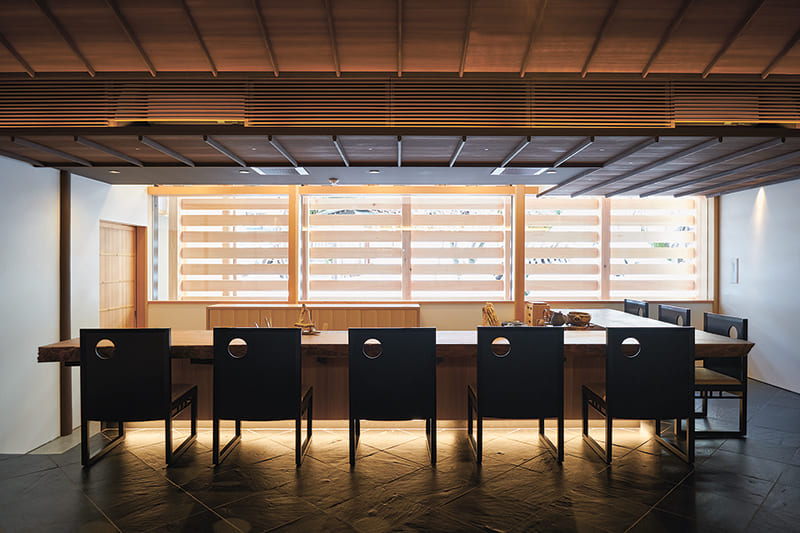 The town of Nishikawa, home to the Dewaya restaurant and inn, is about 40 minutes by car from Yamagata Station. Nestled in the foothills of the famous Mount Gassan, the town receives a lot of snow even for Japan's snowy northern region, sometimes piling up to more than 5 meters by February. The population is just under 5,000 people. Sericulture, forestry and mining once thrived in the area but have since declined, now replaced by the tourism industry, which centers on summer hiking, spring skiing and hot springs on and around Mount Gassan.
Dewaya was established in 1918 as an inn serving ascetics traveling to the Three Mountains of Dewa — Mount Gassan, Mount Yudono and Mount Haguro — which are objects of veneration for followers of Shugendo and other mountain-worshipping religions. Haruki Sato is the fourth generation to carry on the family business, learning his trade at a high-end Japanese restaurant in Tokyo and elsewhere before returning home to Nishikawa in 2013.
"The first thing I did was build connections with traditional hunters, skilled foragers of wild vegetables and other local food producers. That strengthened my commitment to making the natural abundance of Mount Gassan and wild vegetable dishes the focus of the restaurant," he said.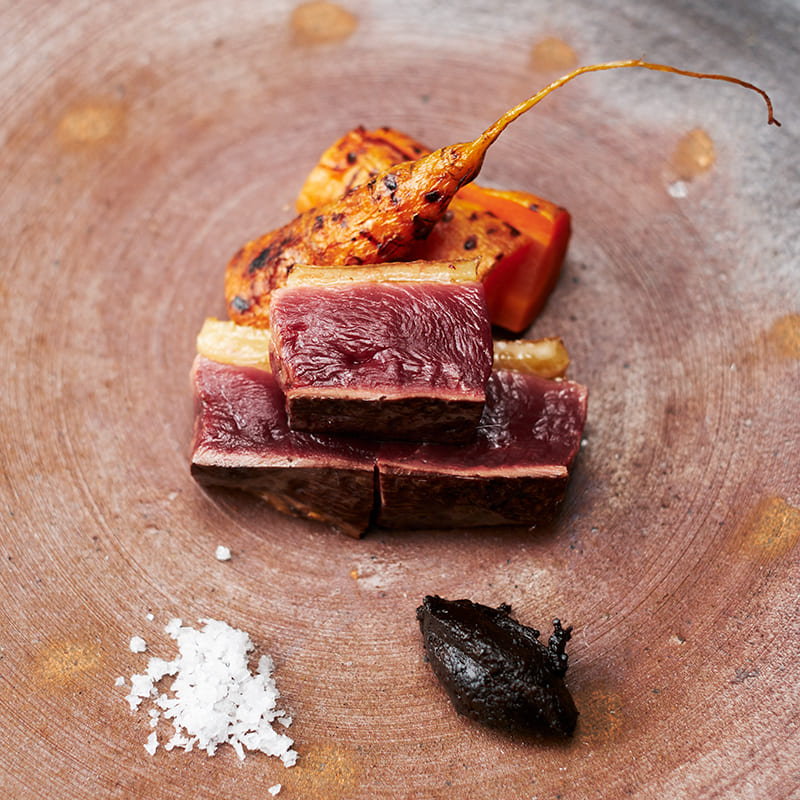 In spring, the menu features as many as 30 types of wild vegetables. In summer, guests feast on bamboo shoots picked on Mount Gassan, sweet-and-salty glazed butterbur stems, and ayu (sweetfish) and kajika (sculpin) from the rivers. In fall there are wild mushrooms and nuts, and in winter wild game makes an appearance.
Accommodation and two meals starts at ¥19,800 ($150) per night. Restaurant service alone is available starting at ¥6,600 for either lunch or dinner. The "chef's table" package, including one night's accommodation and two meals prepared personally by Sato, starts at ¥38,500, or ¥19,800 for one meal without accommodation. This latter option is of course popular with foodies. The literal chef's table is a counter made of ancient zelkova wood, newly refurbished in January 2023. At the time of this interview in January, the 12-course meal included turnips and spinach grown by Sato's brother Akina, who is the assistant chef at the restaurant. The vegetables, harvested from beneath deep snow, were incredibly sweet. The meal included many local dishes available only here, such as an unusual moss called "hermit's mist" that grows on beech trees, served in a walnut sauce, as well as simmered pheasant and hotpot of Asiatic black bear supplied by traditional hunters.
Unlike coastal Yamagata cities such as Sakata that thrived in the Edo Period as ports of call for the Kitamaebune shipping route, Nishikawa was an impoverished mountain area until the bubble years of the 1980s. The food prepared at Dewaya draws on the knowledge of earlier generations who lived through hard times. Wild vegetables harvested in spring were dried or salted for use in winter. Because people could not afford kombu or katsuobushi (dried bonito) to make flavorful broth, they used plenty of mushrooms and wild vegetables to add umami. These are the pure flavors of local cooking, distinct from the Kyoto-style cuisine that became popular throughout Japan following World War II. It is Sato's enduring aim to share this "flavor of the mountains" with the wider world.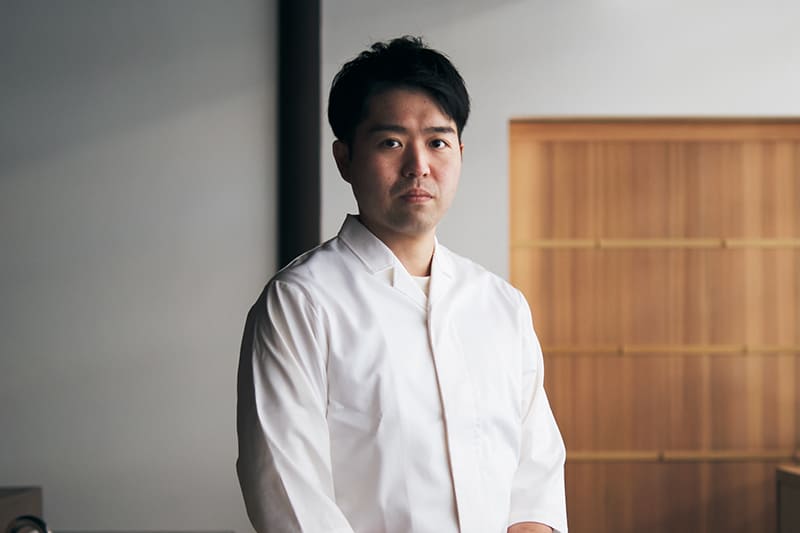 HARUKI SATO
Haruki Sato was born in 1988 in Nishikawa, Yamagata Prefecture. While studying management and tourism at a university in Tokyo, he began his education as a chef at Nihon Ryori Tsukiji Tamura. He studied at the Tsuji Culinary Institute before returning to his family business, Dewaya, as head chef. With his mother as owner-manager, his wife as assistant manager and his brother as assistant chef and farmer, the family offers guests the traditional foods of their hometown.
---
Sponsored by ANA
DESTINATION
Dewa Shrine on Mount Haguro
The Three Mountains of Dewa is the collective name for Mount Gassan, Mount Haguro and Mount Yudono, a trio of peaks in Yamagata Prefecture's Shonai region that have been the object of worship since ancient times. The sacred mountains are said to have been established as religious sites in the late sixth century, and each is home to its own shrine. Dewa Shrine on Mount Haguro is an especially interesting place to visit.
A path leads between rows of Japanese cedar trees, five-storied pagoda designated as a National Treasure, up 2,446 stone steps, and finally to the main shrine building. The path takes 50 minutes to walk each way from the shrine entrance, but with its combination of natural beauty and cultural interest, it is an outstanding hike.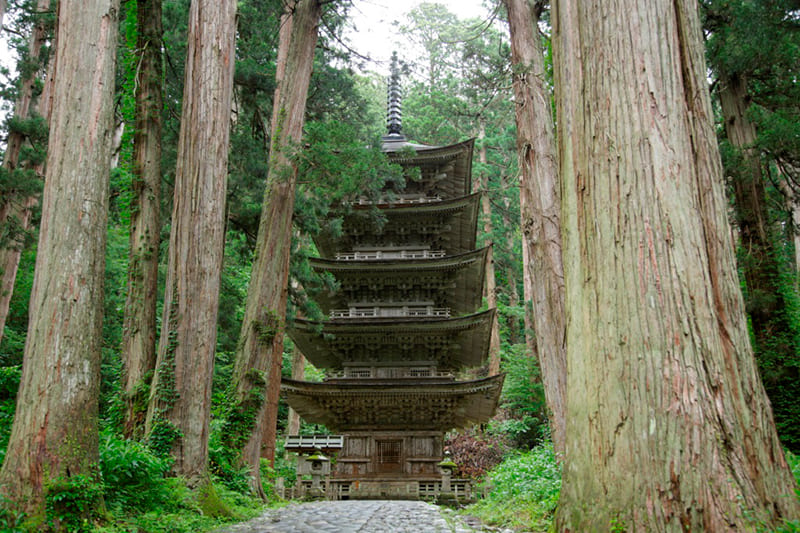 ---
京都の味とは一線を画す、山形でしか味わえない山菜料理。
「出羽屋」がある西川町はJR山形駅から車で約40分。月山の麓にある非常に雪深い場所だ。町の人口は5,000人弱で、かつては養蚕や林業、鉱業が盛んだったが、現在は月山を中心に夏はトレッキング、春はスキー、温泉という観光業が中心だ。
そんな町で「出羽屋」は、山岳信仰の対象である出羽三山への行者をもてなす宿として1918年に創業した。その4代目、佐藤治樹は東京の料亭などで腕を磨いた後、2013年に実家に戻り、家業を継ぐ。自らも料理長を務める佐藤は、「山菜採りの名人やマタギなど、地元の生産者との交流に取り組みました。その結果、改めて月山の恵み、山菜料理をメインにしようと決意しました」と語る。
そこには、同じ山形県でも北前船の寄港地として栄えた海沿いの酒田などと異なり、貧しかった地域ならではの先人の知恵が生かされている。山菜は乾燥や塩漬けにして保存し、通年使用。高価な昆布も鰹節も買えなかったがゆえに具沢山にして、旨味を抽出する。京料理とは異なる郷土の味を世界に発信するため、佐藤は奮闘を続けている。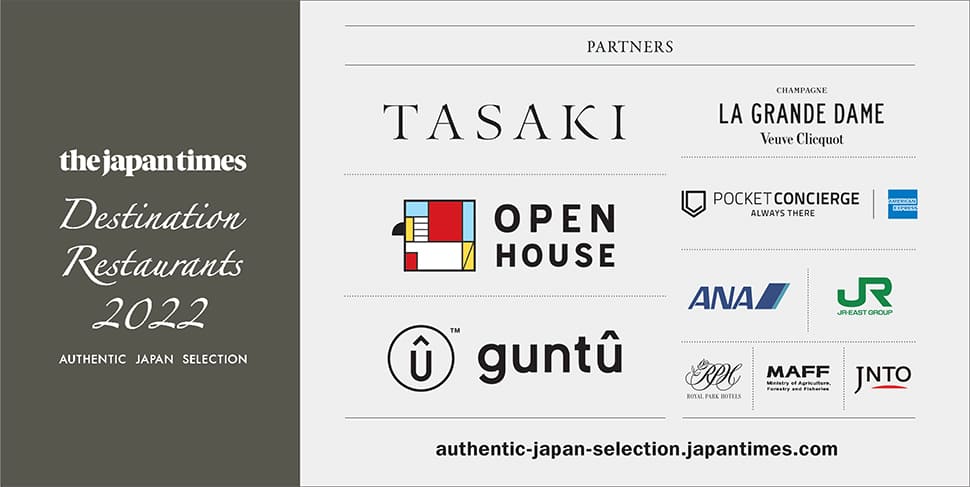 Return to Sustainable Japan Magazine Vol. 21 article list page