October 27, 2023
Restaurant preserves Toyama's craft culture
Destination Restaurants 2023
By TAEKO TERAO, TRANSLATOR: CARRIE EDWARDS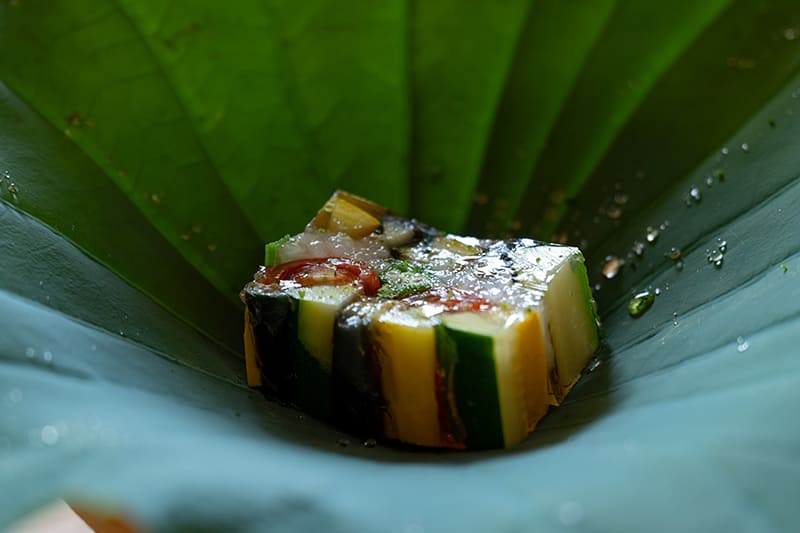 Iwase, home of the restaurant Oryouri Fujii, is a beautiful district in Toyama on the Sea of Japan coast, just a 20-minute streetcar ride from Toyama Station, which lies on the Hokuriku Shinkansen line. In the Edo and Meiji periods, Iwase prospered as a port of call for the kitamaebune (northern ships) that sailed between Hokkaido and Osaka, transporting goods. Today, the former town's streets are still lined with traditional wooden houses recalling its past.
Like other regional cities, Iwase had long been in decline. But in 2004, it was reinvigorated by a renewal project in the prefectural capital that was spearheaded by Masudashuzo, the sake brewery famous for the Masuizumi brand. By inviting artisans, chefs and others to make use of its traditional buildings, Iwase succeeded in transforming itself into a base for the dissemination of Toyama culture.
One of those buildings, formerly the residence of a wealthy maritime merchant, now houses Oryouri Fujii. A splendid Japanese garden greets those passing through the front gate, and guests can gaze at this garden while savoring the restaurant's omakase course menu for ¥27,500 ($180). Sake is poured into cups chosen by guests from a tray bearing a multicolored assortment, ranging from traditional ceramic types to many made by glass artists flourishing in Toyama. The Masuizumi sakes on offer include a rare top-quality daiginjō that is hard to find even in Tokyo. This is one of the advantages of running a restaurant in a sake-producing area.
Owner Hironori Fujii, who was born and raised in Toyama and opened his restaurant there after training in Kanazawa and Kyoto, is a supporter of Masudashuzo's renewal project. When he relocated his restaurant to Iwase in 2019, it became an immediate success and a major factor in the jump in visitors to the district.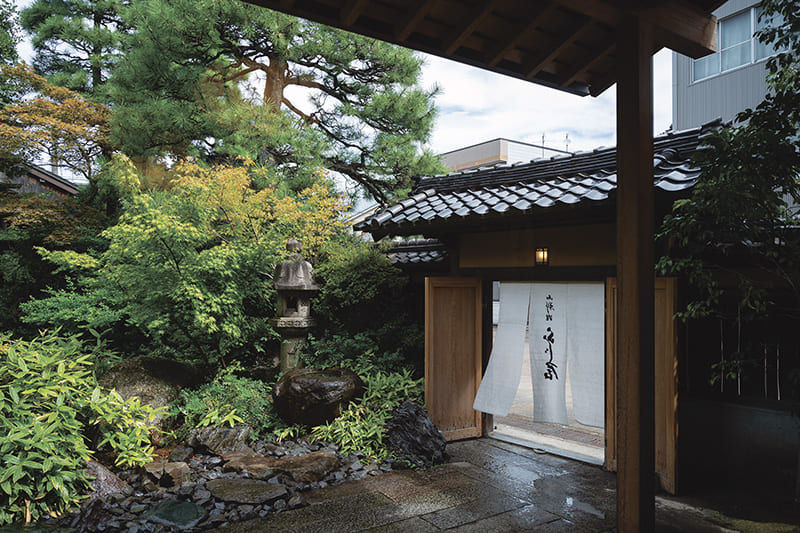 "I've been working with the aim of helping in the town's revitalization, so I feel I have a responsibility to produce results," Fujii said.
Fujii uses ingredients and tableware from the Hokuriku region, with a focus on Toyama Prefecture. While some of the dishes are antiques, he also orders items from local creators to contribute to the development of outstanding artisans. This is significant, as it connects with the culture of future generations. For the same reason, he has made a point of running his restaurant in a way that requires significant interaction with others — he has several young apprentices in training, as well as servers dressed in kimonos waiting on guests. "There's a limit to what you can do on your own," said Fujii, who places high value on personal connections.
Each year, Toyama comes in first or second among the prefectural rankings for home ownership, and this year was ranked sixth in average savings rates. At the same time, the local character is considered safe and steady, with spending on restaurant meals in the prefecture always below the national average. In Toyama, few people spend ¥10,000 on a single meal.
But his decision to relocate here signals that Fujii wants to be accepted by the people rather than go it alone as the owner of a high-class Japanese restaurant. For that reason, he actively builds connections not only with food producers and artisans, but also with residents via preschools and festivals.
Without a doubt, this is one factor in the harmonious atmosphere that pervades Oryouri Fujii.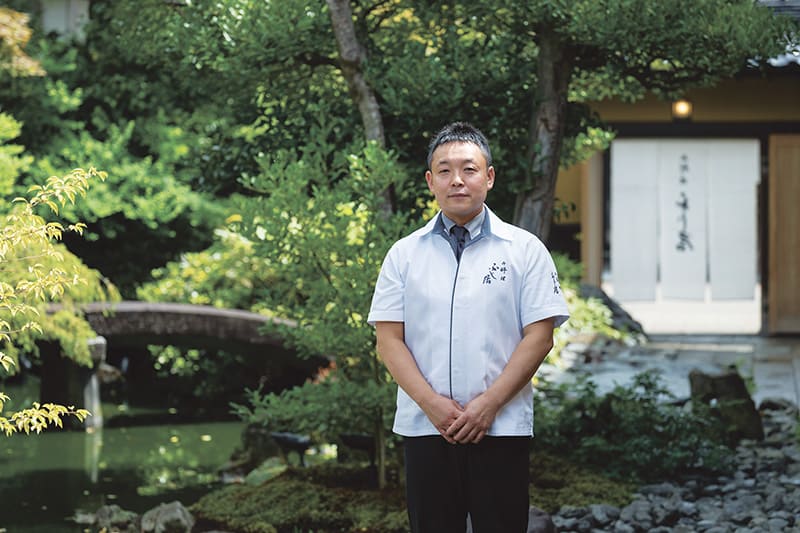 HIRONORI FUJII
Born in Toyama Prefecture in 1976 into a family who ran a fish business, Fujii was inspired by "gourmet manga" to pursue a career as a chef. After graduating from the Tsuji Culinary Institute, he trained at the restaurants Nihon Ryori Zeniya in Kanazawa and Kyoto Cuisine Mashita in Kyoto, then became head chef at Ebitei Bekkan Ikiikitei in the city of Toyama. In 2011, Fujii opened Oryouri Fujii in Gofuku, Toyama, and in 2019 he moved the restaurant to its current location, the Iwase area of Toyama.
---
日本料理×日本酒×工芸で富山から文化を発信する。
『御料理ふじ居』がある岩瀬エリアは富山市の日本海側にある。江戸・明治期は北前船で栄えたが、時代と共に寂れていった。だが2004年、地元の酒蔵〈桝田酒造店〉主導で始まった地域再生プロジェクトにより、工芸作家やシェフなどを誘致し、古民家を活用してもらうことで、富山文化の発信拠点となった。
『御料理ふじ居』もそのなかの一軒。江戸時代に廻船問屋として活躍した豪商の屋敷を再利用した店舗で、ゲストは庭を眺めながら、¥30,250(税・サ込)のおまかせコースに舌鼓を打つ。
富山市で生まれ育った店主、藤井寛徳は2019年、この街に店を移転。富山を中心に北陸の食材や器を用いる。器は骨董も使うが、「次世代に文化を繋ぐ」という考えから、現代の作家に特注もする。また、「地元の人に受け入れられたい」という思いから、子供の保育園や祭りを通じて、町の人とも積極的に関わりを持つ。『御料理ふじ居』に漂う和やかな空気は、そんなところからも生まれているのだろう。
Return to Sustainable Japan Magazine Vol. 29 article list page