August 26, 2020
Urbanites work to help sustain rural areas
Japan Times Satoyama Consortium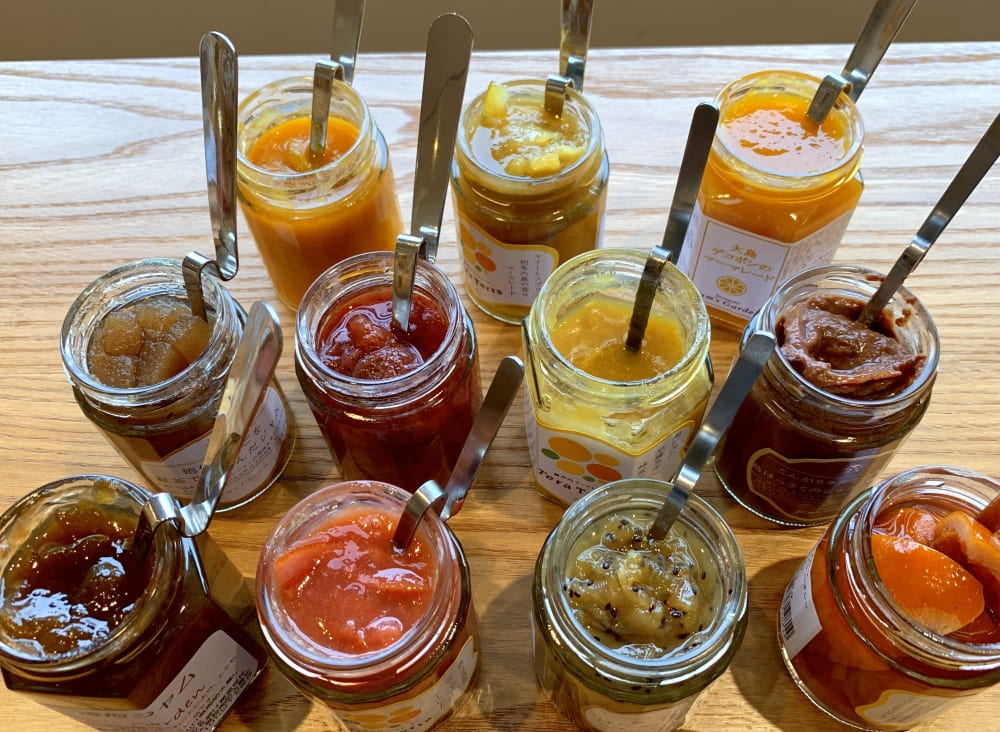 Setouchi Jam's Garden, a jam producer on the remote Suo Oshima island in Yamaguchi Prefecture, contributes to the local economy by selling jams made of local produce to tourists and online with the help of a web marketer living and working in Tokyo. The owner of Setouchi Jam's Garden, the web marketer and one other panelist discussed how such remote collaboration between people from rural and urban areas can revitalize regions in an online symposium organized by the Japan Times Satoyama Consortium on June 14. Satoyama refers to mountains and woods shared and maintained by residents of adjacent rural communities.
"We live in the time when you can choose where you want to be, to do what you want to do. We should use this advantage especially in the face of the coronavirus crisis," said Tadashi Matsushima, owner of Setouchi Jam's Garden.
Setouchi Jam's Garden was established in 2007 by Matsushima who is originally from Kyoto and worked for an electric power company in the Chubu region. His wife is from Suo Oshima, and his father-in-law is a monk who runs a temple there. Mesmerized by hundreds of bottled confiture neatly lined on the shelves in a shop in Paris on his honeymoon, he decided to start a jam business on Suo Oshima where he could readily procure produce from local farmers who were troubled by poor sales from their produce that wasn't the right size or shape to sell to the agricultural cooperative.
"When I first started, I was hoping to have several people working with me in the future, but now I have 26 staff. I think that I've managed to create the base for a business that can last for a century," said Matsushima.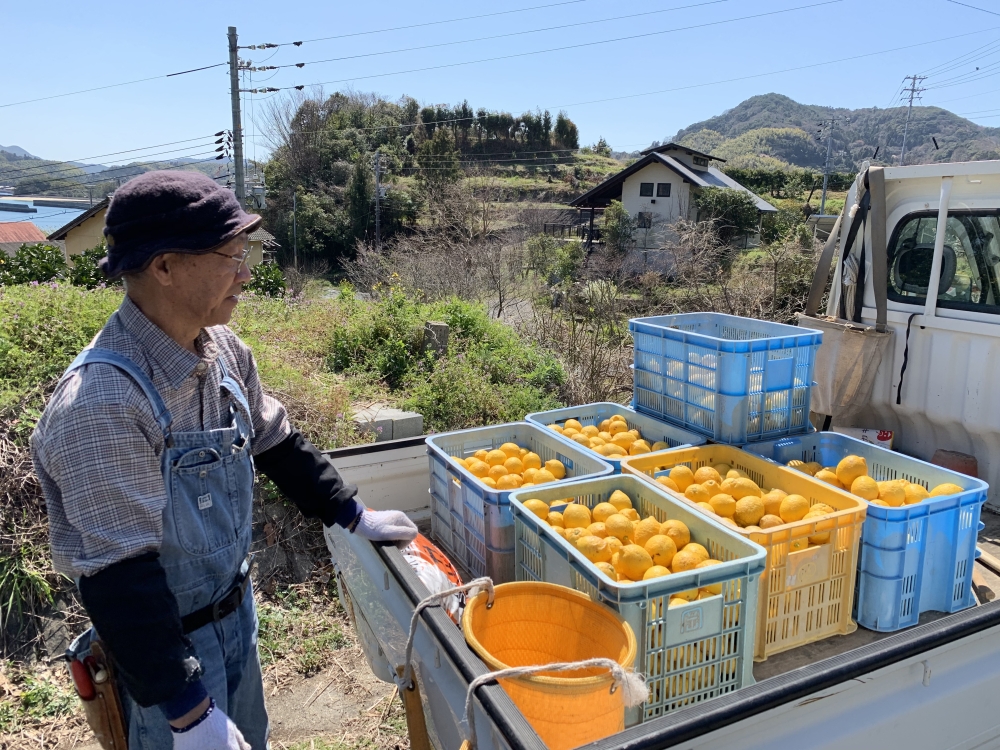 Product promotion online
Nojima's first task with Matsushima came about in a totally unexpected form. On Oct. 22, 2018, a German freighter collided with the Oshima Bridge that connects the island and the main island of Honshu, leaving the bridge closed to traffic and water supply blocked for more than a month.
The island's entire tourism sector, including shops and restaurants, suffered greatly. To support the struggling tourism industry, Nojima opened a website to sell not only the products of Setouchi Jam's Garden, but also various other delicacies from local producers.
"The most challenging part was that I had to start with reporting what was happening on Suo Oshima using the photographs of the broken bridge and people pumping water from a well that I received from Matsushima before I could promote the products. This was because there was almost no news at all in Tokyo and the rest of Japan far from Suo Oshima regarding the accident and the hardship that the island was facing," Nojima said.
The current situation under the coronavirus crisis is similar to what the island experienced after the freighter accident through the significant loss of consumption by tourists. Matsushima noted that sales dropped to 10 percent of that of the same period last year during the Golden Week this year.
New project in difficult times
However, Matsushima is not just waiting for the situation to improve.
"We need to endure the hardship for now, but I think we can make it thanks to low fixed expenses, which is a benefit of doing business in a rural area. While we have extra time, we are planning and preparing our next project of making limoncello from the lemons we plant and grow together with the owners of the lemon trees that we plan to gather," said Matsushima, full of enthusiasm to harvest the lemons in two years, make the fresh liquor and toast for victory over the coronavirus with the tree owners.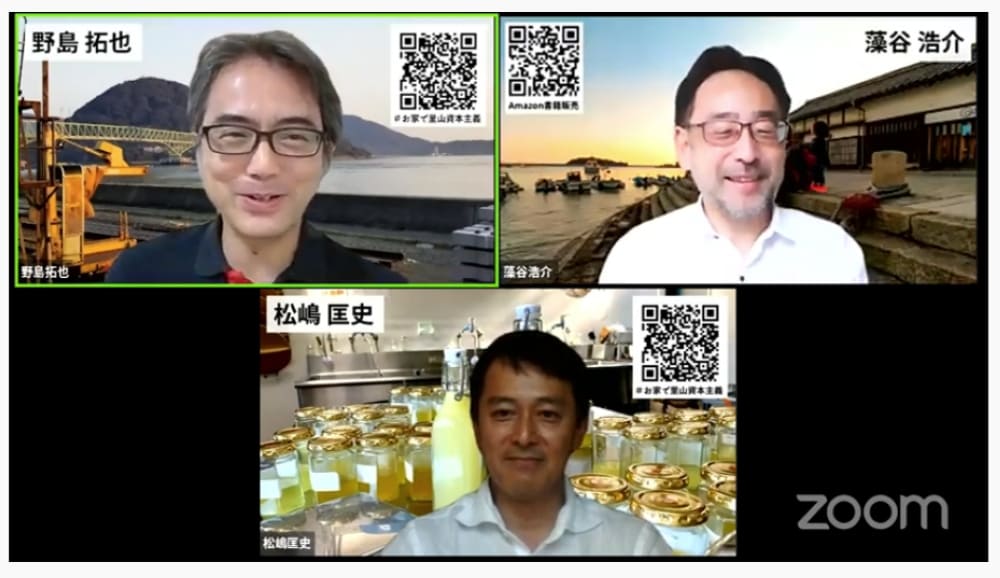 OWNING A TREE TO CONTRIBUTE
KOSUKE MOTANI, ONE OF THE THREE PANELISTS AND CHIEF SENIOR ECONOMIST AT THE JAPAN RESEARCH INSTITUTE LTD. AND ADVISOR OF THE JAPAN TIMES SATOYAMA CONSORTIUM, COMMENTED THAT BECOMING AN OWNER OF THE TREE IS ONE WAY OF PARTICIPATING IN REGIONAL REVITALIZATION ACTIVITIES.
"YOU DON'T HAVE TO BE AN EXPERT TO GET INVOLVED IN SUCH ACTIVITIES. A SMALL DIFFERENCE YOU MAKE CAN BE NOTICED AND APPRECIATED BY PEOPLE, OR EVEN PASSED DOWN TO THE NEXT GENERATION IN SMALL RURAL COMMUNITIES, WHEREAS EVERYTHING DISAPPEARS FAST UNNOTICED IN CITIES," HE SAID.
NOJIMA AGREED AND SAID, "EVEN THOUGH I HAVE SKILLS AS A WEB MARKETER, ABOUT 70 PERCENT OF THE NEEDS FOR SETOUCHI JAM'S GARDEN IS SOMETHING THAT I HAVE NEVER DONE BEFORE. IT HELPS MY PERSONAL GROWTH."
HE ALSO NOTED THAT THERE ARE DIFFERENT WAYS AND PLATFORMS TO ENGAGE IN RURAL DEVELOPMENT.
"YOU NEED TO THINK OF HOW YOU WANT TO GET INVOLVED, HOW YOU CAN CONTRIBUTE, AND MOST IMPORTANTLY, WHO YOU WANT TO CONNECT WITH TO MAKE YOUR INVOLVEMENT LONG-LASTING," NOJIMA SAID.
TO MAKE SUSTAINABLE EFFORTS IN RURAL REVITALIZATION, HE SAID THAT MONEY IS IMPORTANT, TOO.
"LET'S SAY A FARMER OFFERS AN ALL-YOU-CAN-PICK EVENT FOR ¥300 PER PERSON IN HIS ORANGE ORCHARD TO INCREASE VISITORS AND SALES. PEOPLE MAY FLOCK TO IT BECAUSE IT IS SO CHEAP, BUT IT WILL BE TEMPORARY. YOU NEED TO THINK OF A WAY TO ADD NEW VALUE THAT HELPS INCREASE PROFIT TO CONTINUE WHAT YOU ARE DOING," NOJIMA SAID.
PEOPLE FROM OUTSIDE THE COMMUNITY LIKE MATSUSHIMA AND NOJIMA MAY BE GOOD AT FINDING THE EXISTING VALUES OF THE AREA AND WHAT NEW VALUES CAN BE ADDED BECAUSE AS MOTANI SAID, "THERE ARE THINGS THAT YOU DON'T NOTICE ABOUT YOUR HOMETOWN THAT OUTSIDERS MAY NOTICE AS IMPORTANT ASSETS."
"IT IS BECOMING EASIER TO GATHER PEOPLE WHO ARE WILLING TO SUPPORT RURAL COMMUNITIES FROM OUTSIDE. TOKYO IS ACTUALLY SUPPORTED BY THE PEOPLE OUTSIDE TOKYO. RURAL AREAS SHOULD DO THE SAME," SAID MOTANI TO END THE SESSION.