Providing a new breath of life to businesses
August 18, 2019
Japan Times Satoyama Consortium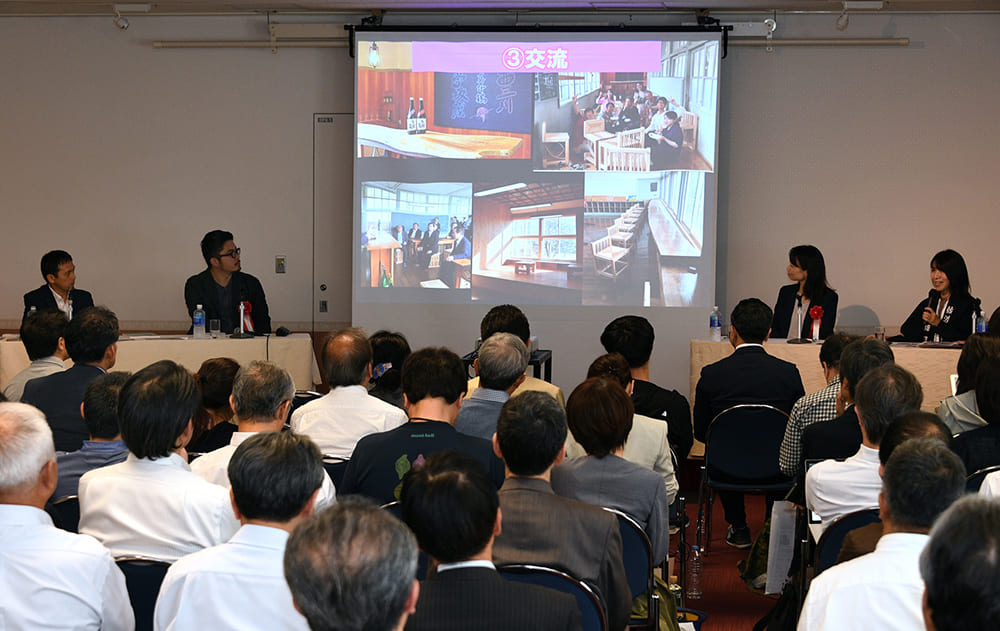 At a recent symposium organized by the Japan Times Satoyama Consortium, three panelists shared their experiences and thoughts on the theme of succeeding businesses in rural communities.
The session on June 4 in Tokyo was moderated by Tadashi Matsushima, the owner of Setouchi Jam's Garden in the town of Suo Oshima in Yamaguchi Prefecture. Matsushima serves as the chairperson of the consortium's management committee.
Matsushima began proceedings and asked the panelists why and how they have managed to succeed in the businesses they currently operate.
Tadashi Matsuba, director of Iwami-Ginzan Seikatsu Bunka Kenkyusho Co., runs shops and restaurants that sell and use products designed in the small 400-odd person community of Oda in Shimane Prefecture. The organization also owns and manages accommodations housed in old folk houses.
In Matsuba's case, he took over his father-in-law's business.
"Two generations ago, the company was still a family business and a kimono fabrics dealer. Before that, it sold things like sake, salt and tobacco to suit the needs of the times," said Matsuba. "Now our main products are housewares and clothes."
He stressed the importance of learning the context of how a company has evolved throughout history, before continuing: "We should think about how to address any current issues facing the community by evolving our business in a sustainable way. A company doesn't have to continue doing the same things from generation to generation," Matsuba said.
In second speaker Kayo Tango's case, neither she nor her husband were related to the former owner of the towel manufacturing business that they took over in Imabari, Ehime Prefecture.
"Both my husband and I are originally from Imabari. There was a time when I wanted to escape the small community that I grew up in, so I went to university in a different prefecture," Tango noted. "It was my 'neighbors' who supported me when I started working as an elementary school teacher in an unfamiliar area after graduation," she recalled.
She came back to Imabari to marry her husband who had taken over his family's real estate and insurance businesses. In trying a new career working with her husband, she again felt supported by her local community.
"I felt the warmth of the people around me and started to wonder what I could give back to my hometown that seemed on the decline because fewer young people were living there. When we came across the towel factory being prepared for closure, we asked the owner if we could take over so as not to end the 90 years of its history," Tango said.
She added: "The company had been making towels only on an original equipment manufacture basis, so the workmen didn't know who sold and bought their towels. Now we have our original brand named Olsia, and we are glad the workmen are proud and happy."
Olsia is a play on the Japanese words for "weave" and "happiness."
The final panelist was Rumiko Obata, who was born into the family that runs Obata Sake Brewery. The brewery was established in 1892 in Sadogashima Island in Niigata Prefecture.
Obata left her hometown to attend university in Tokyo and worked as an advertising producer at a major film company. But a family situation impacted on her chosen path.
"When my father fell ill, I started to wonder how I would want to spend the last days of my life. I thought that I would want to lie on the cool floor of our small and dark brewery, drinking Manotsuru, our signature sake," Obata recalled. "This image was enough for me to decide to succeed the family business."
She came back to Sadogashima with her husband in 1995 as the fifth generation of her family to manage the sake brewery.
"We started exporting sake in 2003 and our products are currently sold in 15 different countries. More than half of these exports are sold directly to foreign buyers without the help of trading companies," Obata said.
The couple also started Gakkogura (literally, "school brewery") in 2014 using a former community elementary school for the project.
Among the many projects the company has launched in recent years, the "Sake Making Program" launched in 2015 offers a hands-on experience of making sake at Gakkogura.
"Seven out of the 10 participants this year are from abroad. I want to connect my hometown and the world, demonstrating to local children that they do not have to head to Tokyo for this purpose," Obata noted.